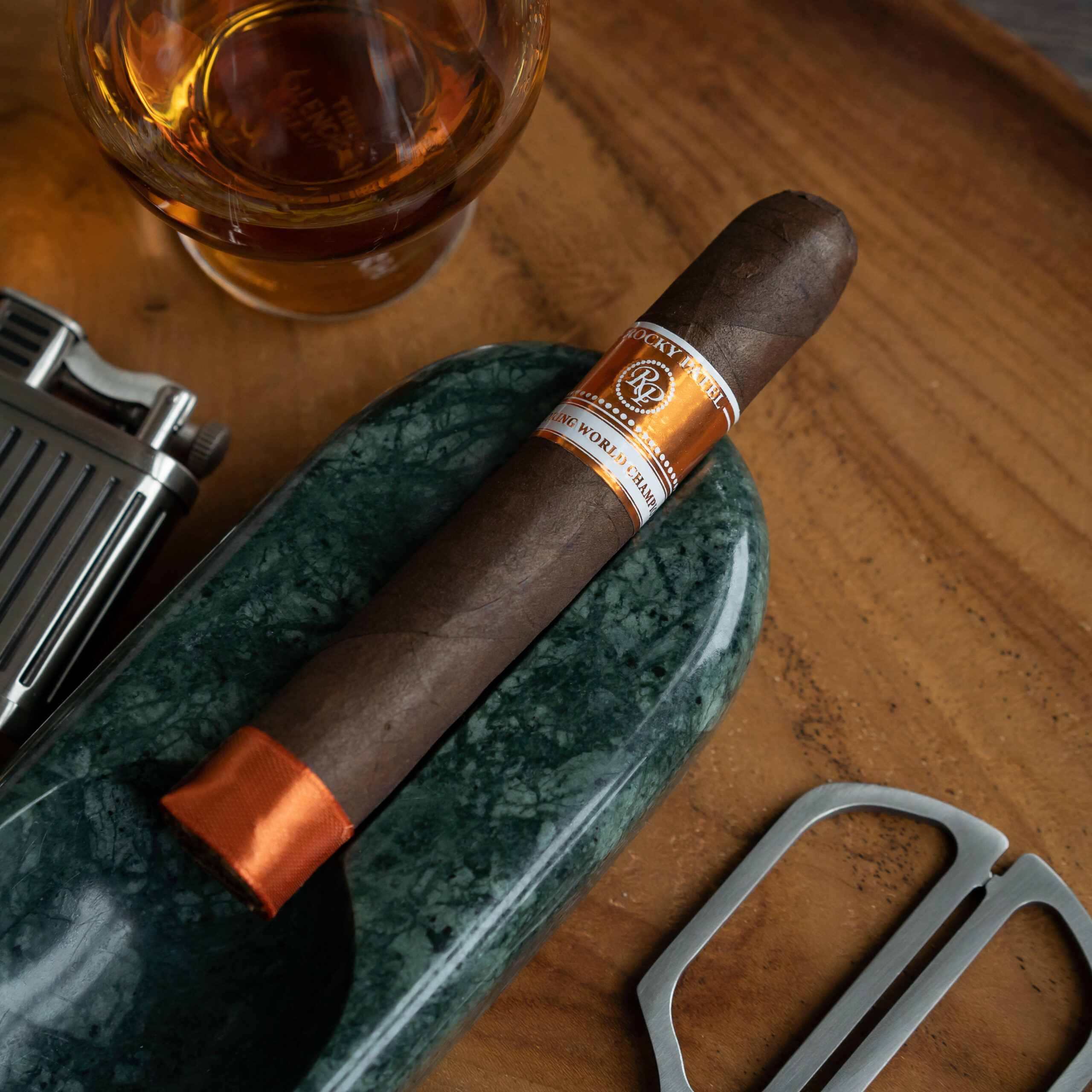 Cigar maker Rocky Patel has a truly vast array of cigar lines which would be too numerous to list here. One of his more creative incarnations is the Rocky Patel Cigar Smoking World Championship. As part of the annual Cigar Smoking World championship events (held around the world and with a Grand Finale in Croatia) the competitors smoke a cigar as "slowly" as possible without the ash falling or the cigar going out. Although this smoke is not the official size of the competition, the blend is the same and if you wish to challenge yourself you can see how slowly you can smoke this blend.
Having smoked this blind I puffed away at what I deemed an appropriate pace for this robusto and even though it wasn't a marathon cigar session it was an enjoyable one as you'll see below.
Blend Specifics
Cigar Reviewed: Rocky Patel Cigar Smoking World Championship
Wrapper: Mexican San Andres
Binder: Costa Rican & Panamanian
Filler: Honduran, Nicaraguan
Size: 5"x 50 (robusto)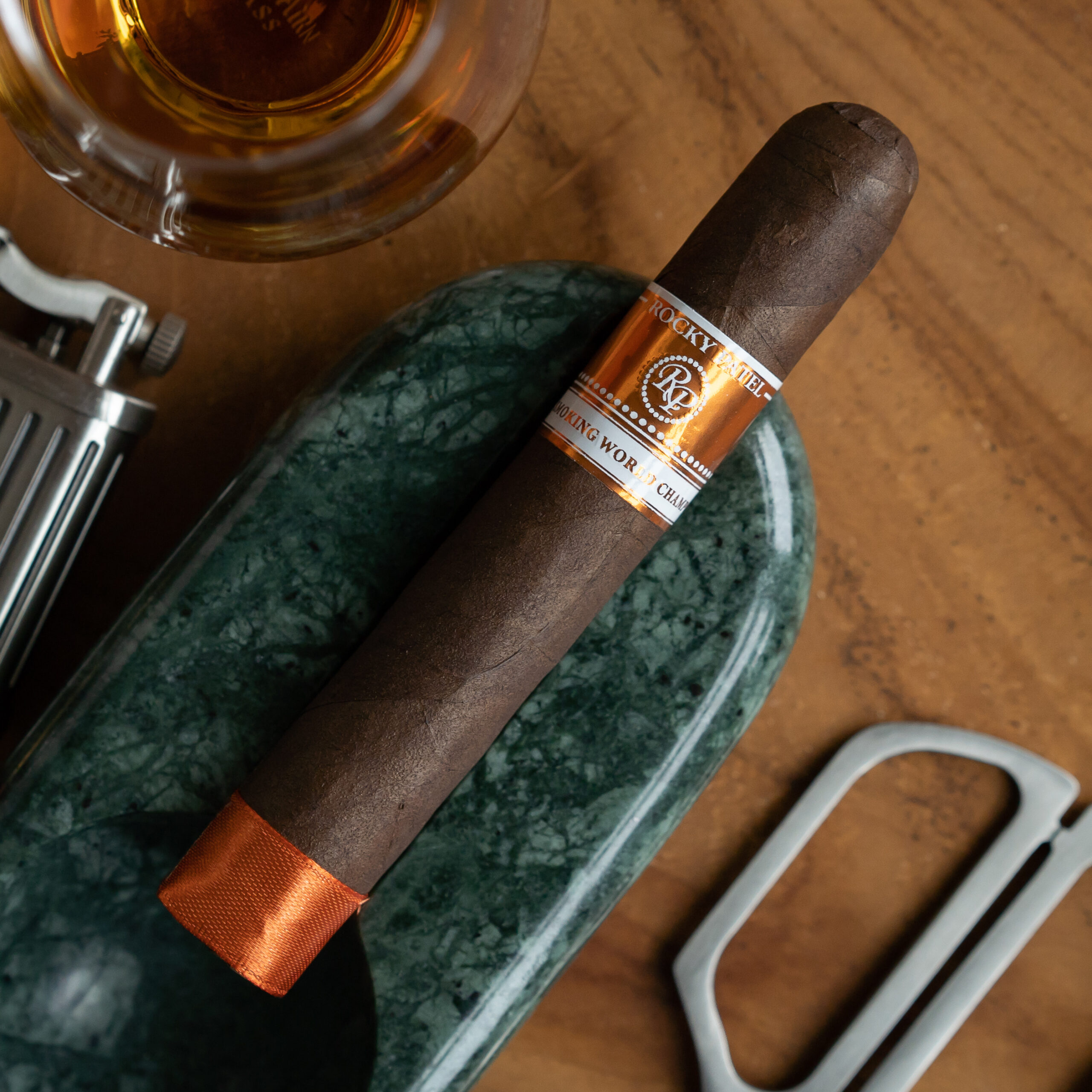 Appearance and Construction
The Rocky Patel Cigar Smoking World Championship robusto's dark maduro wrapper is firm to the touch. There are several veins and the roll seems a bit off in hand. The foot smells of barnyard, hay and earth.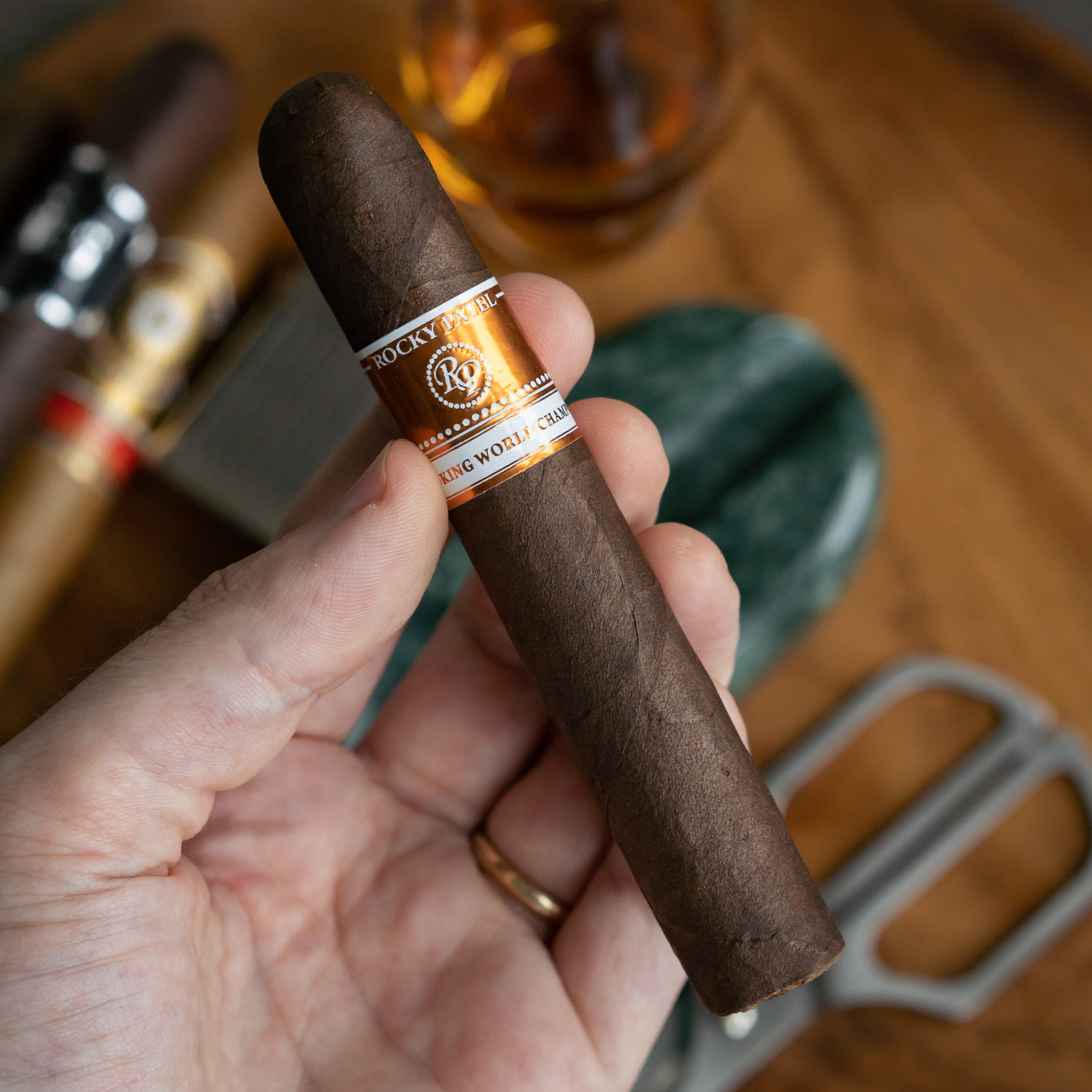 Flavor and Smoke Characteristics
Using my Xikar V I clip a razor sharp straight cut and take a cold draw. It's firm, and I pick up raisins and plum. With a quick torch light the Rocky Patel Cigar Smoking World Championship robusto bursts forward with smoke full of tobacco and spice on the tongue. What follows are notes of graham cracker and sourdough. In addition, I pick up some cocoa and rasinated flavor that hits my sinuses on the retrohale.
As the cigar progresses, the burn line is razor sharp with a grayish ash. The profile retains a medium to full body with earth and chocolate notes on the palate.  A sweeter side to the Rocky Patel Cigar Smoking World Championship emerges along with some floral flavors that last only a short time. With another retrohale I pick up raisin, spice and grain. The ash seems to hold on rather well at this point and there is ample smoke from the cigar.
The transition to the last third of the Rocky Patel Cigar Smoking World Championship robusto is that of roasted nuts and a dark chocolate finish. A bit of hay and cinnamon carries the smoke to a more medium style with a lighter spice than earlier. The burn continues to be excellent and while the hay is initially pronounced, some barnyard and damp flavors emerge that feel a bit disjointed from the current profile.
With the final puffs, flavors of peanuts, citrus and spice round out the smoke to a pleasing long finish.
Conclusion
I can't say I've taken part in a marathon smoking contest (nor do I know if I want to), but whether you smoke this as a challenge or as a casual smoke the blend is very enjoyable. The full flavors of spice that the cigar starts with transitioned to earthy and chocolate notes throughout. The construction and burn line was excellent and the evolution to citrus and nuts on the last third rounded out the profile. 
I've had lots of Rocky Patel's cigars over my 20+ years of smoking and have loved some and others less so. The Cigar Smoking World Championship robusto is a worthy addition to the Rocky Patel lineup. If you are looking for a medium to full smoke and if you decide to try and smoke for hours on end the Cigar Smoking World championship might keep you interested.
Final Rating: 89