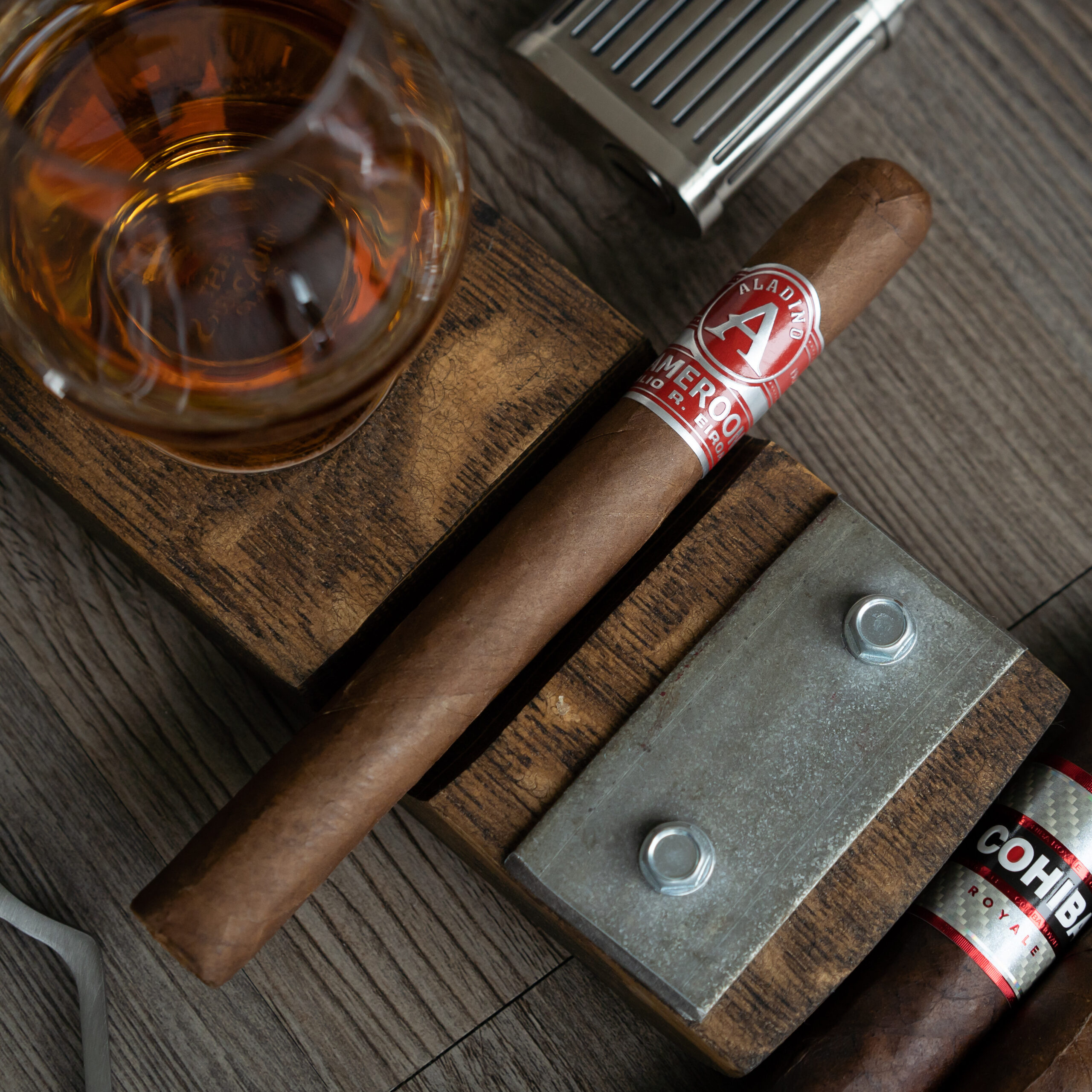 The Aladino Cameroon Lonsdale is a premium cigar made by JRE Tobacco Company. What is interesting about this cigar is it wears a Cameroon seed wrapper grown in Honduras. Cameroon wrapper tobacco generally has an African origin in the area of its namesake. In Cameroon this is a very delicate wrapper to grow and blend around. Not knowing what the cigar was prior to smoking I was instantly attracted to the wrapper and was curious as to what this would taste like.
Blend Specifics
Cigar Reviewed: Aladino Cameroon Lonsdale
Wrapper: Honduran Cameroon
Binder: Honduras
Filler: Honduras
Size 6" x 43 (Lonsdale)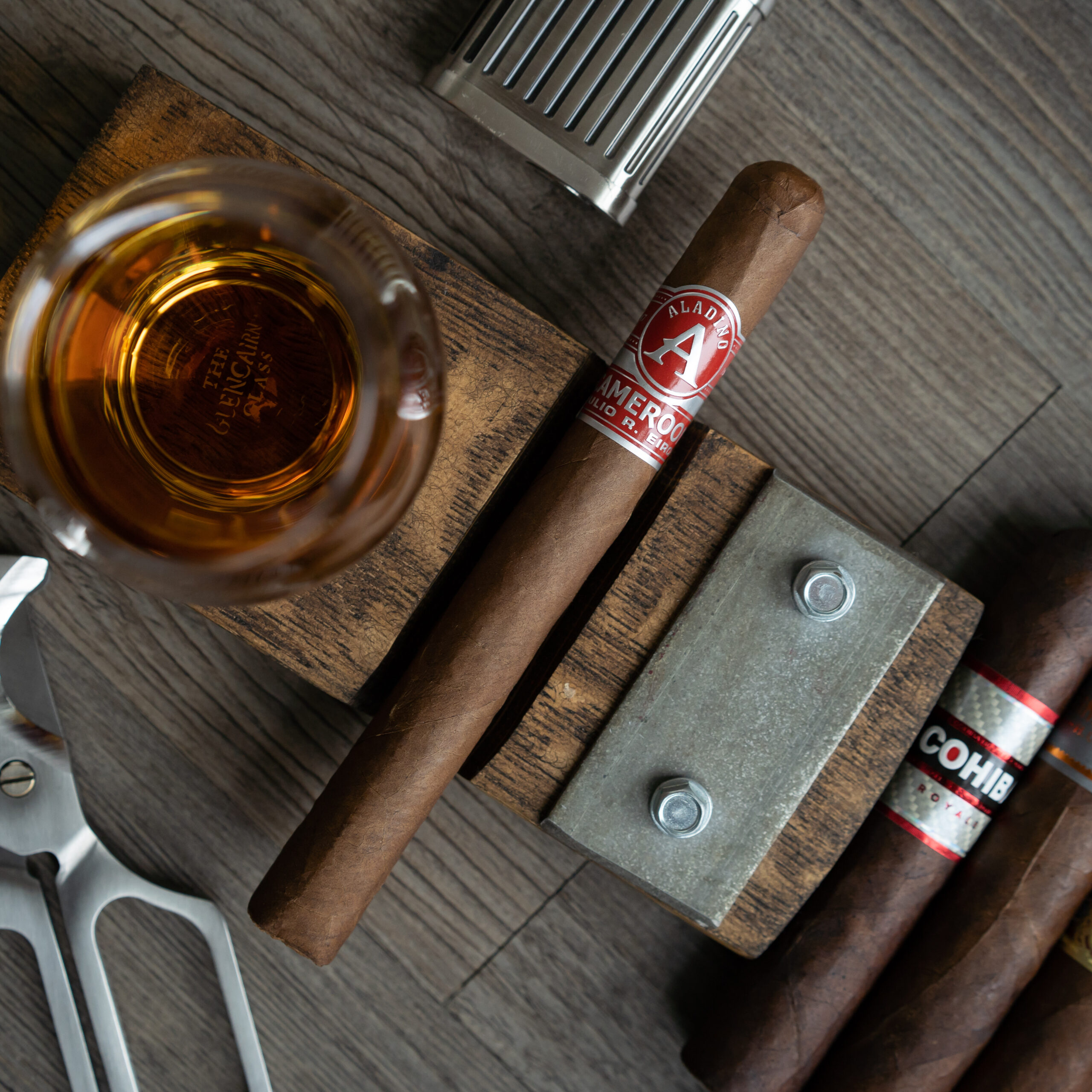 Appearance and Construction
Visually the Aladino Cameroon Lonsdale lands on the verge of milk chocolate and a redness to the wrapper.  There are a few veins and soft spots across the cigar. Despite this there is a smoothness to the wrapper. The foot smells of hay and cashews.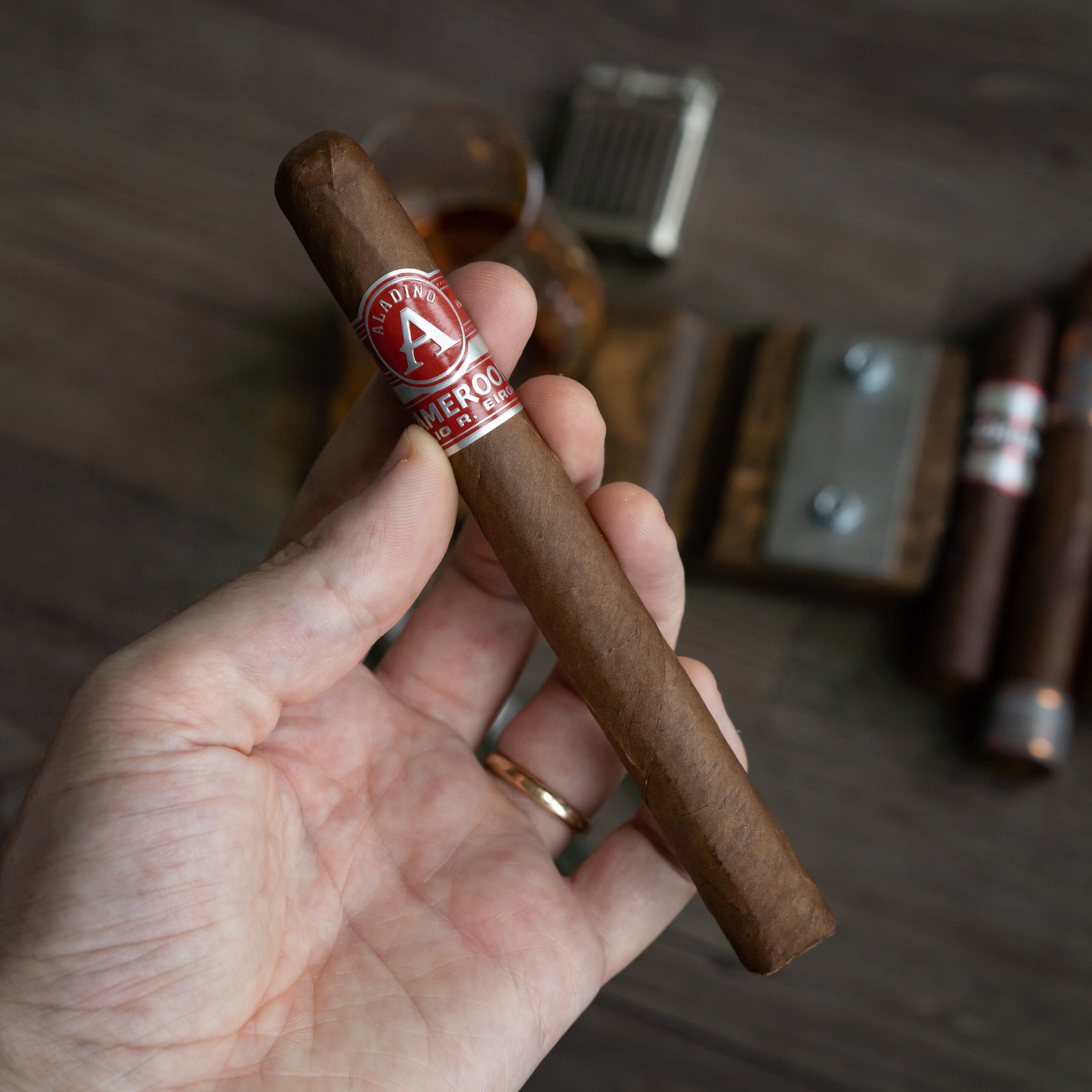 Flavor and Smoke Characteristics
With a straight cut I take a dry puff that is a bit loose. After my initial light, I am welcomed with saltiness and pepper followed by an oaky finish.  The Aladino Cameroon becomes toasty, with a medium bodied range of peanuts and hay. I also catch some red pepper that transforms into earth and an underlying nuttiness. The draw firms up a bit, creating volumes of smoke and a white ash as the ember burned.
As the cigar develops, earthiness continues with vanilla sweetness surrounding the palate. The ash becomes surprisingly long, but still felt fragile rather than firm. Taking in a retrohale, the Aladino is all cedar which resonates throughout my nostrils intensely. After a few more puffs, forest floor and cashews come through providing a medium bodied style of nuts and silt. The burn line is quite good and as the cigar builds up slightly in strength, a bit of black pepper tickles my nostrils which then turns into a slight sweetness on the tongue. At this point the changes in style are not overwhelming and are giving me just enough to keep me interested.
The last third of the Aladino Cameroon Lonsdale doesn't stray much from what I experienced in the middle of the cigar, with cashew, peanuts and hay (though the finish is a bit longer). The Aladino becomes toasty at this stage with oak and earth competing as secondary flavors. All the while the cigar is medium in body.
The last few puffs offer more of the salinity the cigar started with, with an additional earthy wood tone. A pleasant smoking lonsdale.
Conclusion
This was my first time smoking an Aladino and I was treated to a tasty  medium bodied experience. The nutty profile was evident from cashew to peanut and even almond towards the end. When I found out what the cigar was I was even more surprised  to learn it was a Cameroon seed wrapper planted in Hondurans. This goes to show that seeds grown in different soils yield different profiles. I'm usually used to a bit more sweetness and a delicate wrapper from the Cameroon grown in Africa. This generally adds to the nuances of the blend for me and with the Aladino it was a balance rather than an enhancement (which wasn't necessarily a bad thing).
I would recommend picking up an Aladino Cameroon Lonsdale for its flavors and also to sample how this wrapper tastes grown in a Honduran origin.
Final Rating: 90