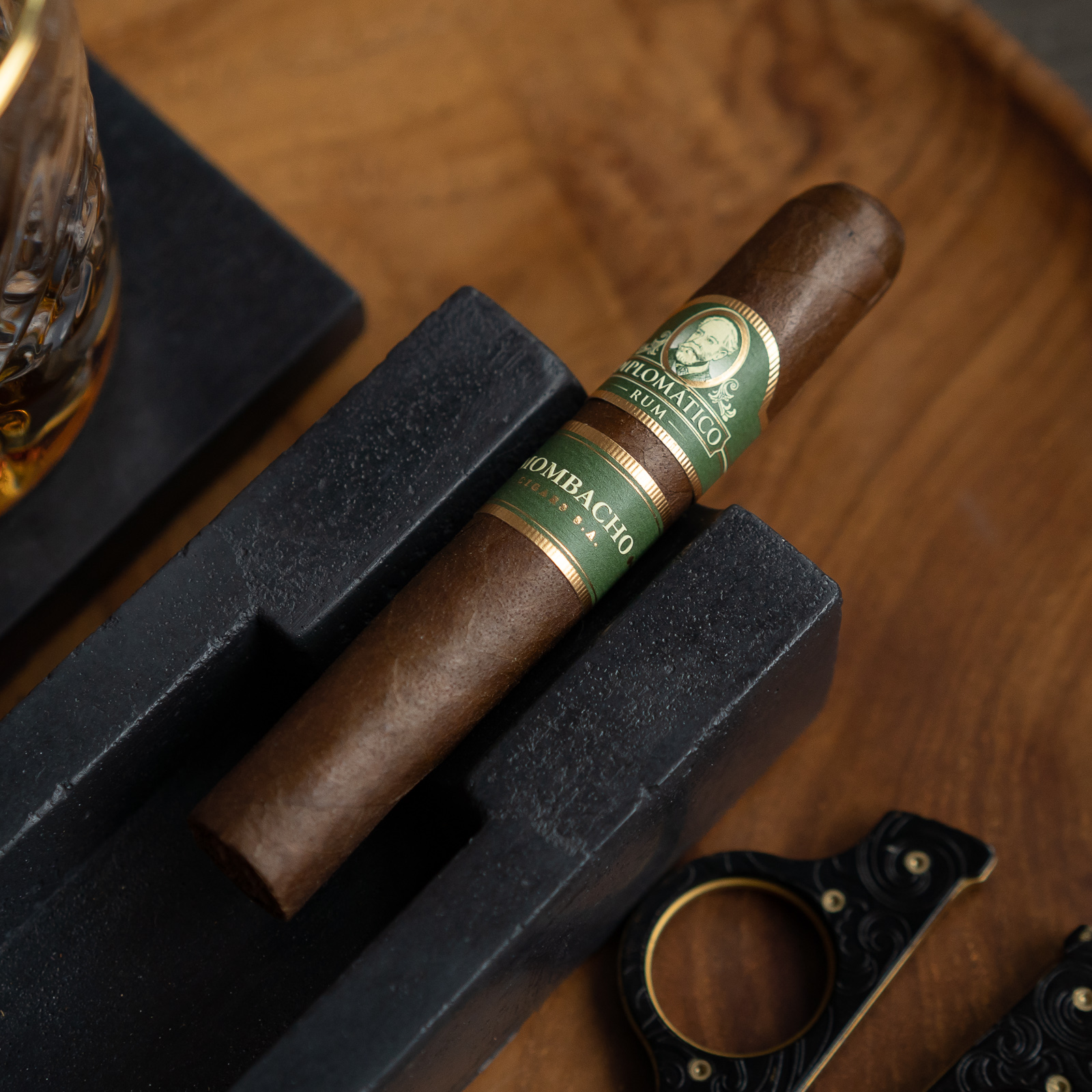 It is just another night at the Carnegie Club. A dimly lit lounge with comfy chairs and walls lined with bookshelves and old photographs of historic figures smoking cigars. Guys and gals dressed in their casual business attires lost in their conversations, only to drown out by a live band performing Frank Sinatra's greatest hits. Knowing it is a Fine Tobacco NYC event night, I arrive early to secure seating for my party. After settling down between JFK and Churchill, I obtain a dram of Glenlivet: Founders Reserve and light up a Cohiba Blue, which is the highlights of the night. The question in my mind is practical: "How many trials and errors did it take for them to figure out this perfect pairing?"
Pairing is a difficult task. Thankfully, Mombacho Cigars S.A has released a line that makes it easier than ever for consumers to solve the problem of making a perfect pairing. They did this by collaborating directly with Diplomatico Rum. With the same name as its rum counterpart, the Diplomatico cigar was blended to complement the Venezuelan rum. 
Blend Specifics
Cigar Reviewed: Diplomatico by Mambocha Cigars S.A
Wrapper: Ecuadorian Habano
Binder: Nicaragua (Jalapa)
Filler: Nicaragua (Condega, Esteli and Jalapa)
Size: Petit Corona (4″1/2 x 44)
Appearance & Construction
The oily colorado shade wrapper shines in the sunlight. The cigar has a minor vein but is leveled and covered in little oil bumps, which we describe as "toothy." The Diplomatico cigar has solid construction; there are no soft spots, and it has a little weight to it. It's strong enough that I feel like the cigar would not be affected if I accidentally dropped it onto the ground.
Flavor and Smoke Characteristics
The wrapper has a sweet and earthy aroma to it. On the foot of the cigar, it smells like a dry raisin with a hint of spice. Upon taking a cold draw, a stream of white pepper spice tickles the back of my throat. After a quick cough, I taste oats, cocoa, stone fruits, and nutmeg. 
Once lit, the Diplomatico stomps on my palate with bitter charcoal, tree bark, mossy earth notes, dark leather, cilantro, and pistachio shells. The first puff leaves me with roasted coffee beans as the flavor disburses. As I take a retrohale, I get notes of tree bark, leather glove, and white pepper spice. 
After about one inch of the cigar, the flavor profile takes a 180 turn and reshapes itself to a different experience altogether. The smoke becomes creamy. What was once white pepper spice on the palate becomes a gentle cinnamon spice, and the pistachio shell transforms into a peanut shell. While there is still an earthy tone to the cigar, the "dark and heavy" notes, such as bitter charcoal, and cilantro disappear, leaving me with a sweet sugarcane aftertaste.
The velvety smoke dances with the wind as the breeze from the East Side River makes its way inland. Even with a gust of wind from time to time, the pepper and salt ash holds on until it burns past the second third. 
The flavors for this sweet and creamy cigar continue to develop between the second and final third; dark chocolate, oak bark, creamy oats, sunflower seeds, peanut shell, and an undertone of sweet sugarcane. The retrohale also becomes an easy task. I can retrohale an entire puff without discomfort, and am greeted by newfound floral notes, warm cinnamon spice, and blond roasted coffee. 
I smoke this cigar to under an inch, reluctant to put it down. But as my lips begin to burn and my tongue dries out, I know I must end this journey. 
Conclusion
The Diplomatico by Mombacho cigar was anything but lackluster. The construction was superb, the flavor notes complex. The constant change in flavors left me wanting more. I believe if I had a dram of the Diplomatico Reserva Exclusiva, it would take this cigar to the next level. 
Final Rating: 90