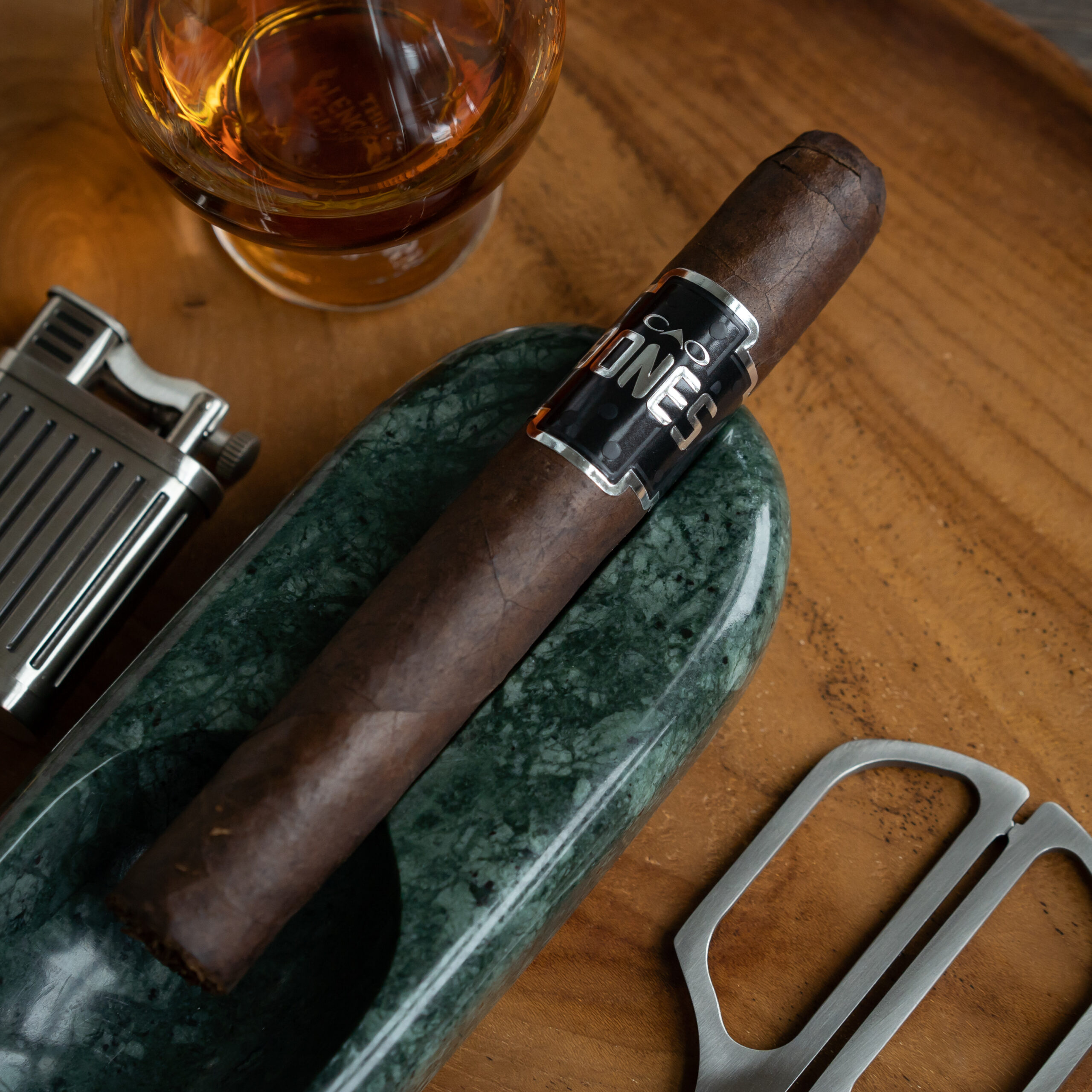 The CAO Bones is a new line paying tribute to the game of Dominos. Blender Rick Rodriguez gained inspiration from the game and created a blend that can be enjoyed casually while hanging out with friends. The names of the vitolas are in line with phrases and games that are played using dominoes and such is the case with Blind Hughie (a Domino game type) in the toro size.  It seems that this line is not intended to be a sophisticated smoke. Instead, it is built as a cigar that can deliver easily recognizable flavors while the smoker is preoccupied with other events in life. Since I smoked blind I merely tried to analyze the flavors as they are.
Blend Specifics
Cigar Reviewed CAO Bones Blind Hughie Toro
Wrapper: Connecticut Broadleaf
Binder: Connecticut Shade
Filler: Dominican, Nicaraguan, Honduran  
Size 6″ × 54 (Toro)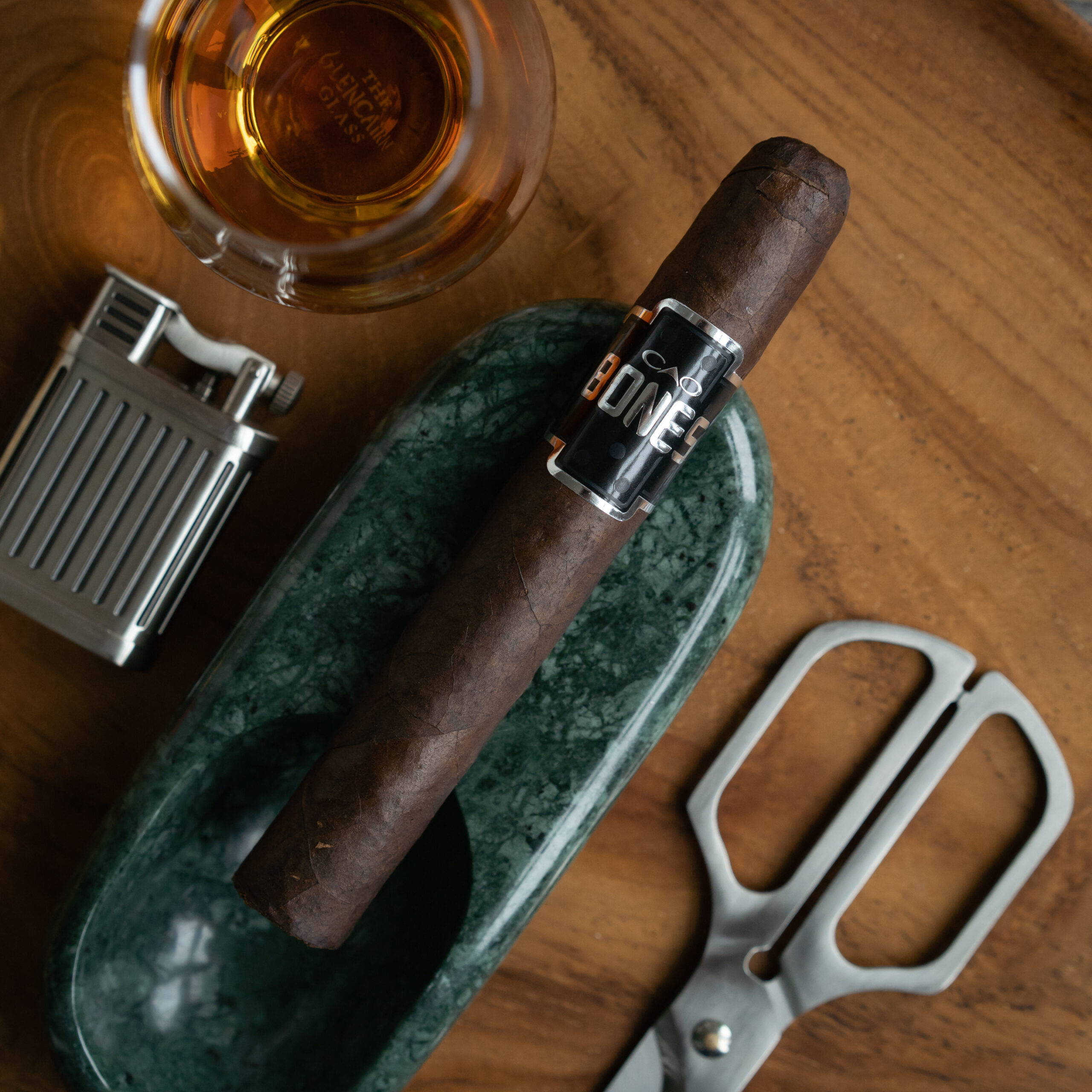 Appearance & Construction
The dark, veiny wrapper of the CAO Bones Blind Hughie Toro is thick and oily, visually and in hand. The foot is spongy while the rest of the cigar is solid to the touch. The foot smells of dark fruits, earth and pepper. It's a bold looking cigar and would stand out on a retail shelf.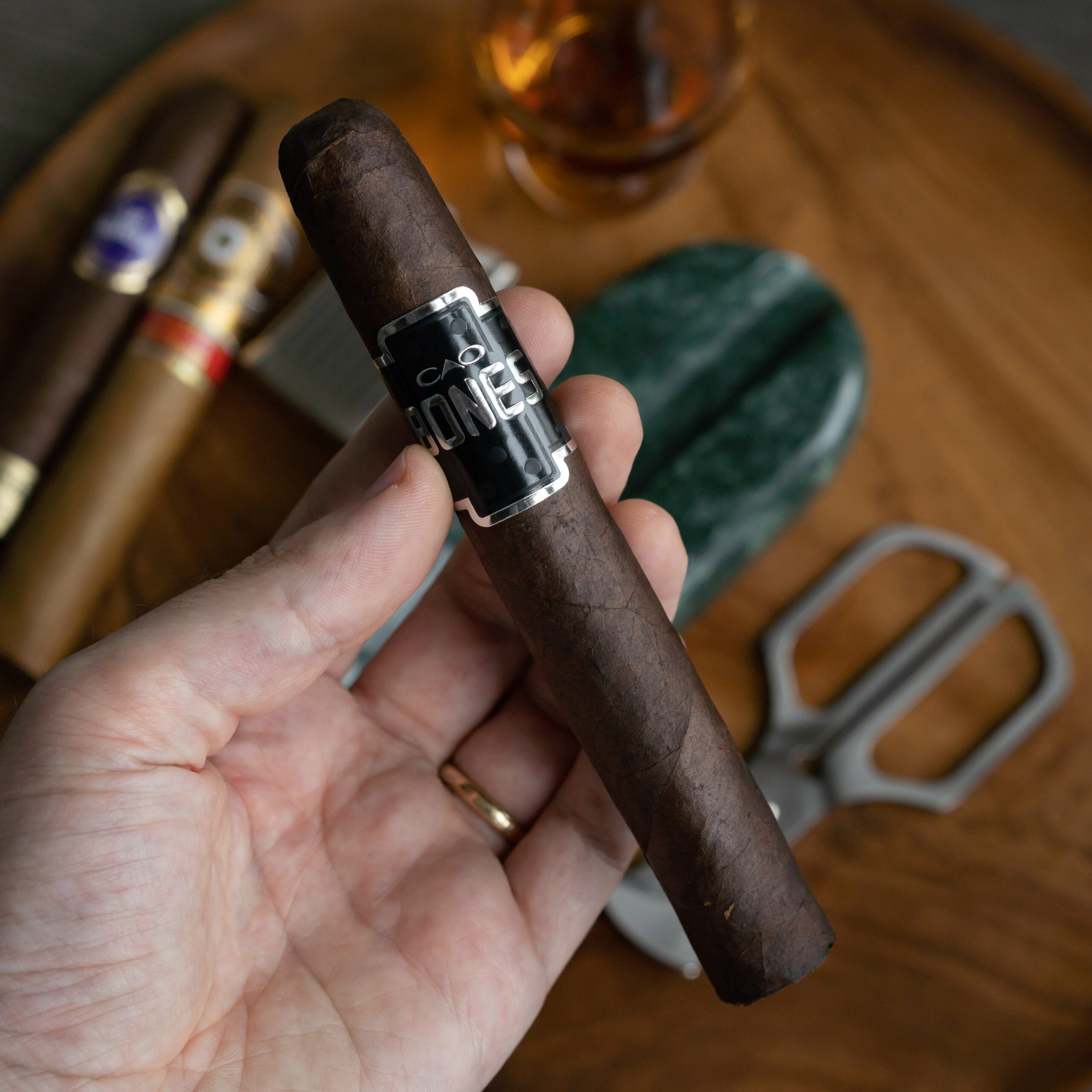 Flavor & Smoke Characteristics
With a Lamborghini Guillotine I manage a straight cut. The draw is a little loose with cold draw flavors of chocolate, pepper and cashew. Using a cedar taper I toast the CAO Bones and begin puffing, and with that earthiness and white pepper comes on strong. After a few moments, I pick up impressions of toast, milk chocolate and coffee that quickly fade into a bitter finish. The retrohale is mostly nutty with cedar that is underwhelming. The profile overall falls in the medium full range in the first half. 
Towards the center of the cigar, oak and nuts surface which really don't seem to develop any further. Another retrohale yields similar tones with light notes of wood, toast and a touch of pepper. I detect vanilla and more of a toasty impression while slowly puffing the cigar so as to get more intensity. The profile remains medium bodied and the ash is whitish gray. Near the end of the second third, the chocolate returns, more akin to cocoa powder than milk chocolate leaving a bitterness as it dissipates.
In its final third, the CAO Bones Blind Hughie takes an earthy turn with allspice and more bitterness on the finish. The retrohale gives some pepper and cedar with a slightly sour note as I release the smoke. The ash is flaky and burn line wavers at this point, though not so much as to affect the smoke production. Interestingly, as the cigar nears its end I pick up some vanilla and toffee supplemented by a blast of earth which I think is a pleasant ending to the smoke. A less than multifaceted medium bodied experience.  
Conclusion
The CAO Bones Blind Hughie is certainly more of a care free smoke with flavors that are fairly straightforward. This would be great for playing a game or multitasking where your focus is not as tuned into your cigar. For me the smoke borderlines on boring as the flavors were not just lacking complexity but appeared rather muted. The wood, nuts and pepper seemed light and the short finish left nothing on the palate. Even when spice and earthiness appeared, the CAO Bones Blind Hughie didn't leave a lasting impression and at its end the sourness dampened the experience further.
If they were looking for a smoke just to have in mouth they've found it as it was never offensive, just lacking. If I was playing a game or working on other things that garnered my attention, I would still prefer a milder smoke with more nuances .
Final Rating: 86