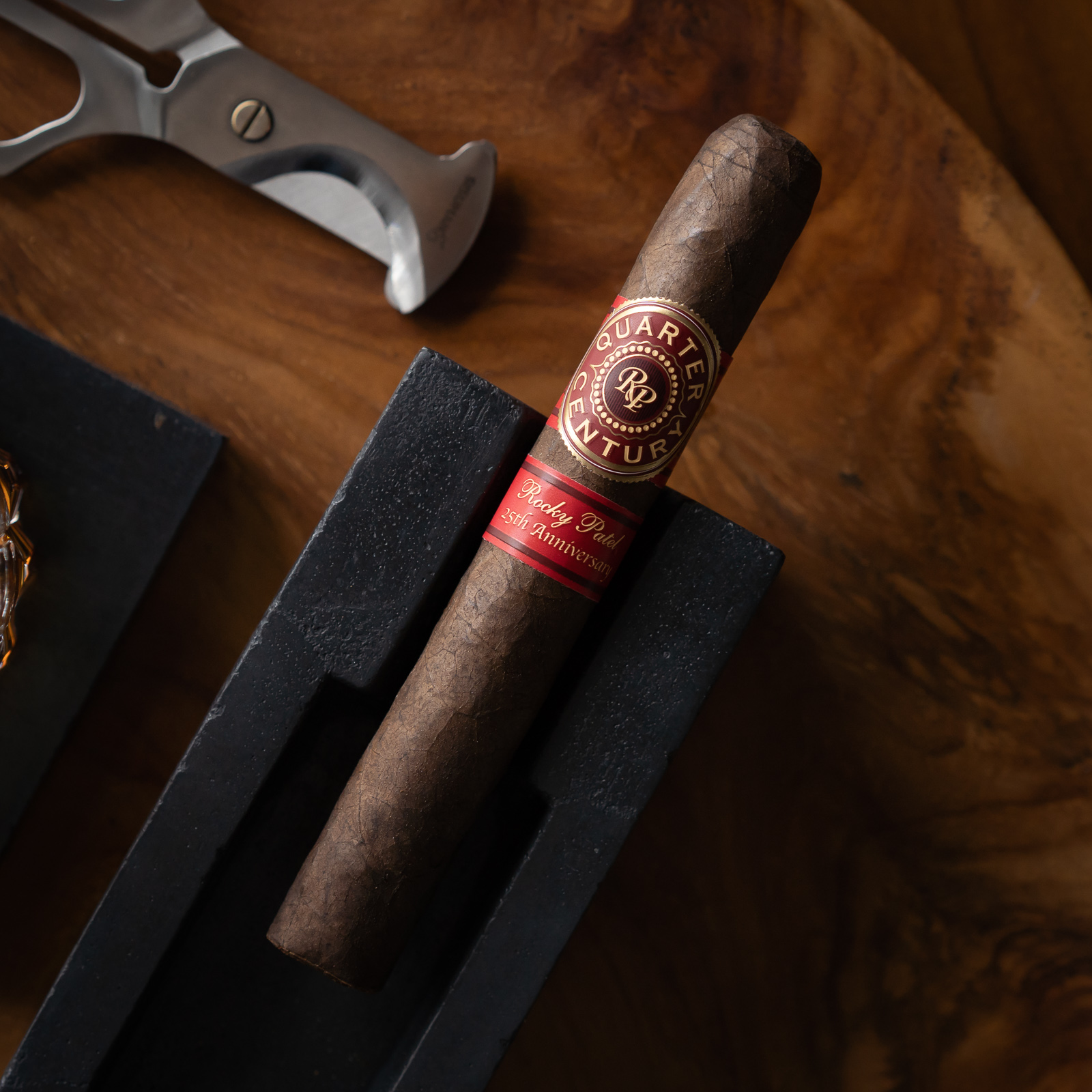 Rocky Patel, owner of what seems an endless list of blends over the years, has created a smoke to celebrate 25 years of craftsmanship. According to the company, the tobaccos in the Quarter Century were aged for ten years with an additional two years of aging post-roll, demonstrating superior attention to quality and craftsmanship. Rocky Patel has created premium as well as catalog cigars for literally all tastes, sizes and budgets. I've smoked more than my share, some I've loved and others quite the opposite.  
Thankfully, smoking the Rocky Patel Quarter Century blind gave me the opportunity to free myself of any preconceived notions and lets the cigar stand alone.
Blend Specifics
Cigar Reviewed: Rocky Patel Quarter Century
Wrapper: Mexican San Andres
Binder: Honduran
Filler: Nicaraguan
Size: 5.5" x 50 (Robusto)
Appearance & Construction
The wrapper on this cigar is dark and toothy with noticeable veins running along the sides. As I run my finger down the cigar, it is oily and after a squeeze, firm to the touch. I roll the cigar in the palm of my hand and the construction appears very good.  Smelling the foot gives the aromas of dark fruits like plum as well as chocolate.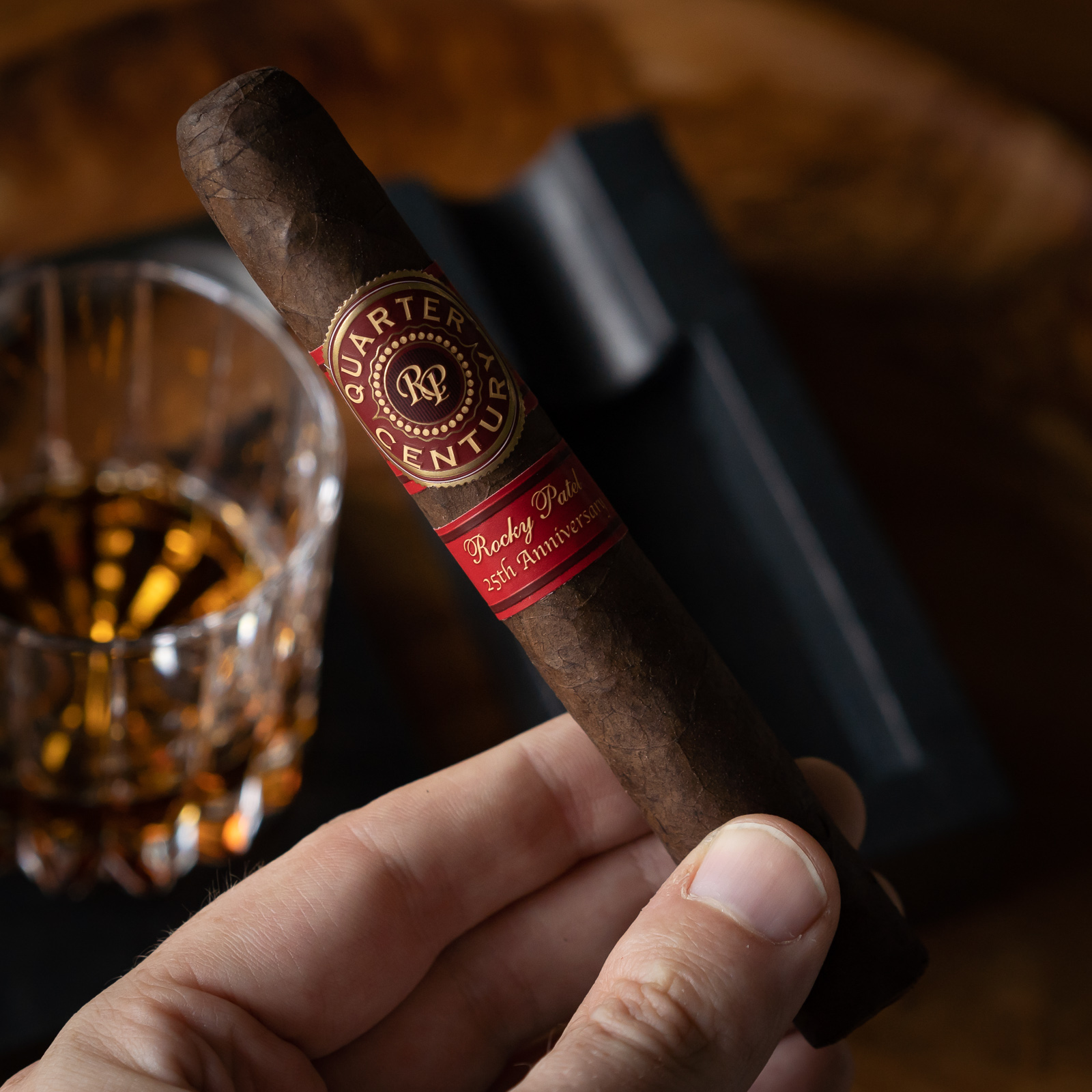 Flavor & Smoke Characteristics
With my trusty Xikar Wooly mammoth cutter I clip the head and take a cold draw. There is an airiness as I inhale with dry wood and salinity followed by some sweetness. I grab my Xikar Executive lighter and toast the cigar. The first few puffs that greet me carry earthy and gritty flavors from the wrapper.  I pause for a moment taking another draw which brings out vanilla sweetness followed by bitterness on the tongue. Switching to taking a retrohale, I get pepper and citrus heading through my sinus and out my mouth. The cigar is in the medium profile—not too overwhelming and the pepper I'm getting  now is more red pepper than black. The ash looks grayish white with a razor sharp burn.
Taking a draw at the midway point, the spice I tasted initially becomes charry and bitter. As I take another retrohale there's baking spices with a sour note on the end that resonates on my palate. The bitter expressions I've been getting are frustrating, and with another puff the vanilla I taste is muddled by dry earth tones ending in a short finish. Then there's some leather along with oak making an appearance which again ends rather abruptly.
In the final third, I'm surprised by vanilla and Asian spices. But despite these pleasing flavors the finish continues to end on a charry note. It feels like biting into a charred steak with wood notes and over seasoned pepper.  The smoke continues to be in the medium bodied range, never deviating. Taking a final retrohale, I get oak with a slight creaminess that rounds out the finish. In my last puff I'm getting that grittiness and earth followed by bitterness.
Not the most pleasant smoking experience.
Conclusion
Unfortunately, the Rocky Patel Quarter Century started off bitter and gritty for me and ended the same way.  When there was some vanilla sweetness, earth or pepper it was hurt by the overwhelming charred notes. As the cigar progressed, leather and Asian spices were pleasing flavors, but the bitterness again prevailed and the finish suffered each time.
When I found out this was a Rocky Patel Quarter Century Robusto I thought it was too bad that this anniversary cigar was not blended as well as one would hope for such a milestone. I will say a lot of care was put into its construction as it burned well, was expertly rolled and filled with tobacco. Unfortunately its components were not as pleasing in taste.
Rocky Patel has many brands, many of which I've quite enjoyed, but for me this is not one of them.
Final Rating: 80