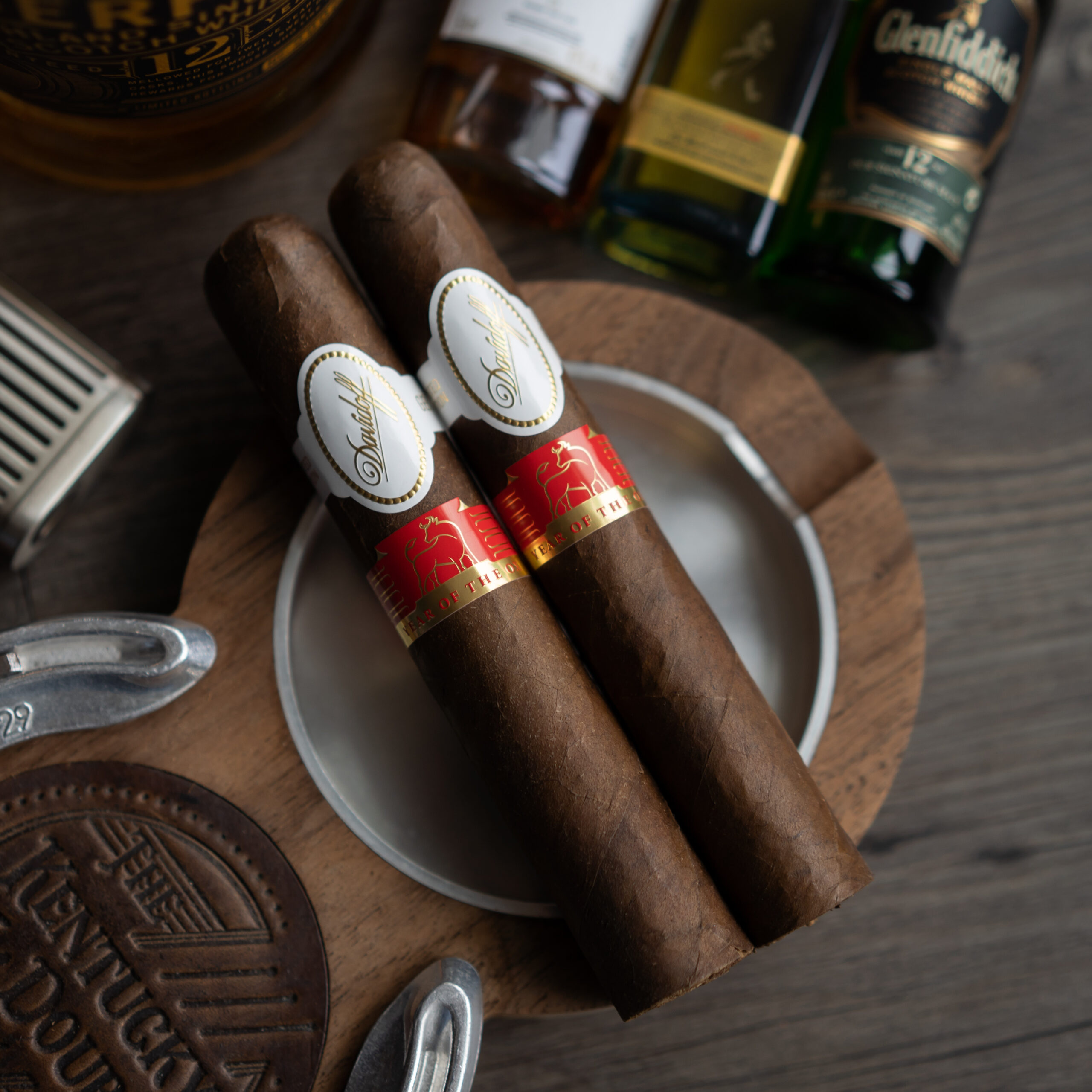 In its 10th release in the limited edition series based off of the Chinese Year of the Zodiac, Davidoff created an appropriately sized Year of the Ox cigar for 2021. This cigar is a six inch by sixty ring gauge smoke, fitting the profile of an Ox and falling in line with the continued demand for thick gauge cigars. I've personally not been a fan of these sizes. They rarely feel comfortable smoking and generally they don't generate the abundance of flavors needed to justify the time and effort required for such a large cigar. So needless to say, I wasn't particularly excited to smoke this blind.
Let's get to the blind review.
Blend Specifics
Cigar Reviewed: Davidoff Year of the Ox
Wrapper: Dominican
Binder: Ecuadorian Sumatra
Filler: Dominican and Nicaraguan
Size: 6" x 60 (Gordo)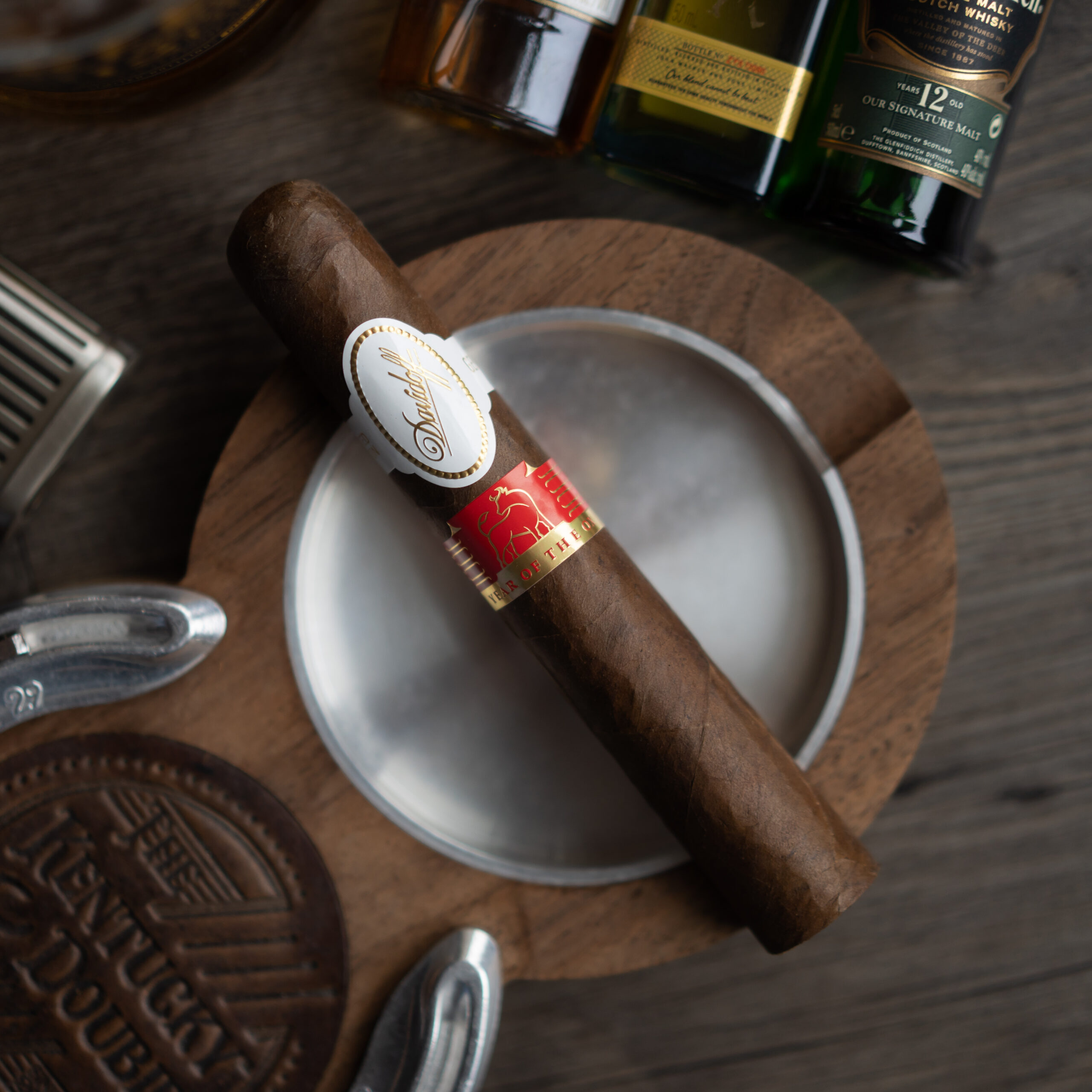 Appearance & Construction
This thick cigar has several veins running alongside its chocolate hued wrapper. As I give it a squeeze it's not too firm nor is it under filled.  Smelling the foot of this cigar I pick up all spice, cedar and earth notes.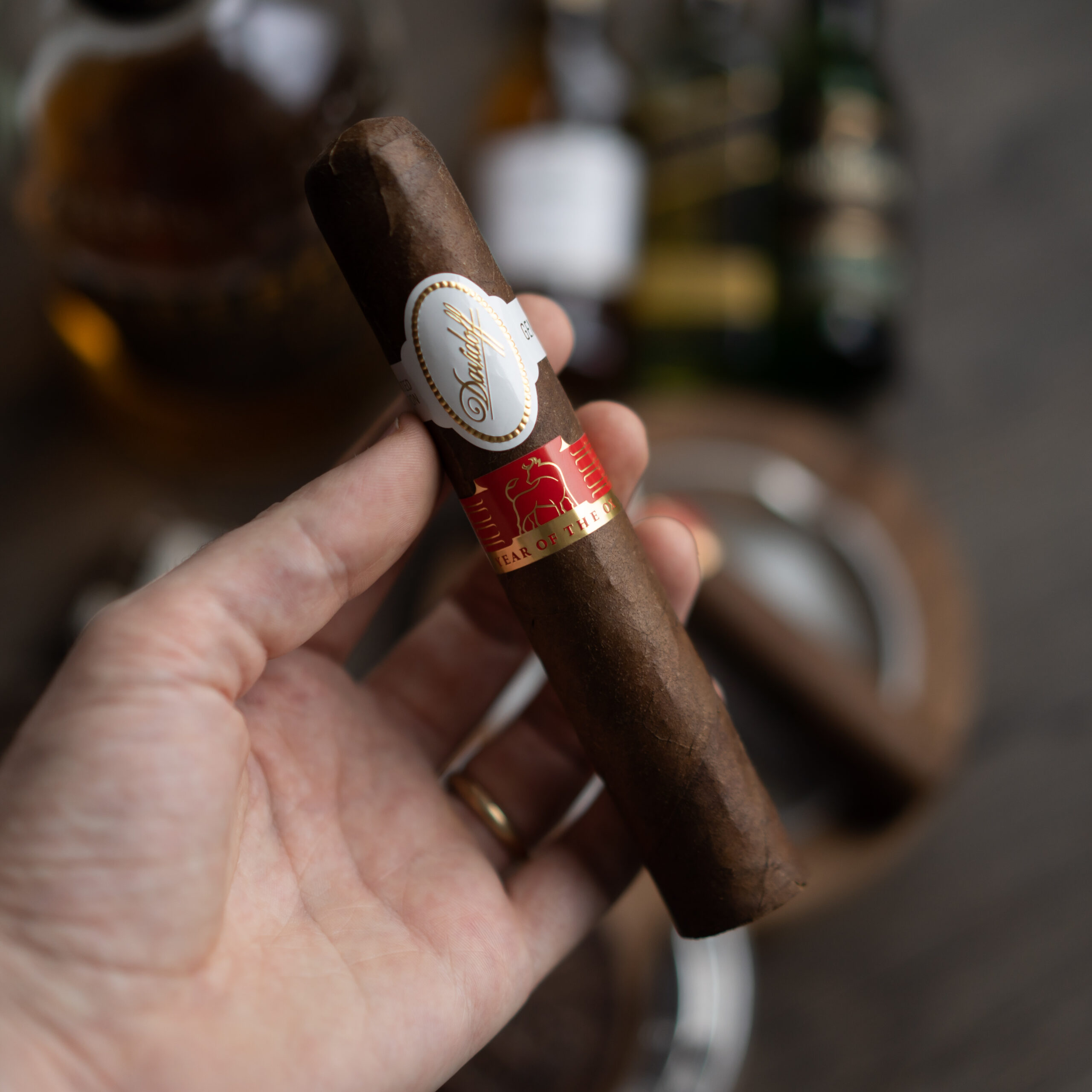 Flavor & Smoke Characteristics
I can see I'm going to need a blade that can handle this gordo so I pick up my Xikar Wooly Mammoth cutter which seems fitting for the size of the stick. I give it a swift slice and take off an appropriate amount from the head. The cold draw delivers a combo of vanilla sweetness and café au lait creaminess. With this large gauge I grab my Lamborghini torch and begin toasting the foot trying to ensure I'm getting an even burn across it. 
My first puff has salt and sweet with a tingling on my lips from the wrapper.  Another draw yields burnt crème brûlée notes with a toasty finish. I take a retrohale that delivers red fruits and nuts while the smoke blowing out my sinus has a cedary finish. Thus far the cigar is in a solid medium range and despite its size is not that uncomfortable to smoke.
At midway through the cigar, the ash is long and white. The draw is excellent, and with another puff cereal, bread and a charry note lingers on the finish.  Another retrohale hits me with nutmeg, cinnamon and earthiness in a medium bodied core of strength. The smoke is beginning to waft intensely and I take a puff out rather than in which seems to quell this. With a steady draw I pick up a honeyed sweetness which is in contrast to the forest floor I'm now getting a touch of. There's a slight medium to full body that is starting to resonate on my palate which I was not getting previously.  Despite this being a large cigar it has been burning at a slightly faster pace than I anticipated, and I'm smoking at a normal pace.
In the final third, I get a lot of toast along with almonds and a long woody finish. The burn line has been pretty straight and the ash rather firm throughout.  The retrohale I take is giving flavors of oats, wood and hay that surround my palate momentarily as I release the smoke.  Another draw brings a bit of cocoa swathed in wood and earth creating a unique profile.  With a final puff there's wood, nuts, toast and coffee delivering a medium salty finish.  A tasty gordo for sure.  
 Conclusion
Having bucked the trend of smoking these large gauge cigars I will say there are some that can change your opinion.  This is a fine example of such a turnaround. The Davidoff Year of the Ox demonstrates that a thick size can be used to add more of a variety of filler tobaccos simply by having the room to do so. The smoke had a harmonious balance of salt, sweet, toast and nuts without overwhelming each other.  I did wish the flavors where a little more pronounced and savory as that would've really made this cigar stellar.
When I found out this cigar was Davidoff, I was surprised there wasn't more of the the typical earthy, mushroom and truffle notes associated with the types of Olor tobacco they are known to use.  This is the best reason of all to smoke blind if you are reviewing a cigar as it eliminates those pre-conceived notions and leaves you open to a new experience.  
The Davidoff Year of the Ox is a cigar that even with a large price tag justifies purchasing one or a box.  If you like smokes in this size, you'll be quite pleased and if not this may change your mind.  
Final Rating: 92