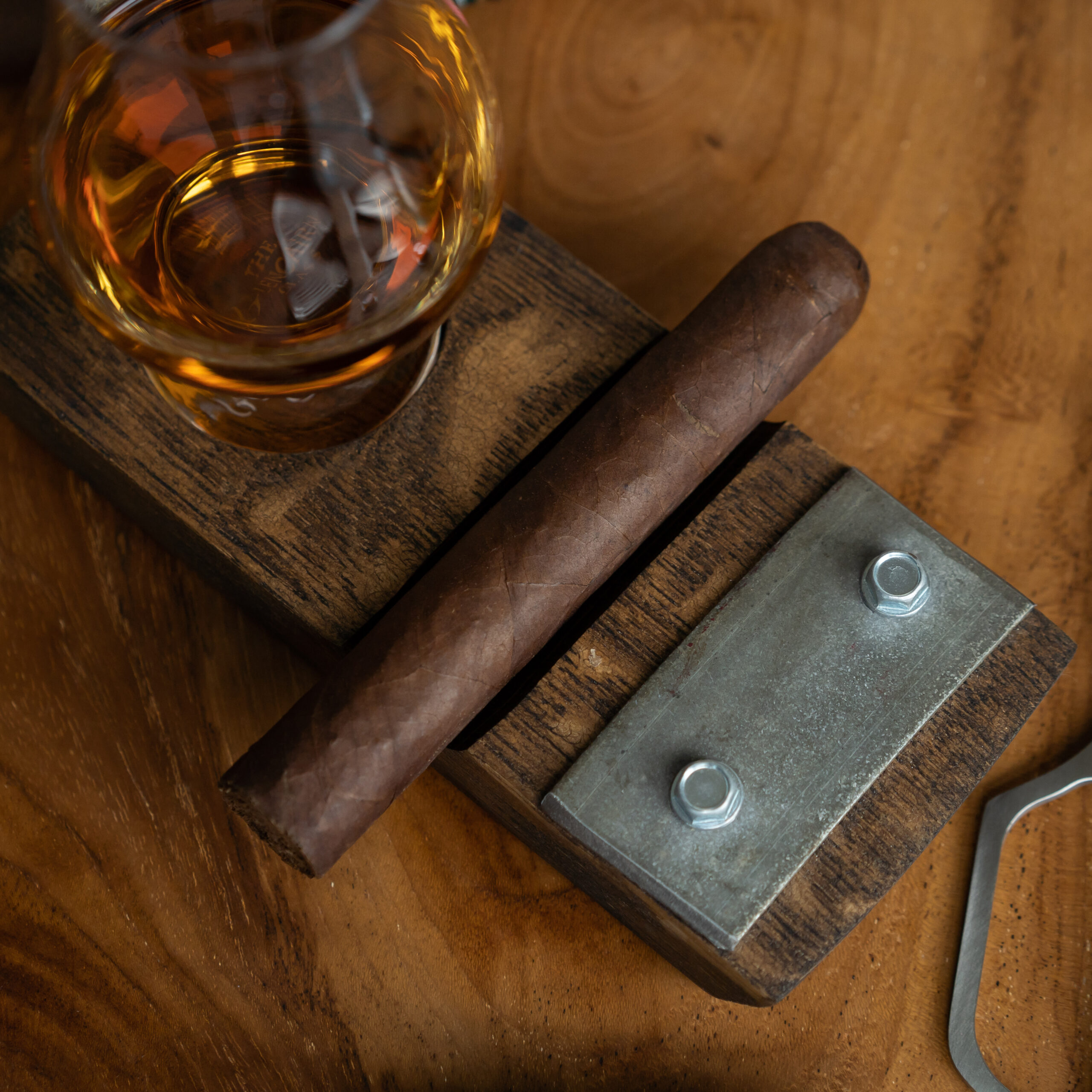 Caldwell Cigars Lost & Found series are what Robert Caldwell calls blends he's "Found" and re-banded for one off releases. I've found that some are truly unique smokes, not just in their packaging but in their flavor profiles as well. Conversely, some Lost & Found cigars likely wouldn't be missed by me if they stayed "lost". In either case, what makes these releases special is that proceeds from each Lost & Found project goes to different charities to help those in need. With Plume—blind reviewed today—proceeds help raise money for inner-city education. 
Blend Specifics
Cigar Reviewed: Caldwell Lost & Found Plume Robusto
Wrapper: Dominican Habano
Binder: Dominican '98 Crillo
Filler: Unknown
Size: 5" x 52 (Robusto)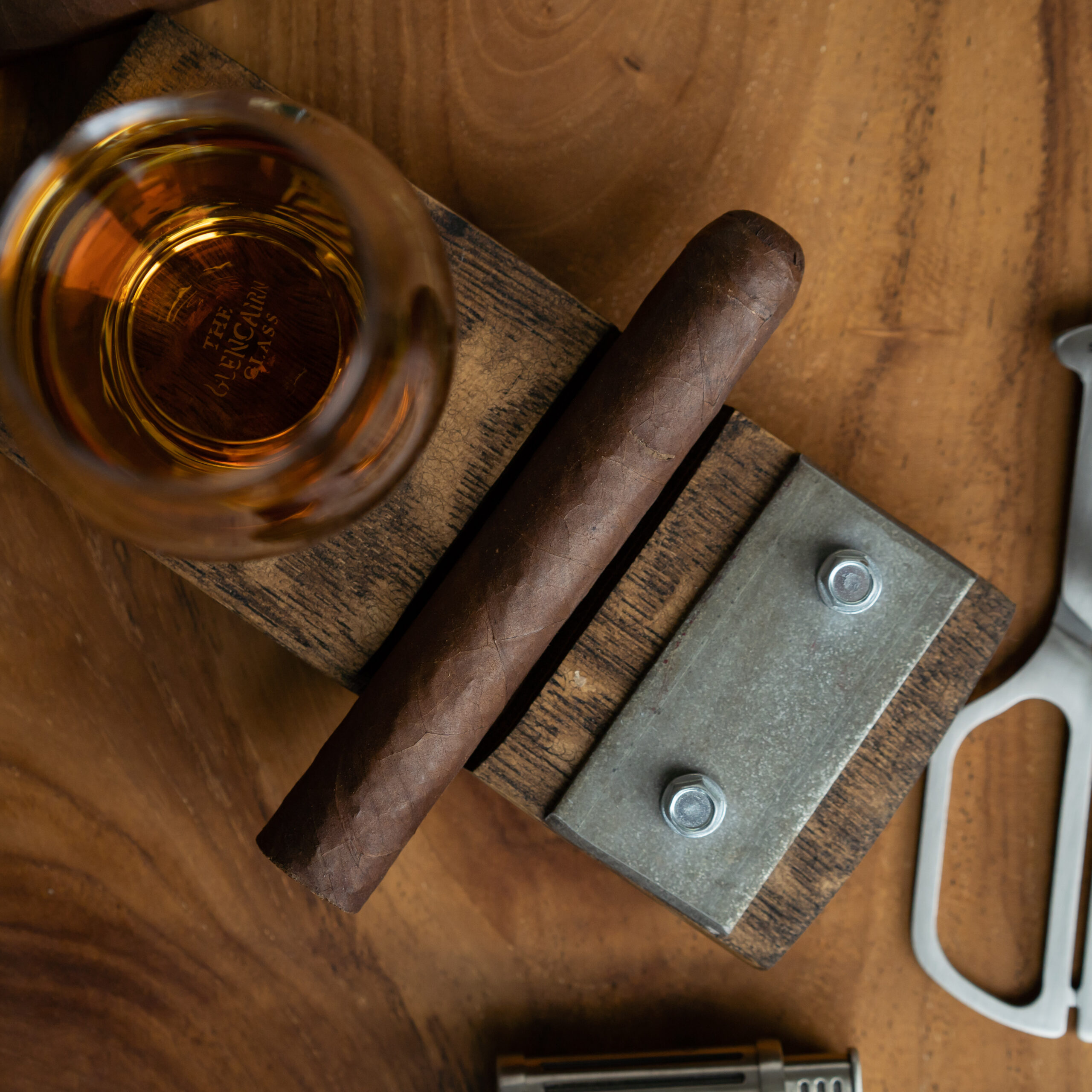 Appearance & Construction
The Caldwell Lost & Found Plume Robusto has a veiny rustic dark wrapper. The roll is firm and the tobacco to the touch indicates it has well organized filler leaves throughout. The foot smells of cedar with very little else coming through.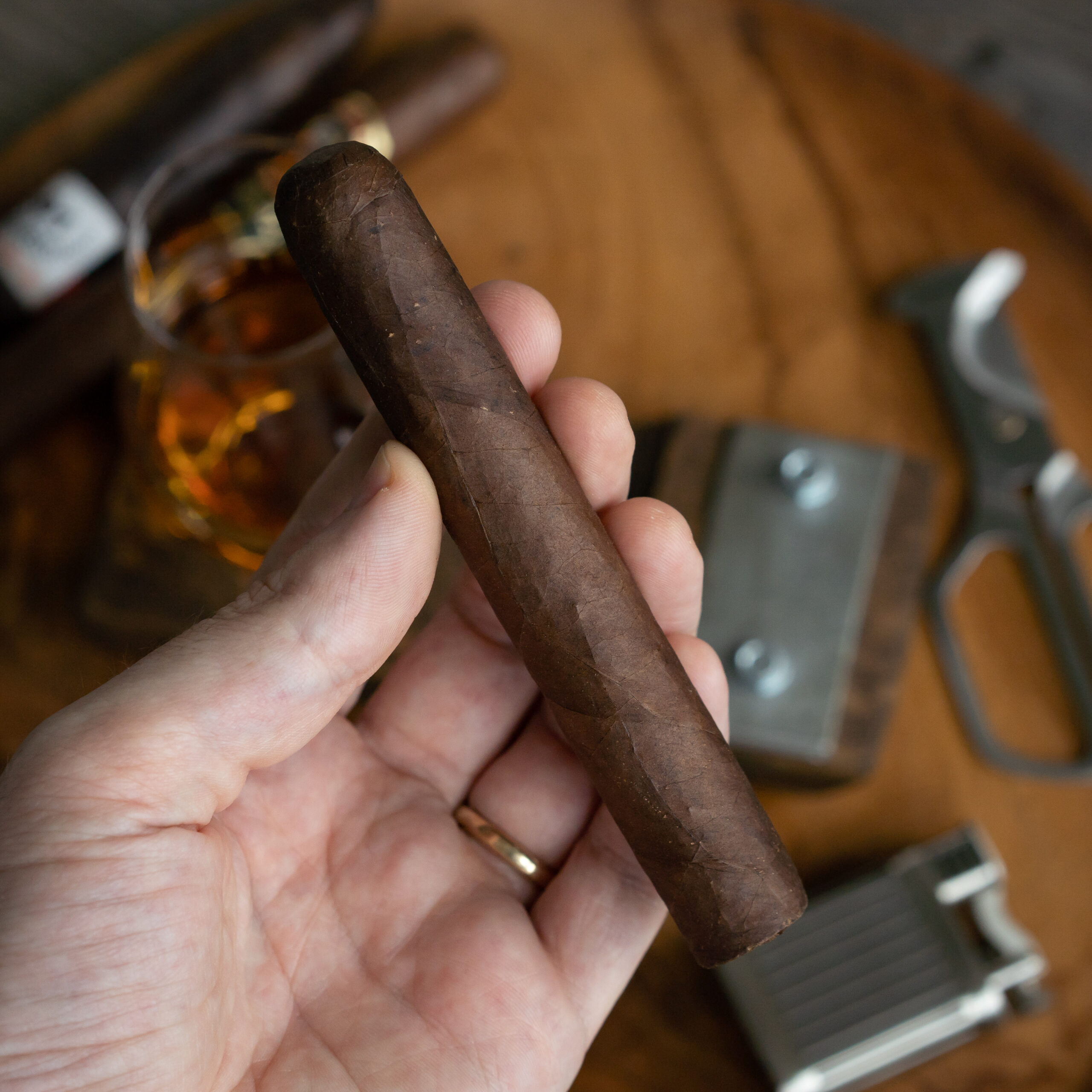 Flavor & Smoke Characteristics
With a Xikar scissor I take a delicate slice to the cigar and proceed to take a dry draw. The first few puffs of the cold draw give off cedar and wood notes in unremarkable fashion.  My Xikar EX single flame toasts the wrapper where the first full draw summons pencil lead, earth and some sweetness to start. Where the pencil lead ends some almond flavors take shape in addition to oak and some leather. The smoke production is full and the profile at medium. A retrohale sends some white pepper and dank hay through the nostrils. Some sweetness on the finish returns along with graphite notes lingering on the tongue.
The Caldwell Lost & Found Plume seems to burn at a fast rate despite actually smoking at a leisurely pace. At the second third, leather and oak dominate with an overwhelming volume of smoke. The burn line wavers a bit as I take another slow draw, with wood and a buttery finish. There is also a bit of espresso in between the oaky profile that, while short lived, is pleasing to the palate. An additional retrohale yields earth, cedar and pencil lead notes. The body continues to be medium in length with the flavors coming through similar to the beginning of the smoke.
As the cigar works its way to its final third, pretzel and a bready profile develop with a smoky characteristic. The breadlike qualities continue in addition to a creamier mouthfeel that seems to tone down the strength of the cigar. Secondary flavors emerge with some cocoa coming through that lead to a charry finish. Towards its end there is some bitterness in additional puffs while the wood flavors became muddled in between. As I take a last draw, cedar is present with a short lackluster finish. A not too terribly complex robusto.
Conclusion
I applaud the charitable nature of the Caldwell Lost & Found Plume Robusto. In terms of the flavor profile, as with many Lost & Found Releases that I've smoked, this blend becomes one of those examples that if a blend wasn't great to begin with, age usually won't do a whole lot to change it. The Plume robusto started off with pencil lead, wood and some pepper and then never deviated much from those flavors. With the exception of the charry finish on the last third, the cigar wasn't displeasing, just uninspiring.
If you have a charitable nature, give this a try as you'll be helping a good cause and the cigar will be easy to smoke. If you are looking for a better example of what Caldwell and the Lost & Found series can deliver, I suggest looking at other blends.
Final Rating: 88