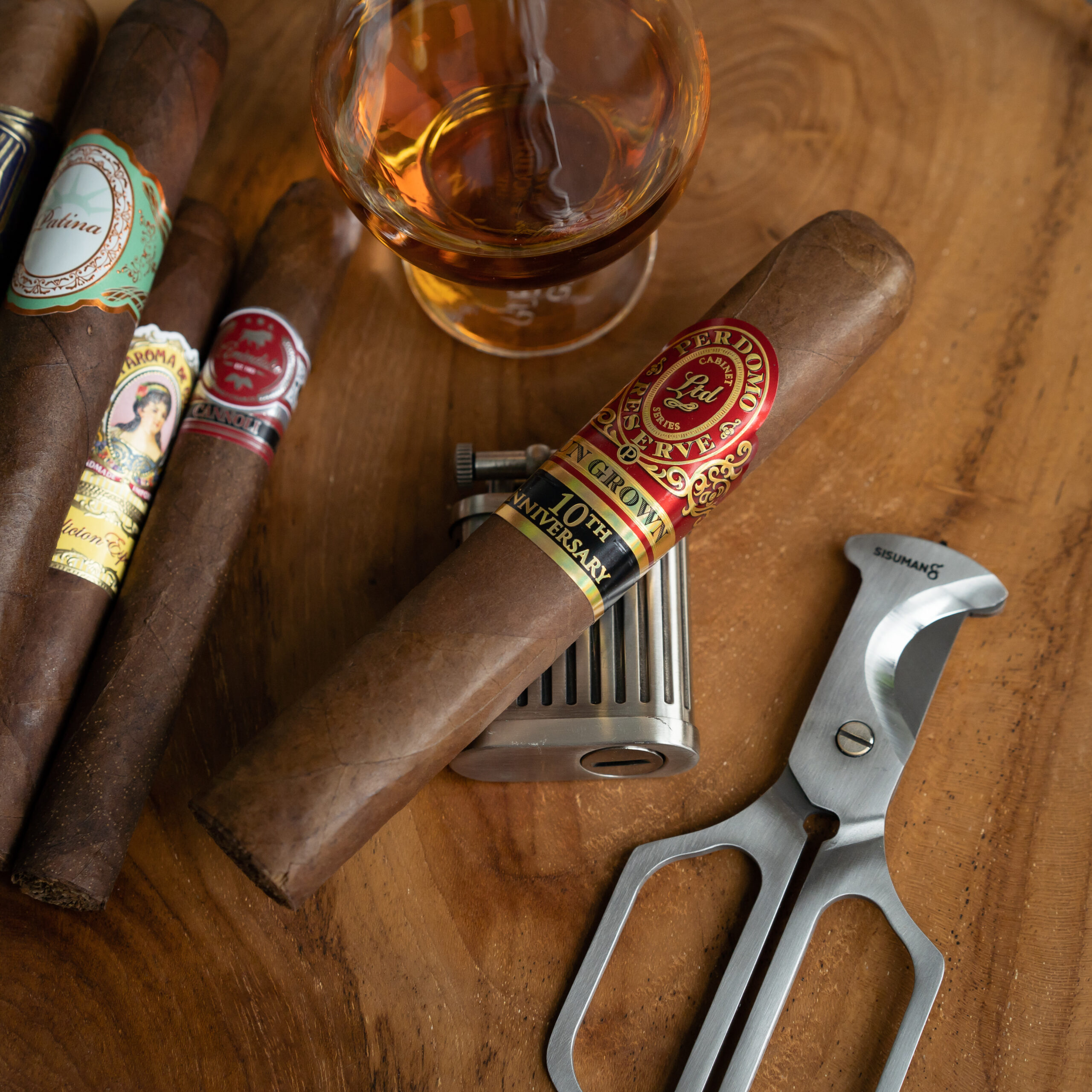 Perdomo has been in the cigar industry for decades and with this release the Perdomo 10th Anniversary Sun Grown the latest offering is a box pressed cigar with a sun grown wrapper. It is a Nicaraguan puro, but what makes this cigar special is that its wrapper leaf has been aged for ten mouths in bourbon barrels. Barrel aging can add flavors from the spirit the barrel once housed and with bourbon barrels there can be a discernible sweetness added to the cigar.  Smoking blind I could only see that the cigar was a large 60 ring gauge cigar with a box press. I have stated before that I find larger gauge smokes uncomfortable to smoke, but I was pleasantly surprised with not only the flavor characteristics but this cigar's overall smoking experience.
Blend Specifics
Cigar Reviewed: Perdomo 10th Anniversary Sun Grown Super Toro
Wrapper: Nicaraguan
Binder: Nicaraguan
Filler: Nicaraguan
Size: 6' x 60 (Super Toro)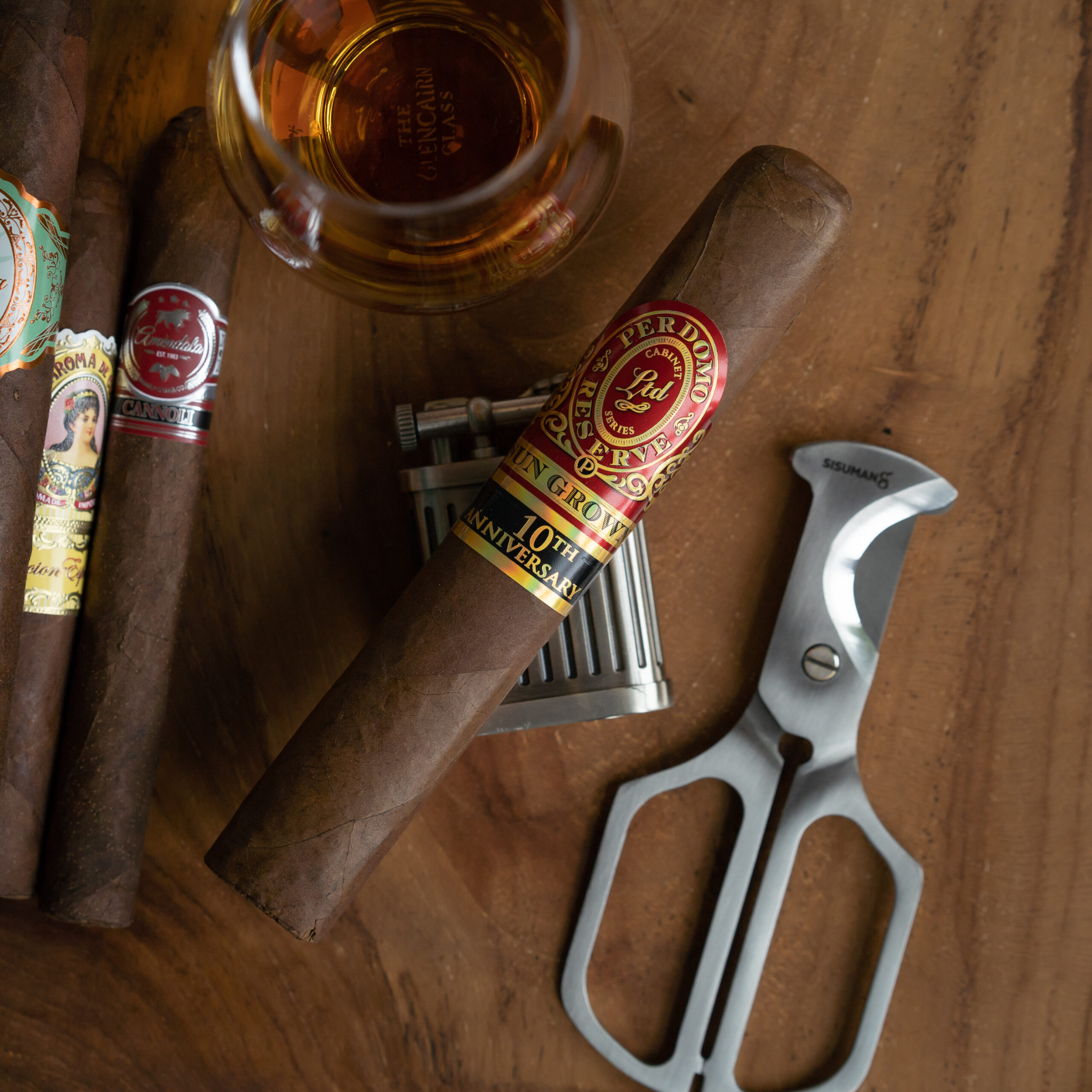 Appearance & Construction
This cigar has a beautiful milk chocolate box pressed wrapper. The cigar is smooth to the touch with few veins and when I squeeze it there is a fullness of tobacco with no soft spots to be found. It's quite a large cigar, although the box press makes it appear slightly less sizeable.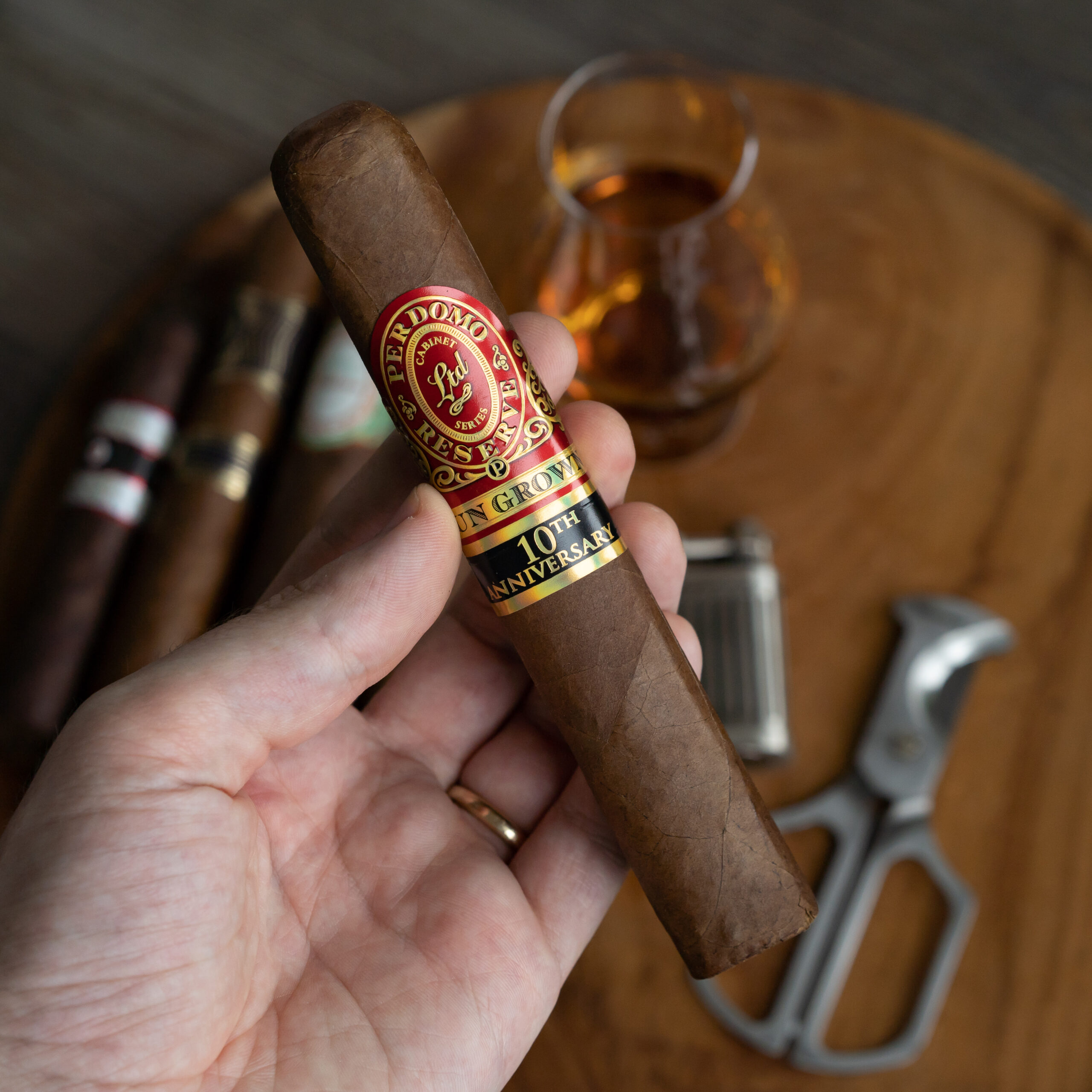 Flavor & Smoke Characteristics
With my Xikar scissors I clip a fine straight cut.  The dry draw is chocolatey and woody with a nice sweetness to it. Switching to my Lamborghini torch, I toast the Perdomo Sun Grown and the first puffs are spicy, earthy with full flavored tobacco. The flavors linger a bit in the mouth followed by a creaminess that develops with roasted coffee notes. The retrohale produces chocolate and cedar in the sinus and as it's released some black pepper comes through. The burn line is wavy but it does not seem to affect the smoke production or the flavors at all.
The cigar develops midway with almonds and milk chocolate on a long sweet finish. At this point the ash is long and firm which attests to the well crafted roll and tobacco blend. That milk chocolate note morphs into cocoa powder and nuts with hints of café au lait. The profile is medium bodied giving a sophistication to the flavors.
Giving another retrohale, oak and hay dominate with a wood finish that spends some time on the palate. The box press gives a nice draw to the cigar which allows a lot of flavors to easily come through.
As the cigar reached its last third it becomes slightly bitter with a shorter finish. There are some fruits, predominately raspberries, along with a nuttiness that comes on strong then quickly fades.  Celery notes and a vegetal component linger on the mouthfeel which is off-putting and the cigar begins to burn a bit hot. Then it settles back in with barnyard and fruits interplaying with less complexities, though still pleasant.
As I give the cigar the last few puffs, the chocolate returns with cedar and finishes on a long and pleasing note. A most enjoyable cigar.
Conclusion
Perdomo has had a long history in the cigar business with many lines and manufacturers.  Some cigars have smoked well while others have been lacking, but Perdomo has remained a vibrant constant in the business. The Perdomo 10th Anniversary Sun Grown delivered chocolate, almonds along with a creaminess that was ever present throughout the medium bodied smoke. Not being a fan of larger gauge cigars I found the box press to be more comfortable in the mouth and the excellent draw let the blend shine in this vitola. If you enjoy thicker cigars or even if don't you should pick up this smoke. You will be pleasantly surprised with what Perdomo has created here.
Final Rating: 90