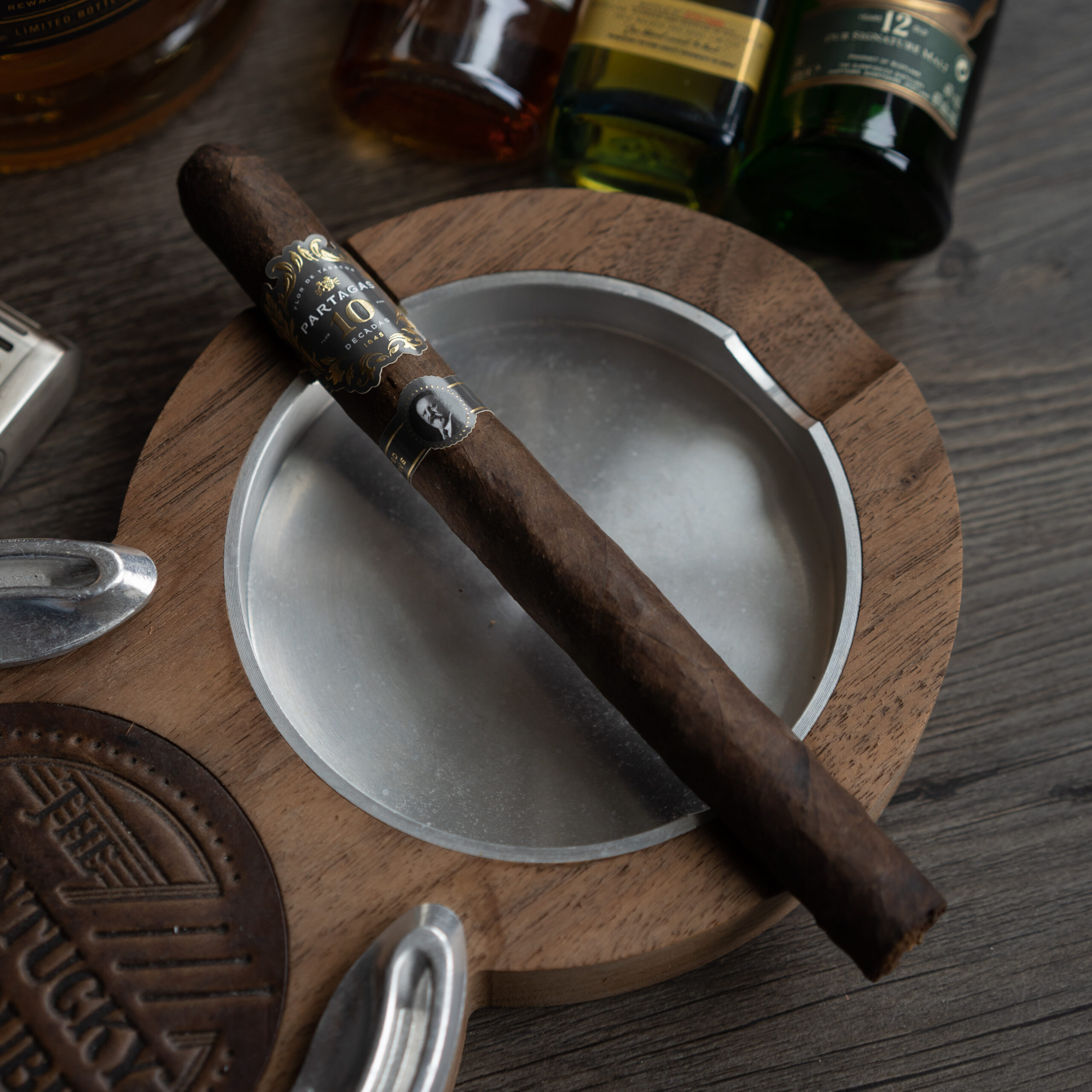 General Cigar Company possesses many aged tobaccos and with the Partagas Limited Reserve Decadas reviewed today, they are utilizing that old stock. The Decadas incorporates tobaccos over ten years and as a result is released in limited quantities. The cigar is rolled in one size only, a 6 3/4 x 43 lonsdale that wears a Cameroon wrapper with a Mexican binder and filler tobaccos from the Dominican Republic as well as Mexico.  Once the cigar is rolled it is encased in a class tube to be shipped and sold.
I've smoked a lot of General cigars and found that the quality all comes down to how the cigars are blended and the crop they used tobaccos from. Some cigars have off putting, others mild, and some really hit the mark with everything coming together. Read on to see how this cigar fared in a blind review.
Blend Specifics
Cigar Reviewed: Partagas Limited Reserve Decadas 2020 Review
Wrapper: Cameroon
Binder: Mexican
Filler: Dominican and Mexican
Size: 6 3/4″ x 43 (Londsale)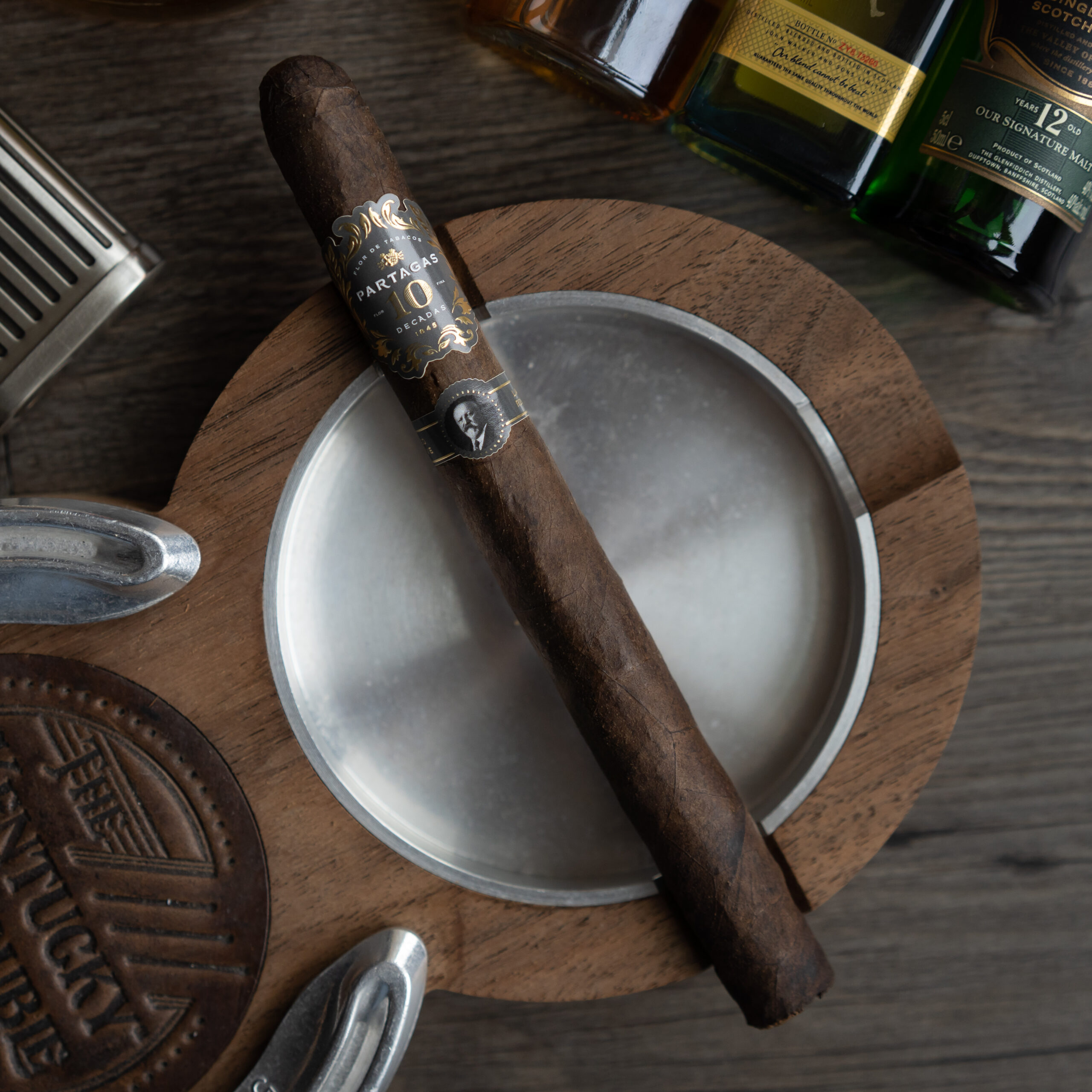 Appearance & Construction 
This long dark rustic looking smoke has several bumps as I run my fingers across it. The head is slightly rounded and as I squeeze the length of the cigar I can see it is densely filled with tobacco. It's not the most attractive stick and despite the worn look of it I'd say the wrapper is rather delicate. I give a smell at the foot which has white chocolate and coffee notes along with a touch of white pepper.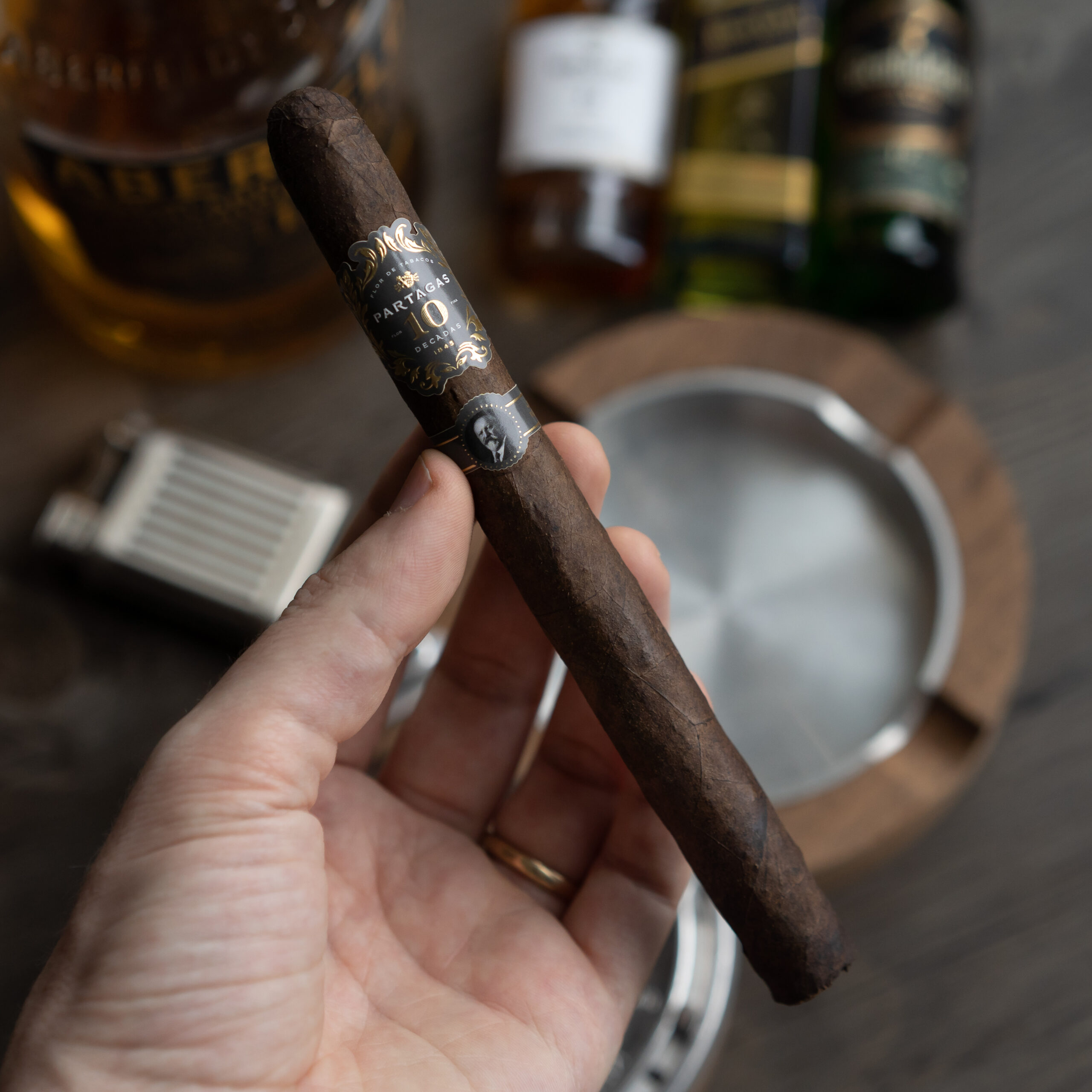 Flavor & Smoking Characteristics
Since my Palio cutter is within arm's reach I make a surgical cut clipping just a slight piece of the rounded head. I bring the cigar to my lips and the cold draw is airy and leaves a drying sensation. With a cedar taper in one hand and matches in the other I strike a flame and toast the foot with my taper and watch the red glow as I puff on the cigar. There's some immediate sweetness followed by leather and a buttery quality that coats my mouth. Earth tones are coming through as well, and the ash is already getting white. Strength is mild to medium. 
Even though I'm puffing slowly this long cigar seems to be smoking fast, though fortunately not hot. There are secondary flavors of milk chocolate and charred peanuts. I decide to take a retrohale and leather is dominating. As I blow out the smoke through my nasal passages I pick up more dusty cocoa notes. The cigar continues to be milder than medium and I really need to coax these flavors out. The white ash is hanging on which is demonstrative of the quality of the binder and filler tobaccos. Another draw and the flavors wane a bit leaving hints of nuts and earth that dissipate rather quickly.
As I'm moving closer to end of the smoke there's fruits, specifically dried berries followed by  leather with a very long finish. With another retrohale I get earth with plum and a slight dampness as I exhale. The cigar continues to be on the mild side in terms of strength and the flavors have been rarely intense.  Another slow draw and I pick up cedar with bing cherries that quickly fades out leaving a sour note on the palate.  I taste sugary sweetness again on the wrapper and while I take a puff cashews resonate which gives a more medium bodied profile. The note of nuts are a bit stronger than the previous flavors I've been getting. A final draw delivers leather along with a more intense drying sensation that lingers on the palate. A quite mild smoking experience.
Conclusion
I enjoy a londsdale size. The length and ring gauge can make for more concentrated flavors of the tobaccos used in a blend. The Partagas Limited Reserve Decadas 2020 started off with sweetness and an almost buttery quality contrasted by earth and leather. Midway, cocoa and some charry notes seemed a little unbalanced and the mildness of the blend wasn't as nuanced as I'd hoped. The cigar also burned fast for me and the sour notes at the end along with the dryness left me with a lackluster impression.  
When it was revealed to me this was the Partagas Limited Reserve Decadas 2020, my first thought was that even though General Cigar has stockpiles of aged tobaccos, it does not always make for great flavors. If they were looking for a mild cigar they certainly achieved it and while not unpleasant, I think it could've given a bit more.
If you enjoy mild smokes you may appreciate this, but for the price I'd hold off on this one.
Final Rating: 89