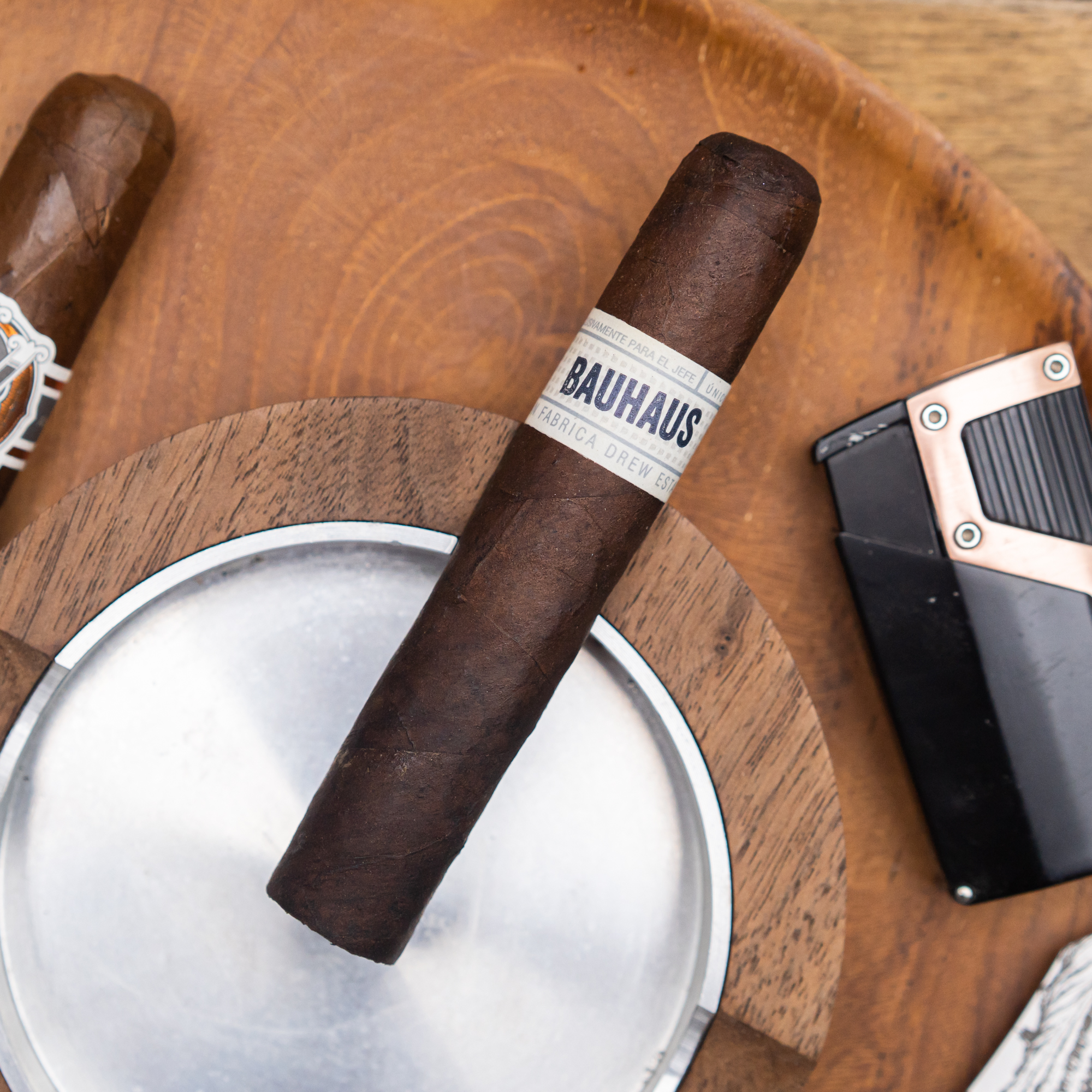 The Liga Privada Bauhaus from Drew Estate is a European exclusive extension of the company's prominent Liga Privada line. The blend is produced in a 4 1/2 x 50 short robusto format and is named after the Bauhaus School in the early 1900's which prized in function with respect to art and designggggg. I'm not sure of the connection to the cigar itself, save for the nod to Germany and being a European release.
I do enjoy this size very much and, reviewing it blind, all it took was one look and I was excited trying this vitola.
Blend Specifics
Cigar Reviewed: Liga Privada Bauhaus
Wrapper: Connecticut Broadleaf capa
Binder: Brazilian
Filler: Honduran and Nicaraguan
Size: Short Robusto (4 1/2 x 50)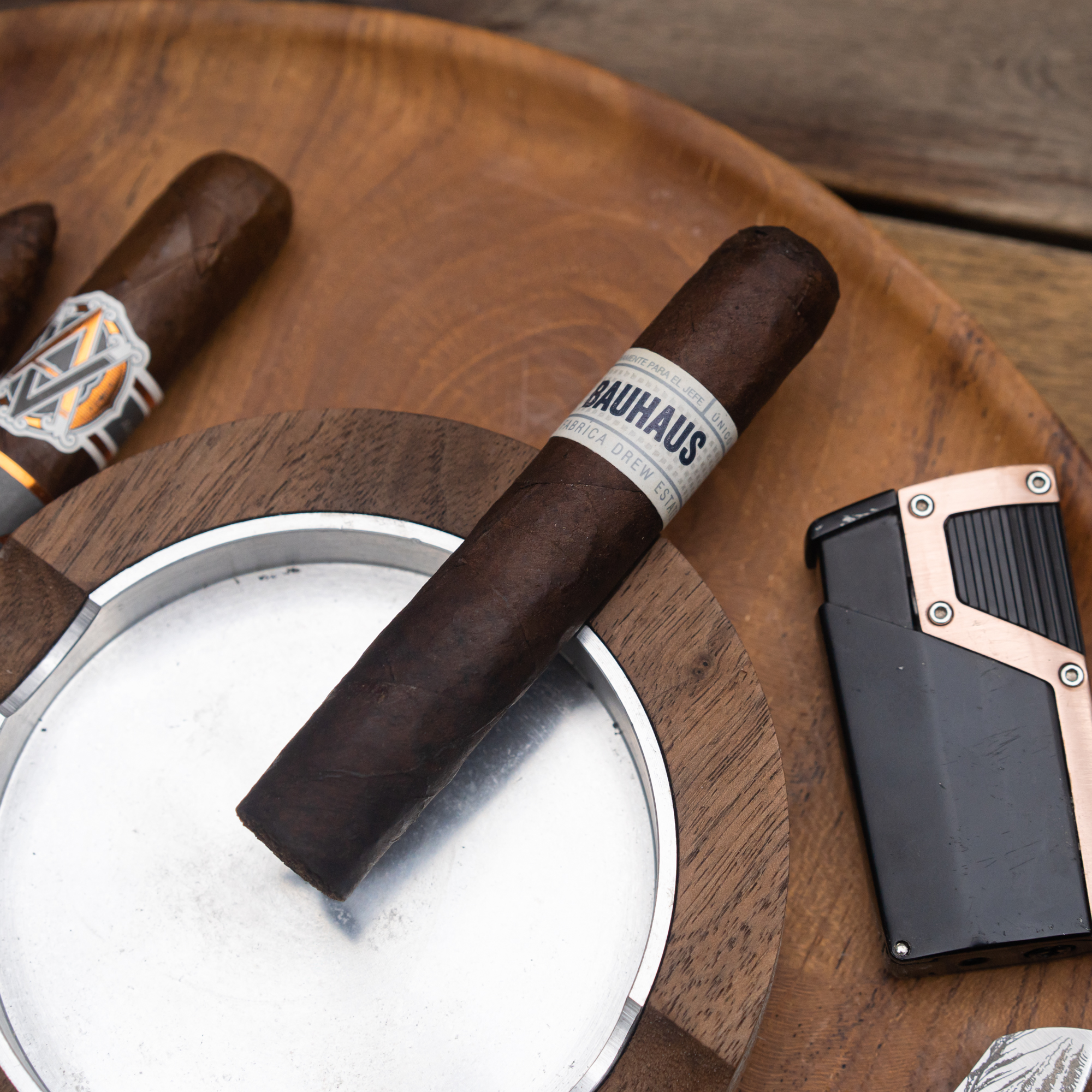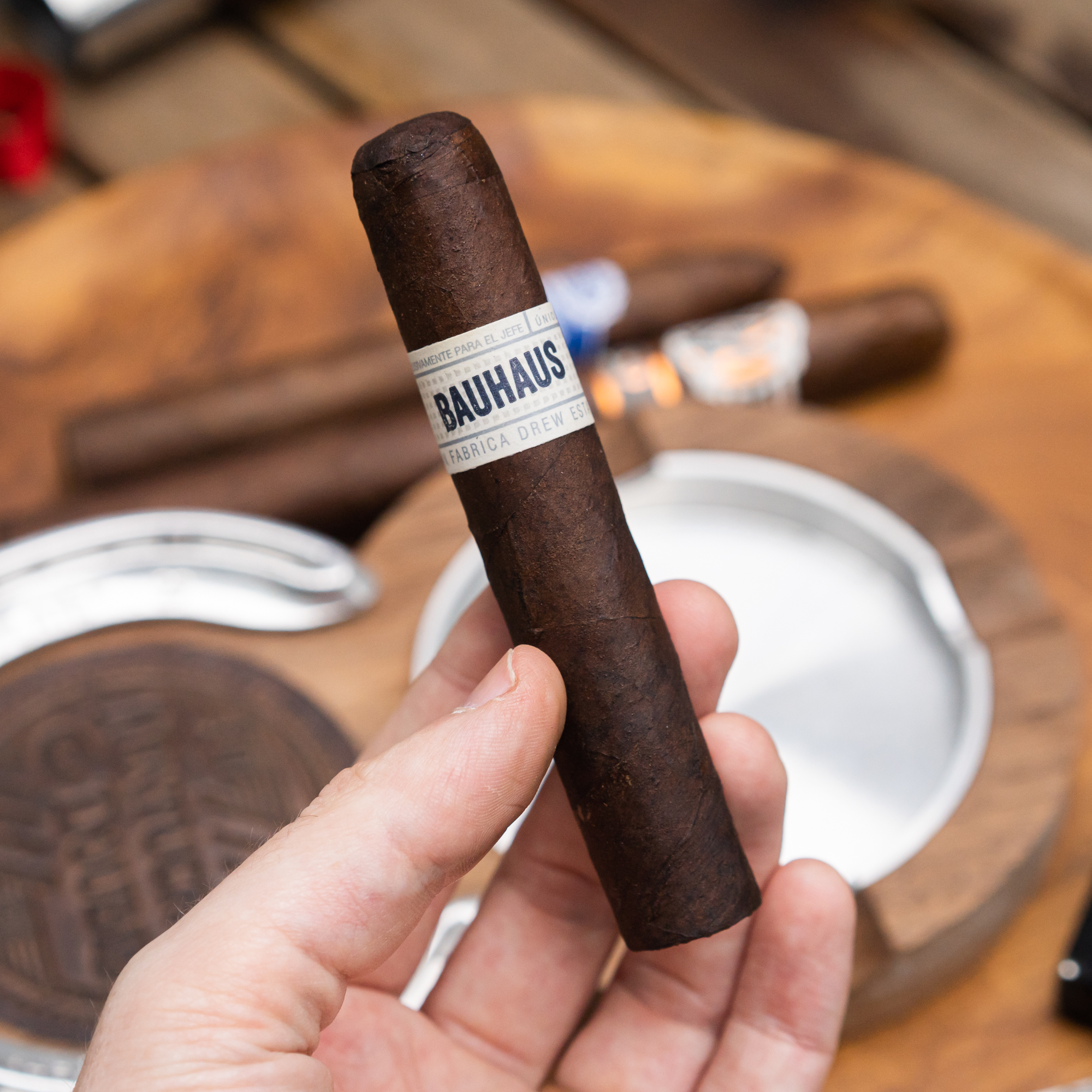 Blind Review: Drew Estate Bauhaus
Appearance & Construction
Looking at the wrapper it has a dark tone with veins along the side in a rustic style. As I run my fingers on the sides the veins from the wrapper leaf are evident. I give a roll in hand which is a bit off. To the touch its spongy although no particular soft spots across the smoke. The foot brings barnyard notes appropriate to the look of the cigar. I'm also getting oak along with raisins, hay and earth.
Flavor & Smoke Characteristics
Grabbing my Xikar MTX, I use the scissors to take a thin slice off the cap. I take a draw dry that delivers prunes, dark fruits along with wood notes. With my Lamborghini torch I take a full flame and get a grittiness from the wrapper immediately which is followed by cocoa dust and leather which dries out the sides of my mouth. After another puff there's more raisin upfront that moves to a weightiness mid palate and an earthy finish. I take a retrohale which is hay, earth and a dampness that is a bit soured. Looking at the ash its whitish gray with a wavy burn line.
This short robusto seems to burn fast despite my slow puffs. There's a semisweet chocolate aroma from the cigar and through the finish which is quite appealing. The burn continues to stay wavy and the earthiness is becoming very prominent. Its almost a bit overwhelming and is muddling the other flavors trying to express themselves. With a slow draw the cigar brings on an oaky profile followed by a surprisingly creamy albeit short finish. There's a bitterness that is lingering at present causing the wood notes to become sharper and almost tannic. Thus far the cigar is in the medium to full range strength wise.
As I reach the final third there are some citrus notes that gives a zing to the lips. While there's a noticeable acidity there is also a bit of toasted oak as I take another retrohale. The strength earlier was medium to full and as I take another puff a rush of full, almost meaty character hits my throat. The amped up strength is a change although the finish comes off rather rustic. At the same time, the grittiness seems to return from the initial flavor of the wrapper. In a repeat from earlier, the cocoa powder coats the sides of my mouth while bakers chocolate delivers a bitter ending. Slowing drawing once again I grasp at plum and spice in quick and short supply. With a final puff I get oak barrel that last longer on my tongue than most of the flavors that presented themselves.
Conclusion
While this cigar delivers various flavor profiles they didn't seem to draw my attention for too long. I enjoy dark fruits, chocolate and spicy characters in a cigar, but most of them finished rather short which left me wanting more. Even the wood profile became sharp as it progressed and only on a retrohale was there a toasty quality that was pleasing. The medium to full profile built itself up in a surprising fashion that added a meatiness that a peaty scotch would pair well with.
When I found out this was a Liga Privada I was not surprised as the broadleaf profile from Drew Estate was evident. This cigar has some appealing flavors, they just seemed to turn on each other at times. If you enjoy Liga's, you will respect the wrapper for sure. Just be prepared for flavors that bob and weave in your mouth.
Final Score: 88