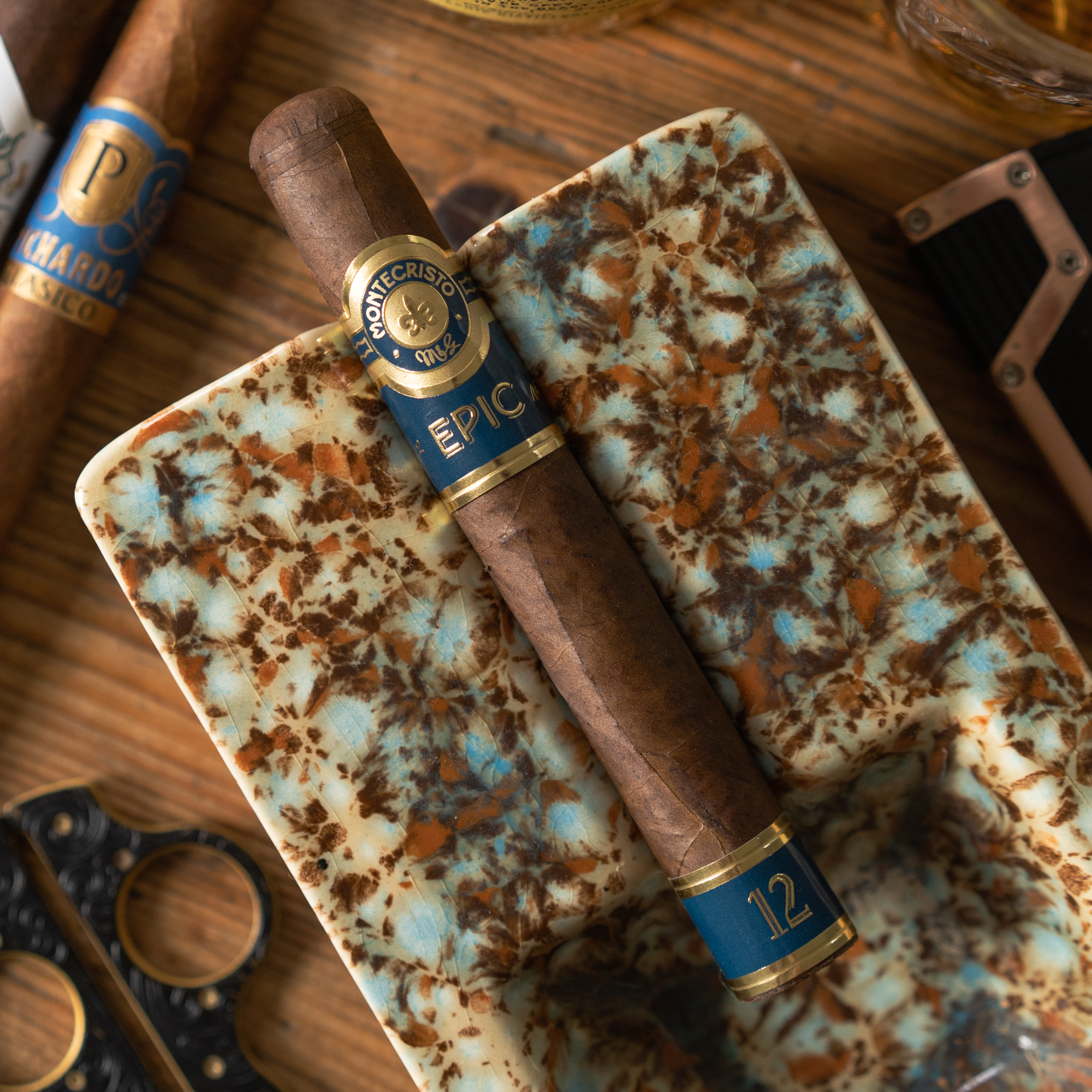 The latest in Altadis' large portfolio of Montecristo products is the Epic Vintage 12. The "12" refers to the 2012 tobacco crop that produced some of the tobacco in this cigar . With an Ecuadorian Sumatra wrapper, Dominican binder, and Nicaraguan and Dominican fillers, the three-country cigar certainly sounds appealing. But this was a blind review – so all of that branding and marketing made no difference in my assessment.
Blend Specifics
Cigar Reviewed: Montecristo Epic Vintage 12 Toro
Montecristo Epic Vintage 12 Toro
Wrapper: Ecuadorian Sumatra
Binder: Dominican
Filler: Nicaraguan and Dominican
Size: 6" x 52 (Toro)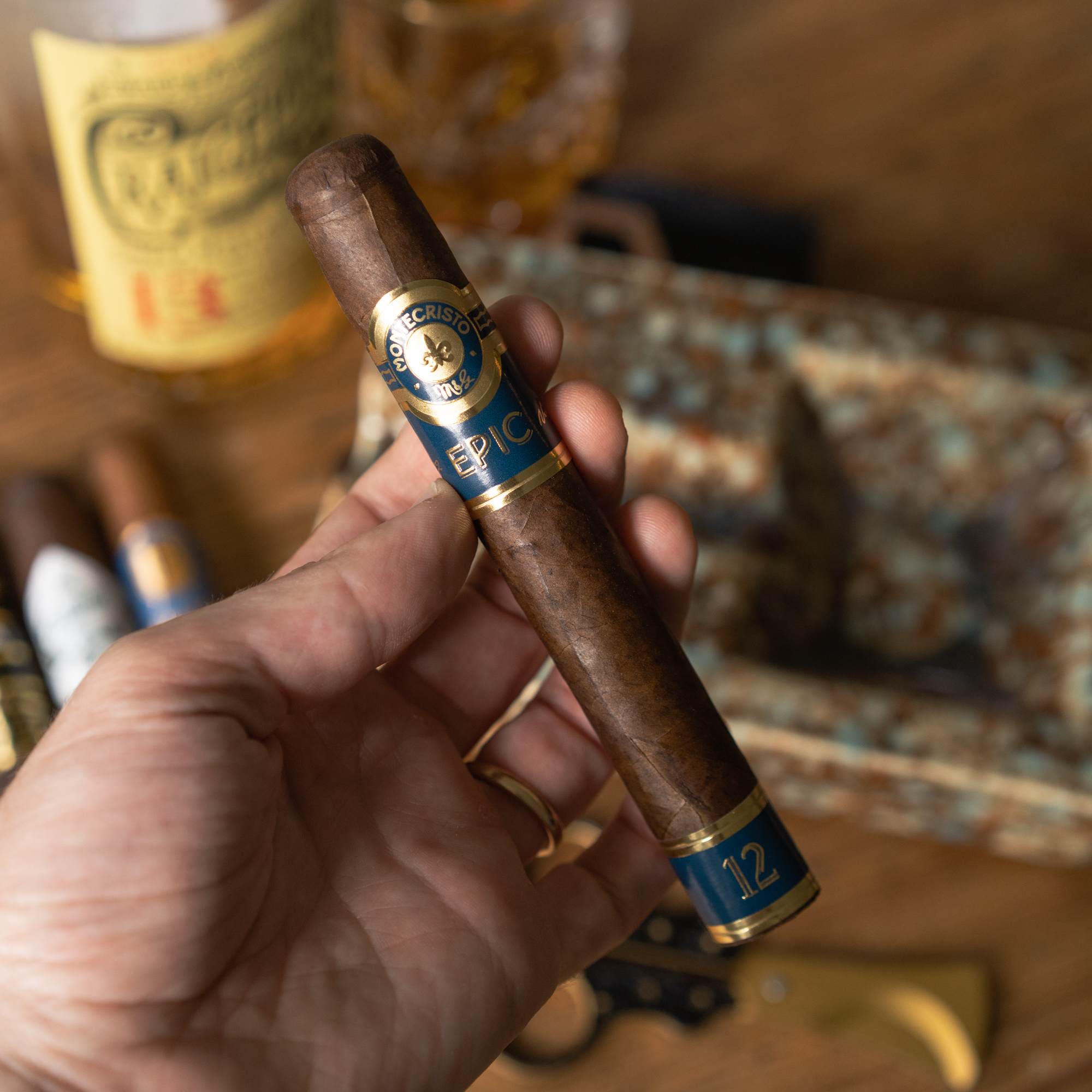 Appearance and Construction
This toro sports a dark, oily wrapper that is silky smooth to the touch. In hand the roll is excellent as it glides across my palm. When I squeeze the cigar, it is firmly packed with tobacco and in total the construction is very good. As I smell the foot there are notes of barnyard and forest floor emanating distinctly from it.
Flavor and Smoke Characteristics
Utilizing my Xikar cutter I clip a straight cut. Taking a dry draw, I get salt and spice on the lips and fresh tobacco in the back of my throat. The draw is a bit airy and upon lighting there's a rush of leather almost covering my entire mouth. The saltiness surrounds my lips and the tip of my tongue while the sides of my palate linger with leather as I take another puff. Notes of nuts and spice develop as I savor another draw. I take a retrohale and white pepper resonates through the nostrils and exhaling brings hay and oak. While I take a slow draw, I get a zippy taste of cinnamon that comes on rather strong. The body of the cigar is medium at this point.
The ash is white and flaky midway with a wavy burn line. Lots of toast and brioche surround my tongue as I take in an ample amount of smoke from the cigar. The retrohale delivers more toast along with oak and graham cracker on the exhale. There's a subtle sweetness coming through with cocoa in tandem with those wood notes. The medium body seems to maintain itself as the toro appears to struggle maintaining smoke from the foot. Giving a few longer puffs I manage to bring the cigar back to life and I'm rewarded with charred oak and a bit of spice.
The toast continues in the last third followed by a creaminess that lingers on my palate. Leather returns with vanilla and a surprisingly short finish. The ash and burn line straighten out a bit although it remains flaky rather than firm. I take a retrohale and the white pepper I initially picked up returns and awakens my senses followed by Spanish cedar. With a slow draw, I pickup chocolate and spice that appears sweet with a finish of toasted oak. The wood and leather seem to be dominant and as the cigar comes to its end a final puff sends it off with a balance of sweet and savory followed by a medium finish.
A consistently flavorful cigar from beginning to end.
Conclusion
This cigar began with distinct notes of salt and leather, followed by white pepper as it developed. Midway, the graham cracker, wood, and sweetness created a nice balance to this toro. Rounding out the final third leather, cocoa and spice gave this cigar a solid medium bodied experience. Finding out this was the new Montecristo Epic 12 was good news. I'm always interested in how they will represent the brand in a new line. I'd say this fits in the Altadis Montecristo portfolio as a flavorful medium bodied cigar that will not disappoint.
If you enjoy this range of strength, you can pick up a box and be assured it will deliver what you seek.
Final Rating: 91