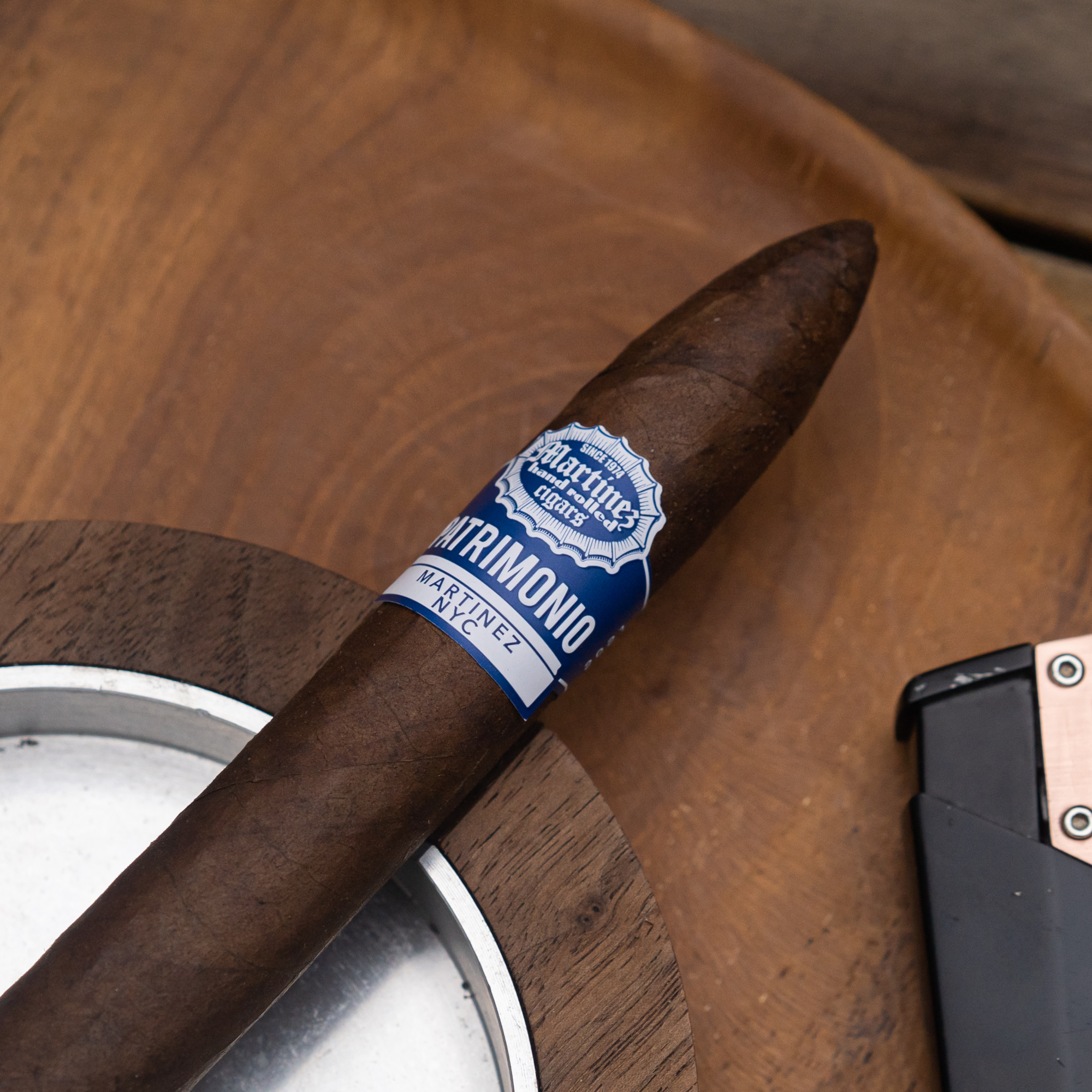 The Martinez Cigars cigar factory has been rolling cigars for New York cigar aficionados since my birth year of 1974. I've frequented the shop for nearly 20 years, smoking all their lines at varied price points. I've experienced some as of great value, some stellar in flavor and others rather one dimensional. Regardless of all of that, you have to visit the shop (29th & 7th ave) to see what they have to offer because it is a staple of NYC cigar culture.
Blend Specifics
Cigar Reviewed: Martinez Patrimonio Torpedo
Wrapper: San Andres
Binder: Nicaraguan
Filler: Nicaraguan
Size: 6"x52 (Torpedo)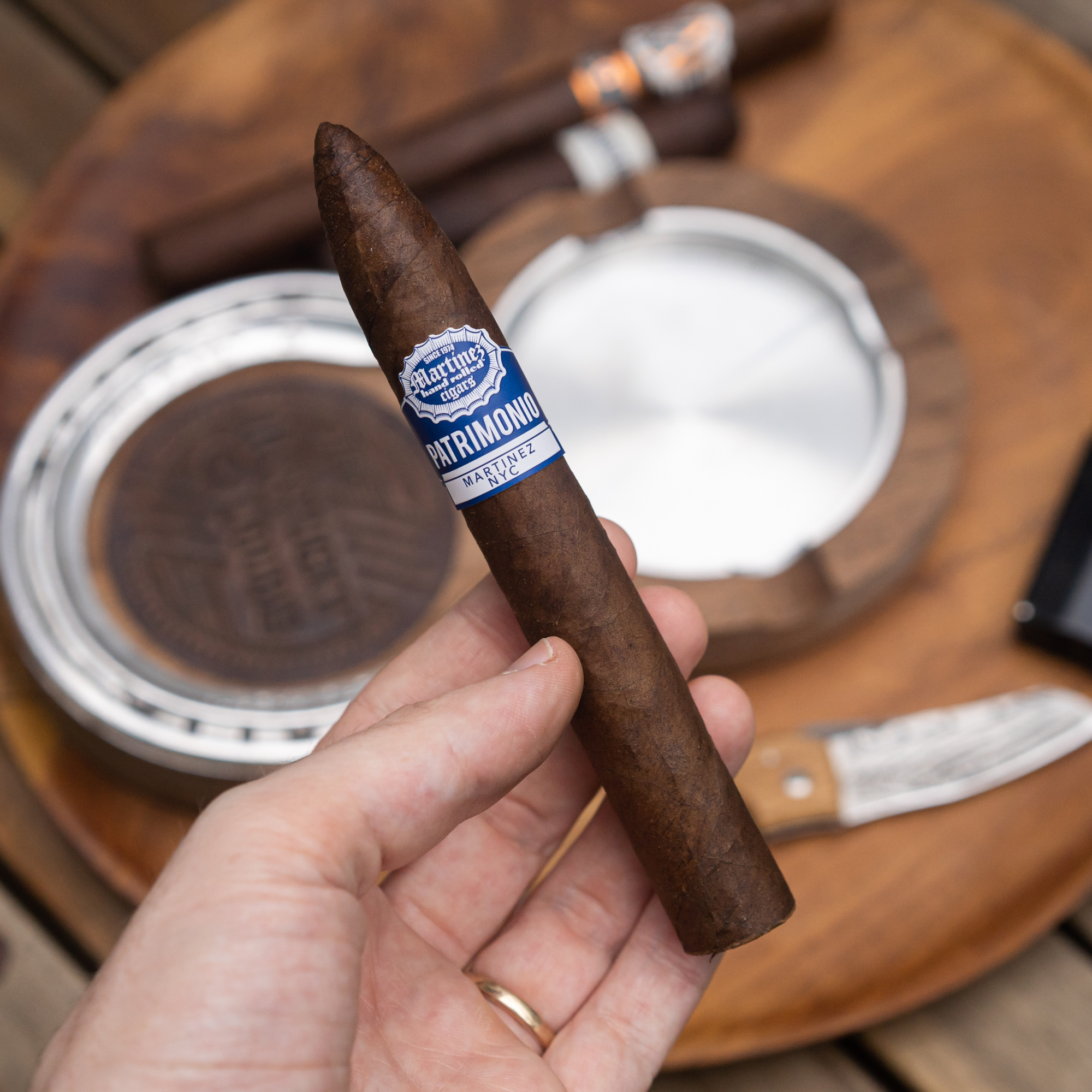 Blind Review: Martinez Patrimonio
Appearance and Construction
This torpedo has a reddish-brown wrapper that projects an oily sheen. It appears to be well rolled with a pointed cap. As I feel the cigar in hand it is firm to the touch with no soft spots that I can find. I give the foot of the cigar a smell and there's a faint hint of earth alongside subtle notes of wood shavings but nothing too distinct.
Flavor and Smoke Characteristics
I grab a double guillotine cutter and take a straight clip off the torpedo leaving a gracious amount of the pointed head still on it. The dry draw is firm and I'm getting lots of sweetness and spice from the wrapper. Using my Lamborghini torch, I toast the foot of the cigar and there's a vanilla bean sweetness to it with an acidic finish. As I take another puff there's sour cherry with a creaminess alongside a bite of espresso. With a retrohale, wheat and barley come on strong and as the smoke flows out of my mouth there's a noticeable bitterness on my palate. Thus far the cigar is in the medium boded range and has a solid white ash with a perfect burn line.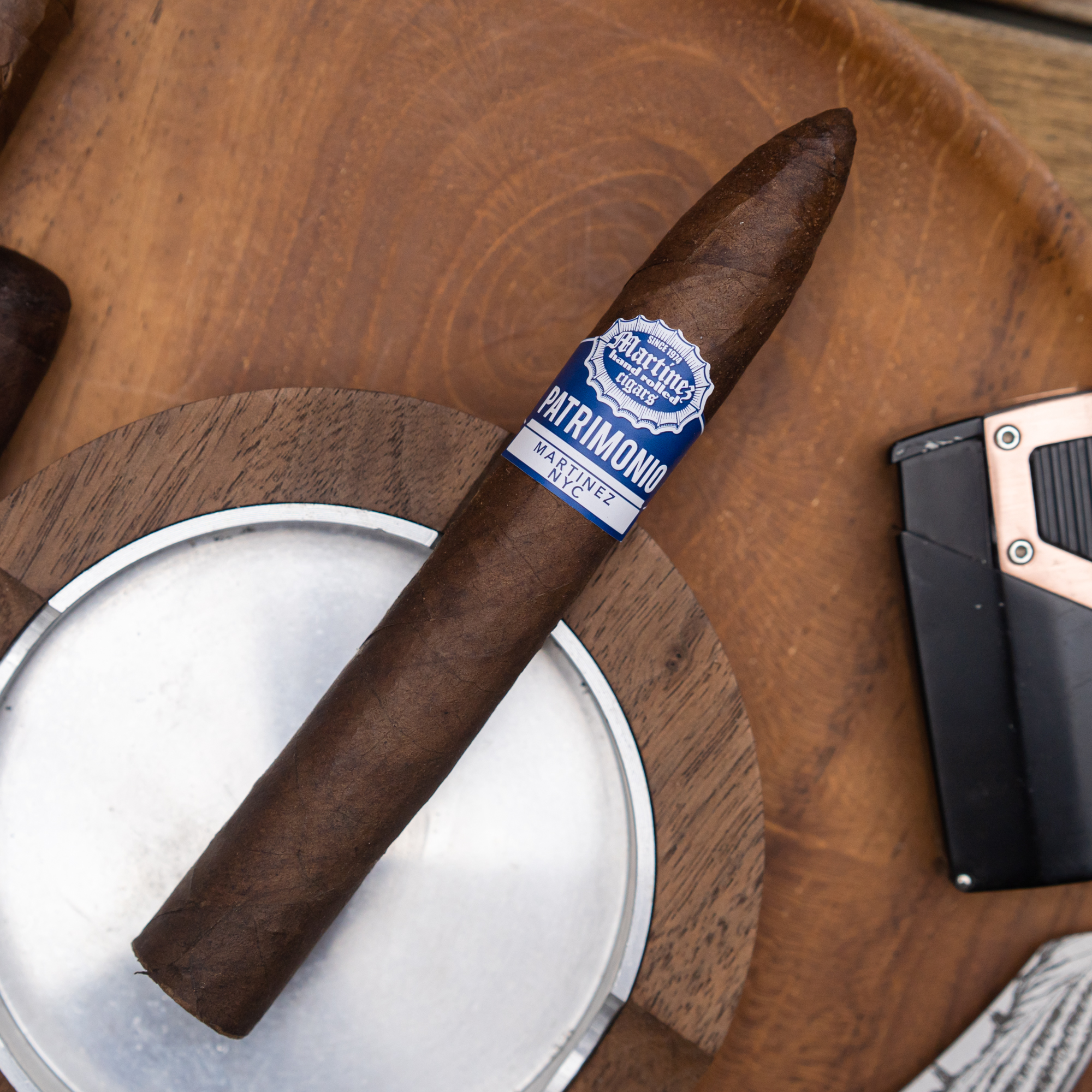 The cigar is burning slow as the firm draw is keeping me from smoking it too fast. Despite the tightness I manage to taste roasted coffee with some bitterness on the next puff. There are bitter fruits like Bing cherries along with citrus that waft through as I take another draw. As I retrohale an earthiness engulfs my nostrils almost stinging them along with jalapeño spice. The earthiness continues with another puff and gets rough in the back of my throat. I'm sensing some of the tobacco is young as its less nuanced than longer aged or properly fermented leaf. The draw opens a little and cedar and hay dominate the medium to full body that has gripped this half of the cigar.
As I reach the final third there's a dirt quality that adheres to the sides of my mouth that is displeasing. Slowly I draw on the cigar and there's more sweetness from the wrapper that gets muddled with citrus and a bitter finish. The red fruits return with cherries and almond on the retrohale. Surprisingly the cigar develops a fuller profile pushing through with oak and a tingly minerality on the back end. The younger tobacco reappears as there's a rough patch that hits the back of my throat. As I take a final puff oak and cedar dominate with an earthy finish.
Conclusion
This cigar looked better than it performed. There were bright spots when the sweetness and fruits came through although they were hindered by a continued underlying bitterness. The firm draw opened up a bit as it progressed but the flavors became rougher, and the tobacco seemed young in the middle part of the blend. The ash and burn line were spot on and you could tell there was an attention to quality in the rolling. This cigar could have been more if all the components inside the blend were properly treated. If you try one, I would suggest pairing with a wheated bourbon as it would make the rougher edges less noticeable and perhaps highlight the more appealing flavors of this smoke. I feel there's better Martinez cigars to be had at a lesser price point.
Final Rating: 86