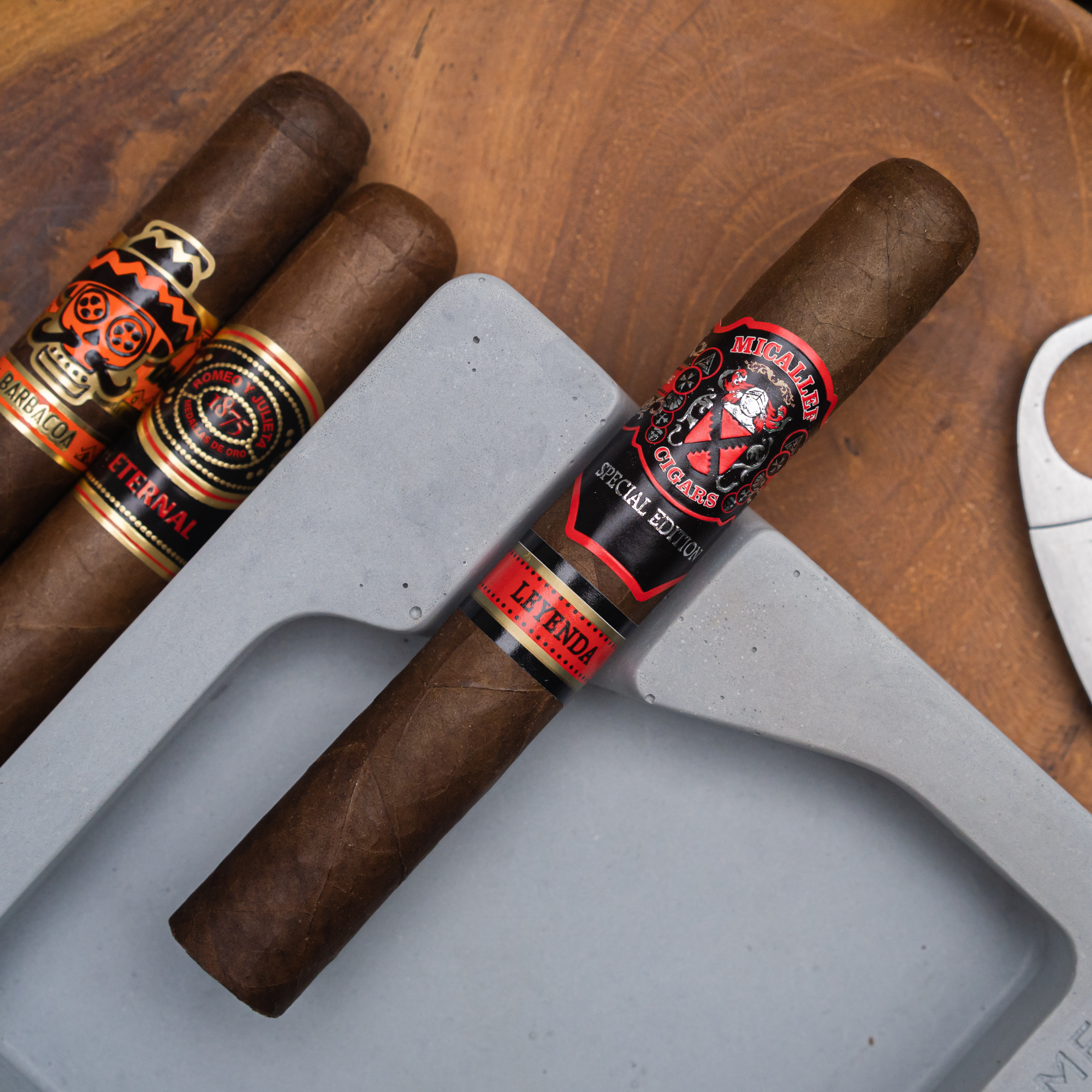 When Micallef cigars first came on the scene I was impressed immediately with their cigars both in terms of construction and taste. Of the several lines I've been fortunate enough to try, all have delivered unique profiles and shows that the Sanchez Gomez family knows how to work tobacco, and Al Micallef recognizes talent and seeks to elevate the businesses he's involved in. Since this was a blind review, I didn't know I was smoking a Micallef cigar, but the appearance of the flawless outer wrapper certainly invited my attention!
Blend Specifics
Cigar Reviewed: Micallef Leyenda Special Edition
Wrapper: Ecuadorian Habano
Binder: Nicaraguan
Filler: Nicaraguan and Honduran
Size 6"x54 Toro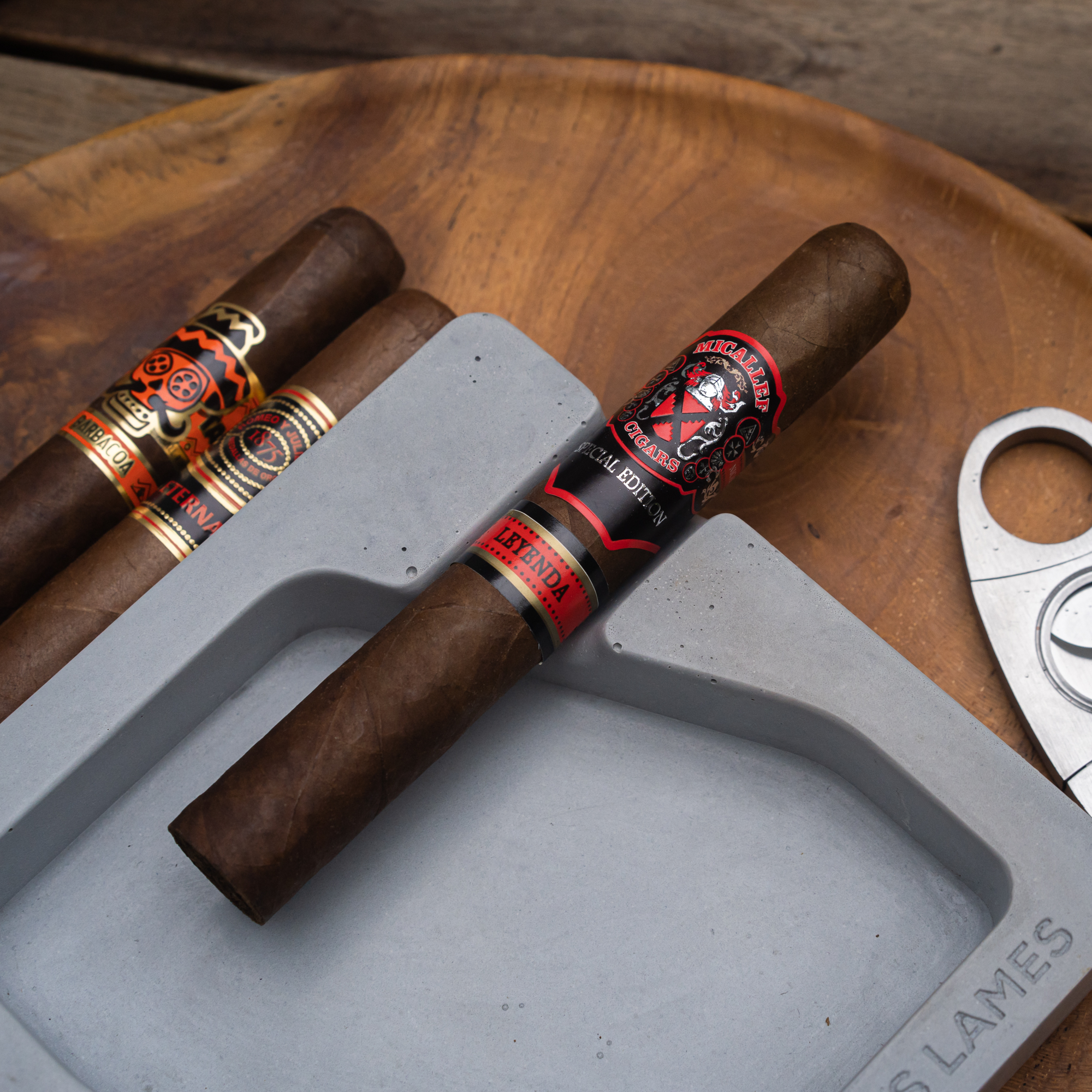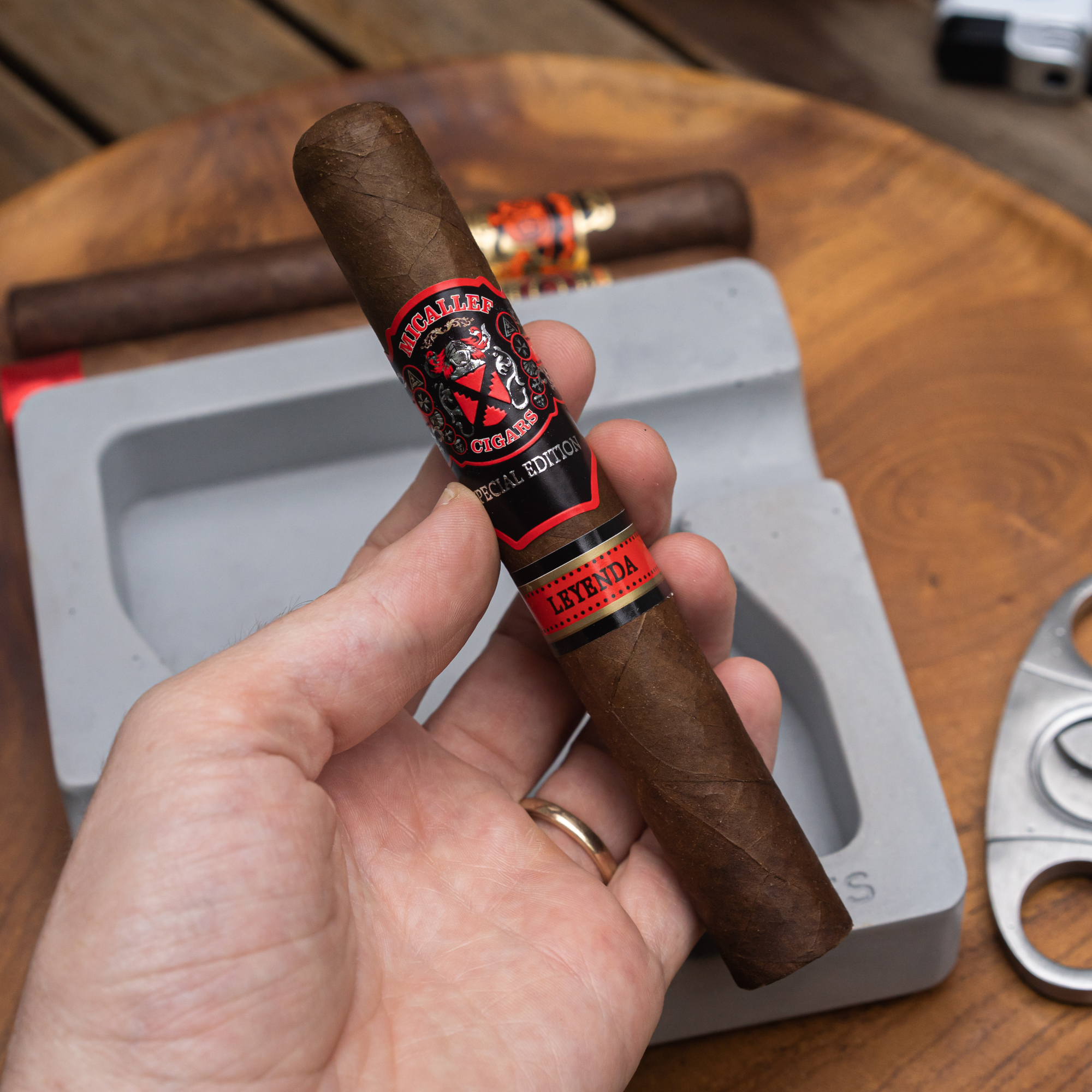 Blind Review: Micallef Leyenda Special Edition
Appearance and Construction
This cigar has a gorgeous dark wrapper with a tight seemed triple cap. There are minimal veins and as I feel the cigar the tobacco inside it couldn't be anymore packed to the touch. The roll is on point and the construction reveals this a premium cigar. The foot smells of barnyard with secondary bready notes. As I inhale a bit deeper there's a toasty quality that rushes through my nose.
Flavor and Smoke Characteristics
Using a V-Cut I snip a piece of the wrapper which yields a perfect slice. I take a draw dry which tastes creamy with an almost buttery quality. The draw is perfect and demonstrative of the talent of the roller. With a long match I toast the cigar and the first puff smacks with black pepper on the tongue. I'm getting lush tobacco mid palate that lingers for a few seconds before changing to earth and forest floor. The retrohale is bringing almond big time and exhaling gives me marzipan and nuts. Then I do a quick relight as the cigar suddenly goes out. A new puff brings earth and toast alongside black pepper and cumin. The ash is solid white and sturdy at this point which is a sight to behold.
Reaching the mid-point of this toro, the draw delivers vanilla bean and leather notes that have a sweet and salty character. The cigar is spicy and bold with the next puff overwhelming my palate. Full bodied and rich are the words that come to mind at the moment. Unfortunately, the cigar extinguishes suddenly once again, forcing another relight. I use my Lamborghini torch to fire up this lagging toro that's both tasty and frustrating at the same time. The next puff continues with earth, nuts and a long finish that is peppery, almost tabasco like. Despite any relights the burn line has maintained a rather straight appearance. The retrohale brings a vibrant mix of citrus, grain and toast that enlivens the nose. Exhaling gives me a zippy sensation throughout which is a nice surprise.
As if the cigar knows it's heading towards its end, its burn dissipates once again. I torch the smoke and there's a salty character along with wood notes and a finish of celery salt as I take a draw. With another puff the leather intensifies bringing with it roasted coffee and a layer of earth as the smoke lingers on my palate. I take a long retrohale where flavors become smoky with oak influence and cedar coating my mouth as I exhale. The burn appears to be flaying so I take a slow cool draw were there's leather, pepper and some spice. With a final puff, clove and cinnamon round out the flavors of this cigar as it goes out on its own signaling the end of the smoke for me.
Conclusion
This cigar came on strong and delivered a full-bodied experience with lots of flavors. Some cigars that have strength can be a bit overwhelming to the palate without the additional nuances that make smoking it pleasant and interesting. This delivered in capturing the balance of full tobacco with black pepper, leather, almond with an underlying sweetness. The most vexing part was the constant relights as the cigar went out several times while I was smoking it. This hurt the experience as the relights were frustrating. In addition, consistently taking fire to the cigar can change its flavor as it heats and reheats. Important note: the cigar was not over humidified as I let it rest in my humidor and inspect them prior to smoking. Also, the construction was excellent in hand which didn't indicate there were any flaws to be concerned about. 
When I found out this was a Micallef Leyenda Special Edition I was not surprised because of the flavors and quality of the tobacco.  I have found every Micallef I've tried has adhered to excellent quality and taste. I would recommend picking up a few of these as the burn issues may be a one-off in quality of this particular cigar. If it burns well you'll have a real treat based on all the flavors that came out despite the construction issues.
Final Rating: 90