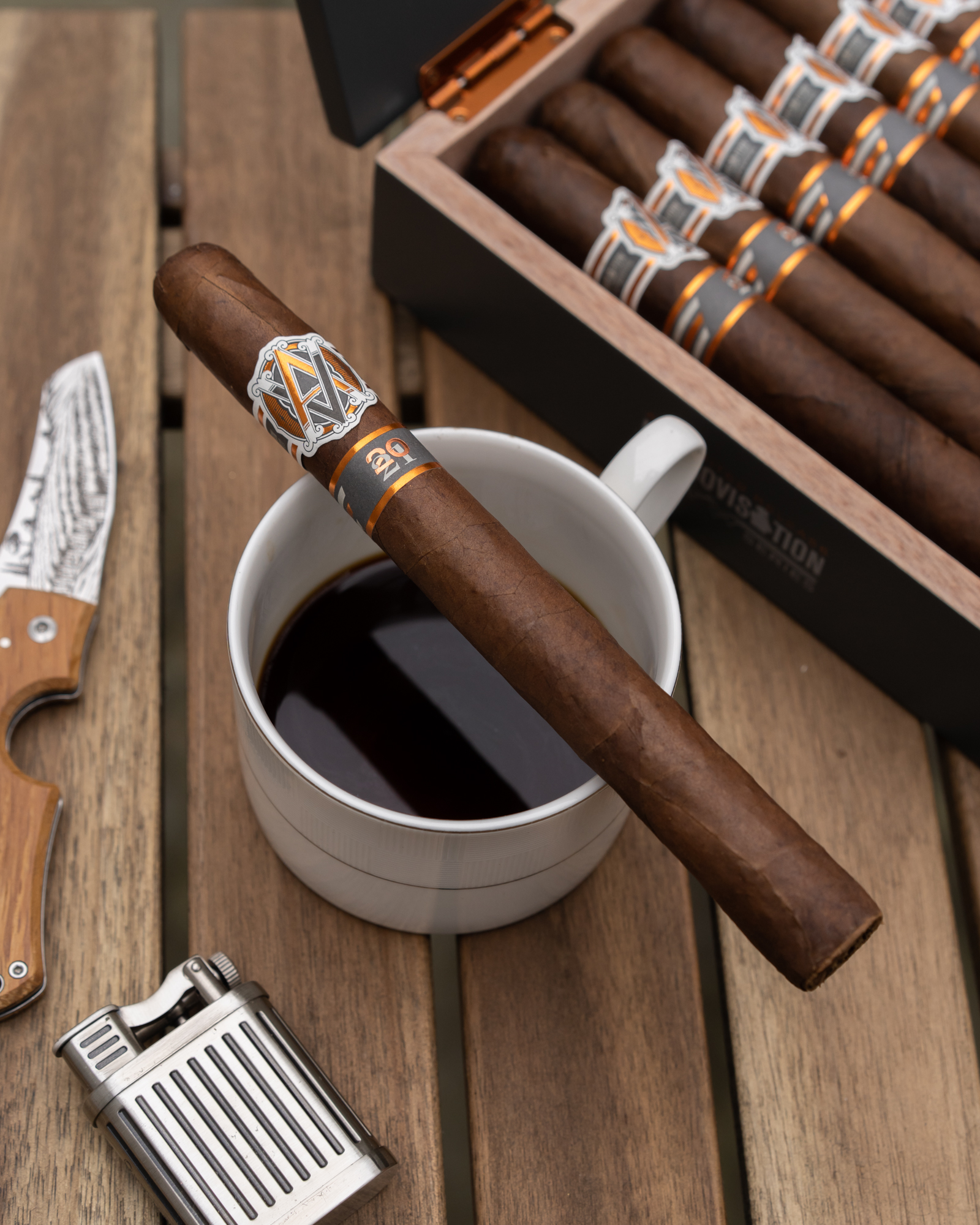 Each year, Davidoff releases a special limited edition blend honoring the late cigar maker Avo Uvezian. I look forward to these releases–they are where AVO blends get tweaked via variations in wrapper, filler, and binder. The result is a slightly different flavor profile while keeping the heart of a blend.
Blend Specifics
Cigar Reviewed: Avo Improvisation Limited Edition 2021
Wrapper: Ecuadorian 702
Binder: Ecuador
Filler: Dominican
Size: Double Corona (50" 7 ½)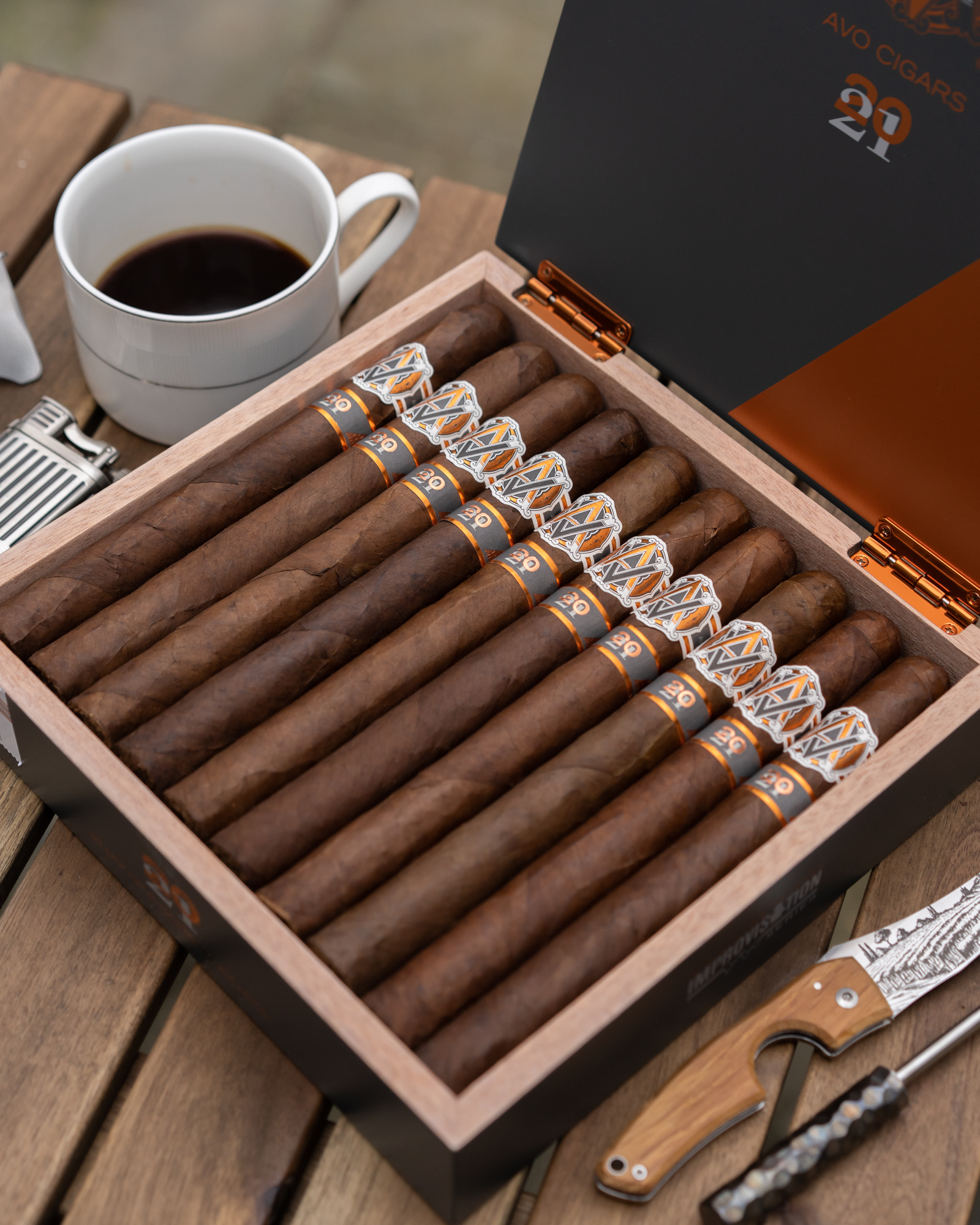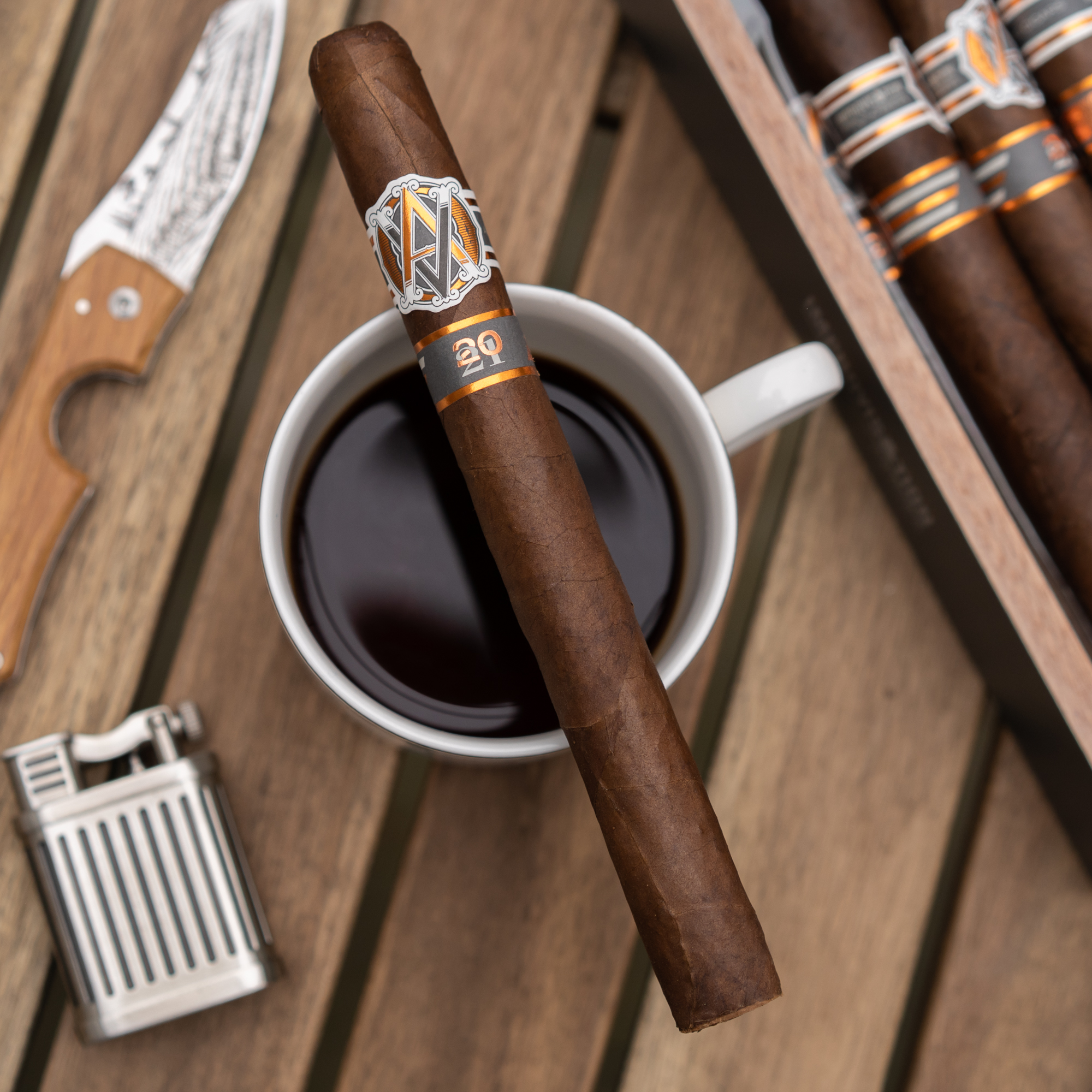 Blind Review: AVO Improvisation Series LE 2021
Appearance and Construction
This is a nicely tanned large cigar with an oily sheen to it. To the touch it is silky and smooth with a few veins running the entire length of the cigar. I give the smoke a roll in hand and can feel the construction is spot on. With a slight squeeze across the wrapper, I see there's a well bunched roll to the filler tobaccos and the cigar appears well packed. The aroma off the foot reveals less than anticipated, with some oak, almond and cherry which take some effort to identify.
Flavor & Smoke Characteristics
With my Xikar Mammoth cutter I clip just enough off the cap for a clean draw. The dry draw is airy and loose and as I pull I can identify cedar, must and an earthy quality. I'm feeling a combination of sweet and spice on my lips that seems to be prepping my palate for the smoke. Using a long cedar taper, I gently rotate and toast the cigar, and the first puffs bring spice and an intense fruitiness that lingers on the finish. With another puff I'm getting a creaminess intertwined with almond paste and underlying fruits at its core. There's also a bit of drying on my lips.
As I take a retrohale, brioche and other toasty notes come through with a slightly sour finish.  Whereas my lips have a drying sensation, the effect of the cigar is now leaving me with significant sweetness. I take another draw which delivers vanilla bean and nuts with an earthy finish. The sour notes return and contrast the previous sweet profile, though it doesn't appear to last long.
Midway through this long vitola I notice the gray ash is splayed and flaky. The burn is consistent and with another puff there's milk chocolate and toasted oak leaving a pleasingly long finish. In addition to the above flavors I'm picking up that underlying fruitiness that seems to linger throughout this cigar hiding in the background. Taking a long draw with a retrohale, I get a large helping of earth and cocoa, with a musty note on the exhale. At this point, this is a medium bodied smoke which appears determined to remain so.
This cigar has been smoking at a steady pace giving me time to recognize the flavors. In its final third the wood and vanilla come forward with sweetness on the lips. Right around the corner the fruits return with a finish of almond paste. I take another retrohale where mushroom, must, earth and leather rush in. While I've been smoking slow and the cigar has been accommodating, it's now burning a bit hot. With a relaxed draw that seems to tame the smoke, cedar dominates with an earthy finish. The cigar has leaned a bit fuller from its consistent medium range in body. The amount of smoke production I'm noticing has increased as well. Another draw and a note of cherry and vanilla rounding out with wood on the end seems to accent the overall style of this cigar.
With a final puff I'm getting that toastiness and spice that lingers on the palate with a bit of a sour note to end. A large size cigar that delivers in its format.
Conclusion
This blend is well suited for the large size. It's not so full flavored that it exhausts your palate, nor is it too light where it becomes dull. This cigar delivers consistent flavors of toast, spice, and sweetness. A real interesting note was the ongoing fruits I kept picking up while smoking this as it became a secondary theme through the entire cigar. The flavors kept me interested, though the sour notes off and on were the biggest issues I had. I believe this cigar smokes well out the gate, but I would like to see what a year of age will bring as I feel there's more sophistication waiting to come forth.
I wasn't surprised when I found out this was is an AVO LE 2021. The quality is there, and I enjoyed the profile. I would recommend picking up a few or even a box as I think there's even more improvisation for us to appreciate.
Final Rating: 89