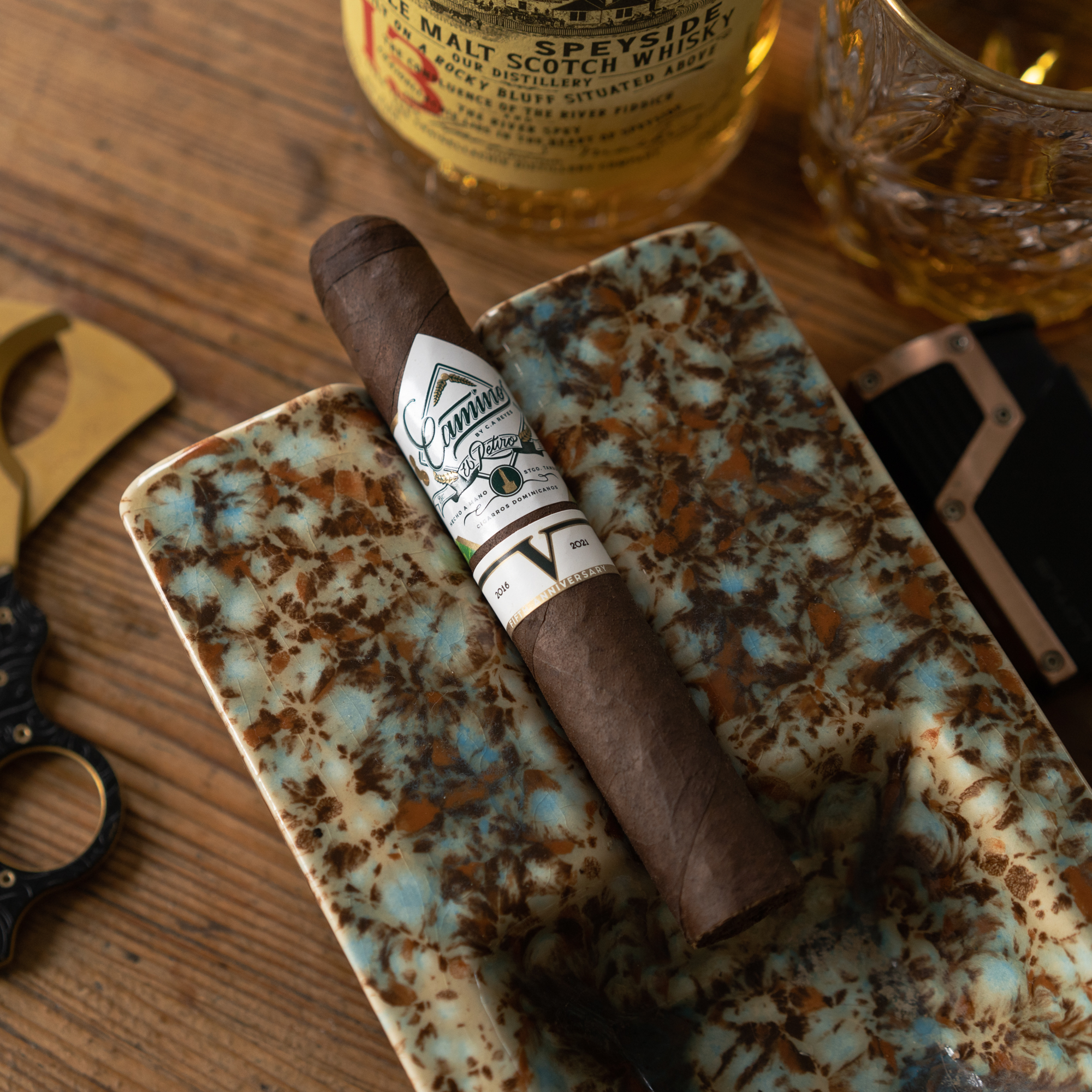 Talk about a blind review! There is little out there in terms of information regarding the Caminos El Retiro. They have a Facebook page and a website where you can buy their cigars although do not offer much else. It's a Dominican puro that is in a robusto format and looks quite weighty. Like I do at the beach right by me I'm jumping in on this one!
Blend Specifics
Cigar Reviewed: Caminos Caminos El Retiro Fifth Anniversary
Wrapper: Dominican Maduro
Binder: Dominican
Filler: Dominican
Size: 5 1/2" x 54 (Robusto)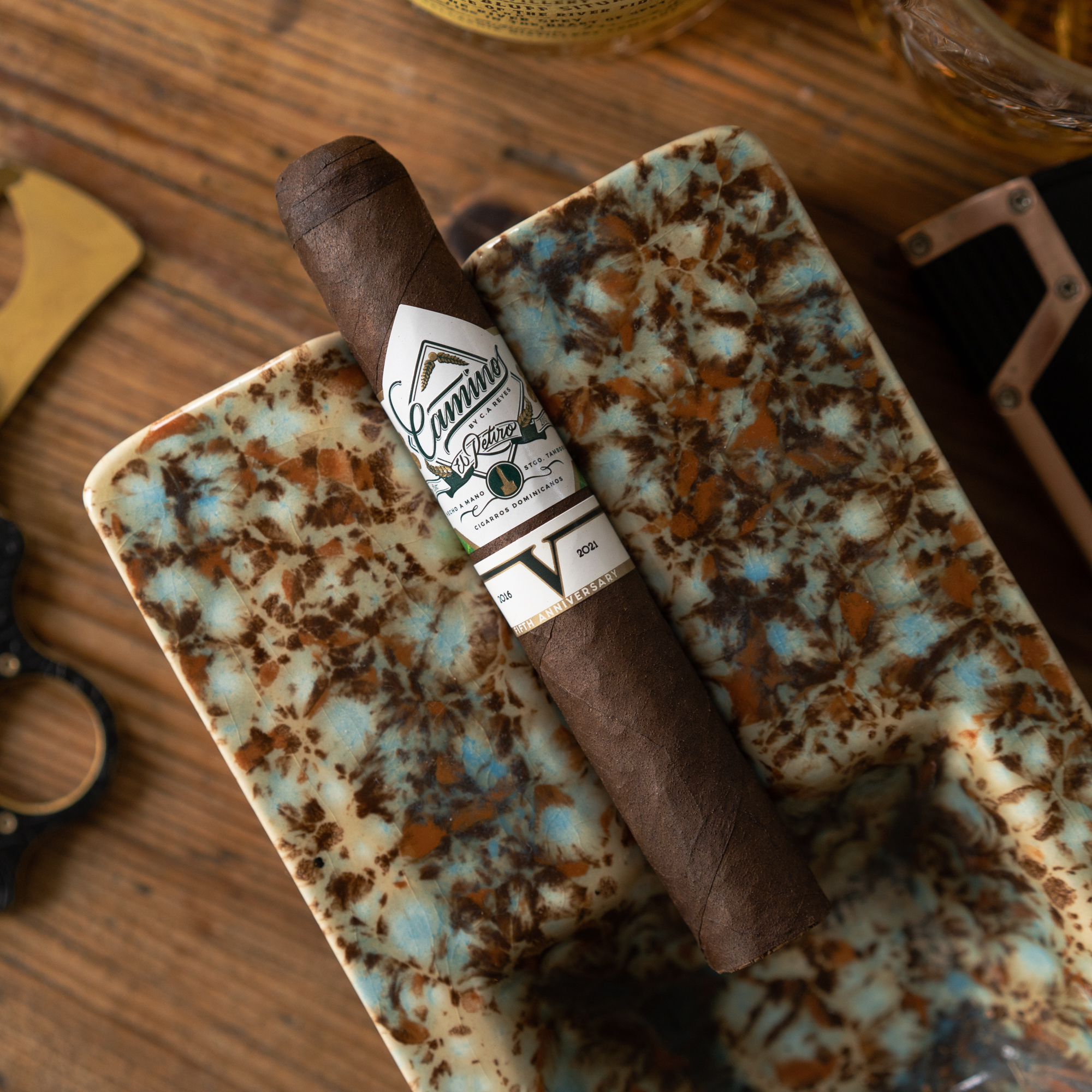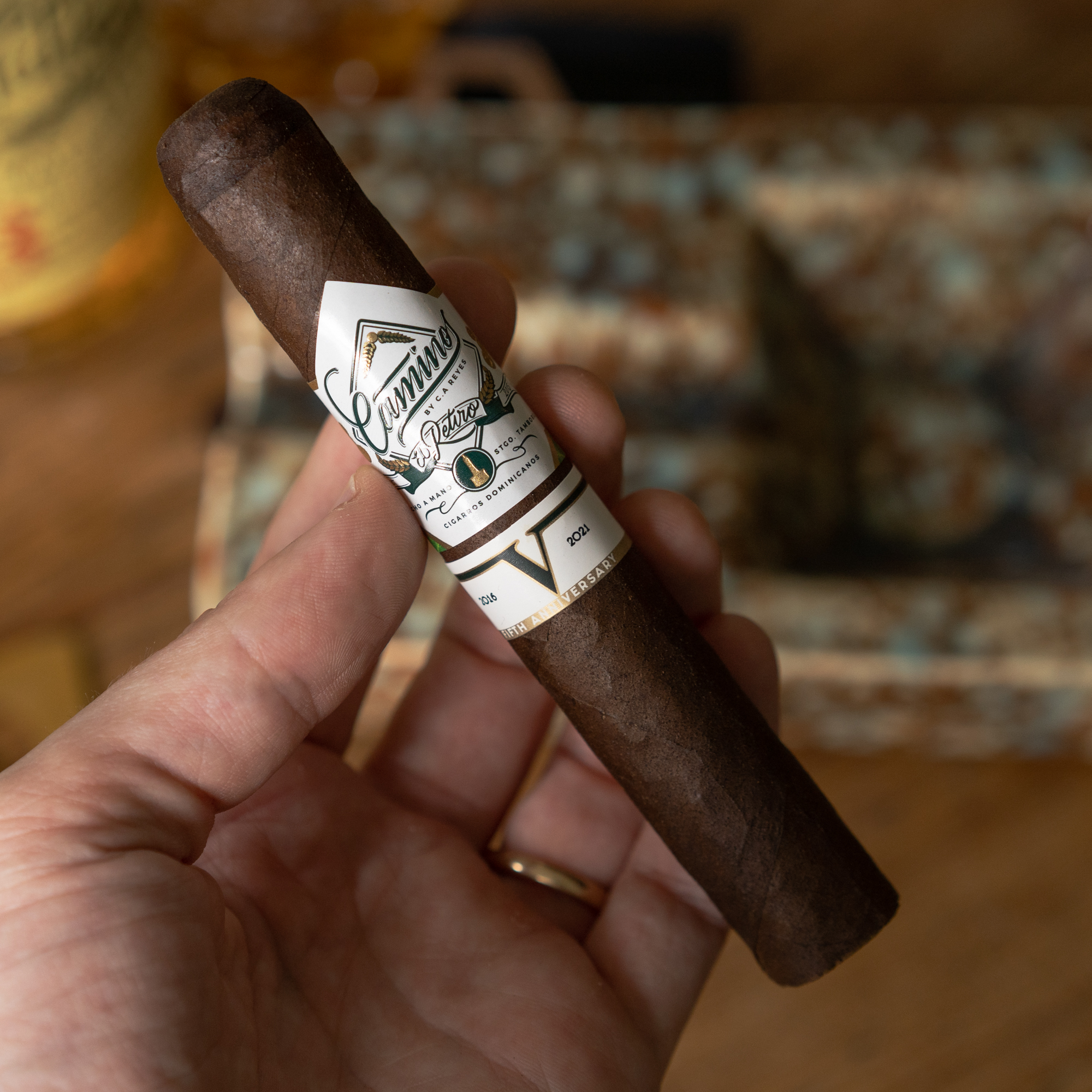 Blind Review: Caminos El Retiro Fifth Anniversary
Appearance and Construction
This cigar features a rough, imposing dark wrapper that's very rustic. Dry to the touch and giving it a squeeze, it is rock solid. This cigar draws your attention with its girth and seamless triple cap. The foot offers nuts, spice, and a mustiness to it. Weighty in hand, the heft is evident.
Taste and Smoking Characteristics
With my Xikar Mammoth cutter I clip the triple seam cap taking a slight piece of the wrapper off the shoulder of the cigar. The dry draw is musty and tangy on my lips. I take my Lamborghini torch and toast the cigar where there's sweet and spicy to start. The cigar comes on strong with these flavors and the spice tingles my lips like hot sauce balanced by a sugary sweetness. The retrohale is full of fresh tobacco and earth adding to the strength and showing that this cigar's size is matching its power. Another puff and there's a spicy character like wine aged in Slovenian oak. Currently the ash is white with a slightly crooked burn line.
At midway, there's lots of smoke that delivers almond along with wood notes. The cigar is dense and chewy like a rich piece of chocolate cake as I take another long draw. With a retrohale I get toasted French oak, some mustiness and a finish that is overpowering my sinus. The strength is medium to full, and the ash is solid white with a continuous wavy burn line. More oak presides over the next puff and there's some minerality on the finish. I'm getting a tangy note and some anise as the smoke begins to billow.
These wafts of smoke continue to the last third and the power is steadily in the medium to full style. There's spice and leather combined with a short finish that dries out my mouth. With a long draw the wrapper tastes salty which gives a sharp finish to the leather the cigar imparts. Taking a retrohale it's all spice through the nose and out the mouth with little balance. While taking another puff there's a real oaky flavor present that coats my palate and leaves me wanting more. Undertones of earth and spice pickup as the cigar reaches the end. A final puff yields leather and the tanginess that has been pervasive throughout.
Conclusion
Having no experience with the brand, this Dominican puro delivered spice and sweetness at the start. The transition to leather and cocoa midway along with toasted oak is where the real flavors shined for me. The tangy notes were displeasing when they appeared, and the short finish was disappointing. I got more flavors on the retrohale as the smoke exited with leather and spice predominate. Not sure where you can find them save their website, but it would be worth it to pick up a single or fiver if you do come across any.
Final Rating: 88