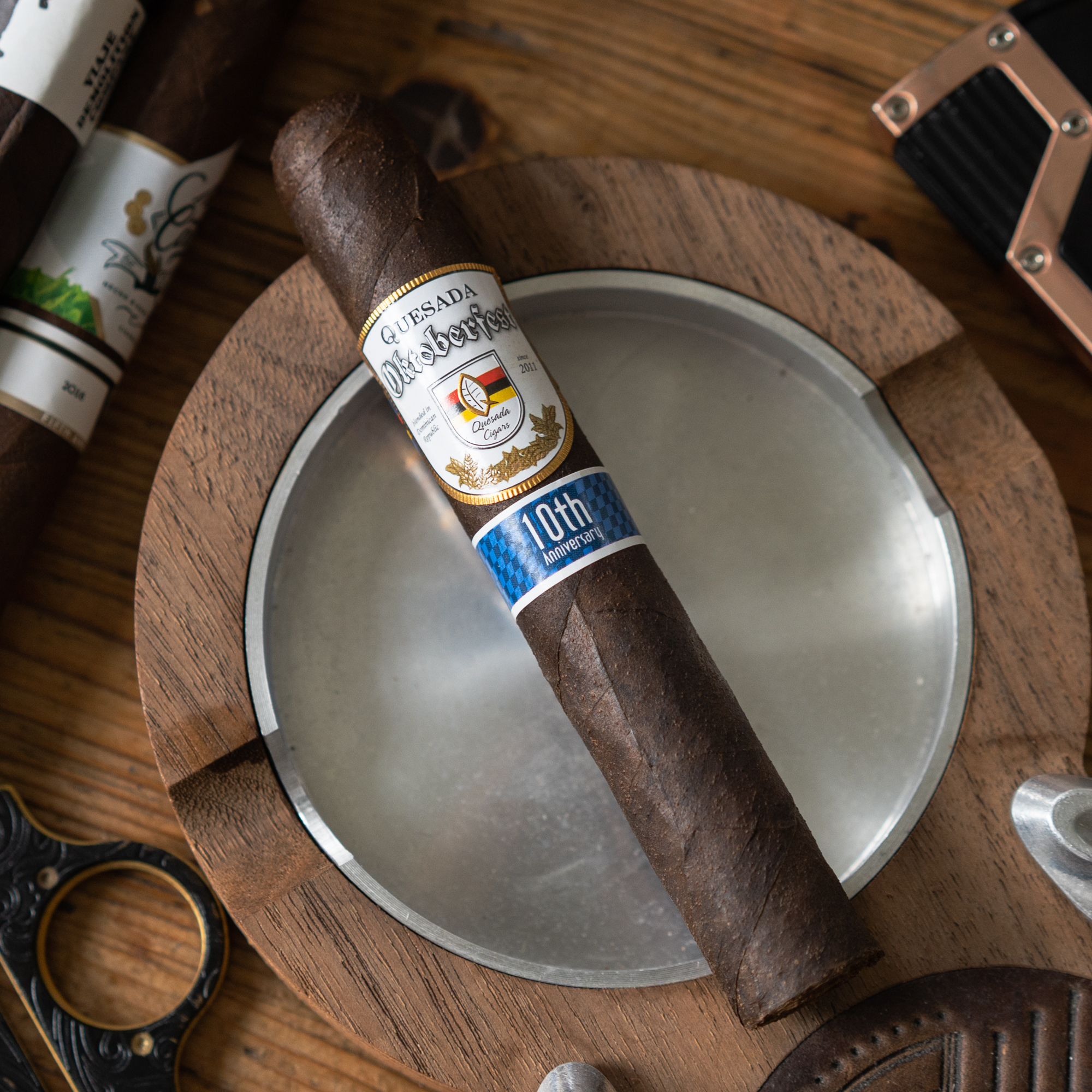 This year marks the 10th Anniversary of the Quesada Oktoberfest cigar. The cigar was created a decade ago to be paired with beer and malty beverages in honor of the Oktoberfest held in Munich Germany. I was fortunate to smoke the first release at Oktoberfest in Munich a decade ago and it indeed paired well with liters of German beer. Since then, I've smoked them yearly in different vitolas they've released and generally paired them with a beer in keeping with the tradition.
Blend Specifics
Cigar Reviewed: Quesada Oktoberfest 10 Year Anniversary
Wrapper: Mexican San Andreas
Binder: Dominican
Filler: Dominican
Size: 5.5"x52 (Robusto)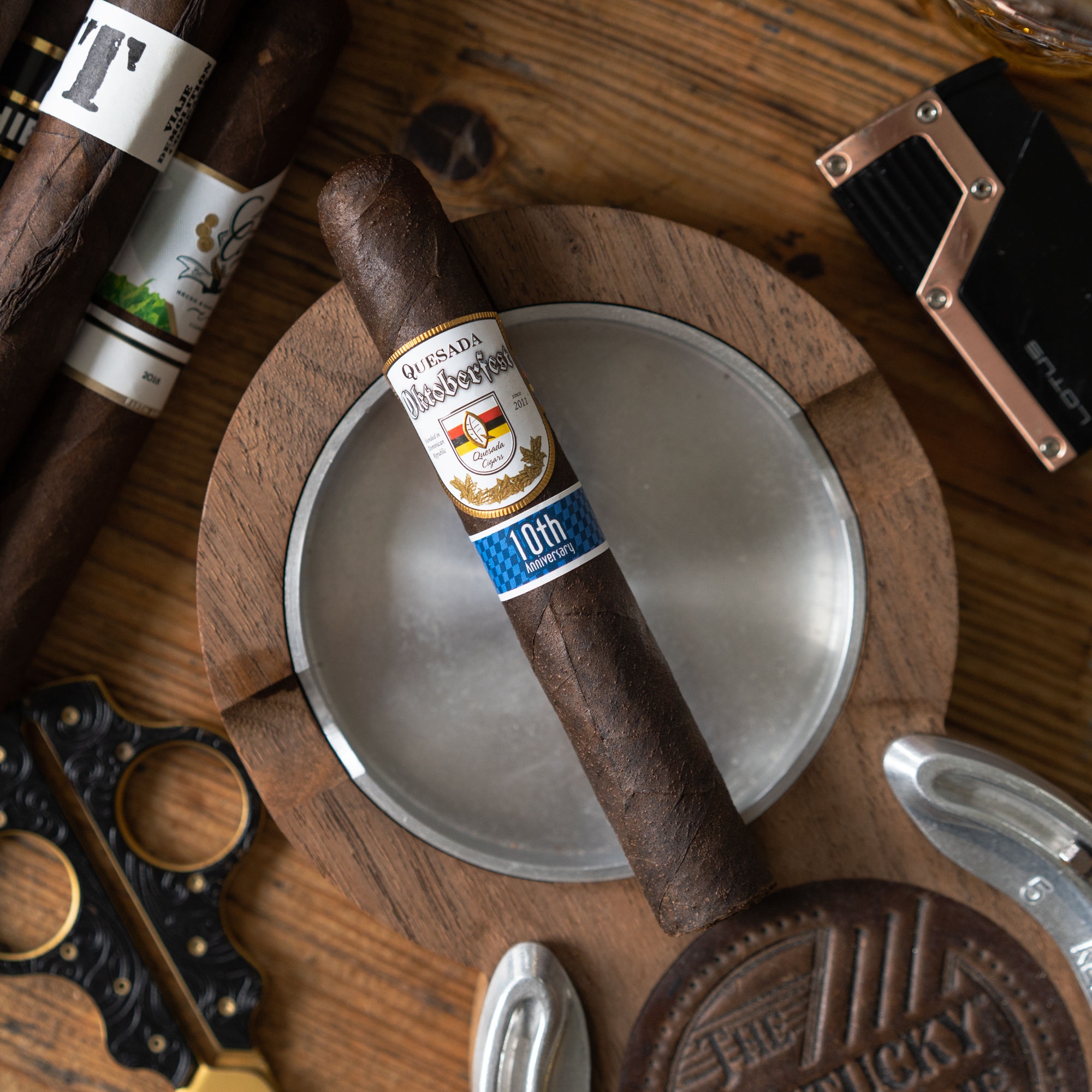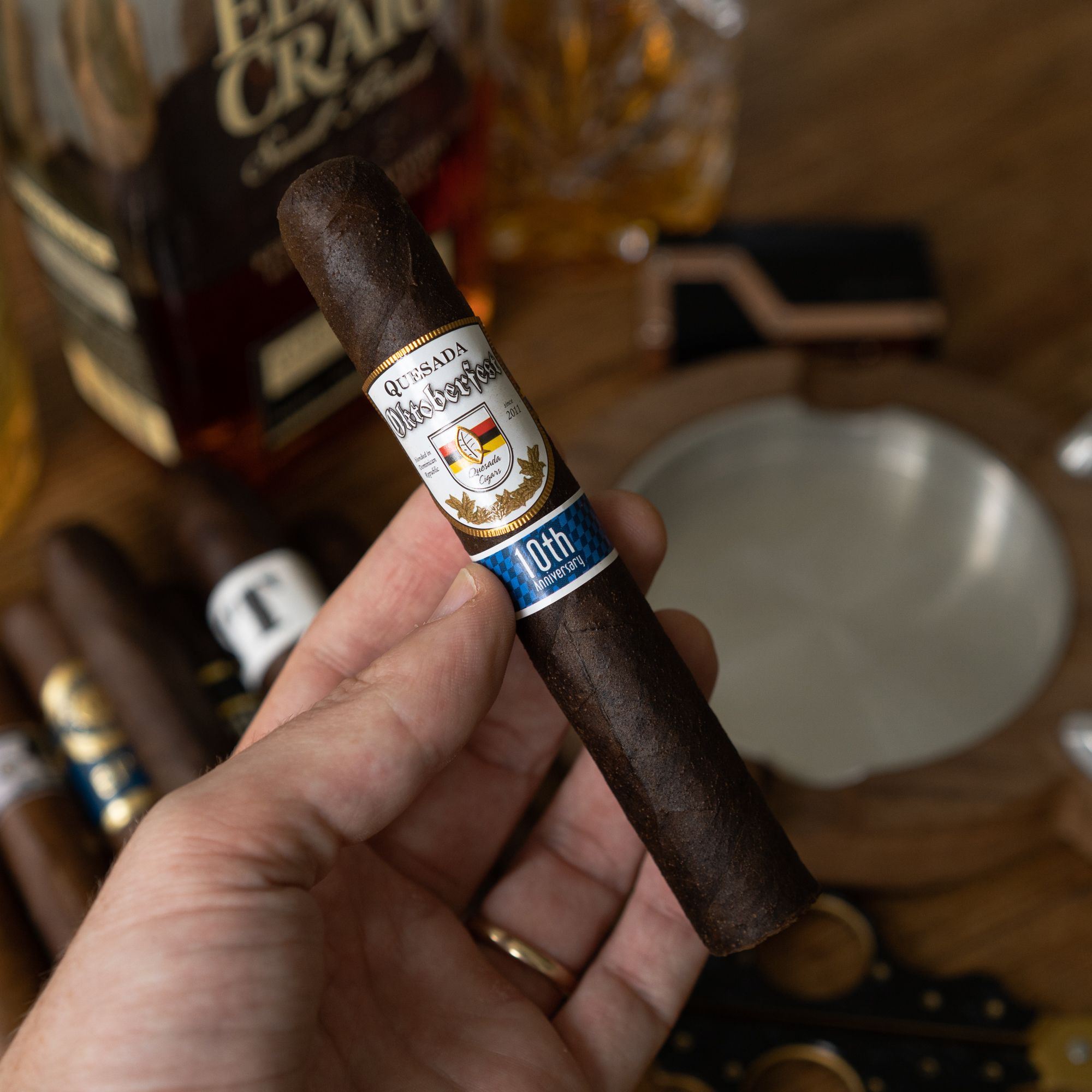 Blind Review: Quesada Oktoberfest 10th Anniversary
Appearance and Construction
This robusto is a toothy mottled maduro with minimal veins across it. When I give it as squeezes it's as solid as brick with no soft spots whatsoever. Rolling it in my palm seems a little off from the tooth on the wrapper, but overall construction is quite good.  The foot smells of nuts and earth with a dampness permeating from it. I would say its not the most attractive cigar however it stands out with due to its color and size.
Taste and Smoke Characteristics
My rosewood Xikar is hand and I take a nice slice off the cap to induce airflow. I take a dry draw that's creamy and nutty. With my torch I light up and my first puff has earthy and maple intonations to start. There's a malty character developing with wheat and char on a medium finish. I take a retrohale where cinnamon and dark espresso dominate for position in my nose and exhaling there's leather as the smoke releases. The cigar is in the medium body range with solid white ash.
For a larger smoke it's burning faster than I would've thought. A nice draw gives a combination of graham cracker and salt with a longer creamy finish. The burn line is spot on, and the profile is in the medium to full range. With a retrohale lots of sourdough and woody notes linger in the sinus right before marzipan on the exhale wafts through. There's cinnamon and allspice with another draw ending in a wood finish. At this point the fullness picks up in the profile with roasted coffee beans and some acidity on the back end of the throat.
There's charred wood and wheat as I draw on the last third of this robusto. The burn line continues to be razor sharp and the smoke production amps up. I'm getting more of that woody profile that's almost overwhelming any secondary flavors. I take a retrohale that brings chocolate and coffee to my nose along with a dense oak taste on the sides of my mouth. The profile lingers on the medium-full side which is where it has hovered around for most of the cigar. Another puff and wheat and oak coat the palate with a surprisingly short finish. A slow draw coaxes cinnamon, maple, and more wood notes as I finish the smoke.
Conclusion
This robusto delivered a medium to full profile with predominantly wood, cinnamon, and wheat throughout. The maple and marzipan notes in the beginning intrigued me as I delved into the rest of the cigar, although it never deviated too much from the above profile. What it lacked in complexity it made up for in consistently pleasing tastes.  Finding out this was a Quesada Oktoberfest 10 Year Anniversary I can see how a beverage would be perfect with it.  The combination of the two flavors can enhance each other rather than overwhelm. I would recommend picking a few up when you want to have that malty beverage with your cigar. Prost!
Final Rating: 89