Founded in 1985 by renowned cigar industry veteran Robert Levin, Ashton has a well-earned reputation for some of the finest smoking experiences available today.  Handmade at the legendary Tabacalera A. Fuente factory in the Dominican Republic, Ashton has been a regular member of the top three cigar brands in the US for over 30 years and can be found for sale in more than 60 countries.
Since its inception the Ashton brand portfolio has expanded to include such well-regarded labels and iconic cigars as the original Ashton Classic, Ashton Aged Maduro, Ashton Cabinet, Ashton VSG, Ashton ESG, and many more besides. Here are some of the top Ashton cigars to buy, especially as gifts for lovers of Ashton cigars.
Ashton Virgin Sun Grown Sorcerer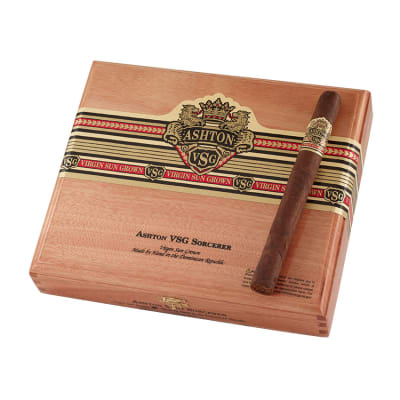 Of the staggering twelve sizes available in the Ashton Virgin Sun Grown series, the Sorcerer stands out as something particularly special. This Cigar Aficionado Top 25 brand is rolled in a Churchill size with a dark and oily Ecuadorian Sumatra-seed wrapper which enrobes a heady blend of aged Dominican tobacco.
Even before sparking this superb cigar, a nose of cocoa, hazelnut and ripe fruit tantalize with promise at the smoking experience to follow. Once lit, damp earth, nuts, and a hint of pepper at a medium strength eventually yield to medium/full sensations of pepper on a background of wood and coffee. The final third is an evocative and well-spiced blend of coffee, cocoa, and walnut.
Pack of 5: $63.99
Ashton Cabinet Selection Trés Petite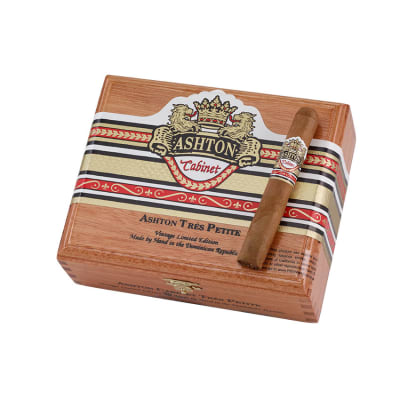 If you're looking for a quick smoke rather than something to take your time over, you could do a lot worse than this lovely little number from the Ashton Cabinet Selection. This petite corona is filled with a quite special Dominican blend and wrapped up in luxurious Connecticut shade.
Once you take a match to this cigar, your senses will be gently nourished with sumptuous undercurrents of oak and cream. Punching well above its weight, the Ashton Cabinet Trés Petite is full of deliberate yet subtle complexity.
Pack of 5: $50.99
Ashton Symmetry Robusto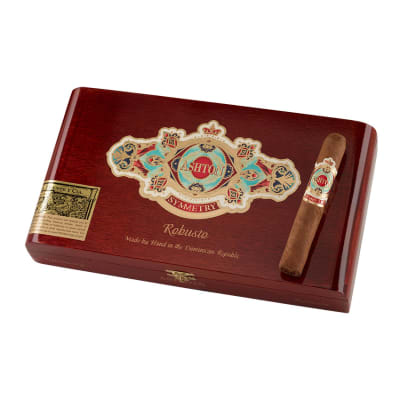 After the more diminutive pleasures of the Cabinet Selection, we head in the opposite direction with this 50-gauge behemoth from the Ashton Symmetry range. Ranked #8 in Cigar Aficionado's Top 25 of 2015 list, the Ashton Symmetry Robusto's reddish brown leaf of Ecuadoran Habano hides a complex blend of Nicaraguan and Dominican tobaccos.
The initial few draws are heavy with pepper, before notes of cedar and coffee are added, conspiring to create a delicious creamy profile. In the middle, earthiness and leather are supported by a light fruity undertone. The final third is pure indulgence as cinnamon brings sweetness, perfectly balancing with the spiciness of the other flavors.
Pack of 5: $63.99
Ashton Classic Churchill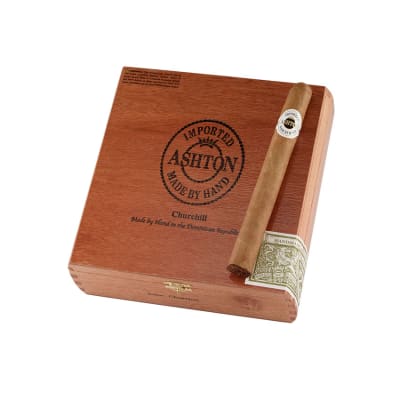 To round off our selection of Ashton cigars, we turn to a smoking experience which exemplifies the brand's reputation for consistency and class – the Ashton Classic Churchill. A hefty 52 gauge 7.5" cigar filled and bound with a fine blend of Dominican tobaccos and finished with a USA/Connecticut Shade wrapper, this smoke is sure to please those searching for a mild to medium body experience.
Ideal for those smokers who lean more towards flavor than kick, the Ashton Classic Churchill is packed with notes which take you on a heady journey from white pepper and spices to gentle hints of roasted nuts which build in complexity the further down the cigar you travel.
Pack of 5: $56.99
Final Thoughts
As one of the most well-known and highly regarded brands in the cigar space, Ashton has a dizzying selection of fine smoking experiences sure to please even the most discerning aficionado. Start out with our selection above and then explore deeper into the range and discover your new favorite cigar today.