For lovers of fine whiskies, we really are living in a halcyon age.
It used to be we were limited by the selections available in our local supermarket or liquor store – which are usually limited to the most commercially popular brands – or, if we were really lucky, we'd live close to a specialist retailer with a more expansive range.
However, the proliferation of the internet and specifically ecommerce has opened up the world of whiskey to drinkers – no matter where they live. Whether you enjoy single malts from the highlands of Scotland or complex blends from the mountains of Japan, you can now have your favorite whiskey delivered right to your front door.
With that in mind, let's take a look at and rank some of the best and worst online whiskey retailers out there today and compare prices on three of the most popular bottles. (prices at time of publishing, 6/3/2022, always check prices for yourself!)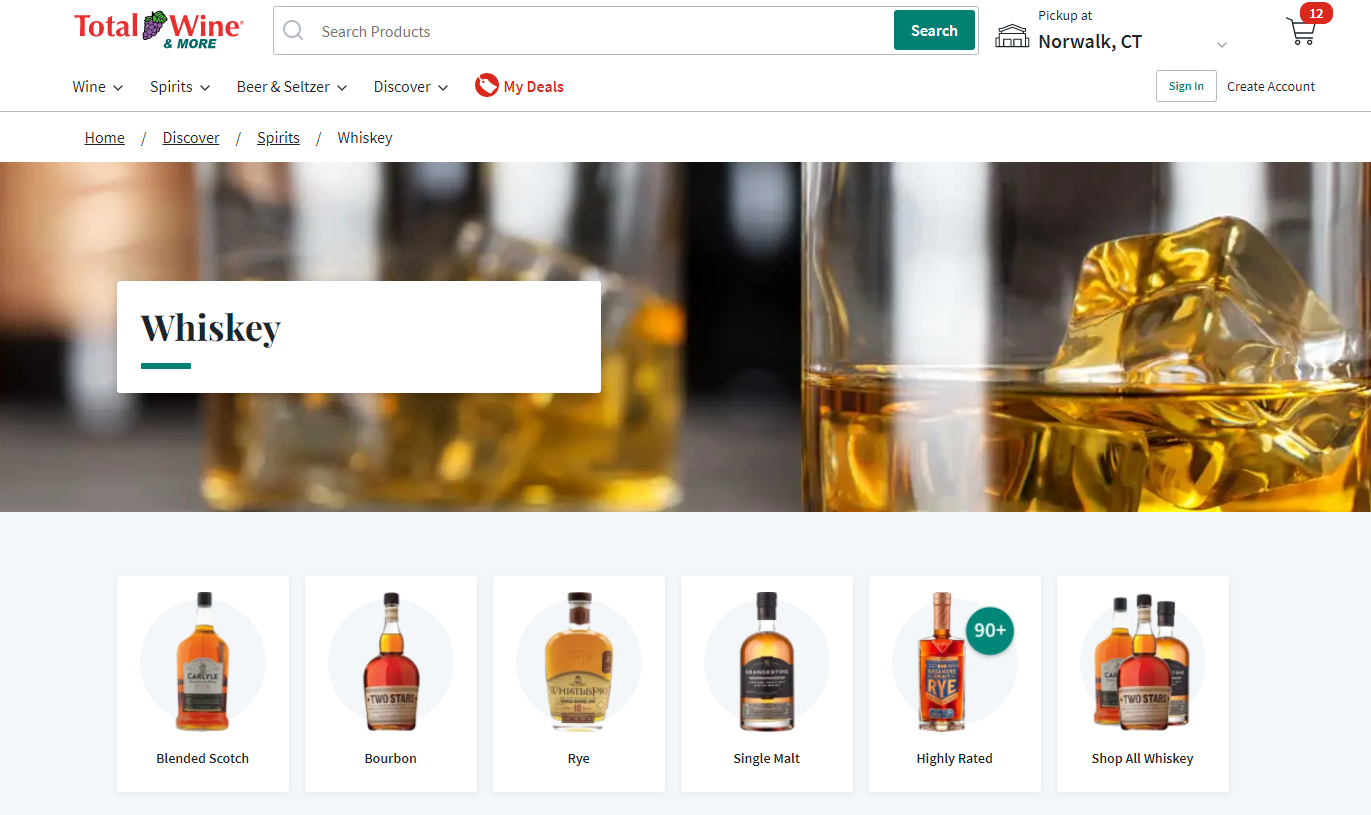 A US-based retailer with an amazing selection and fantastic prices, we think Total Wine & More is just about the best of the bunch when it comes to ecommerce whiskey.
Being based here in the US will save you money on shipping costs – whiskey bottles are fairly heavy and international shipping and customs charges can be significant – and Total Wine & More has regular offers which can provide further discounts on multiple purchases and special selections.
With a staggering selection of American, Canadian, Irish, Japanese, and Scotch whiskies, and multiple filters to narrow down your selection, though Total Wine & More is not a dedicated whiskey dealer, it is nonetheless our favorite.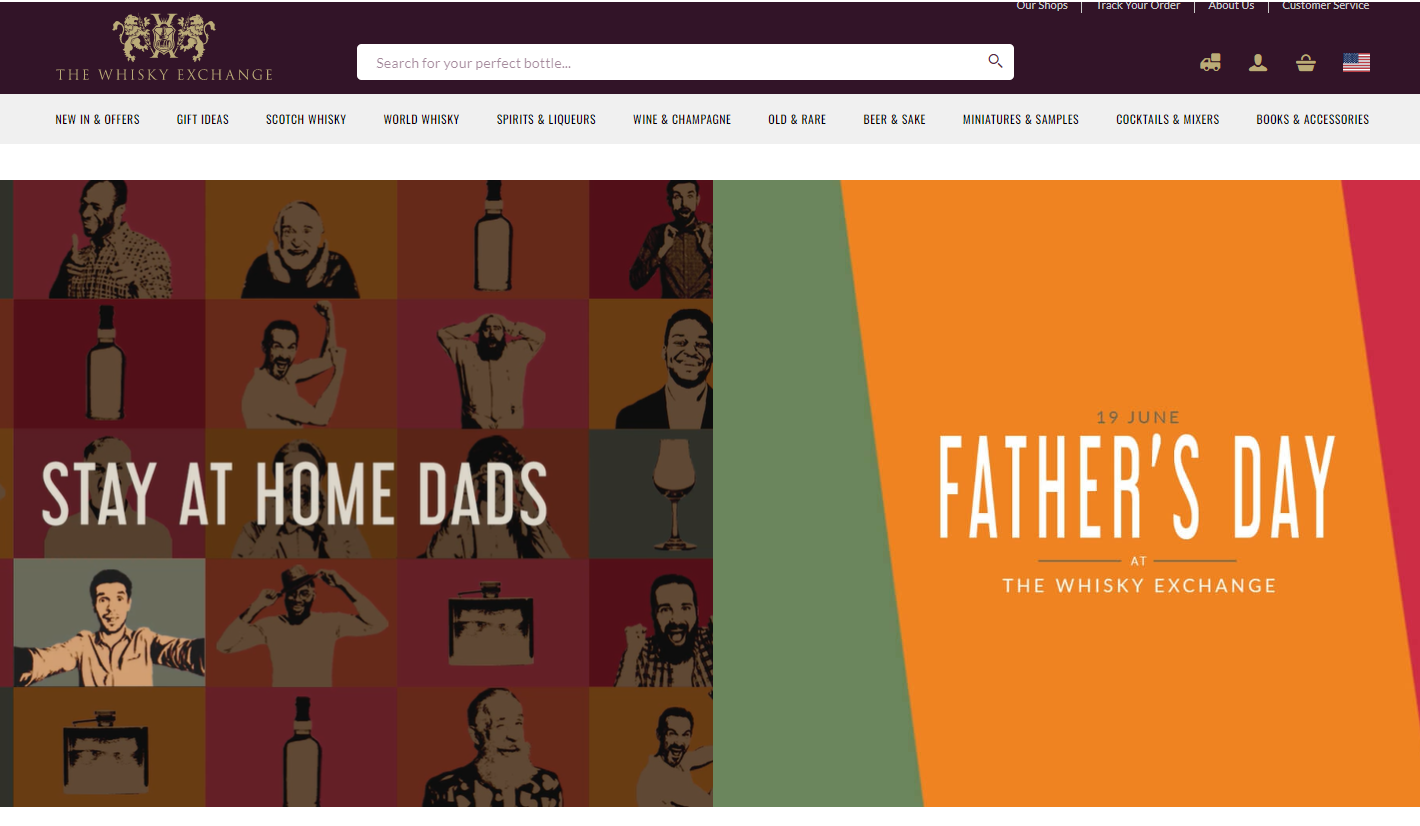 Travelling across the Atlantic to the UK brings us to our number two favorite online whiskey retailer, The Whiskey Exchange.
With a 4.9/5 rating on British customer meta review site Trust Pilot, The Whiskey Exchange has a clean and simple-to-navigate site and a fantastic range of both mainstream and esoteric whiskies at great prices (though be wary of shipping costs if ordering from the US), especially when ordering multiple bottles at once.
Scotch whiskies can be sorted by the area of Scotland in which they were made, and even filtered by flavor profile or brand. Likewise, world whiskies can be filtered by country of origin or ingredients – and there's even a separate section for old and rare bottle complete with helpful filters such as "under £1,000" or "over £1,000" for the true connoisseur.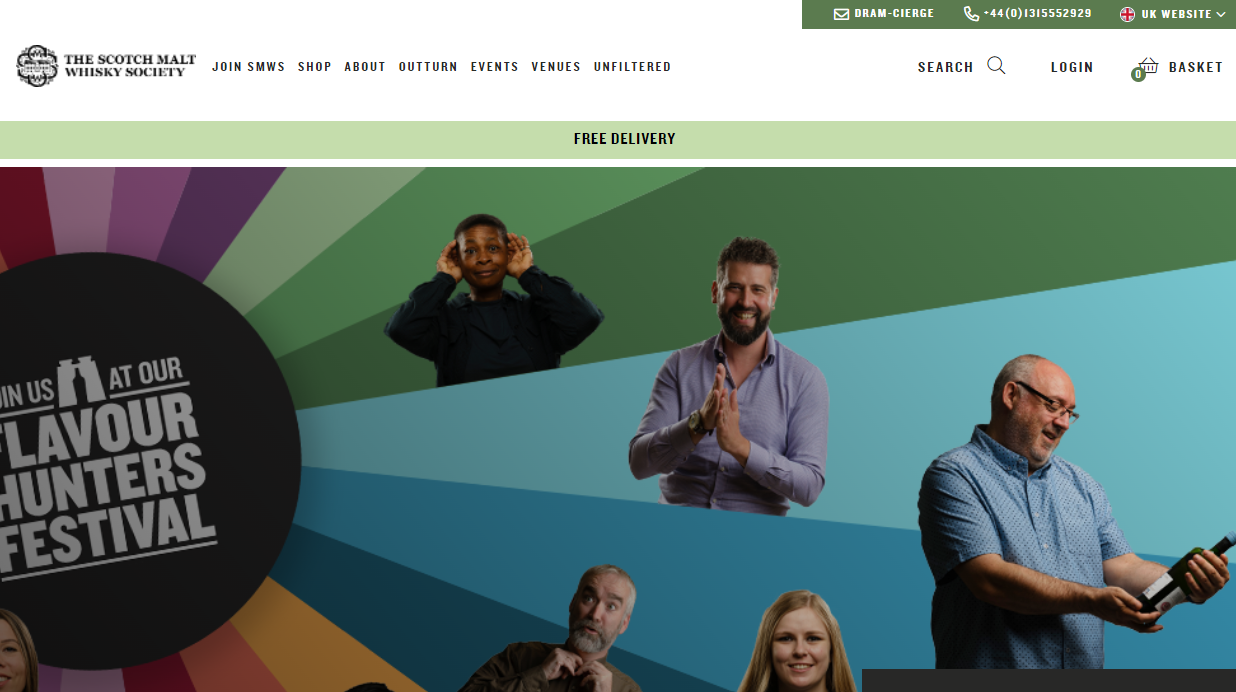 Born from a desire to share whiskey in its purest form and in a time when such whiskies were not thought to be sufficiently marketable, UK-based Scotch Malt Whisky Society (SMWS) has a fine rage of drinks with a focus on flavor, variety, and fun.
With branches all over the world – including the US – SMWS offers a membership program which grants access to exclusive whiskies, members' rooms, colorful tasting events, partner bar discounts, a monthly magazine, and more. It also holds an annual Flavor Hunters event where premium members can get together online and sample a pack of 12 unique whiskies together.
SMWS also has a great online store where more adventurous drinkers can purchase unique and limited-edition whiskies such as a Cask No. 19 Highland Batch 2022 Hazelnut Bubble Gum and many more besides.
SMWS only sells its own unique labels, so price comparisons with other sellers aren't possible.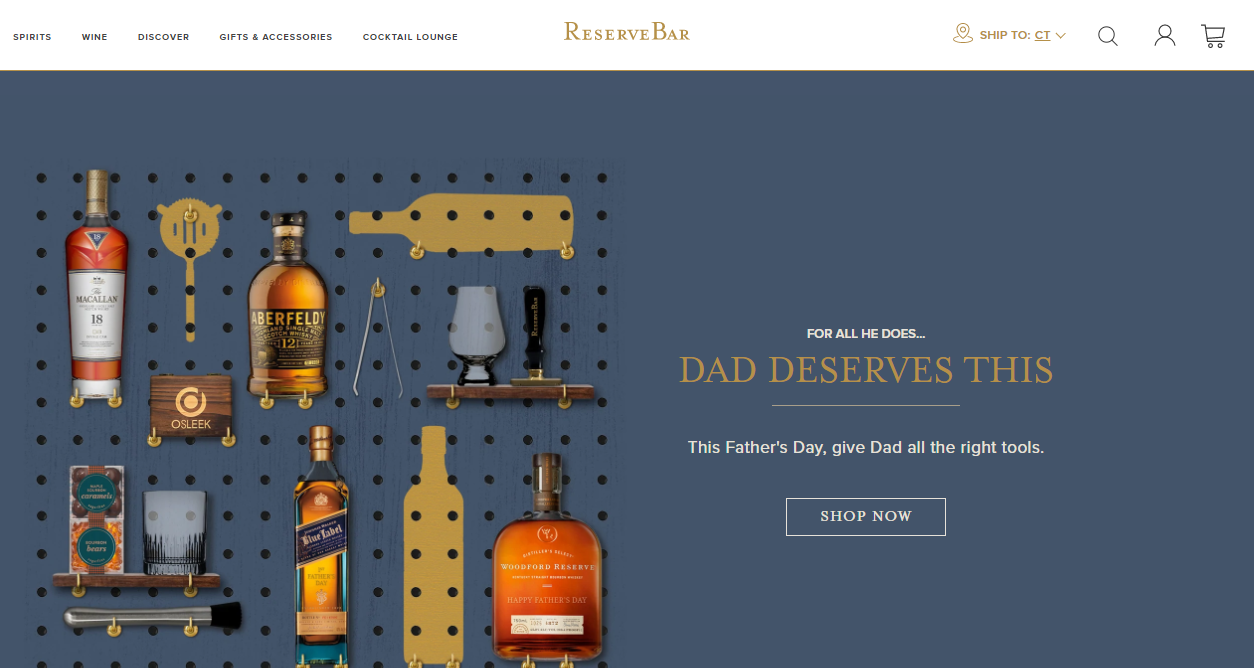 Next, we return to the US for our number four store – and one which skews more towards the premium end of the market. With a wide selection of scotch, bourbon, whiskey, and rye, $30 off an order of $200 or more and free shipping for orders exceeding $79, Reserve Bar is a fantastic location for those extra special bottles.
Customer reviews praise the ease of the website for navigation, a smooth and simple checkout process, and speedy delivery. Each listing also gives customers the option to add further products to their order such as glassware, whiskey stones, bottle holders, and even custom engraving on certain items to make those gift purchases extra special.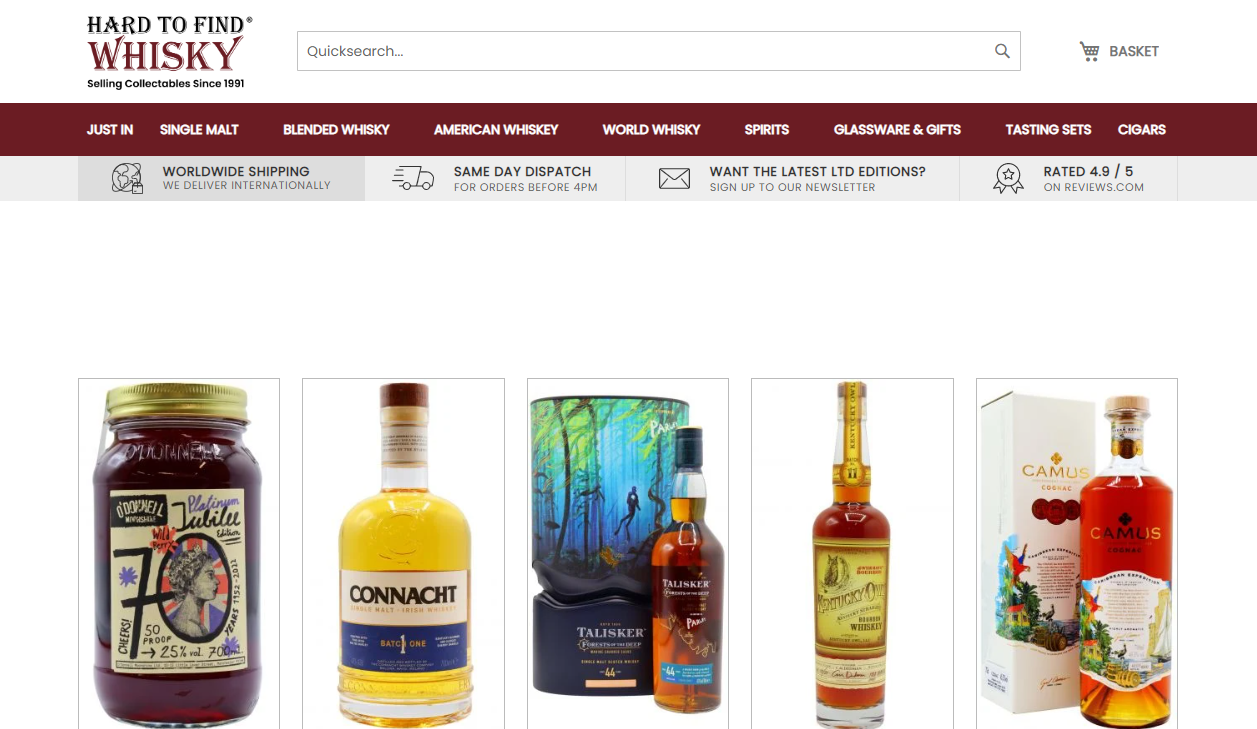 For our number five spot it's back to the UK once again for Hard to Find Whiskey (HTFW), a specialist retailer which does exactly what it says on the tin.
So, if you're looking for collectable and rare bottles for a special gift or to complete your own collection, this knowledgeable and expansive seller may just be the store you're looking for. HTFW's modus operandi is too narrowly focused to recommend it to the average shopper, but those who are truly serious about their whiskey can spend hours browsing its unique and opulent selection.
For US shoppers, you can get free shipping with an order of $500 or more.
The Whiskey Shop is an unusual beast. It has generally favorable reviews online, yet the website is so outdated and unappealing it makes it exceedingly difficult to recommend.
Blurry and badly cropped images, unsightly "Image Coming Soon" labels on product listings, inconsistent formatting of text and images, and more all conspire to create a cumbersome and frustrating online shopping experience which doesn't seem to mesh with the glowing opinions shoppers seem to have of its brick-and-mortar location in San Francisco.
Final Thoughts
There you have our ranking of five of our favorite and one of our least favorite online whiskey stores in 2022.
Perhaps the most important reason for purchasing your whiskey only from reputable retailers is to avoid the scams and fake products which are so prevalent in the secondary market. However, you can purchase with confidence from any of the above stores and get down to the serious business of enjoying your fine liquor.