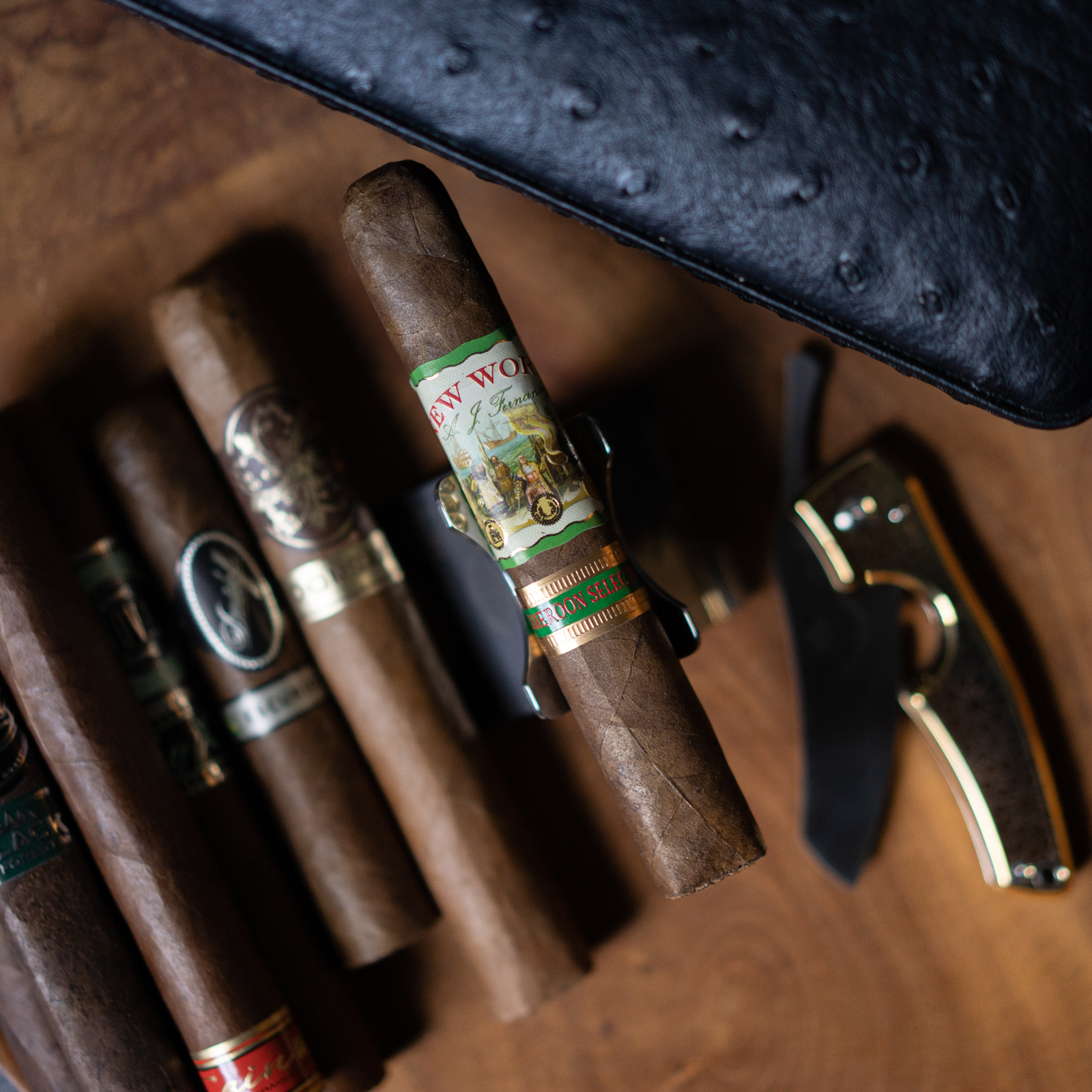 The AJ Fernandez New World Cameroon Doble Robusto is manufactured by AJ Fernandez. AJ Fernandez, is the grandson heir to the famed Cuban cigar brand San Latano, thus, making AJ a third generation cigarmaker. Before establishing himself as an individual force-to-be-reckoned-with in the cigar industry, AJ shined as a partnering manufacturer for Cigars International and Rocky Patel. Today, AJ owns and operates one of Nicaragua's biggest premium cigar factories, producing some 9 million cigars a year, and currently selling its products in more than 32 countries.
Blend Specifics
Cigar Reviewed: AJ Fernandez New World Cameroon Doble Robusto
Wrapper: Cameroon
Binder: Nicaragua
Filler: Nicaragua
Size: 5.5 x 54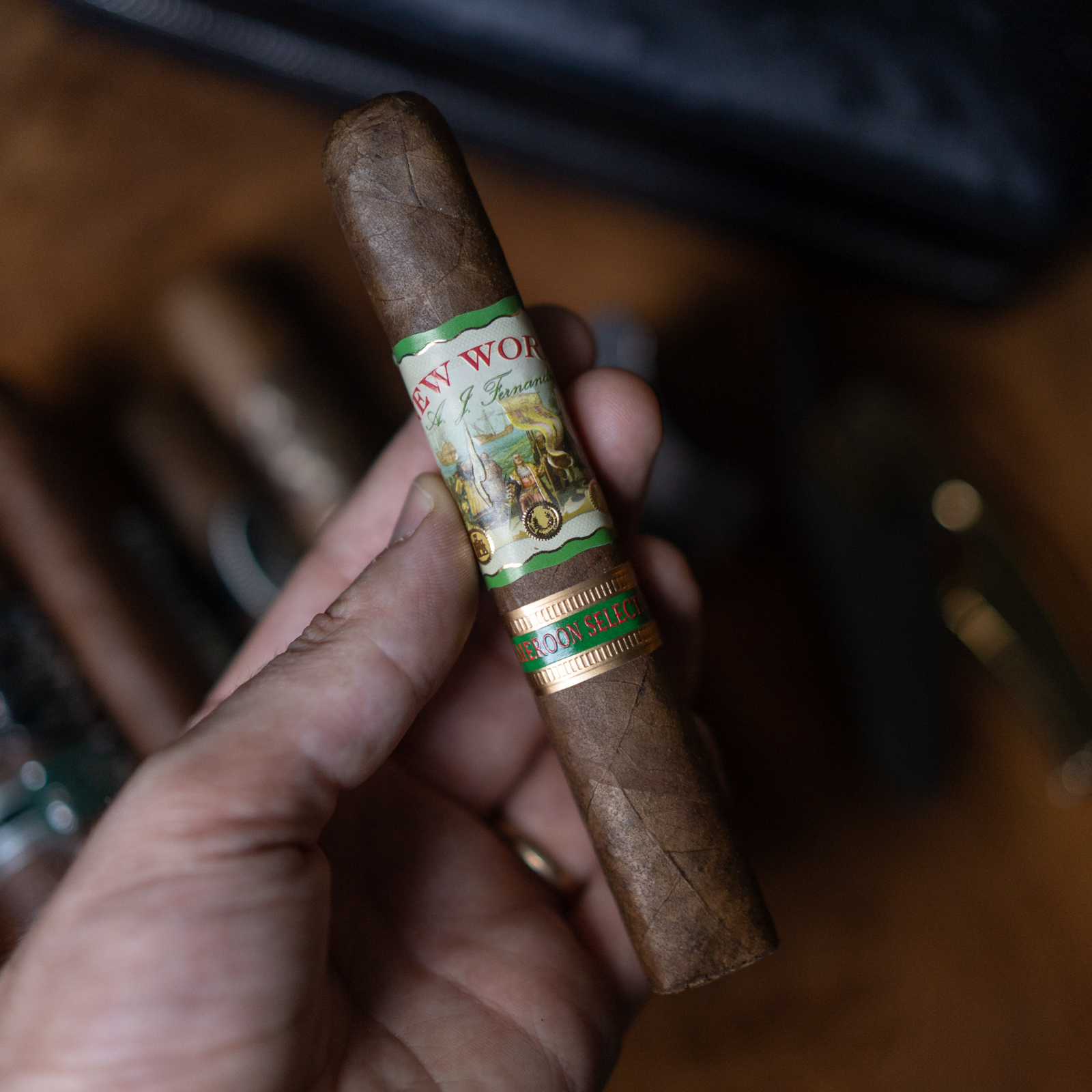 Appearance & Construction
A soft box-press rustic robusto with a wrapper leaf that looks like crust-punk patch-work.  Its striated and delicate.  I notice it doesn't fully cover the binder/filler. There is the slightest centimeter of binder/filler protruding out from this wrapper at the foot. I wonder if that was done on purpose? It is packed very loose with a double cap, and feels very light weight in my hands. Strong cedar and chocolate aroma coming off the body and the foot of the cigar. So much so, you don't even have to hold it close to your nose.
Flavor & Smoke Characteristics
The cold draw is super loose and airy with faint dark chocolate on the breath.  It toasts and combusts well.
At first puff I am blown over by a BBQ pit smoker. Nice and strong mesquite. However, that flavor bomb dies down and the cigar become more subdued fairly fast. Whatever the blend is, it makes me salivate a lot.  A good sign of premium tobacco. There is spice and the unique farming taste of freshly picked sweet field greens. If you've ever harvested broccoli leaves or cabbage stem leaves before the actual brassica grows to full maturity, then you have a clue of what I'm talking about. There is wood, spice, and fruit on the finish of each puff as well as  on the retrohale. So far, it handles the heat well, and I don't necessarily have to pace my smoking speed. There is lots of leather also on my palate as the tobacco oils heat up, and a nice nutmeg aroma coming from the foot.
The second third opens with a sweeter and even lighter profile. Leather forward with spice on the finish.  Lots of pencil shaving taste developing. Not my go to "woody note" as a cigar smoker. There is still nutmeg aromas coming from the foot, with some nice hot mesquite on the retro.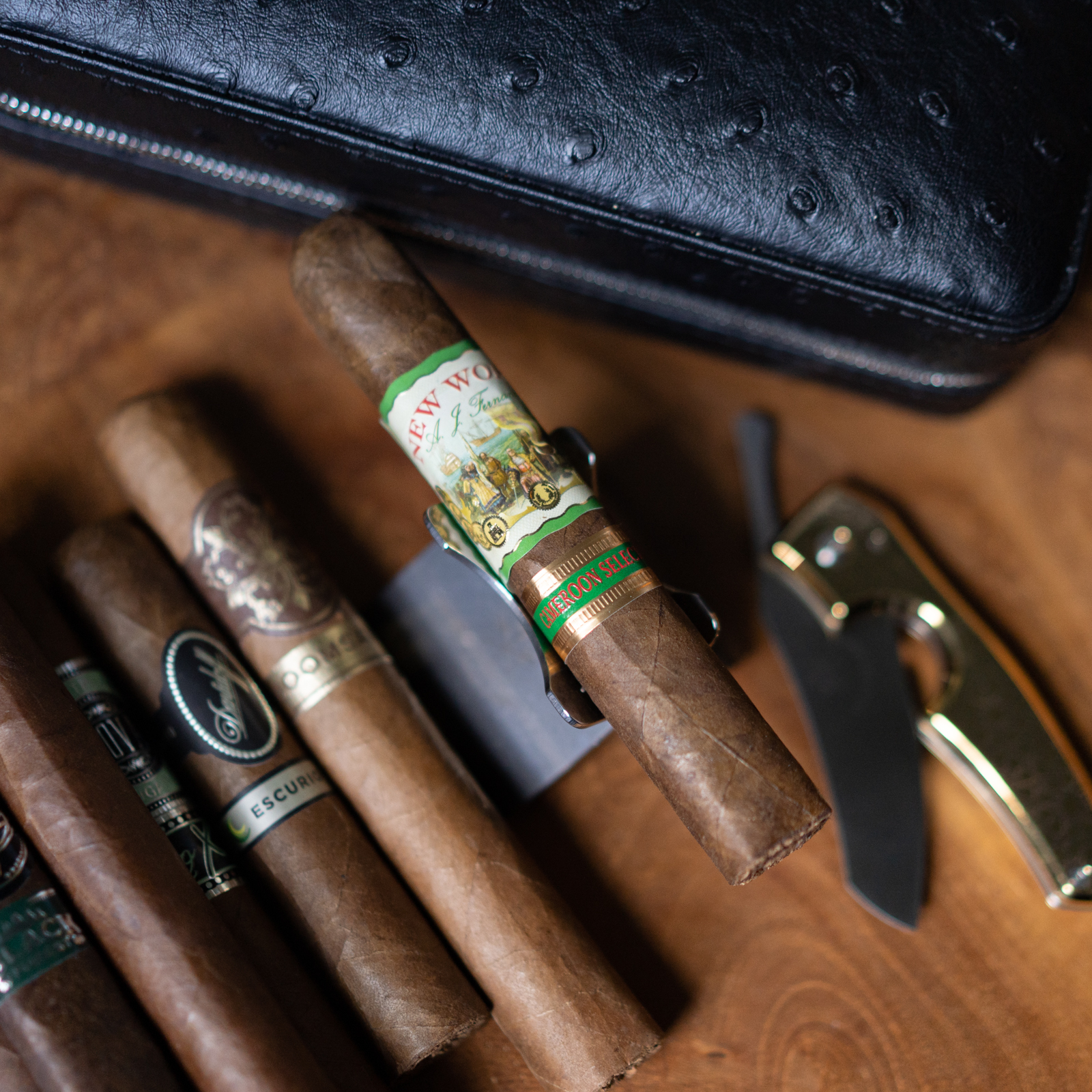 The last third begins to get harsh. This happens to be a reoccurring theme the more I smoke loosely packed cigars, as well as a reoccurring issue with box pressed cigars. Where's the cigar forum "bro-science" to help explain this away for once?! I'm experiencing some savory notes like cumin. There are also earthy tones with lingering leather. Still a nice spice on the finish with the hospitable nutmeg aroma on the foot.  Spicy retro with hints of vegetable. Not my cup of tea.
Conclusion
The AJ Fernandez New World Cameroon Doble Robusto was alright. Not my go-to smoke even at the attractively low MSRP. The last third ruined it for me. However, if you're a big fan of leather, spice, and pencil shavings, then the AJ Fernandez New World Cameroon Doble Robusto is for you. I wont say its the best expression of Cameroon wrapper on the market, even at this price point, but the sweetness was there. With so many people in the market experimenting with this specific wrapper leaf nowadays its hard to tell who is actually sourcing real Cameroon from African terroir and who isn't. I'm not saying the AJ Fernandez New World Cameroon Doble Robusto will steer you in the wrong direction, I just think Fuente is still the king of Cameroon at the end of the day. It's a totally different smoking experience to be sure, but a much better one at that, and with a comparable price tag depending on which Fuente mark you choose from. ENJOY!
Final Score: 82