The Montecristo Platinum Robusto is manufactured in La Romana, Dominican Republic by Altadis, a subsidiary of British conglomerate Imperial Brands. The brand is traditionally known as one of the mose famous and well sought after Cuban cigars in the world. They also are known to be one of the many Cuban cigar brands, that have split, with the Cuban version owned by Habanos SA and a completely separate Dominican brand owned by Altadis. The Cuban brand was founded in July 1935, when Alonso Menéndez purchased the Particulares Factory. In July 1936, Menéndez founded a new firm with a partner, naming it Menéndez, García y Cía. After fleeing the Cuban revolution, Menéndez and García re-established their brand in the Canary Islands and then later in La Romana, only to be acquired by Altadis. S.A. years later. The brand's name was inspired by The Count of Monte Cristo, a novel written by Alexandre Dumas père.
Blend Specifics
Cigar Reviewed: Montecristo Platinum Robusto
Wrapper: Mexican San Andreas
Binder: Dominican
Filler: Peru, Nicaragua, and the Dominican Republic
Size: 5×54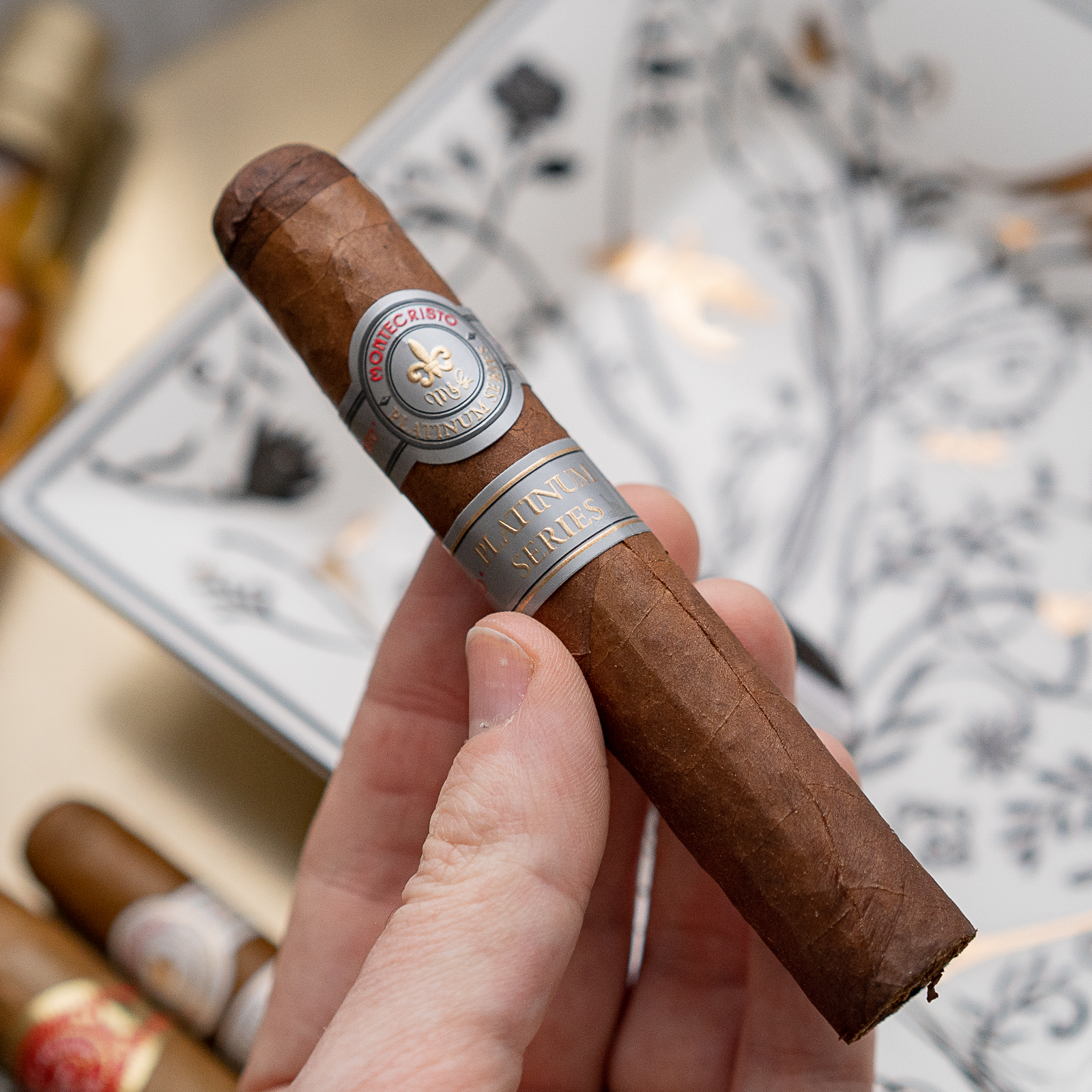 Appearance & Construction
The cigar is a tipple capped maduro robusto. The wrapper leaf is paper thin. The cap is a darker shade than the rest of the wrapper. The cigar is packed tighter at the bottom and looser at the top.
Flavor & Smoke Characteristics
The wrapper and foot smell like a combo of Cinnabon's and hay bales.
The cigar has a very loose cold draw with molasses on the breath. Sweetness….
First puff is faint. Sweet leather and mesquite. Leather aroma. Toasty retro. Great smoke production. Good heat maintenance. The smoke has a very light body to it that is dominated by cedar, leather, and baking spices. Burn line could be better.
Second third starts off with some canoeing that I have to touch up. The smokes body is still faint with nuances of leather, sweetened coffee and cinnamon. Ash buildup is flaky. Good heat maintce and smoke production. Burn line is still struggling. A little marshmallow as we go into the final stretch.
Last third needed another touch up for more canoeing. The smoking experience is still very singular and airy. Baking spices and leather nuances but nothing overpowering. Black coffee and pepper finish. Leathery retrohale and aroma.
Conclusion
In conclusion the Montecristo Platinum Robusto wasn't a great smoke but it wasn't an absolute failure. The Montecristo Platinum Robusto is definitely an anytime smoke, but not a smoke for somebody looking for complexity or a thicker more flavorful body. Touch ups don't bug me too much, I'm used to it at this point in the game, but I can see that bothering some people. If you like leather and baking spices give the Montecristo Platinum Robusto a shot. Just don't tell anybody I was the one that recommended it. Enjoy!
Final Score: 80