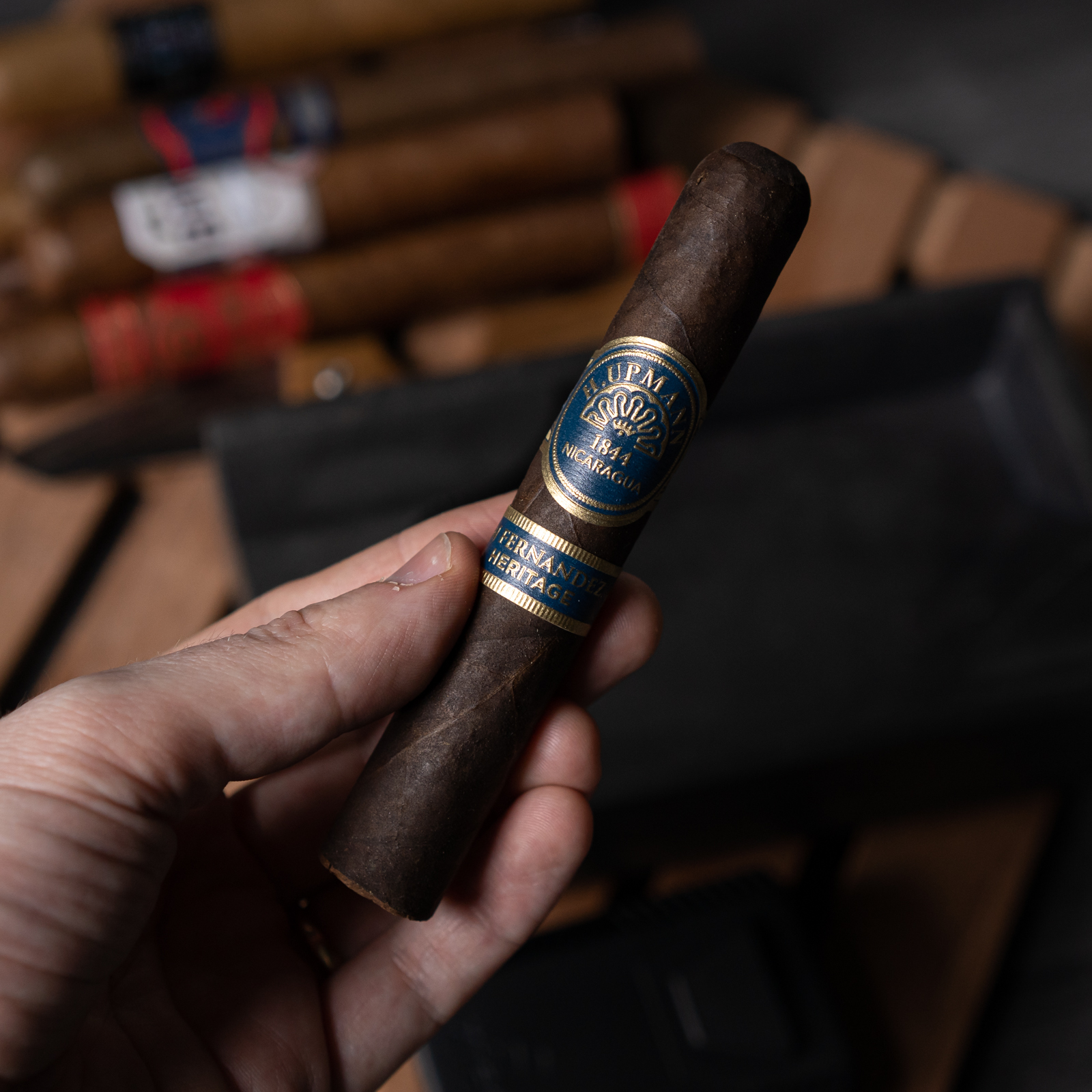 Master blender AJ Fernandez released his second interpretation of the H.Upamnn line, this time utilizing a dark Brazilian mata fina wrapper with Nicaraguan filler tobaccos. I've had many blends from AJ, and I'm always impressed that he can create such distinct and varied profiles.
Blend Specifics
Cigar Reviewed: H. Upmann Nicaragua AJ Fernandez Heritage Toro
Wrapper: Brazilian
Binder: Nicaraguan
Filler: Nicaraguan
Size: 6" x 54 (Toro)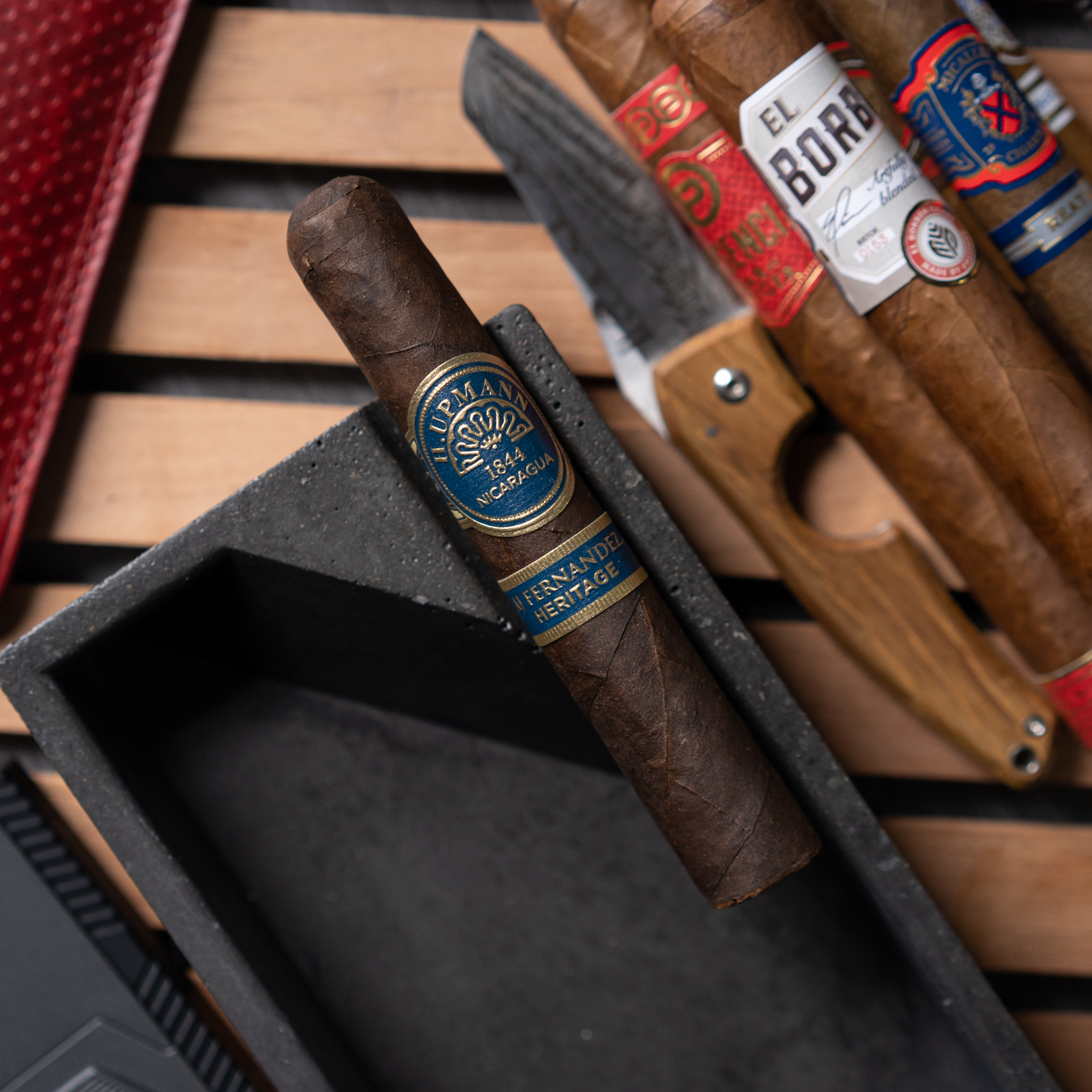 Blind Cigar Review: H. Upmann Nicaragua AJ Fernandez Heritage Toro
Appearance and Construction
This cigar has an extremely dark somewhat molted wrapper. It is very hard in its roll and there is no give when I put pressure on it. I notice the filler tobacco is much lighter than the wrapper which creates a contrast in color. There are some slight veins and the foot smells charry without much else to offer.
Taste and Smoking Characteristics
I make a precise cut with my guillotine blade and the cold draw delivers an overwhelming blast of red pepper. As I toast the cigar and take a puff I am hit with full flavors of earth and pencil lead upfront. A dark wrapper on a cigar does not always mean that it will be strong however this blend is doing just that. Taking a more cautious draw, there's cocoa, raisin, and a barnyard finish. The retrohale on this toro stings my nostrils a bit with red pepper flakes, cumin, and earth.  The burn line is razor sharp and the quality in the construction is evident.  Chocolate begins to intermingle with oak leaving a short woody finish. The body is in the full range from the start.
The toro begins its journey midway with salt and leather toning down some of the more direct and intense flavors than previously. There's gingersnap, coffee, and charred oak on the back end. The billow of smoke clouds in front of me as it burns is creating a dense setting. Another retrohale and the fullness returns with wood and earth dominating the flavor profile and leaves a bitter finish. I've picked up some more raisinated notes again which become more pronounced which each puff. Leather, oak, and cumin proceed with a slow draw that ends bitter. The short finishes seem to be commonplace with this toro.
The burn line remains even on the final third which is a nod to the construction of the cigar. There are more charry notes along with salt and oak that remains pervasive throughout. I'm picking up leather and burnt espresso bean which is intense and bitter. The retrohale has hay, toast, and an acidic finish. Spice adds to the profile picking a stronger end to the toro. The flame go es out on its own and I'm putting the cigar to rest.
Conclusion
AJ Fernandez has created an expansive profile of cigars and blends. This Heritage toro came on strong with pepper which was a little much to start off. There was some nice notes of cumin, earth, oak and hay although the finish remained consistently short not allowing a lot of lingering on the palate. The chariness also became acidic which left bitter taste on my tongue. I would suggest trying another of AJ's blends however if you want a full-bodied cigar, A spirit pairing would help to round out this smokes rougher edges.