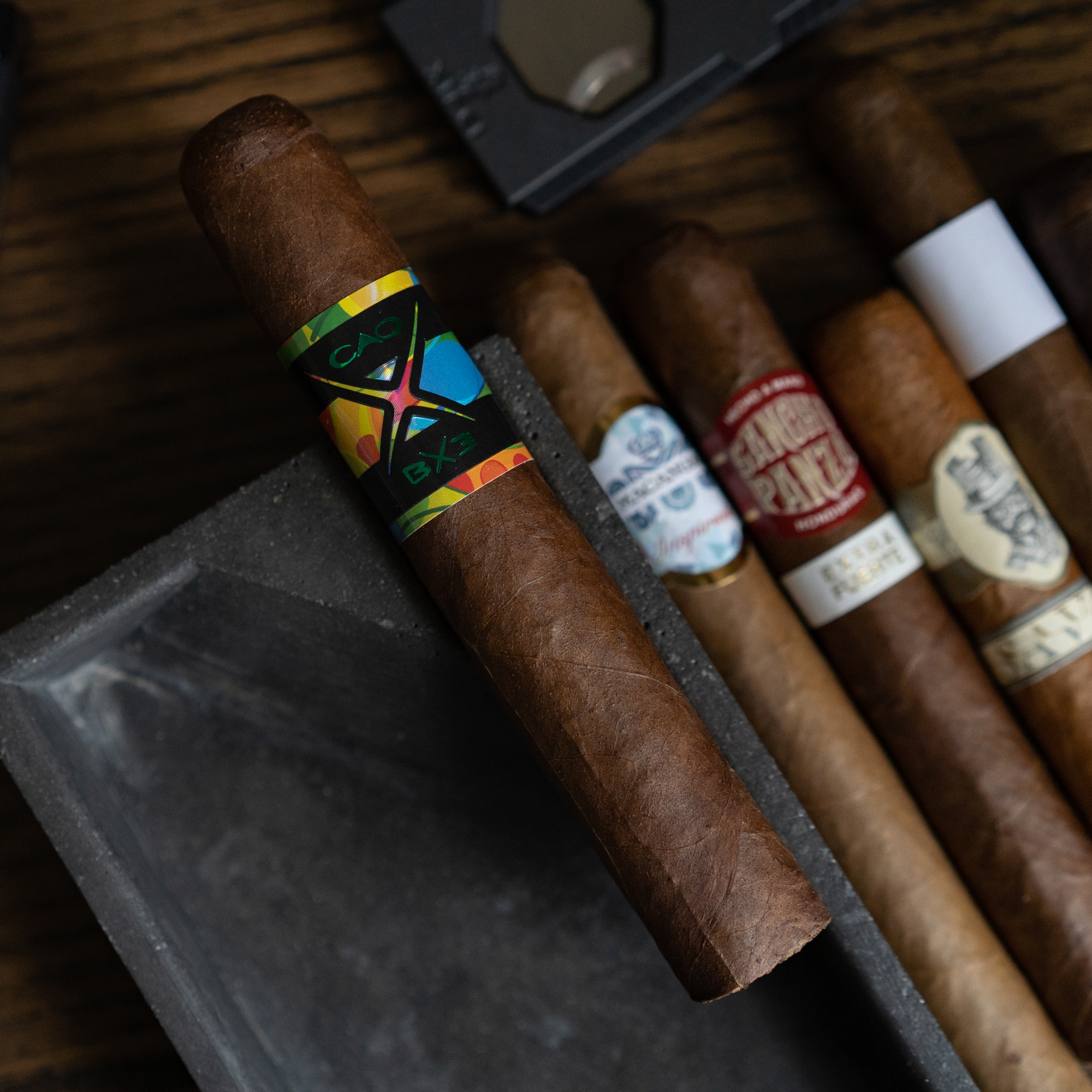 The CAO BX3 Gordo is manufactured by General Cigar Company in Nicaragua. CAO dates back to 1968 when Cano Ozgener began a pipe and humidor business in Nashville, TN, before venturing into cigar manufacturing in the 90's.  A very popular brand during the last cigar boom, CAO received much acclaim for their multi-national blends and highly rated maduros. This popularity eventually lead to them being acquired by General Cigar Company, an umbrella that the brand  is still under today.
Blend Specifics
Cigar Reviewed: CAO BX3 Gordo
Wrapper: Brazilian Mata Fina
Binder: Brazilian Arapiraca
Filler: Brazilian Mata Fina, Honduran, Mexican, Nicaraguan
Size: 6 x 60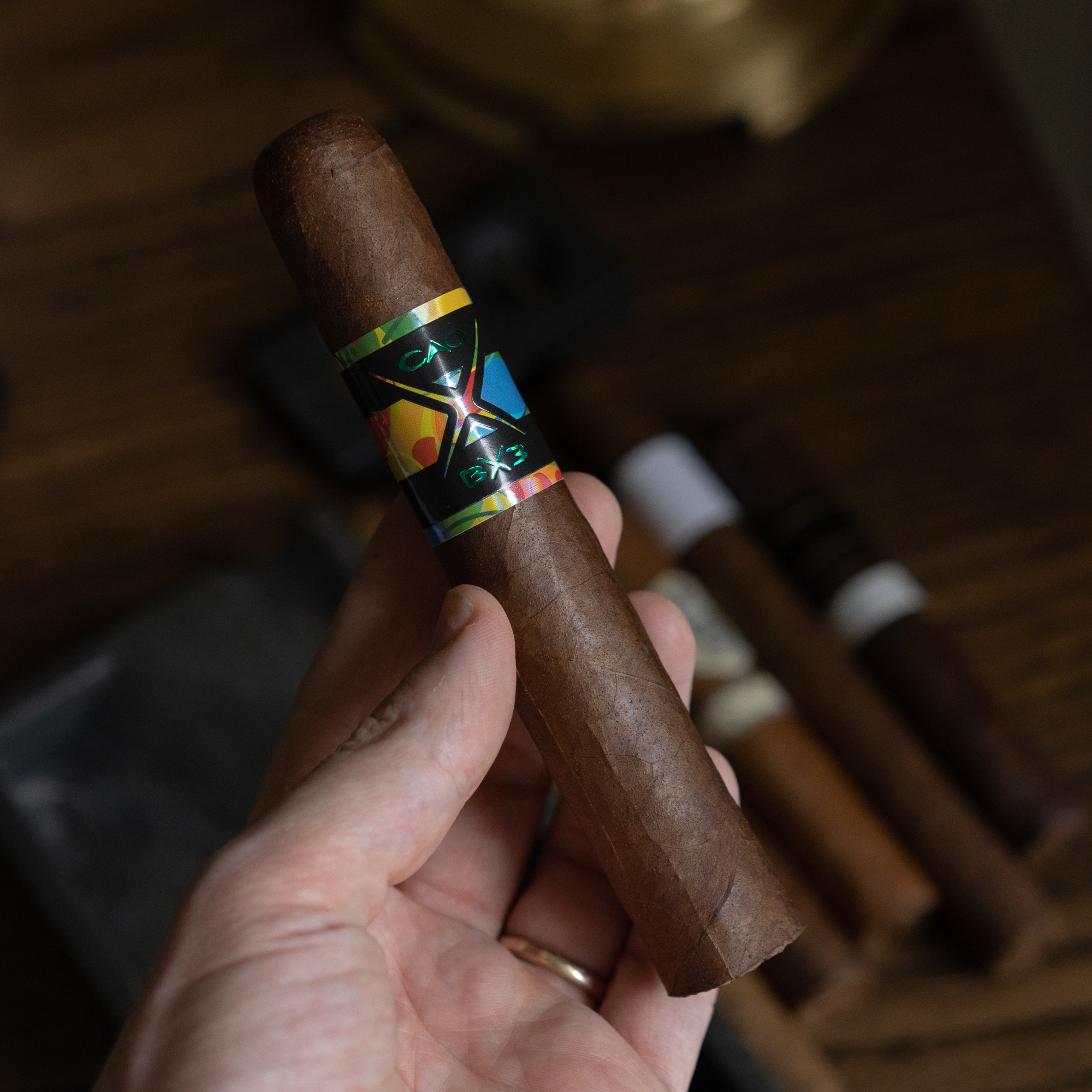 Appearance & Construction
The cigar is a very toothy maduro toro with a really thick ring gauge and a double cap.  The wide ring gauge makes the wrapper leaf more bespoke fitting and delicate compared to other maduro toros I've smoked.  Its almost as if there is a 3 dimensional visual experience to the cigar.
Flavor & Smoke Characteristics
The body and foot of the cigar smell of honey, chocolate, and dried urine.  Don't be offended or intimidated, its a compliment and par-for-the-course when dealing with well fermented tobaccos.
The cigar has a nice loose cold draw with spicy cedar on the breath.
It takes a while to toast the thick ring gauge with a soft flame as you can imagine, but combusts well with a few good slow draws.
The first puff is a flavor bomb of chocolate, cedar, raising, and pepper.  Its is spicy, hot, and toasty on the finish.  There is a leathery aroma to the smoke as well as on the retrohale.  It has phenomenal smoke production, and a nice thick ash build-up.  It handles the heat well. Two inches into the smoking experience, however, and the flavors get muted.
Second third begins with the flavor profile still dainty for what appeared to be a flavor bomb.  It turned into a genuine smooth smoke though, and I'm very impressed with how well it takes the 36 degree Fahrenheit November morning temps. There is a little bit of wood on the finish of each puff.  There is cedar on the retrohale and a sweet confectionary aroma in the air.  In frustration trying to get back to my first high, I take full liberty to puff away on the stick trying to stoke up a return to flavor-ville. The cigar is burning hotter then it should, but I can make out leather, earth, and wood with a nice sweetness on the finish.
The last third opens up with black coffee and espresso.  There is a sweet leathery aroma in the air, but nothing on the finish of my puffs.  Before I call this cigar a dudd, this lingering sweetness I've been getting throughout, picks up the lead and I can taste sweet straw bales.  I have to admit, the last third really saved the cigar review for me.  Even as it approached the nub, and the flavors tried to be harsh, the cigar stayed smooth and enjoyable.  I also have to admit, that smoking this cigar with very little food in my stomach, could have made a turn for the worse, but the fact that this cigar displays an awkward self control made it a very enjoyable experience.
Conclusion
In conclusion, the CAO BX3 Gordo wasn't that bad of a smoke.  I am not a fan of big ring gauges, long vitolas, or cigars that take a 2 hour or more commitment- So, my final score is really just based off my own bias.  This should by no means dissuade those of you who like cartoon shaped cigars from trying the CAO BX3 Gordo.  I would actually hand this off to anyone looking for something new and interesting, just perhaps in the robusto size CAO also offers in this blend.  The CAO BX3 scored the highest for me in the construction, smoke production, flavor nuances, heat control, and  smoking experience categories.  Give it a shot, and let us know what you think. Enjoy!
Final Score: 86