Miami, FL, January 23rd, 2023– Artesano Del Tobacco and co are so excited and proud to share with you the creation of EL Pulpo Cigars which means "The octopus" in english. This project began back in 2016. After working on this project we contact AJ Fernandez to help us create the EL Pulpo cigars. AJ Fernandez used different blending techniques, fermentation ,and aging process that led to the creation of the EL Pulpo cigars . EL Pulpo cigars will be Packaged in Ten-count boxes the cigars will come in box-pressed sizes: Robusto, Toro, and Belicoso.
We will start shipping EL Pulpo Cigars to Cigar Lounges in Mid February 2023. "We wanted a blend that fits people palate the way an octopus fits in different shapes, spaces and becomes that shape , we wanted a blend that becomes hard for any smoker to putdown once they light up like an octopus that doesn't let go of it's pray, once again AJ Fernandez has done an amazing job creating EL Pulpo Cigars We couldn't be more satisfied with the finished product and cannot wait for everyone to try it. As they say, 'good things come to those who wait' and this statement continues to ring true with the EL Pulpo Cigars. "- Billy & Gus of Artesano Del Tobacco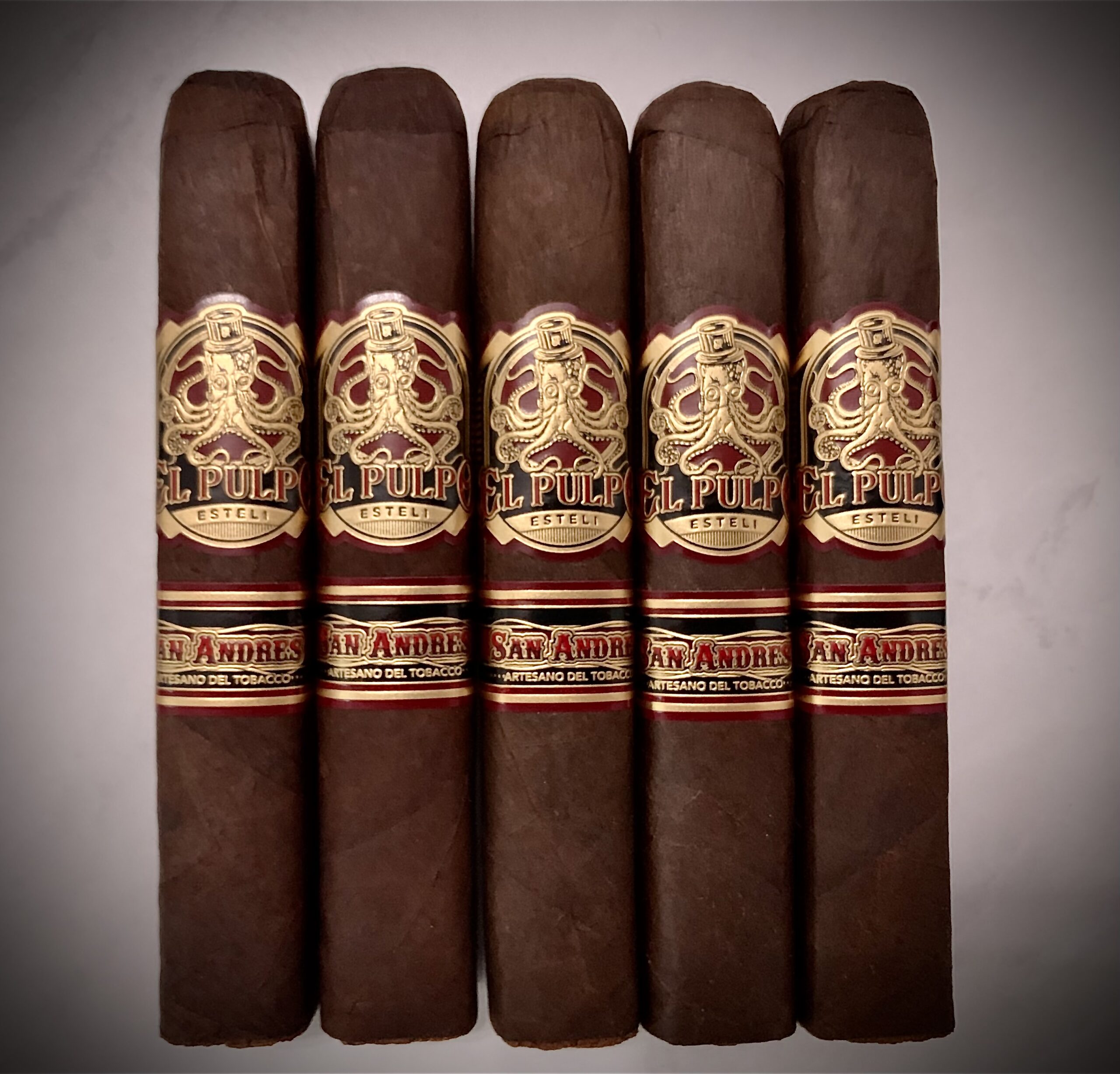 As with all Artesano Del Tobacco cigars, The El Pulpo cigars is exclusively manufactured and distributed by AJ Fernandez Company
Blend and origin:
Wrapper: Mexican San Andreas Maduro
Binder: Nicaraguan (AJ Fernandez farms)
Filler: Nicaraguan ( AJ Fernandez farms)
Factory: San Lotano
Vitolas Retail Price
Robusto Grande: 5 X 56 $15.00
Toro Grande: 6 X 56 $16.00
Belicoso Grande: 5.75 X 58. $17.00
Through a fusion of inherited techniques and patience, AJ has developed proprietary tobacco grown from the most prized seeds harvested exclusively on his family farms. Perhaps the most essential quality of an AJ Fernandez cigar is not tangible. It is passion and discipline that motivates AJ to produce world renown premium cigars. The motivation that flows and radiates from AJ are contagious and palatable throughout all the artisans who hone their craft and skills under his hands-on tutelage throughout Nicaragua. All these attributes stem from humble beginnings in San Luis, Pinar del Rio, Cuba where the Fernandez family heritage began.
If you would like more information about this topic, please contact Frank Santos at 786.800.5329 or email frankie@AJFcigars.com. artesanobilly@gmail.com info@ajfcigars.com