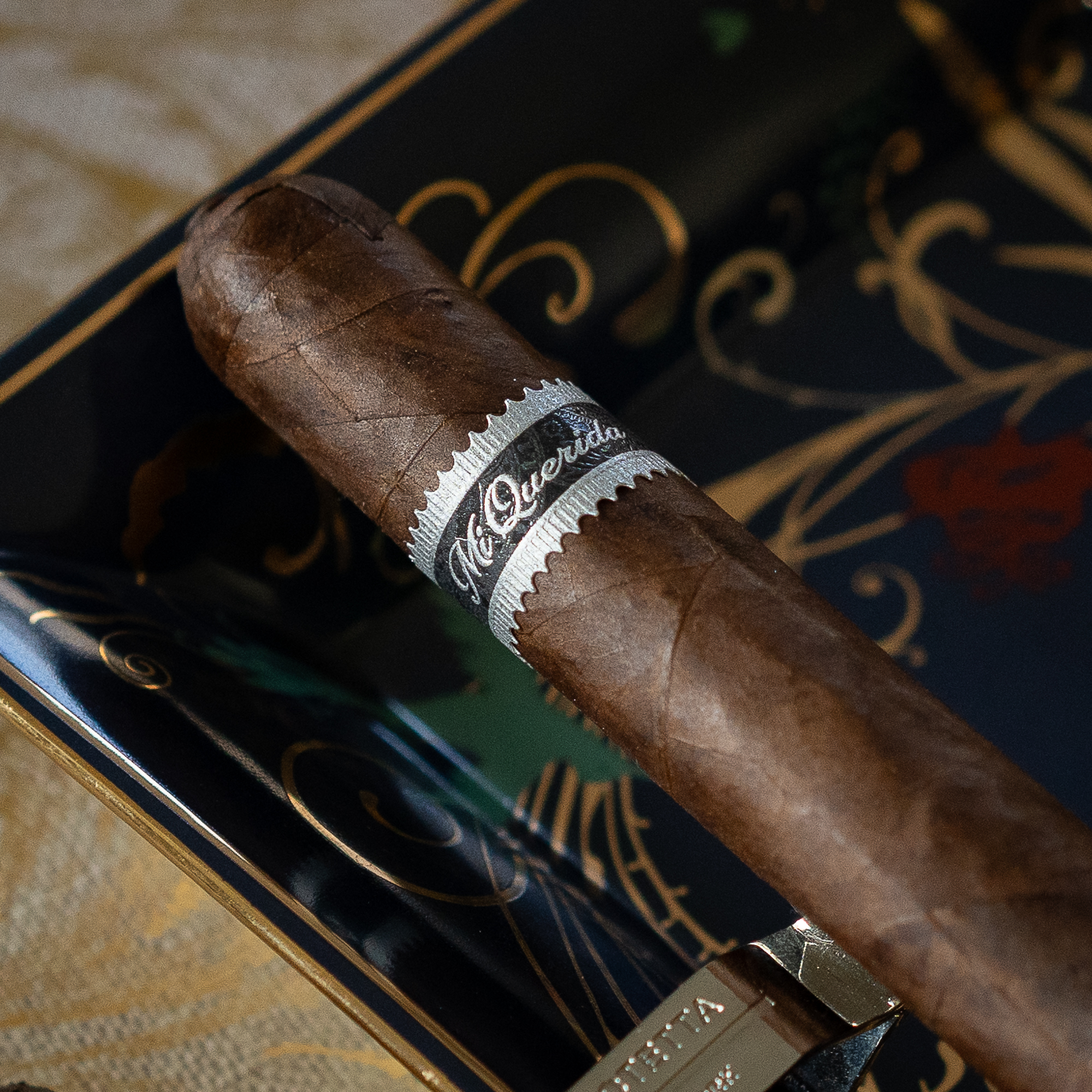 In late 2022, Steve Saka well known cigar maker and blender released the Mi Querida Black SakaKhan from his Dunbarton and Tobacco & Trust company. This is a large imposing dark Churchill with a pigtail cap. The name Sakakhan is said by Steve himself to be a nickname of his. Smoking this blind, I set aside a healthy amount of time to sit and experience this cigar. Read on.
Blend Specifics
Cigar Reviewed:  Dunbarton Tobacco & Trust Mi Querida Black SakaKhan
Wrapper: Connecticut Broadleaf
Binder: Mexican San Andres'
Filler: Dominican, Honduran, Nicaraguan 
Size: 7" ¼ x 54 (Churchill)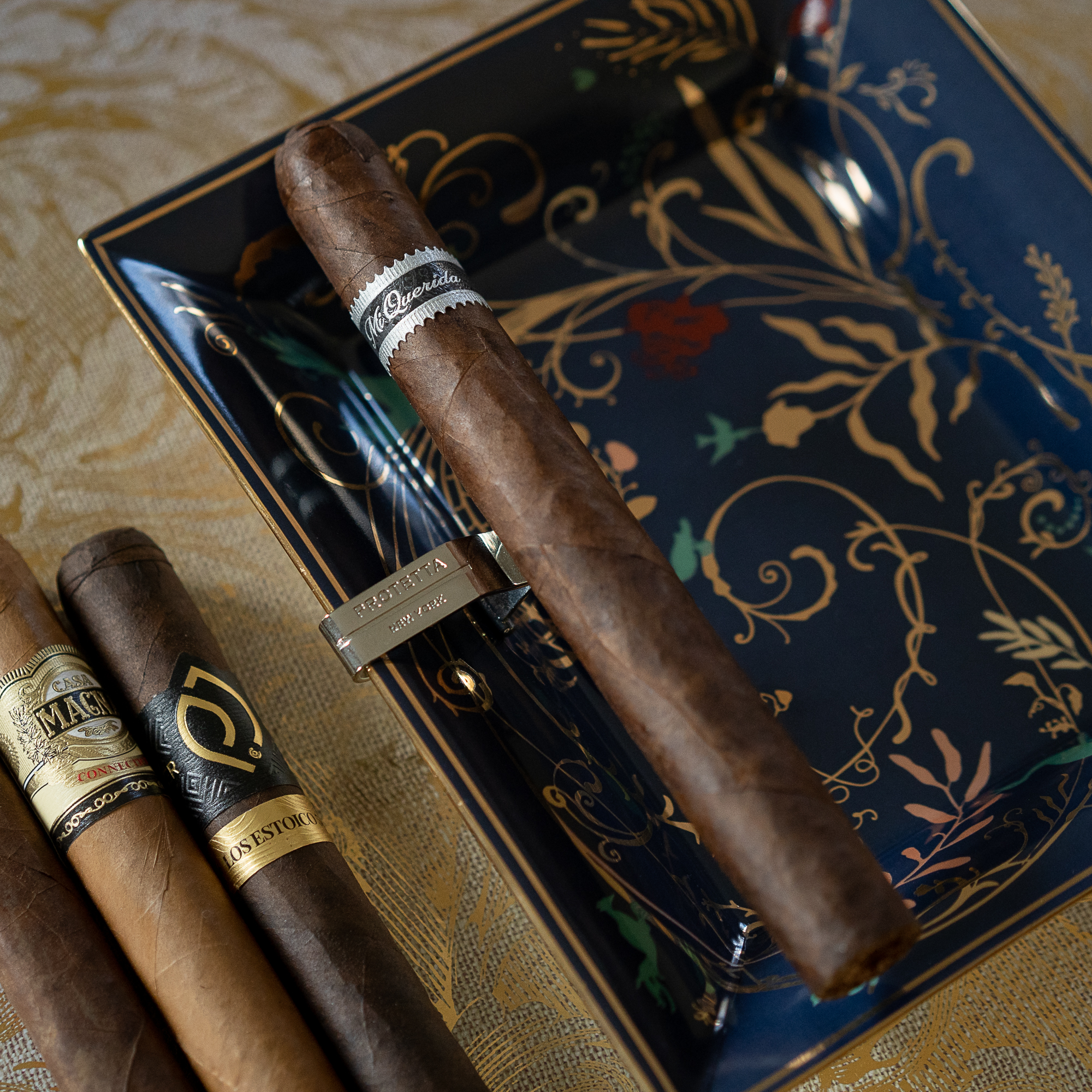 Blind Review Notes: Dunbarton Tobacco & Trust Mi Querida Black SakaKhan
Appearance & Construction 
This is one large dark maduro cigar with a tight pigtail cap. It's rather veiny and firm to the touch. As I roll the cigar in my palm, I can see how well crafted the smoke is. The foot smells of cocoa, biscuit, and hay.
Taste & Smoke Characteristics
With my Xikar I make a straight cut just below the pigtail which leaves a clean impression. The dry draw is airy and dusty with little flavor coming from it. Using a single flame, I take a I light and there's leather and a grittiness to start. Notes of vanilla bean and brioche come forward as the cigar develops. Thus far the smoke is in the medium bodied range with a wavy whitish gray ash. With a retrohale I pick up coffee and earth with a sharpness on the finish.
The second half picks up with pepper on my lips and hitting the back of my throat. There's more vanilla sweetness mixed with tea and wood with a short finish. Plenty of smoke is produced while taking a slow cool draw off this large Churchill. I take another retrohale which delivers roasted nuts and oolong tea. There's a bit more fullness in the body however I still feel it's on the latter end of medium. The wavy burn line has corrected itself and is looking sharp.
Reaching the final third there's a transition in flavor with more earth notes followed by dry cedar. The drying sensation intensifies as I puff away bringing strong leather, wood along with black pepper. I'm finding the retrohale delivers the most strength from this cigar as I pick up spices and forest floor which lingers on my palate. This is one of the longer finishes of this smoke. As I take a final draw there's a pleasant sweetness that rounds out this Churchill.
Conclusion
For such a large cigar I was pleased that it was not too strong as to saturate my palate by the end of it. The leather, vanilla and wood notes were pleasing if not just a bit short on the finish. The middle of the smoke offered tea and roasted nuts that added to its complexity. Towards the end the cigar became drying on the sides of my mouth however the sweet finish redeem itself. I've enjoyed a few of Steve Saka's blends and if you enjoy a long smoke and dedicate your time, SakaKhan is worth your time. 
Final Rating: 89