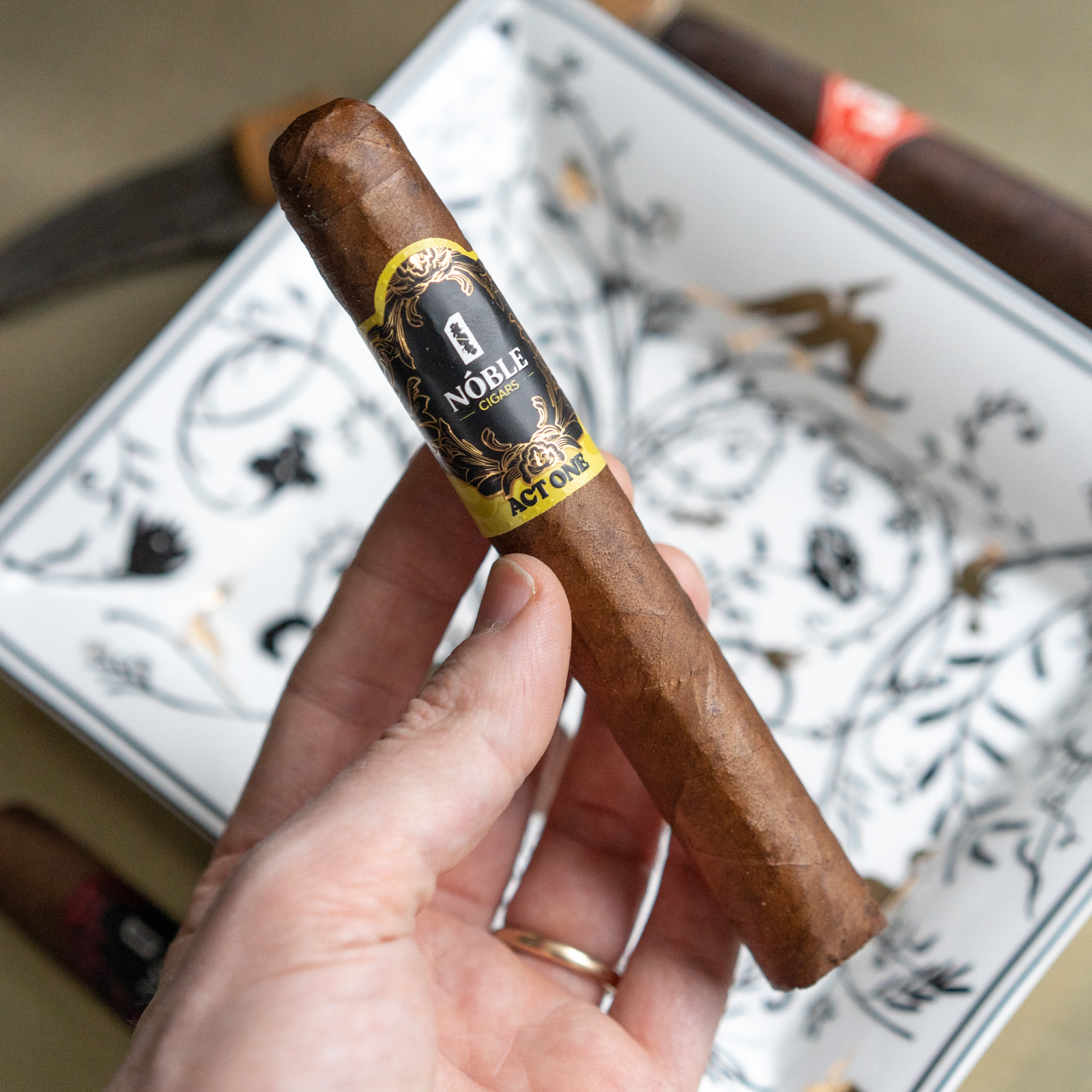 Noble Cigars seems to be a new outifit in the boutique cigar market that is headquartered in Lakeland, FL. Production appears to be out of the Domincian Republic. I heard a rumor the cigars are manufactured out of La Auroras' factory, however, their web presence doesnt really verify that grape vine. Noble Cigars, also seems to be a partnership between three cigar entusiatsts: Elizabeth Santos, Eddy M. Santos, and Jon Gjebrea. The cigar company is obviously in their budding stages, from their tiny SEO impression, but after being ever-so-slightly impressed by the Noble Cigars Act One Toro, I'd say they're worth checking out.
Blend Specifics
Cigar Reviewed: Noble Cigars Act One Toro
Wrapper: Broadleaf Claro
Binder: Dominican
Filler: Dominican
Size: 6×52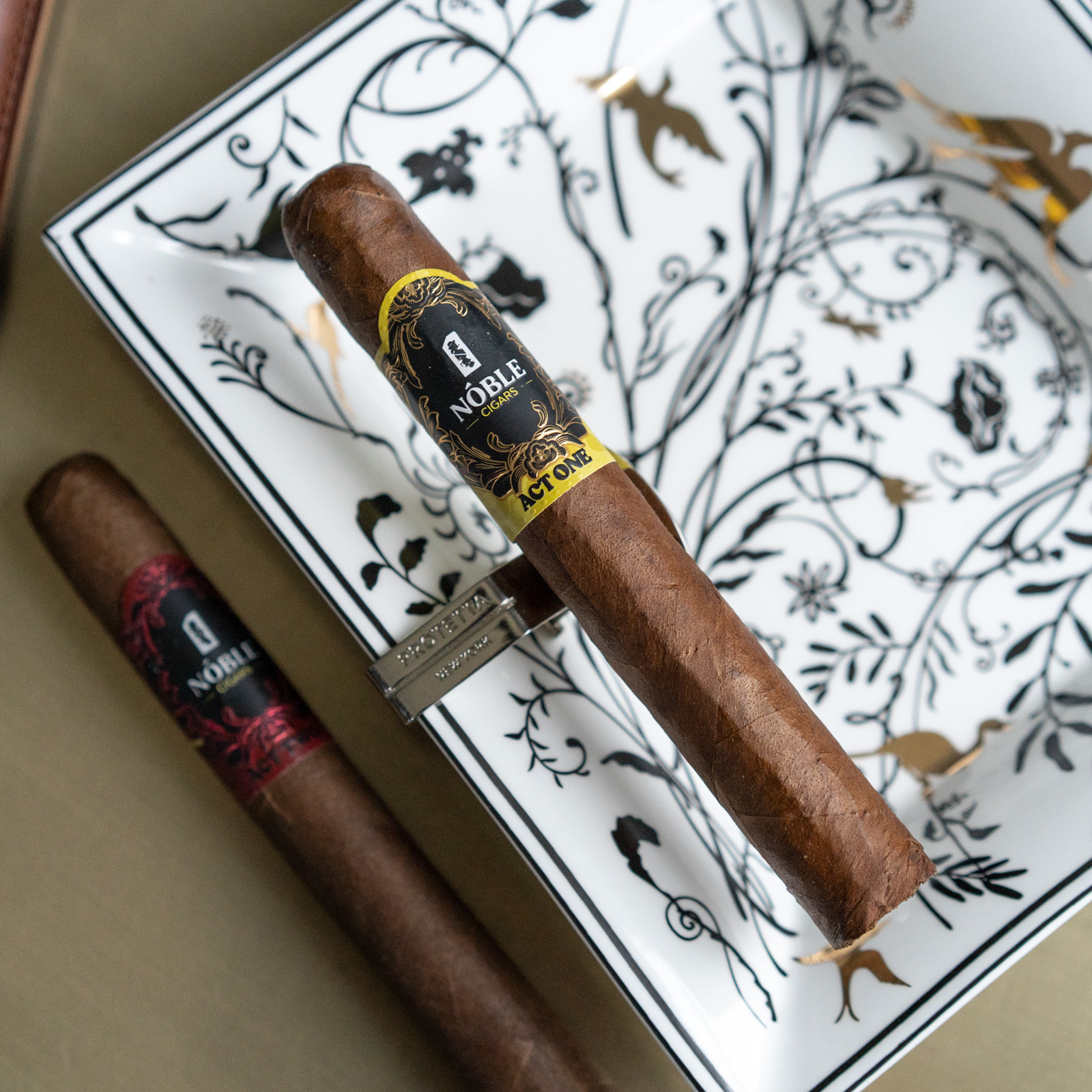 Blind Review Notes: Noble Cigars Act One Toro
Appearance & Construction
The cigar is a sturdily packed habano toro with a triple cap. It dons a very rustic striated wrapper that not only looks like a weathered leather jacket but feels like one too.
Flavor & Smoke Characteristics
The cigars wrapper leaf smells of hay and straw bales with lots of sweet chocolate on the foot. The cold draw has some resistance with lots of dank cedar and pepper on the breath. The cigar toasts very nicely, but needs a good fire to combust.
First puff is leather, cocoa and pepper steak. A little microwave popcorn. Tongue tingling Pepper. Woody back notes. The tobacco really wets the palate. There's something very earthy and planty about the taste on the front end. There is a lot going on here. Trying to find some harmony. The pepper really gets in the way. The thickness of the wrapper leaf doesn't add to he straightest burn line but the cigar self corrects with ease. First third ends with a lot more leather and a nice peanut note that compliments it quite nicely.
Second third opens ups with the pepper falling out of the flavor profile completely. I don't know if that's a good or bad thing yet. Lots of leather cocoa, nuts, some baking spices, and this planty backbone I want to compare to moist coffee grounds that were left in their drip filters. The ash build up is solid. I have to monitor the heat a little bit. I might be enjoying the smoke a little too much. I'm really just trying to make sense of the cigar. The cigar is a slow burner and should be treated with respect. I'm still in awe of the wrapper leaf. It feels like it just came off a pilon. Leather retro with chocolate aroma. Smooth body.
On the last third the beautiful ash build-up breaks off in my lap. Not the best impression I want to make in front of a tough crowd at a nice cigar lounge I'm a guest at for the day. The flavor profile mellows out more. The baking spices, mainly cinnamon, and the leather lead the pack. Black coffee on the backend. A nice hot cocoa note has been coming in and out throughout the smoking experience. Sweet chocolate aroma. Leathery retrohale. The tobacco goes through phases of drying out my palate and resetting it. A very woody finish.
Conclusion
In conclusion I found smoking the Noble Cigars Act One Toro to be a little boring. If you know me by now, you know I'm bias to shorter smokes. However, I found nothing really wrong with the Noble Cigars Act One Toro. The cigar does what's it's supposed to do. It smoked beautifully and offered some minor complexity and nuances, but not much. Perhaps it just needs more time in the aging room? However, the wrapper leaf is truly something to behold. It's like a suit of armor! The Noble Cigars Act One Toro may not be for me, but it's definitely for some one else. My American palate would of course enjoyed a little sweetness to add into the mix, or even a little bit more body to the smoke. It was smooth and woody like a small camp fire, with nothing loud outside of the first third. Enjoy!
Final Score: 87