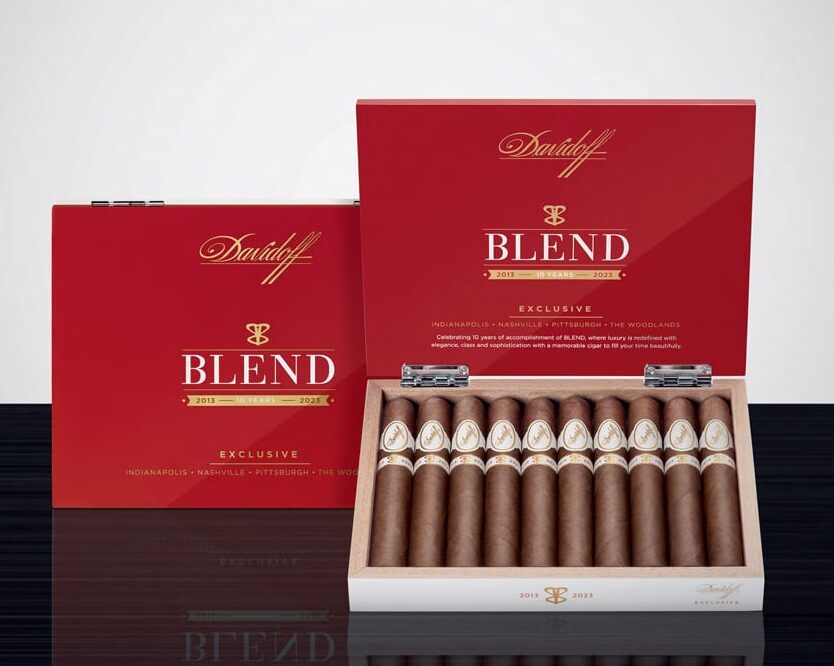 Indianapolis, IN – BLEND Bar is celebrating a significant milestone as it commemorates the 10th anniversary of its first retail/lounge location, which opened its doors in Indianapolis in August 2013. In honor of this achievement, the company has unveiled the Davidoff BLEND 10 Year Anniversary Exclusive Edition.
BLEND Bar has established itself as a premier destination for cigar enthusiasts and connoisseurs. It offers a diverse selection of both premium and super-premium cigars, exclusive spirits and wines, all within an upscale environment designed to cater to both cigar hobbyists and non-smokers. In 2015, BLEND Bar entered into a partnership with Davidoff, resulting in the rebranding of select locations as 'Blend Bar with Davidoff Cigars.' These locations feature Davidoff branding and benefit from Davidoff's merchandising and marketing support, including the availability of exclusive cigars. The expansion continued in 2016 with the addition of locations in Nashville and Pittsburgh, followed by The Woodlands, Texas.
The Davidoff BLEND 10 Year Anniversary Exclusive Edition represents a unique cigar creation, tailored specifically for significant milestones, cities, countries, and anniversaries. This particular edition is presented in a 6″ x 50 toro format. The blend incorporates a Dominican wrapper, an Ecuadorian binder, and five different filler tobaccos from the Dominican Republic, each aged for a minimum of five years.

Dylan Austin, President of Davidoff Americas at Oettinger Davidoff AG, expressed his congratulations to the BLEND team on reaching this momentous milestone. He acknowledged that over the past decade, the partnership between Davidoff and BLEND has evolved, resulting in multiple locations that have become premier destinations for premium cigars. He also conveyed the Davidoff team's gratitude for the partnership and their anticipation of what the next 10 years will bring for BLEND with Davidoff Cigars.
The Davidoff BLEND 10 Year Anniversary Exclusive Edition is currently available at BLEND Bar locations in Indianapolis, Houston, and Pittsburgh, as well as through their online store. These cigars are presented in custom-made red lacquered boxes of 10 and are limited to a total of 1,000 boxes. They are priced at $599 per box.
BLEND Bar's 10th-anniversary celebration with the Davidoff Exclusive Edition is a testament to its commitment to providing cigar aficionados with exceptional experiences and premium products.