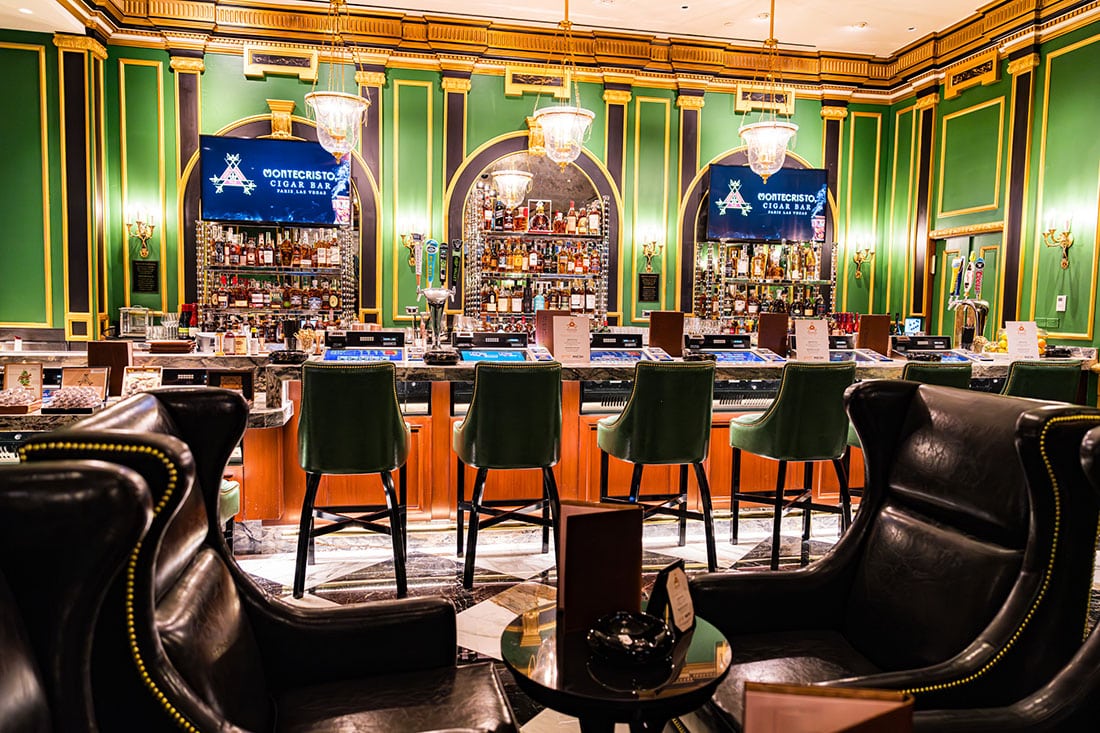 Las Vegas, NV – Cigar enthusiasts have a new destination to explore in the heart of Las Vegas. Montecristo Cigar Bar has officially opened its doors at the Paris Hotel and Casino.
The opening of Montecristo Cigar Bar adds to the evolving culinary and beverage offerings at Paris Las Vegas, and it promises to provide a premium experience for visitors. The bar boasts a wide selection, with over 300 top-tier cigar brands, including well-known names like Romeo Y Julieta, H. Upmann, Padrón, La Flor Dominicana, Arturo Fuente, My Father, and Montecristo itself.
Visitors to the Montecristo Cigar Bar can enjoy more than just cigars; they can also indulge in specialty cocktails. Options include the Parisian Paloma, made with Maestro Dobel Diamante tequila, Fever-Tree grapefruit soda, lime juice, and simple syrup. For those seeking a smokier flavor, the Rolling Smoke features Maker's Mark 46 Bourbon, Laphroaig Islay Scotch whisky, coffee bean-infused Caprano Antica Formula vermouth, and vanilla.
The bar's ambiance is a result of the work of the renowned architectural and interior design firm Bergman, Walls & Associates (BWA). The décor has a French-inspired theme, with fresh green tones and stone finishes. Spanning 2,835 square feet, the bar features a state-of-the-art ventilation and air purification system to ensure guest comfort. It can seat over 70 guests and provides eight bar-top games, making it an ideal spot for watching live events with eight televisions and an oversized LED TV wall measuring approximately 16 feet by 9 feet.
Cigar enthusiasts will appreciate the walk-in, climate-controlled humidor, equipped with custom Spanish cedar shelving. This humidor stores cigars for customers to enjoy in the lounge or take home.
According to partner Michael Frey, the Montecristo Cigar Bar has already seen significant success with its Caesars Palace location. The addition of the new lounge at Paris Las Vegas complements the Parisian resort's atmosphere.
Visitors to Montecristo Cigar Bar can conveniently order food from a variety of dining options at Paris Las Vegas using Caesars Eats, the resort's mobile ordering service. Dining choices include Gordon Ramsay Steak, The Bedford by Martha Stewart, Nobu, and Bobby's Burgers by Bobby Flay.
Montecristo Cigar Bar at Paris Las Vegas is open Monday through Friday from 11 a.m. to 1 a.m. and on Saturday through Sunday from 9 a.m. to 1 a.m., welcoming cigar enthusiasts and those seeking a premium experience in Las Vegas.