Balanced Single Malt for Enthusiasts Neat Before or After Dinner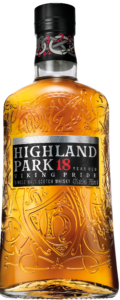 Photo: Courtesy of Highland Park
Whisky Reviewed: Highland Park 18 Viking Pride
Distiller: Highland Park (Edrington)
Region:  Islands (Orkney)
Suggested Retail Price $150
ABV: 43%
USC Rating: 97
The Dramble Rating: 89
Mark's Review
You had your time; you had the power
You've yet to have your finest hour – Queen
Edinburgh, a long time ago in a memory far, far away. The Charlotte Square hotel had an open bar and I spotted Highland Park 18. With no guilt, I took a wee pour (ok, more than a wee…). One of best value for rating single malts, HP18 is an icon. Maybe the inn felt proud to share such top class whisky with a free heart.
You might guess the tale ends here, but it's only the start. Over the years, this Scotch kept a constant place in my glass. A sweet smooth sherried Island nose bursts from the crystal with a promise of what's coming. That image stayed with me through many of life's stages.
Then in the past few weeks, through some magic, it once more showed up in my Glencairn.
They changed the bottle and, like the twelve-year, called it something or other Viking-esque. Sometimes, brands over think this label thing. In my mind, I saw nothing wrong with either the old 12 or 18. We all get the idea though: life moves on and breaks with custom are trades made by the suits.
But lucky for me, the product I inhale and taste is the same balanced spirit I knew. Neat pre or post dinner, it never fails. But, I found out this Orkney gem has a secret. Add a few drops of water and wait for the flavors to explode in your mouth with a final tinge of leather smoke on the finish. For some, that's sacrilege. For me and others, we enjoy waking new traits from their slumber.
Relish a prized dram any way you want. The Enthusiast finds their classic benchmark at a price point that won't put you on Poor Street. You'll find Queen's finest hour when you do.
ps: BTW, there's a travel version at 46% ABV. I didn't try it yet but I'm sure the high proof gives you the same joy with perhaps more heat.
Mark Garbin's Evaluation
| | | |
| --- | --- | --- |
| Aromas & Flavor Appeals to: | Optimal Client Type | Great For: |
| Subtlety Aficionado | Apprentice | Cocktails |
| Power Flavor Admirer | Enthusiast | Neat Before Dinner |
| Balanced Devotee | Adventurer | With Food |
| Chameleon Lover | Hedonist | Dessert or Afterwards |
USC Rating: Bold and impressive nose of heather honey, nougat, cocoa nibs, smoke and stewed cherry. Malted chocolate titillates the tongue, with a kick of peat smoke pleasantly drying out the palate before hints of salted almond butter and coffee liqueur come forward.
The Dramble Rating: Highland Park 18 is commonly regarded as a classic–for good reason–it's refined, complex and with plenty of HP distillery character. The balance of fruit with heathery peat is both enticing on the nose and palate and exceptionally accomplished throughout the whole development. It's a whisky, which every single enthusiast should try, and just as delicious as the day I tried it.