A Top Rated Bourbon of Balance and Grace for an Apprentice or Enthusiast
Neat Before Dinner or in a Cocktail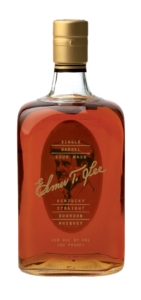 Photo courtesy of Buffalo Trace Distillery
Whisky Reviewed: Elmer T. Lee
Distiller: Buffalo Trace
Region: Kentucky
Suggested Retail Price: $35-$300
ABV: 45%
Distiller Rating: 91
Wine Enthusiast Rating: 97
USC Rating: 91
Whiskey Sidekick Rating: 4.5/5
Mark's Review
From the depths of Buffalo Trace rises a single barrel ideal for sitting in front of the fire with Harry the cat on your lap.
What? No pets and you're telling me the season changed?
Don't worry. This bourbon is a suave, smooth delight anytime with or without an animal companion.
Aromas
Scents waft to your nose full of fruit, cinnamon, nutmeg and nuts. It's as if you baked apple and pecan pies, then distilled, aged and bottled them together. The soft easy-going flavor was rich, complex and as comfortable as your favorite couch. I added some water, but it didn't add or subtract any value.
In Cocktails
With a high rye content, you won't think Elmer T. Lee is 45% ABV. Yet this whiskey is so balanced that a Manhattan "up" cocktail works well. I suggest you cut back on the sweet vermouth at 50% of the usual recipe. In fact, try the "perfect" version using ¼ oz. bianco and ½ the standard red. One challenge is the cost. You must conduct a detailed search to find a price on the low end; if you can even find a bottle at all.
 The moral of the story is patience pays and glory awaits. Ask my furry friend Harry. It's worth the trip.
Mark Garbin's Evaluation
| | | |
| --- | --- | --- |
| Aromas & Flavor Appeals to: | Optimal Client Type | Great For: |
| Subtlety Aficionado | Apprentice | Cocktails |
| Power Flavor Admirer | Enthusiast | Neat Before Dinner |
| Balanced Devotee | Adventurer | With Food |
| Chameleon Lover | Hedonist | Dessert or Afterwards |
Distiller.com review: Once the nose opens a little, the spice flows freely. It's warm with an inviting baked apple crisp with vanilla ice cream aroma. The palate finds more oats, apples, cinnamon, caramel and oak. The finish is long and spicy with the cinnamon prevailing note. –Rob Morton
Wine Enthusiast review: Complex and addictive. Scents of cinnamon, hazelnuts, and dried fruit precede big flavors: cinnamon spice, raisinated and plummy, like Madeira or Sherry. Long finish, with a bit of a bite. –Kara Newman
USC review: This is a tour-de-force of a bourbon that overflows with aromas of brown butter, toffee danish, & charred cinnamon. The palate is expansive and delicious echoing the earlier flavors and adding sweet corn puree, baked pear, and roasted oak sweetness.
Whiskey Sidekick review: You can't beat Elmer T. Lee for the flavor and value. This particular barrel that we sampled gave us quite a different profile than what would be considered "standard" but still was exquisite. ETL is pretty darn rare so grab it when it's available as you won't find a better or more consistent single barrel bourbon for the price. Earned all of its 4.5 glasses and we will definitely be picking up every bottle we come across.