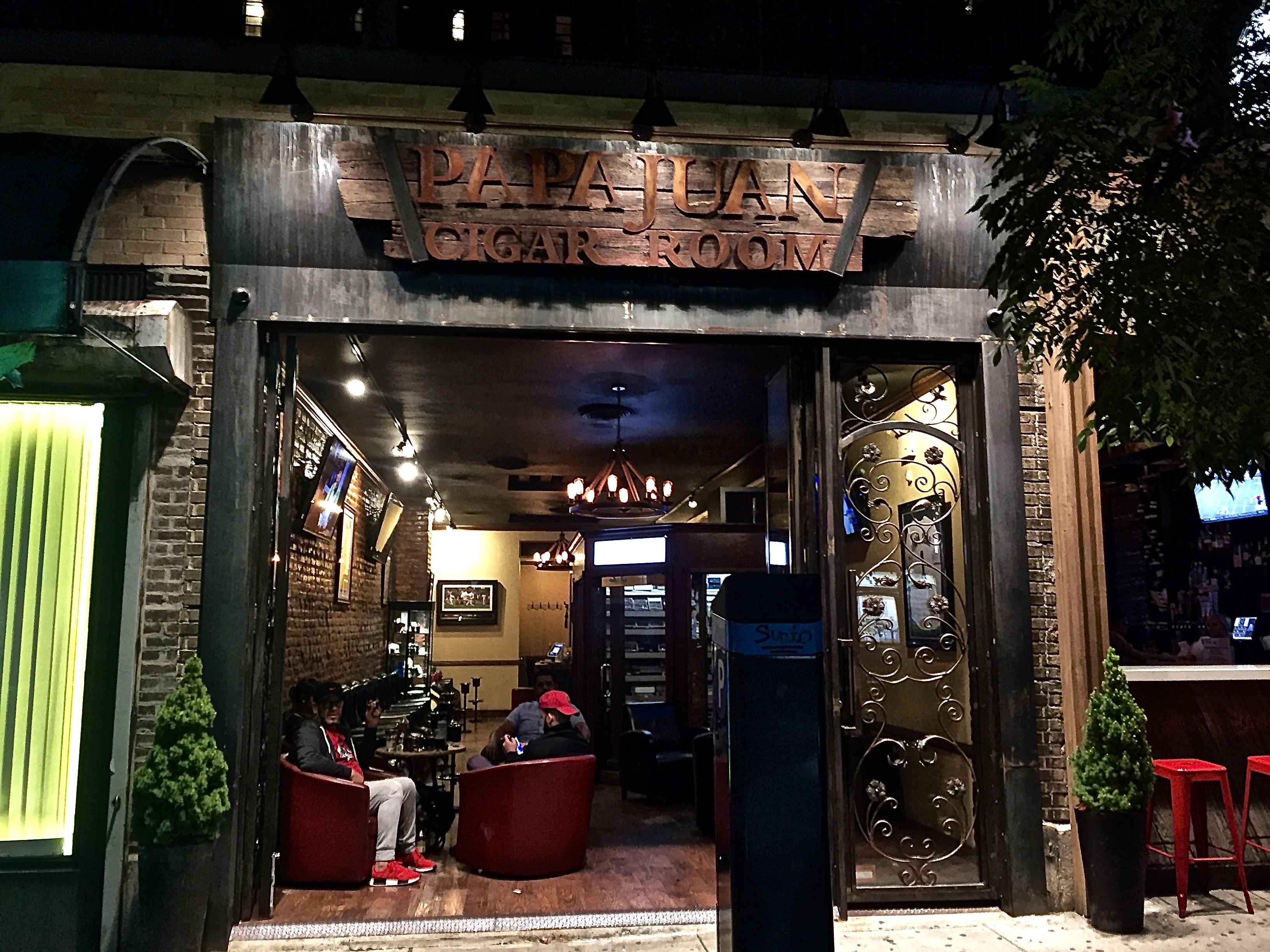 August of 2015 saw Papa Juan open up their second location, situated just a block away from Yankee Stadium and its two subway stops. It's a big relief in the context of Mayor DeBlasio's continuation of his predecessor's anti-smoking crusade. At long last, Yankee aficionados no longer have to settle for standing on the curb and enduring dirty looks to enjoy a pregame, postgame (or both) stogie. Hallelujah!
It's a perfectly mild Saturday night in October, the kind of night where the staff fold back lounge's glass panels; an open-door policy in the most literal sense. This gives the lounge a charming resemblance to a street-side café, with patrons in all casual attire multitasking in the art of smoking, chatting, and people-watching. I've just come from a party on the Upper East Side in a full suit, bow tie and suspenders; needless to say, I stick out like a sore thumb in more ways than one. Yet I'm accepted as a member of the family the moment I walk in.
Juana, the hostess, greets me and escorts me into the walk-in humidor. The selection has a healthy balance of established brands (like Rocky Patel, Montecristo, etc.) and newer brands (such as Exactus and Manolo Estate) "Where you been?" she asks me with a smile while I pick out a cigar, "Francis (the founder and owner of both Papa Juan lounges) really misses you, you know." This is quite impressive, considering I've only visited Papa Juan a handful of times, most of which were for business, no less. It's just one of the countless externalities of the highly community-driven and people-oriented enterprise that is Papa Juan.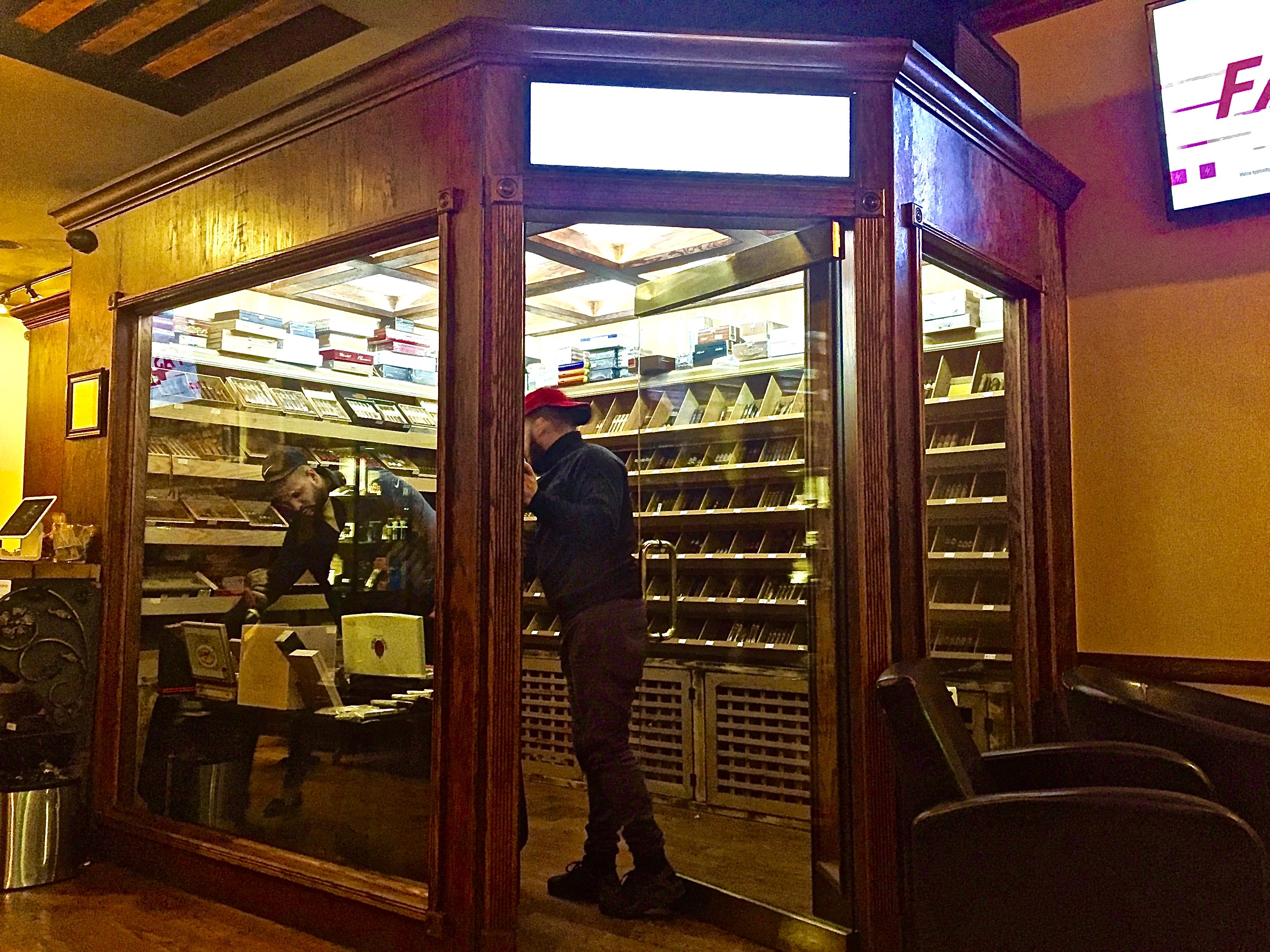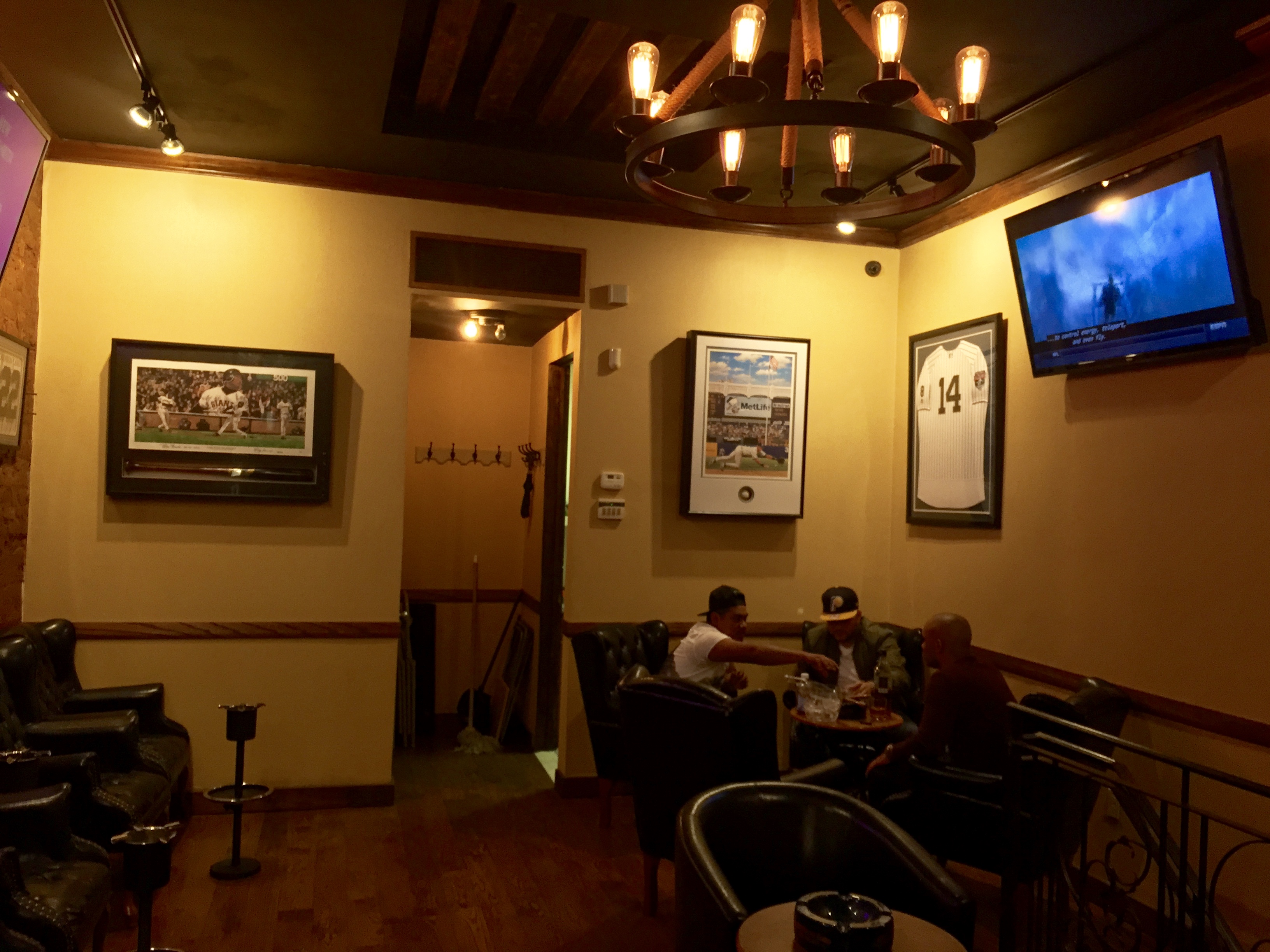 I pay for my cigar and drink and pop a seat in one of the identical black lounge chairs lined up against the brick wall flawlessly in a row. Each chair also comes with its own adjacently positioned fancy ashtray complete with two separate trays on a stem; one up top for ashes, and one down below for everything else.
I light up and enjoy a comfortably solitary 90 minutes, surrounded by the mild night air, the different games on the numerous TV screens, and the autographed memorabilia on the walls; the occasional passerby will complement my bow tie and suspenders and then go their merry way. It's not that the clientele are by any conceivable means insular or tribal, even though they often cluster up in their own groups; rather, I notice they are quite perceptive and accordingly respectful to the social preferences of the people around them.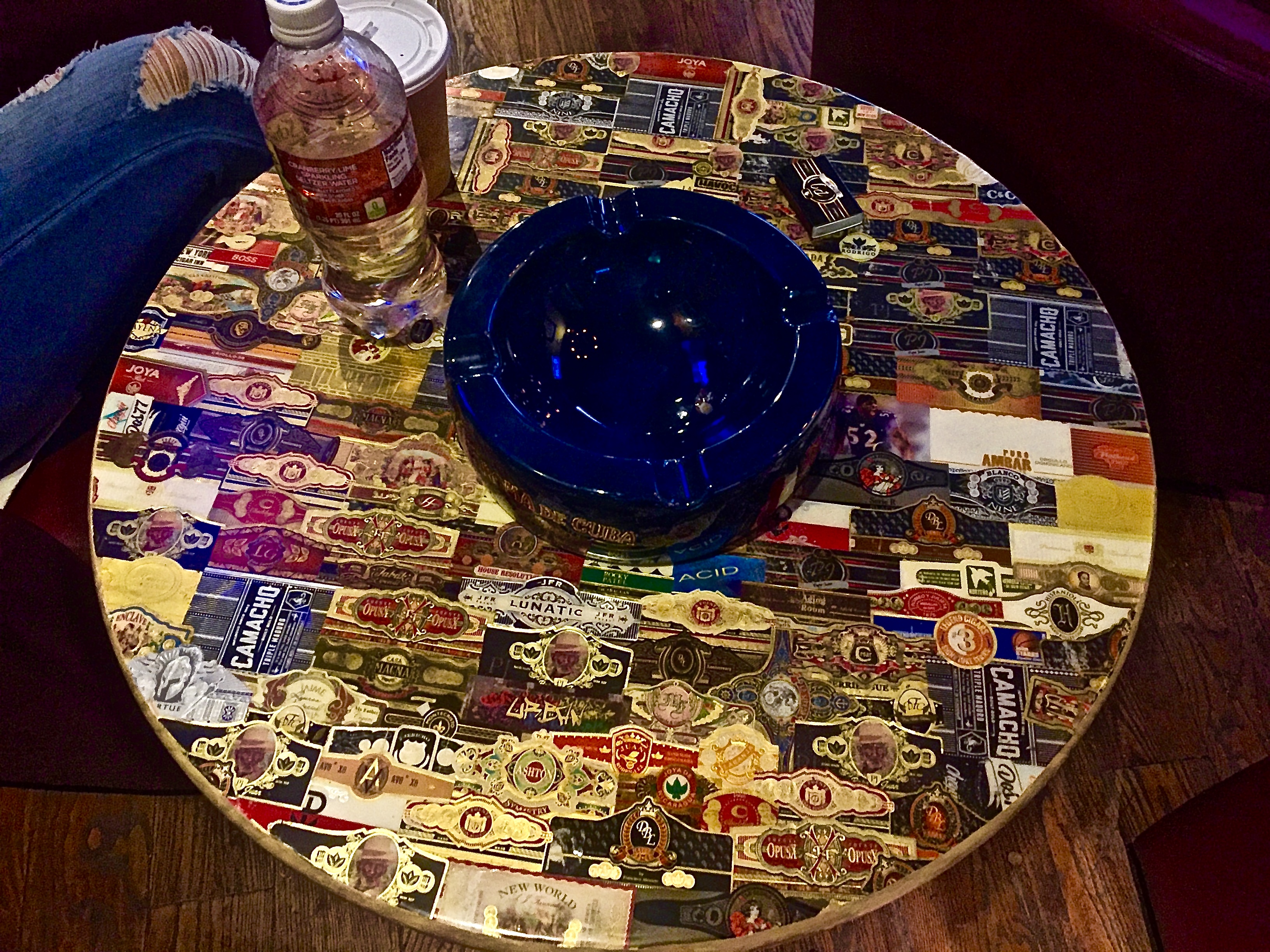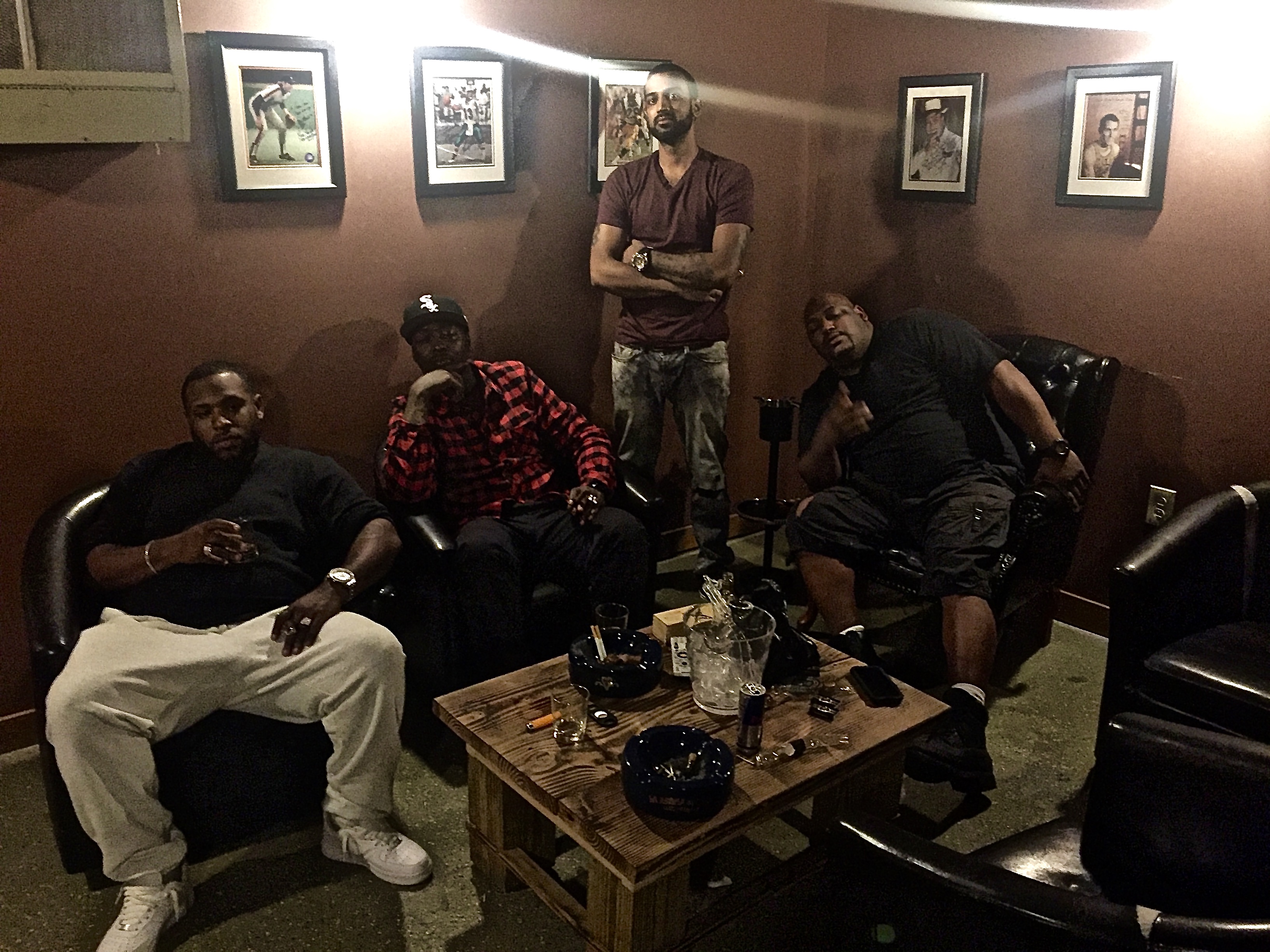 After I finish my cigar, a group of gentlemen approach me to complement me on my attire; they then invite me to join them in the lounge's unofficial Man Cave in the basement. I soon find that, in addition to being regular patrons, they're part of a motorcycle club for hard-working family men with a peace-loving name; the Interstate Predatorz. They kindly invite me to help myself to their smokes and libations, an offer I can't refuse, and I ask them what keeps them coming back to Papa Juan. Andrew, the club's president, sums it up perfectly; "it's comfy, and it's happy." Enough said.
The Predatorz take their leave after about an hour of stories and laughs; Andrew is even kind enough to give me a cigar for the road. As someone who's visited more than a few cigar lounges throughout this great city, I can tell you that this is not the norm. A group of total strangers made me, a total stranger, feel very much at home. A healthy balance of alone time and time spent with old friends and/or meeting wonderful new people is imperative for the ideal cigar experience. In my experience, Papa Juan excels in this essential regard!
Where is Papa Juan Cigar Room Bronx? 
What are the hours for Papa Juan Cigar Room Bronx? 
| | |
| --- | --- |
| Saturday | 10AM–2AM |
| Sunday | 10AM–10PM |
| Monday | 9:30AM–12AM |
| Tuesday | 9:30AM–12AM |
| Wednesday | 9:30AM–12AM |
| Thursday | 9:30AM–12AM |
| Friday | 10AM–1AM |