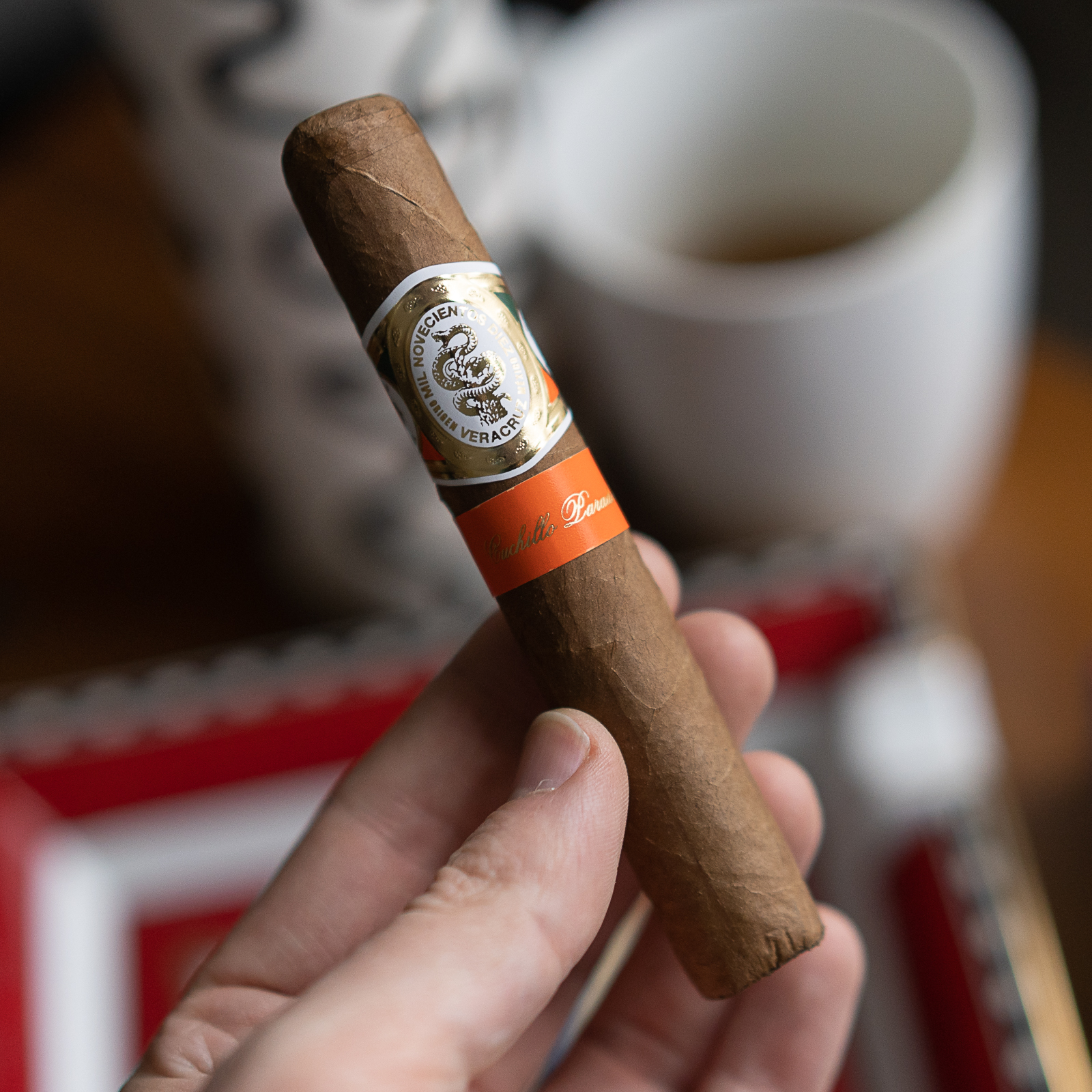 The Casa 1910 Cuchillo Parado is manufactured for Casa 1910 Cigars at an undisclosed factory in San Andrés Tuxtla in the state of Veracruz. The company owner is not known, however, the master blender is Juan Manuel Santiago Casillas, better known as Manolo Santiago, who worked as a marketing manager for Importadora y Exportadora de Puros y Tabacos S.A. de C.V. The Casa 1910 Cuchillo Parado is a Mexican puro and is named after a town in the sate of Chihuahua, Mexico where the Mexican Revolution began.
Blend Specifics
Cigar Reviewed: Casa 1910 Cuchillo Parado
Wrapper: Mexican Sumatra (3 years aged)
Binder: San Andreas (5 years aged)
Filler: San Andreas
Size: 5 x 50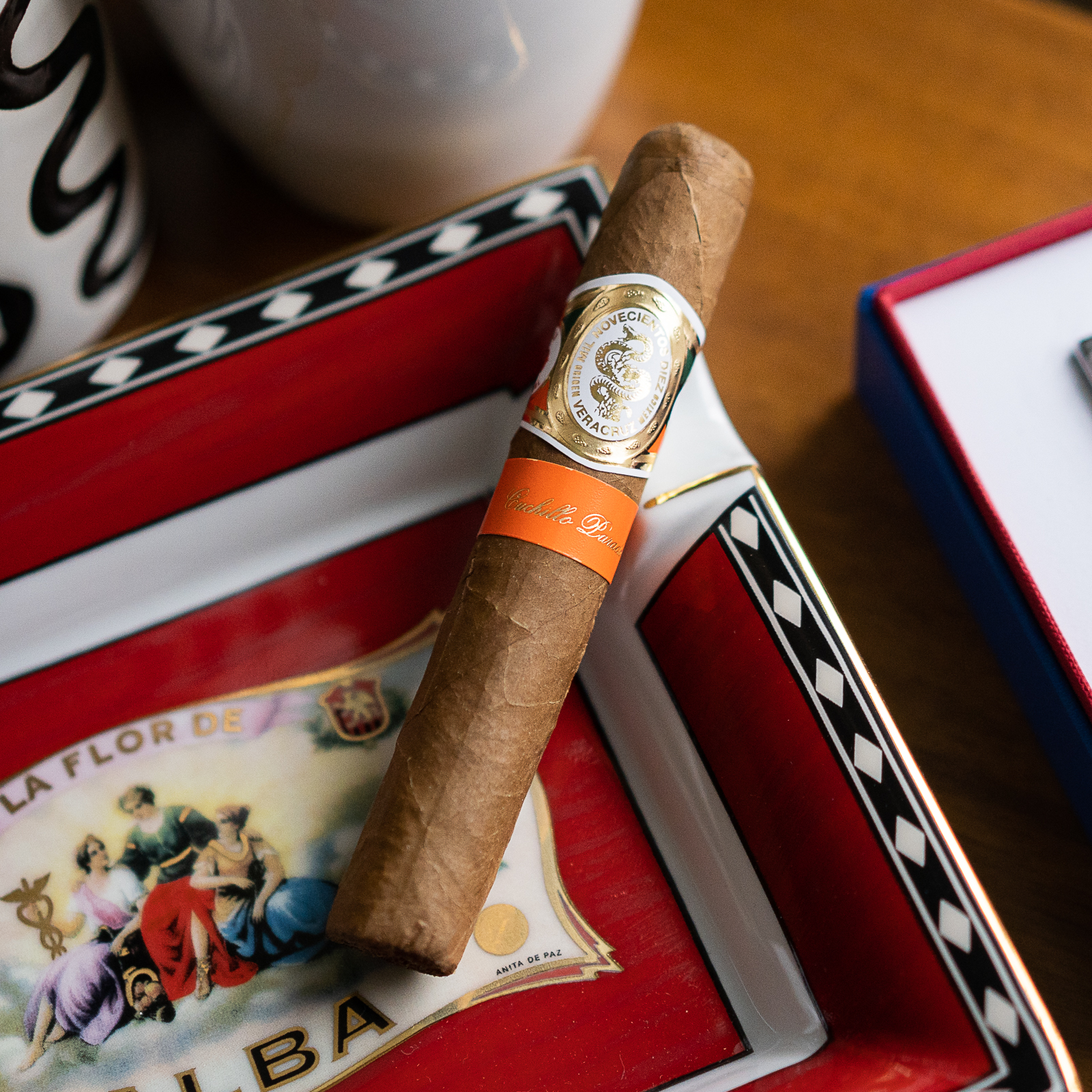 Appearance & Construction
The cigar is wearing a very light and papery wrapper that almost reminds me of cellophane. A little hard on the eyes. It is a sturdily packed robusto with a triple cap.
Flavor & Smoke Characteristics
The cigars wrapper smells like chocolate as well as on the foot.
The cold draw is decent with dank cedar on the breath that reminds me of opening my garage in the summer after a rain storm.
The cigar toasts well but takes its time to combust.
First puff is very light on the tongue with cedar and honey.  There is some pepper as it heats up with notes of cocoa and a little bit of a metallic backbone to the smoke. The cigar has fantastic heat maintenance so far with a straight burn line.  Smoke production is perfect with lots of savory, tangy, and citrusy notes full spectrum.
The second third is marked with leather, cocoa, and strawberry hard candy on the finish.  There is also a faint marshmallow note.  The cigar has a solid ash build up, until it breaks off with a honeycomb.  I guess I've been enjoying the smoke too much.  Just when you think your the slowest smoker alive…I guess this cigar is truly meant to be "sipped" on.
The last third, is leathery, woody, and earthy. It can get harsh at times, but not as harsh as a more full bodied smoke, which this is not. There is espresso, but no bitterness on the tongue. I am still getting lots of leather and cedar on the aroma and retro as well.
Conclusion
The Casa 1910 Cuchillo Parado was actually a cigar I had been meaning to try and I'm glad it lived up to the hype.  As an assistant wine maker, a puro cigar is the equivalent to a single varietal wine from a distinct wine region. I prefer puros above all else, and hope they find more US market share in this current cigar boom, since they seem to fair well in European cigar markets. The Casa 1910 Cuchillo Parado reminded me a lot of the lighter bodied puros that Curivari Cigars offer, namely the Grand Cru, Gloria De Leon, and EL Gran Rey.  My only problem with this smoke is the $15 MSRP.  The Curivari cigars I mentioned are half the price. However, if youre looking to give Mexican Sumatran seed wrapper a try and are curious about how smooth San Andreas can be outside of its current maduro exploitation on the shelves, I would totally recommend you give the Casa 1910 Cuchillo Parado a try.  Enjoy!
Final Score: 90