For personality and atmosphere, its pretty close to impossible to beat Diamante's. Located on South Oxford Street in lovely Fort Greene, Diamante's is easy to get to: its just a few blocks away from the 2, 3, 4, 5, B,Q, C, G, N, R, or D trains.
Let's talk about the decor. When approaching Diamante's, you're immediately greeted with a homegrown exterior. The classic Cigar Indian statue is complemented by Diamante's unique "smoking cigar" hanging sign above the door. The interior just raises the bar on class. Although the lounge has only been open for a couple of years, it looks like it's been in Brooklyn for a hundred. The place is entirely decked out in antique wood hauled in from out of state, and there are enough leather couches and armchairs to seat small groups or big parties in equal comfort.
The walls and mantlepieces are covered with boxing photos and posters, and vintage family photographs of well-dressed gentlemen smoking cigars. Both these, the distinctive dancer's pole on top of the bar, and the non-stop sets of brilliant music are all calling cards of the lounge's owner, David Diamante.
Everything in the lounge is a reflection of the style of its owner. Dave is a tall, charming looking man with famous dreadlocks hanging down to below his waist. After being the DJ at one of New York's hottest nightclubs, Scores, for many years, Dave aligned his career with another passion: boxing. Diamante now works as a boxing ring announcer, and has called major fights on HBO, ESPN, and other networks.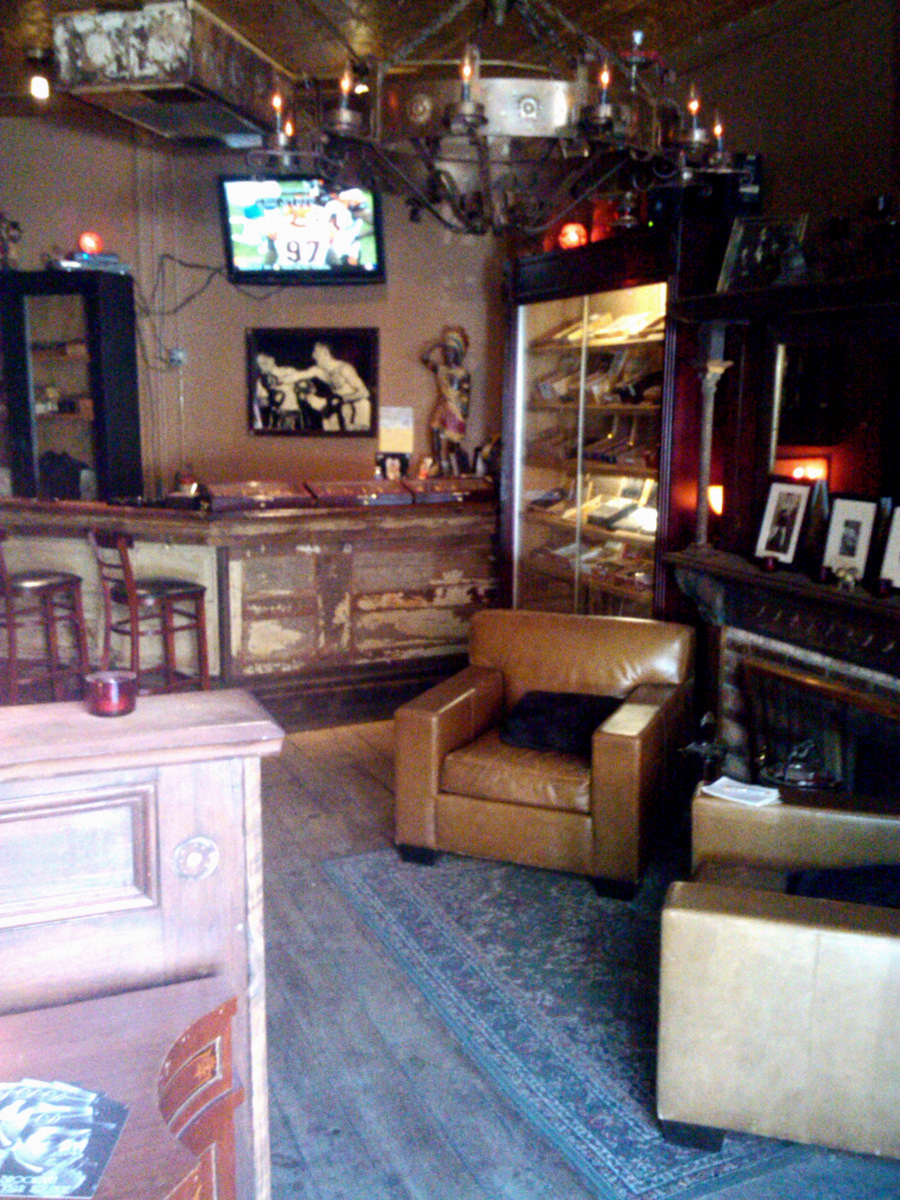 This success led him to an alliance with another Brooklyn icon: Diamante just completed his first season as the "voice" of the Nets, partially owned by rapper Jay Z.
With the lounge located just three blocks away from the Nets' new home, the Barclays Center, Dave is only optimistic about the future of the shop.
The last two things I should mention about this lounge are the events, and the distinctive cigar selection.
Diamante's has many regular events. It frequently lights up a classic, black and white movie–you know, the kind where the men were men, and cigars were being smoked constantly. On many Tuesdays, the lounge hosts a "Classic Fight Night"…Dave and the regulars turn on one of history's most infamous fights and relive it, with a live analysis from the owner who has himself met many of these fighters. The lounge also has tried to pay special attention to female cigar smokers, with its "Ladies' Nights" every Wednesday.
Finally, the selection. Diamante's carries a wide range of premium cigars. They are all good, but let me emphasize that the pricing is premium. But please don't miss their house blends in your rush to check out their good selection. These are all good smokes: I recommend either the Hemingway or the Chisel.
Enjoy–and don't forget to spread love (its the Brooklyn way!).