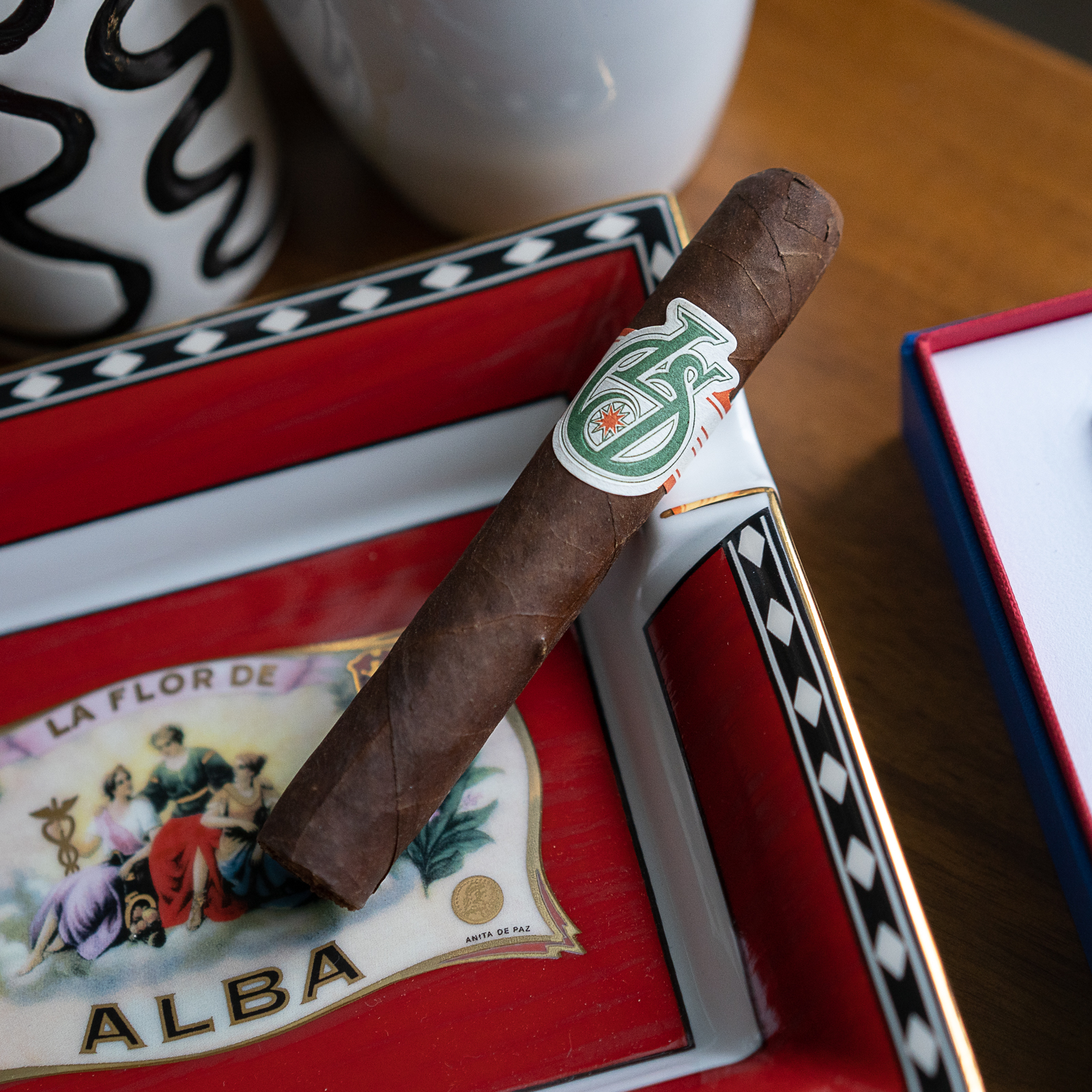 The Los Statos Deluxe Robusto is manufactured by General Cigar Company at their HATSA, SA factory in Danli, Honduras and is distributed by Scandinavian Tobacco Groups subsidiary Forged Cigar Co.  Los Statos Deluxe, historically was of pre-embargo Cuban fame until it lay dormant for years only to be registered in the new world market as a medium+ value smoke.  Since not only having his brand, Room 101 Cigars, acquired -but also being hired as STG's creative director- Matt Booth sought to reimagine the Los Statos Deluxe brand for todays consumer.
Blend Specifics
Cigar Reviewed: Los Statos Deluxe Robusto
Wrapper: Ecuador Sumatra
Binder: Nicaraguan
Filler: Dominican and Nicaraguan
Size: 5 x 50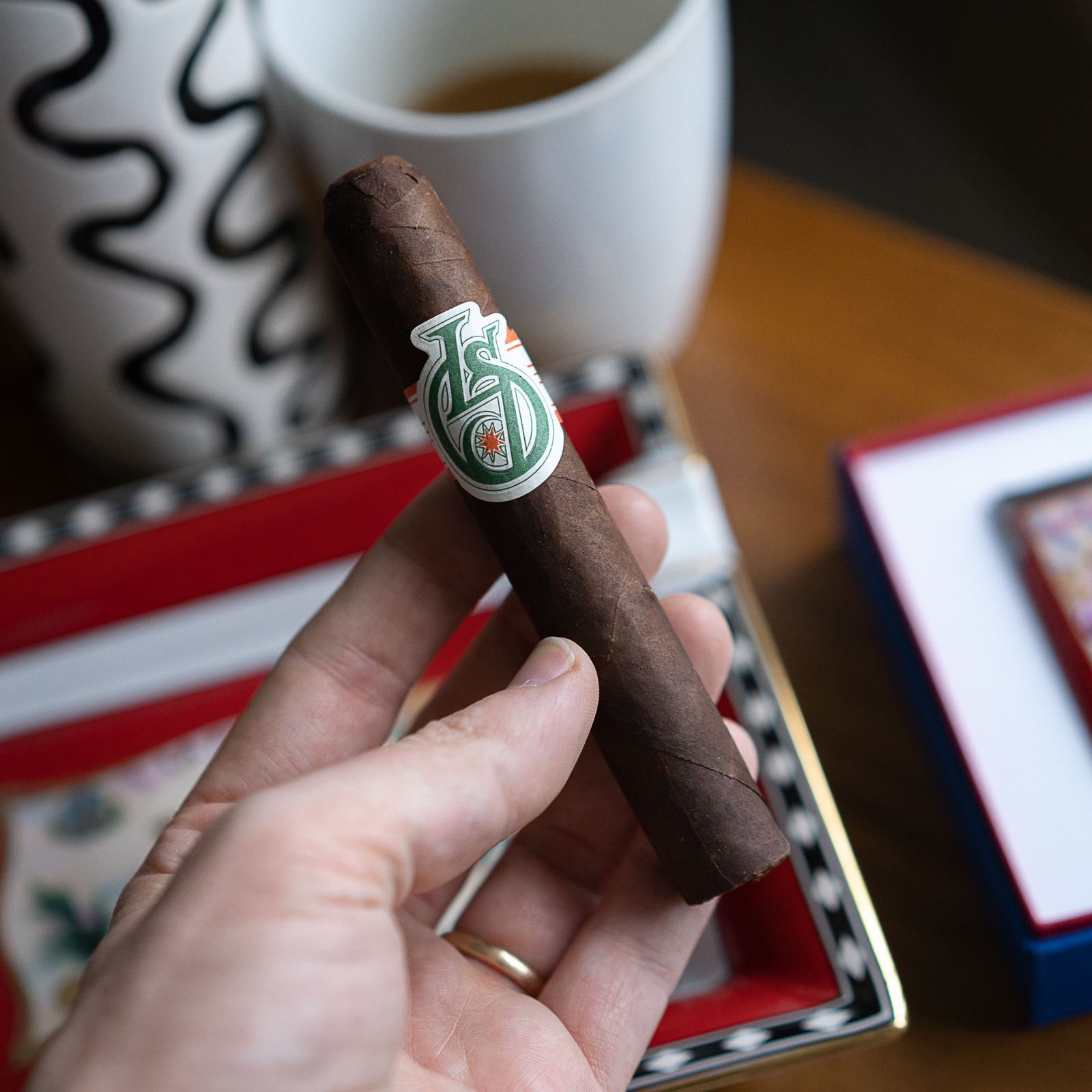 Appearance & Construction
The cigar is a simple single cap chocolate maduro robusto with a hard rustic profile.  The cigar is packed solid and is very lightweight in hand.
Flavor & Smoke Characteristics
The wrapper smells sweet with chocolate and cedar on the foot.
The cigar has a loose draw with cedar and spice on the breath.
The cigar toasts and combusts ideally.
At first puff the cigar has very deep and dark impressions of wood and black coffee that is both spicy and sweet.  The loose draw on the cigar, keeps me on guard when it comes to heat maintenance, but is a none issue.  The burnline is razor sharp with fantastic smoke production.  It is full bodied on the tongue with billowing mahogany and pepper. The aroma is leather, and the retro is toasted bread. A little touch up was needed for some minor wrapper detachment but self-corrected beautifully.
The second third surprises me when the so-far sturdy ash build up suddenly drops to the ground. However, the burnline stays flawless and the cigar hold its temperature immaculately. The cigar is a thick and rich smoking experience.  It grips your tongue with hot cocoa and throat tingling spice. I'm not complaining, but it can dry your mouth out at times.  Stay hydrated! Across the board, the cigar also picks up a floral and perfumey characteristic with more leather on the aroma, and toast on the retro.
Last third picks up the pace with a nice comforting fireplace nuance on the tongue. There is lots of toast, leather, and sweet perfume throughout. The cigar can also be zesty and citrusy at times. The ash build up becomes a little flaky, but holds on strong and does its job.  A nice steady smoke.
Conclusion
Now after 20+ years of being in this cigar game, who would have thought one my highest rated cigars to date would have been blended by none other then Matt Booth.  The Los Statos Deluxe Robusto was a job well done.  Bar none.  I have nothing bad to say about the cigar.  It was a work horse of a robusto, and though it has the same tobacco blend as the Sancho Panza cigars that I poorly rated, the Los Statos Deluxe met all the marks I look for in a medium-full smoke. Those at Fine Tobacco NYC, have long known that I am not a fan of Room 101 and their branding. Though me and Matt Booth share the same love for writing smut and expanding upon the art of conversation with uncomfortable yet artfully placed adjectives and nouns, I had for years refused to smoke even one of his offerings.  When it comes to the Los Statos Deluxe Robusto, haters need to sit the fuck down!  I had a very enjoyable time smoking this cigar.  Yes, this past year has been hard on my cigar addiction and gas prices have robbed me of my weekly Plasencia and Padron habits. I have often wondered if working in some bundle-smokes in my rotation had actually changed my palate for the worse? Maybe even made me a poor reviewer. Who knows?! All I can say is, if your a strong broadleaf fan like myself, Matt Booth damn near convinced me Ecuador Sumatra can somehow quench that thirst similarly. He also managed to do it all for $8. I need not apologize any more for this high rating.  I believe in ghosts and UFO's.  Elvis is still alive! I was there! I know what I saw! Enjoy!
Final Score: 93