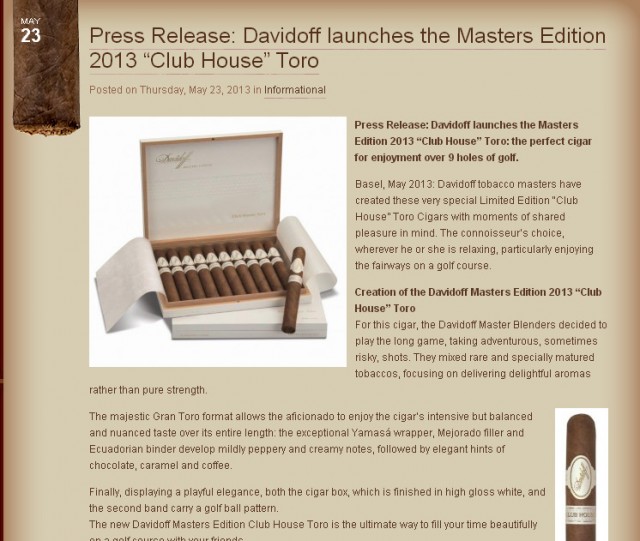 Year after year, dozens of new boutique cigar companies hoping to make it big enter the market. But as we all know, cracking the nut that is the cigar industry is difficult. So what separates the winners from the losers? One major business component successful cigar companies include in their strategy is the writing and distribution of press releases.
This applies to small, mid, and large sized companies. Every cigar business owner that is serious about promoting and growing their business should have some sort of strategy for press releases, especially before major conventions like IPCPR.
Here are 6 reasons you should write a press release:
1. Your new product won't announce itself
So you've just blended a new cigar and you put it to market. But who knows about it? Don't expect cigar shops or customers to be familiar with your brand if you aren't putting your best foot forward. Small and mid-sized businesses don't have the luxury of a large audience of customers and media professionals to catch and amplify product announcements posted on your Facebook page. A press release, distributed to the right people, will ensure that cigar related websites and the blogosphere are getting your new product announcement out to the widest possible audience.
2. Press Releases boost website SEO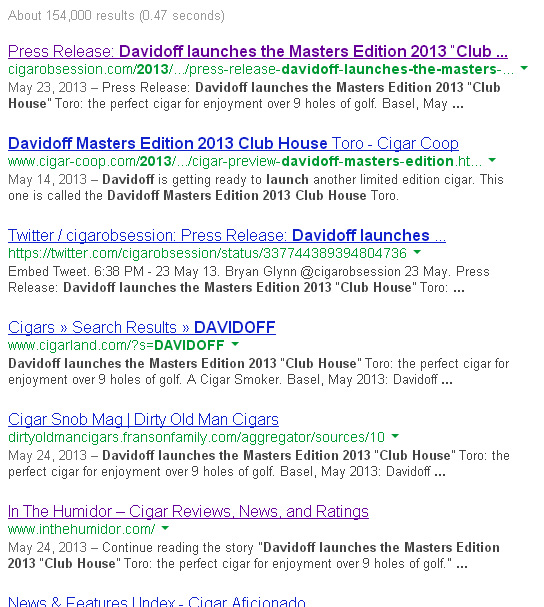 Press releases often include anchor text and hyperlinked urls to your company website. When google crawls the internet and finds 15 more websites linking your website with terms like "cigars," "cigar industry," "maduro cigars," etc, Google interprets this as your page being an authority on that keyword, and places your website higher in searches for those terms. That boost in search can drive new sales and lead to important business opportunities.
3. Your Press Release will go social
Many websites, especially blogs, post Facebook, Twitter, or Tumblr updates whenever a new post goes up on their site. If your product announcement is posted on ten blogs, or referenced in blog posts, you will achieve substantial social media exposure, earning you more brand awareness that can lead to sales and other opportunities.
4. The world wants to hear about your product or announcement
It's easy for a small business to feel like no one is listening, but those businesses often aren't talking. The truth is, there are tens of thousands of cigar enthusiasts who are looking for the next great cigar. If you are in the business, then you believe in your product. Why not tell them about it?
5. You need the media to notice
When press releases are distributed, important media contacts will be made aware of your announcement. This often results in requests for interviews, product reviews, and other kinds of coverage. It is this coverage that will push your product to new markets and territories.
6. You need consistent exposure
Do you remember that company that you read about six months ago and never heard from again? Neither do I. By using press releases to announce new products, new hirings, or new branding strategies, you build brand equity. This is especially helpful for small or mid-sized cigar or spirits brands trying to open new accounts. If a shop owner has seen your company appear often online, he/she is much more likely to know about your brand and thus more likely to trust your product and place an order. Whiskey companies like Glenmorangie, Glenfiddich, Chivas, and others do this well – take a look.
—
So those are a few reasons you need to write and distribute a press release. Here are the reasons why you should work with me:
I deliver professional quality writing
I've been writing press releases for a long time, and they stack up well against any boutique PR firm. (ask me for samples)
I have my own distribution lists
Expect to pay at least $250 just to distribute your press release on any mainstream newswire service – these services may or may not deliver your releases to the right place. I have distribution lists of local cigar shops, bloggers, media contacts, and news websites. On average, my press releases are published on 10-15 cigar related websites.
I work one on one to craft a release that is consistent with your branding and message
You don't want to hire a writer who will put your brand through a cookie-cutter press release template. I will meet with you in person or over the phone/email to hear the full story on your announcement and refine the release to your specifications.
My work in the cigar and spirits industry gives me an edge over other PR firms
I know how cigar and spirits companies want to represent themselves better than a non-industry writer. This means I'll get you a release that you are more satisfied with, faster than anyone else.
My rates are awesome
Seriously. Ask me.
~~~
Is it time for you to invest in a smarter public relations/marketing strategy? If so, send me an email for my work samples, rates, and any other questions you have. I also work with non-cigar/spirits related companies and individuals, so if you want a great press release but aren't in cigars or spirits, I've got you covered.