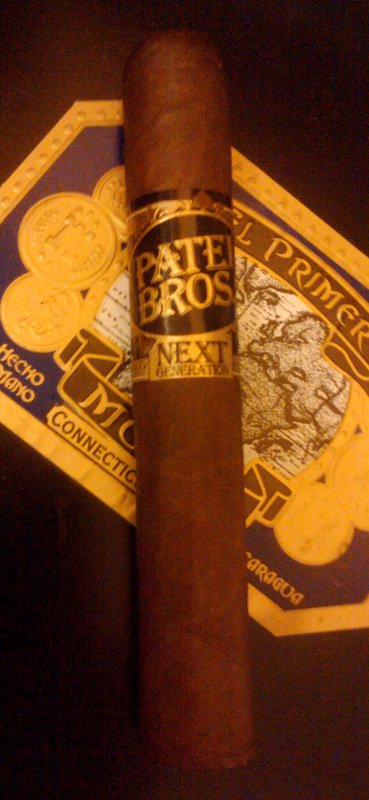 Tonight I smoked a Patel Bros Next Generation that I recently purchased in the Rocky Patel & Amilcar Perez 12 cigar sampler for just $20. So far I've had two: the Vudu and tonight the Next Generation. I wasn't planning on reviewing this cigar until I started smoking it and was completely blown away.
Here are the specifications for this blend:
Binder: Honduran
Filler: Honduran
Wrapper: Habano
Appearance and Construction:
The habano wrapper, as described on Famous-Smokes is a rich brown with a reddish hue.  There are very few noticeable veins, the texture is smooth, and the cigar is packed firmly, but not tightly. After clipping the cigar using a straight cut, the draw is perfect. The label is sharp and attractive.

Great construction – I only ashed this cigar twice
Smoking Characteristics and Taste:
This cigar produces thick smoke, and throughout the hour-long smoke I found that it didn't burn hot.  Construction throughout the smoke was completely flawless. What I found to be most compelling about this cigar, though, were the distinct tastes that were noticeable in the medium bodied smoke. The cigar kicked off with a bit of spice, and tastes of wood, coffee, and dark chocolate. Very rich and very enjoyable.  The second third of the cigar took on more woodiness and a bit of leather.   In the final third, the spice really drew back to a sweet woodiness.  I wouldn't have minded returning to the first two thirds, but I was still enjoying the cigar immensely.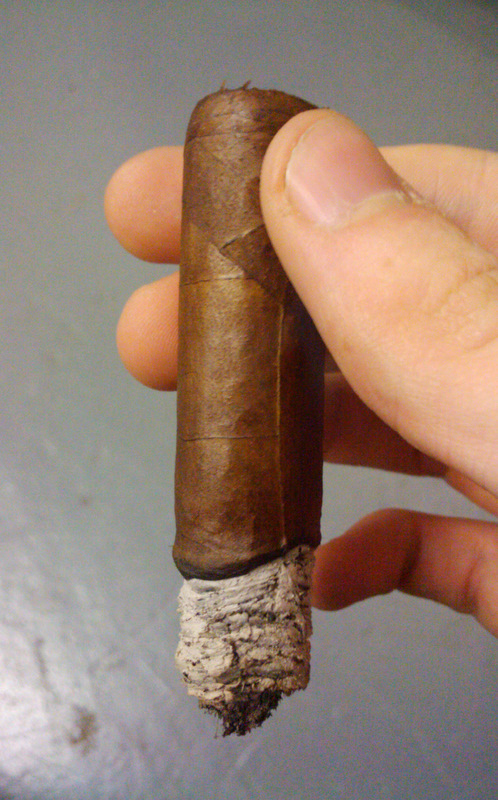 It was a shame to put this cigar down.
Conclusion: A
This was, hands down, a great cigar that I would highly recommend. Perfect construction, great taste—a great experience. Pick some of these cigars up sometime.  I would highly recommend checking out the 8-cigar sampler for just $15. You can find that here.