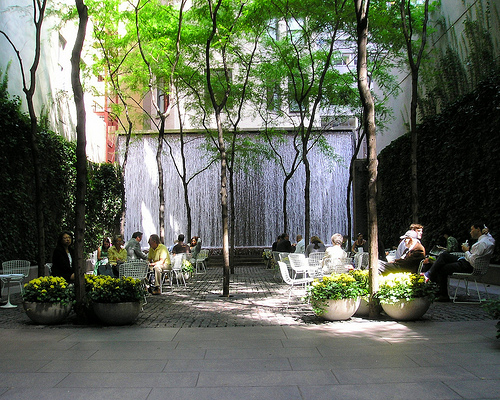 After dropping by work today, I was seduced by the perfect summer weather and my humidor into a cigar smoking mood.  I work in Midtown, and for that reason usually go to Bryant Park to kick back to smoke and people watch. Unfortunately, that doesn't fly with the NYC government now that the NYC smoking ban is in effect.  I almost despaired of having any easy access to somewhere to smoke my selection (a cheap La Finca) – until I remembered Samuel Paley park, located on 53rd street between 5th and Madison.
Paley park is the last legal park to smoke at in NYC, and it is legal because the park is privately owned. After seeing some pictures and reading a few articles, I knew the park was pretty, but I honestly wasn't prepared for just how beautiful it really is. The park is wedged between two large skyscrapers, and fields dozens of chairs with small tables, a gorgeous waterfall, and a security guard that also enforces park rules (more on that below).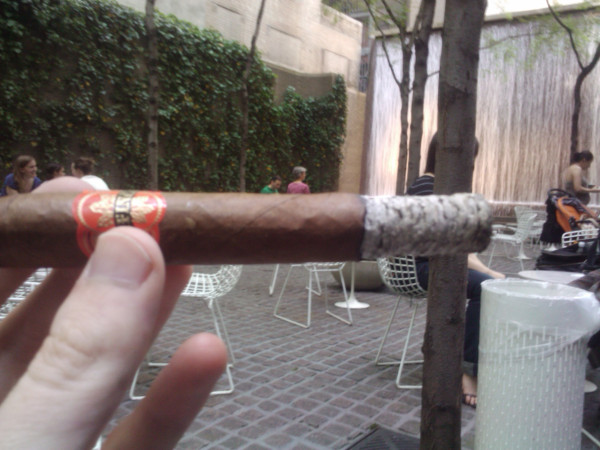 To understand why the park still allows smoking, one must look to none other than Samuel Paley himself. Cigar Coop does a great job explaining, writing that, " The park was Paley Park was financed by the William S. Paley Foundation and was named after Bill Paley's grandfather – Samuel Paley.  Samuel Paley was the person who created the original La Palina Cigars over a century ago."
The park is open to smokers all 7 days of the week, but does close in the evening. If you are going to smoke at the park, here are a few tips:
Be courteous to others. If there is a large group of non-smokers enjoying the shade, don't sit next to them and blow smoke in their faces. I understand there are some cigar smokers that might reject this out of hand as the public democratically banned smoking everywhere else. Still, let's not collectively abandon common courtesy as a community. That being said, if someone reminds you about the ban, be sure to help keep our citizens informed by letting them know that the park is private.
Do not spit or ash cigars on tables/ground. While I was smoking, I noticed that the security guard is also in charge of keeping the space clean. He was intentional to clean up anything that guests left on the ground, including cigarette butts and ash. So, use the ash trays conveniently located around the park (there are three or four). Also, some cigar smokers make a habit of spitting every now and again, especially with a harsh cigar. Do not spit. Another cigar smoker sitting nearby spit on the ground and was immediately reminded by the guard that the park is private and has high standards of cleanliness.
Keep your feet off of chairs. The guard at the park was very intentional to remind guests that seats are for butts, not shoes.
But don't let that list of rules fool you. The park is incredibly relaxed, and conveniently shielded from wind that can cause a less than satisfying smoking experience.  So what are you waiting for? Grab some friends and drop by Paley park for a smoke!