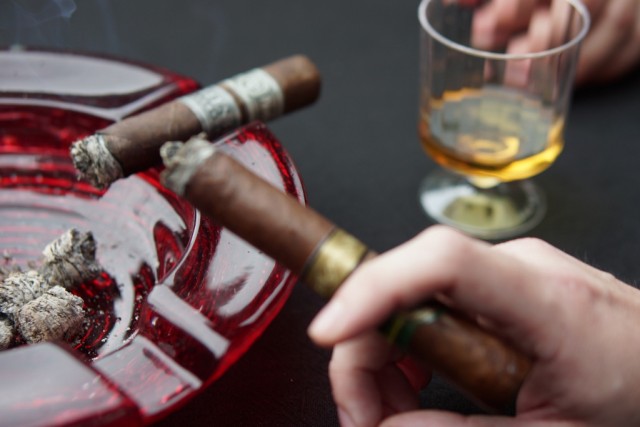 On May 18th, I had the remarkable luck of being able to attend SMOKE: Whiskey, Cigar & BBQ Festival hosted by Studio Sq NYC, one of New York City's top nightlife and large event venues. At the event, over 300 New York City cigar smokers gathered to enjoy great barbecue, cigars by Rocky Patel, and exceptional spirits from Jameson, Chivas, Glenlivet and more.
I arrived a few minutes late, but just in time to watch the skies open up and begin pouring rain on what was forecasted to be a beautiful sunny day. But the weather in this city has a way of changing at the last minute.
In any case, the event was moved inside – and by that I mean to a massive indoor/outdoor smoking space that was easily big enough for three hundred cigar smokers. I took a seat with my girlfriend inside and we traded thoughts on the Jameson Black Barrel and the Chivas 12. Then the live music started, followed by more food, raffles for cigar accessories and a humidor, and more.
Following the event, a big portion of the group moved downstairs to the S Prime Steakhouse for more drinks and more good times.
I want to give a shout out to Jennifer Barker and Steve for hosting such an amazing event, along with the awesome ostrich-leather cigar case. I also want to thank Rocky Patel cigars for the great complimentary cigars, and all of the spirits sponsors who attended the event!
Studio Sq will be having more events in the future, and if they are sponsored by FineTobaccoNYC, you can hear about future events from us by signing up for our event emails!