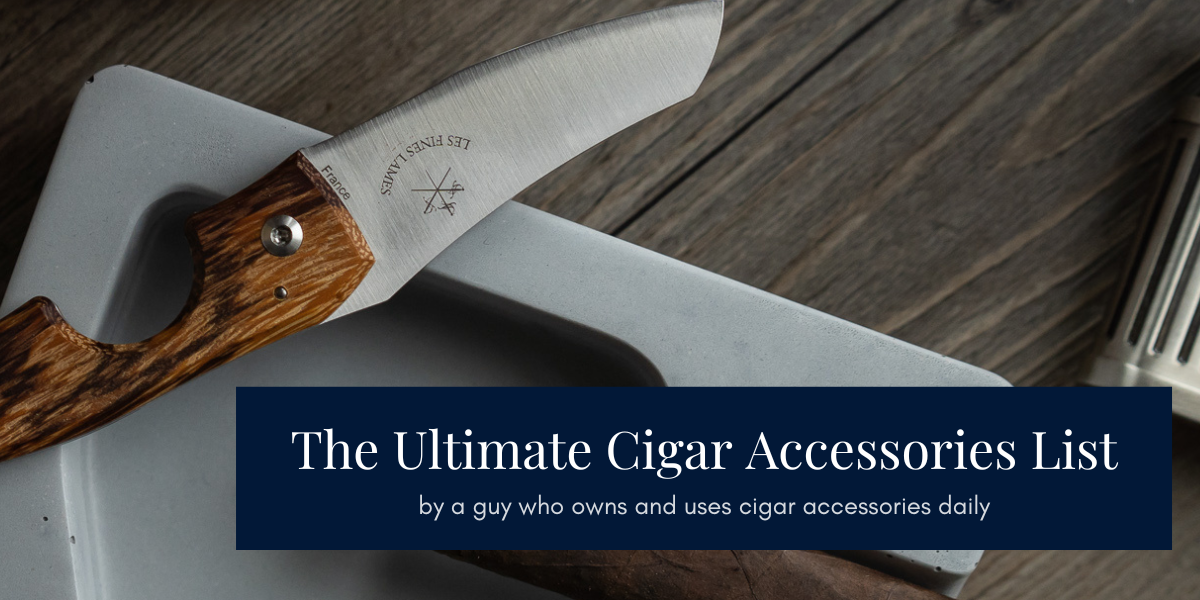 There are a lot of cigar accessories on the market, and if you look at other cigar accessory lists on the internet, you'll likely see list after list full of cheap, easily-breakable cutters and lighters or humidors that don't work. These lists are generally written by non-smokers or retailers with an incentive to push the cheapest products at the highest markups. You certainly won't find accessories which are genuinely surprising or beautiful. Why? Past decades have been really boring as far as cigar accessories go. The market has had a steady diet of lots of cheap, branded cutters, lighters, and ash trays from major brands looking to get free advertising from cigar lounges and cigar smokers.
Thankfully, in recent years the cigar lifestyle has seen a massive resurgence, and along with that rising tide has come a string of new and innovative cigar accessories.
On this list you'll find a selection of cutters, lighters, ash trays, and even unique accessories which really don't fit nicely in one single category. Because these accessories aren't junk, they aren't cheap—you won't find $10 lighters or cheap Alibaba Cohiba knockoffs here like you will on other lists on Google. This list—based on the many cigar accessories I use on a daily basis—is maintained and updated over the years in order to help cigar aficionados discover what are truly the best cigar accessories on the market.
Top Cigar Accessories
So without further ado, here's my list of top cigar accessories you should consider adding to your smoking room to give it some real spirit.
Les Fines Lames LE PETIT Knife Cutter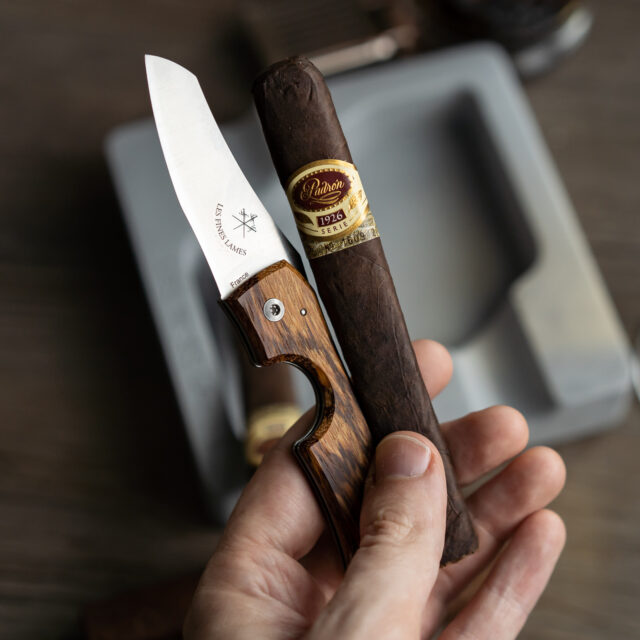 Les Fines Lames is a French company that while relatively young is already world-renowned for its incredibly successful lines of cigar cutter knives. The company has dozens of models, each painstakingly designed for maximum aesthetic impact and of course, a superior cut on a cigar. I own four knives, two of which are photographed below.
To me, Les Fines Lames knives have two main benefits:
Enhance the Ritual: cutting and lighting cigars is where every smoke session starts. Sure a standard guillotine cutter will get the job done. But carefully, lovingly cutting the cap off of a cigar with a precision tool simply adds to the experience. It gives the cigar the love and attention it deserves—after all, cigars are hand made and premium cigars require tremendous attention to construct.
Conversation Starters: I'm not one for pretense, but I can't deny that cutting a cigar with a Les Fines Lames LE PETIT knife makes a statement to those nearby, and I've had multiple occasions where the knife started a friendly conversation. In an isolated world of eyes buried in phones, conversation pieces are an act of resistance.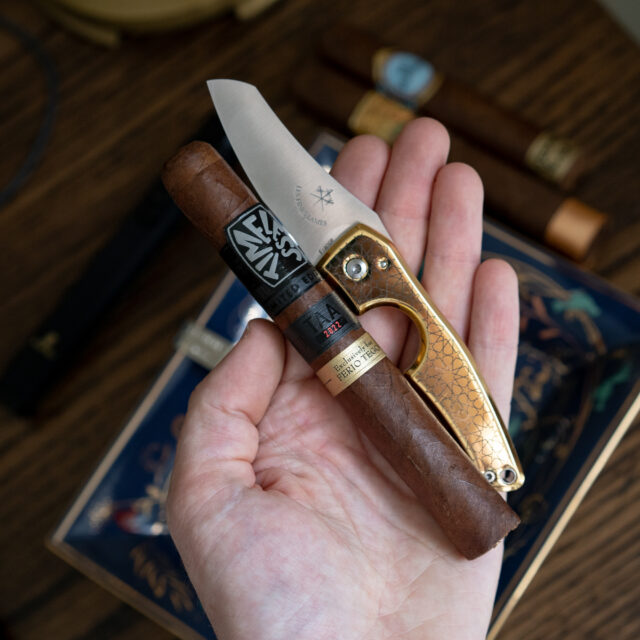 Now to address one important note: when Les Fines Lames launched, there was some talk among aficionados that because the knives utilize just one blade vs a traditional guillotine cutter, that the knives wouldn't work as well. In the years since and as the knives have grown in popularity and reputation, those questions have largely ceased.
Click here to explore or purchase Les Fines Lames cigar knives on the Les Fines Lames website.
Protetta Morning Birds Ash Tray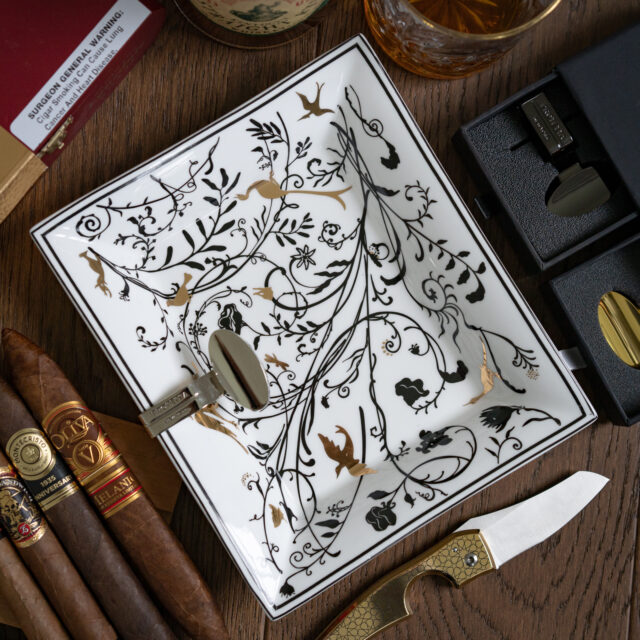 Another relatively new company is Protetta, based in New York City. Originally the company designed and manufactured catch all dishes, but soon found a high degree of enthusiasm from cigar enthusiasts like myself. The company specializes in stunning, hand painted porcelain trays with removable cigar holders. You can see in the image above that there are actually multiple holders of different colors to customize the look and feel. As with Les Fines Lames knives, these dishes act as conversation pieces. But like any good work of art, they elevate the home or cigar lounge generally.
Click here to explore or purchase Protetta accessories on the Protetta website.
Solid Black Concrete Single Cigar Ashtray from Storck Designs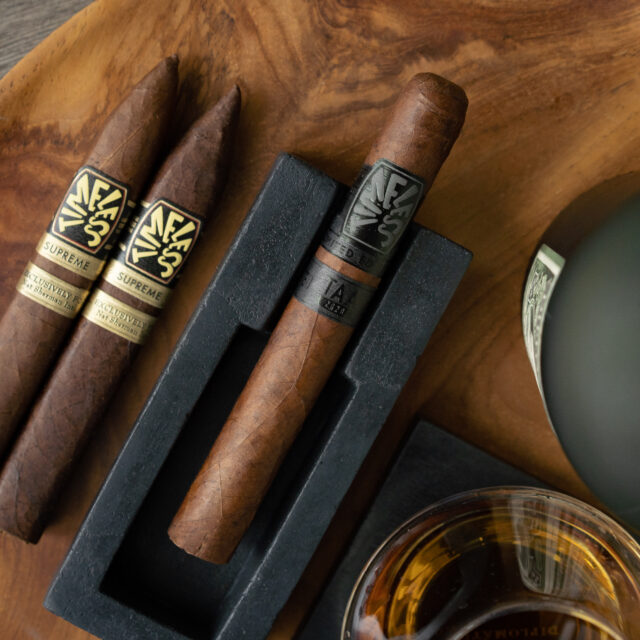 Switching gears to a completely different design aesthetic. I'm a big fan of these solid black concrete cigar ashtrays from Storck Designs. While certainly quite a bit simpler than hand-painted porcelain ash trays, they make a different kind of statement, placing the cigar in center stage and offering a bit more moody of a vibe. At ~$50, they're also quite a bit more economical and worth checking out.
Click here to explore or purchase Storck Design accessories on the Storck Design website.
Elie Bleu Alba Series Ash Tray + Accessories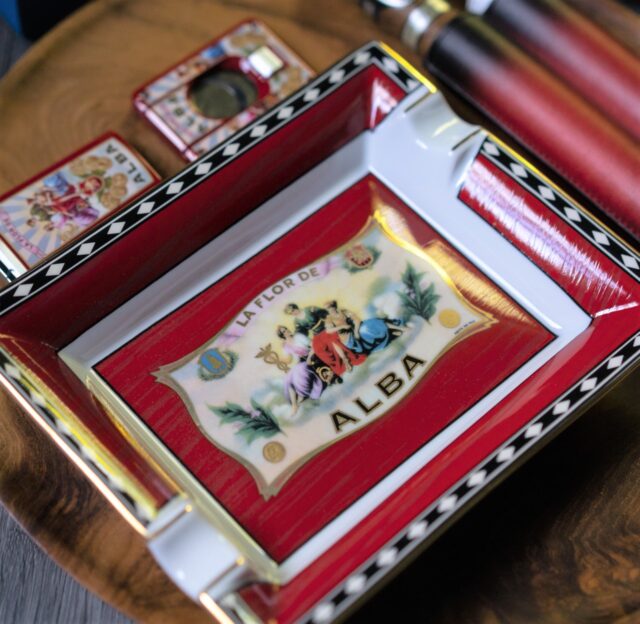 Some aficionados say that Elie Bleu sits at the epitome of sophistication in the world of cigar accessories. While I can't state that definitively, the French based company is known for its unbelievably high quality of work, with hand made accessories ranging from cigar cutters and lighters all the way up to some of the most expensive hand-made humidors on the planet. Shown above is the Elie Bleu Alba Series, which celebrates the classic artwork of Cuban cigar boxes. The series includes a beautifully detailed double guillotine cutter, torch lighter, leather two-cigar holder, ash tray, and full sized desktop humidor.
You'll pay top price with Elie Bleu. But you will receive legendary quality and craftsmanship. Sold in the US via Davidoff of Geneva.
Click here to purchase on the Davidoff website.
Xifei All Purpose Cutter and Triple Flame Lighter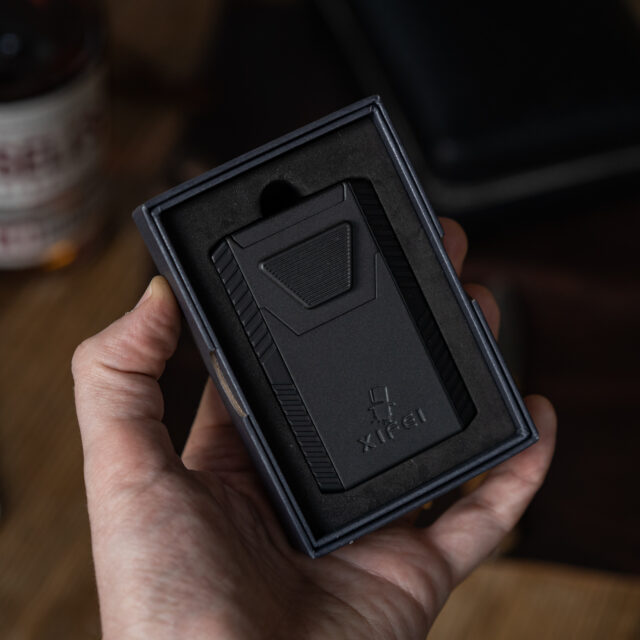 One of my newest and most-used accessories is the Xifei 3-in-1 cutter and lighter. When I first received this lighter as a gift I was very skeptical given many of the products produced in China have been off the mark as far as quality goes. But boy was I surprised. This really has become my all in one accessory and I often reach for it when I'm heading out to a lounge and don't want to pack a bunch of different accessories. For me the key feature is the inward aimed triple torches, which gives a lot of precision to a light. I find that triple or quad torches are often way to indiscrimate with their jets, leading to the wrapper leaf around the foot being scorched (the worst of these being those circular table top lights, AVOID). This lighter has three jets but it is still very precise.
At $128 on Amazon, it's pricier than other lighters. But the build quality, usability and even look is excellent so it's a no brainer to me.
Click here to explore or purchase the Xifei All in One Cutter and Triple Flame Lighter
Newair 250 Count Thermo-electric Humidor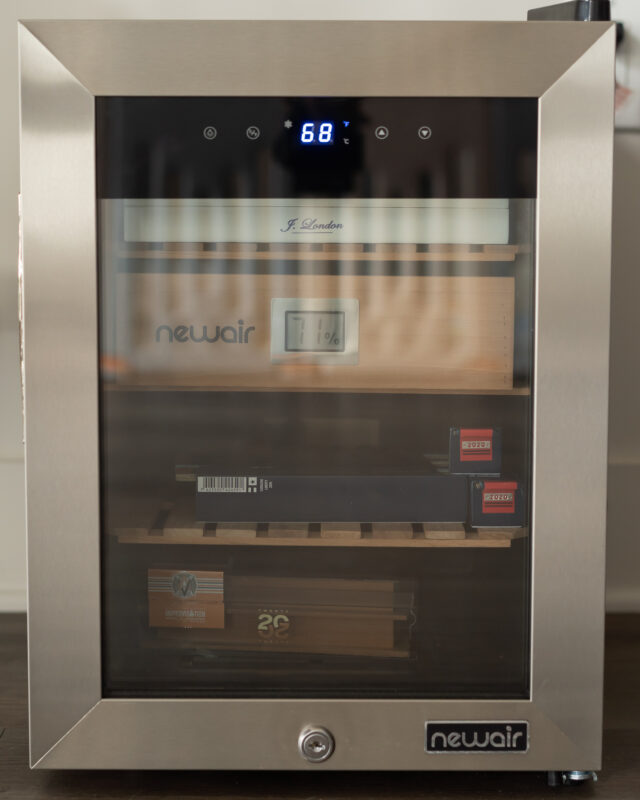 I'll begin by saying that even with my love of luxury cigar accessories, I am still a huge fan of the "tupperdore," or using airtight tupperware to store cigars. Extremely cost effective and efficient. That said, the Newair 250 Count Thermo-electric Humidor is a great addition to the home for a cigar enthusiast. Here are the benefits:
Aesthetic: the humidor looks great, is relatively compact, and will enhance most rooms it sits in (unless of course your house has a cottagecore vibe in which case no electric humidor will fit!)
Function: unlike traditional humidors, the Newair thermoelectric humidor actually regulates the interior temperature, which means if you have a highly fluctuating environment, particularly with high temperatures, your cigars will remain safe and sound.
Newair produces these electric cigar humidors at varying sizes, so the most important piece of advice I can give you is, try to aim one size above the number of cigars you think you'll need to store. For instance, while this claims to carry 250 cigars, that's only under 100% perfect tetris storage conditions which frankly may not be good for airflow and actually keeping cigars humidified. If you truly have 200 or more cigars to store, I strongly suggest moving one step up to a larger size.
One other update since writing this post: Newair now produces the same thermoelectric humidor with a heating feature which is key for people like me who live in colder climates. It's more expensive, but worth checking out.
Davidoff Discovery Flask & Storage
This goes down in my book as probably the most creative and innovative cigar accessory I own: a solid steel travel flask that swivels to reveal two cigar slots, one at each shoulder. Not only is the build quality superb, but interior storage for two cigars actually is something that comes in massively handy when going out on a daytrip. Sometimes I just don't want to carry a travel humidor with me. If I'm goin on a hike with a friend, a well built flask and two identical cigars to share is perfect simplicity.
Only note: the cigar storage is good for up to about a Toro size, so if you've got 6×60's you're planning on bringing on a hike, know they won't fit.
S.T. Dupont Brown Double Cigar Case
Similar to the Davidoff flask, the S.T. Dupont Brown Double Cigar Case is all about simplicity and form. Perfect for two cigars up to toro format, it has small touches that give it a classic feel, and the leather ensures long lasting life for the case. Often times with cheaper leather accessories you're paying less but what you sacrifice is ultimately the life of the product. Fake leather cracks, frays and then looks unseemly. Not so with quality leather products. You can learn more about S.T. Dupont accessories on their website here.
Conclusion
And that's it, my current list of cigar accessory products and manufacturers that I recommend checking out and purchasing from. Cigars are such a sophisticated and artful product: don't pair your cigars with inferior, mass produced garbage that won't stand the test of time or add anything to your cigar experience.
What do you think? Are there accessories not on this list that you think should be? Got suggestions? Leave them in the comments below.