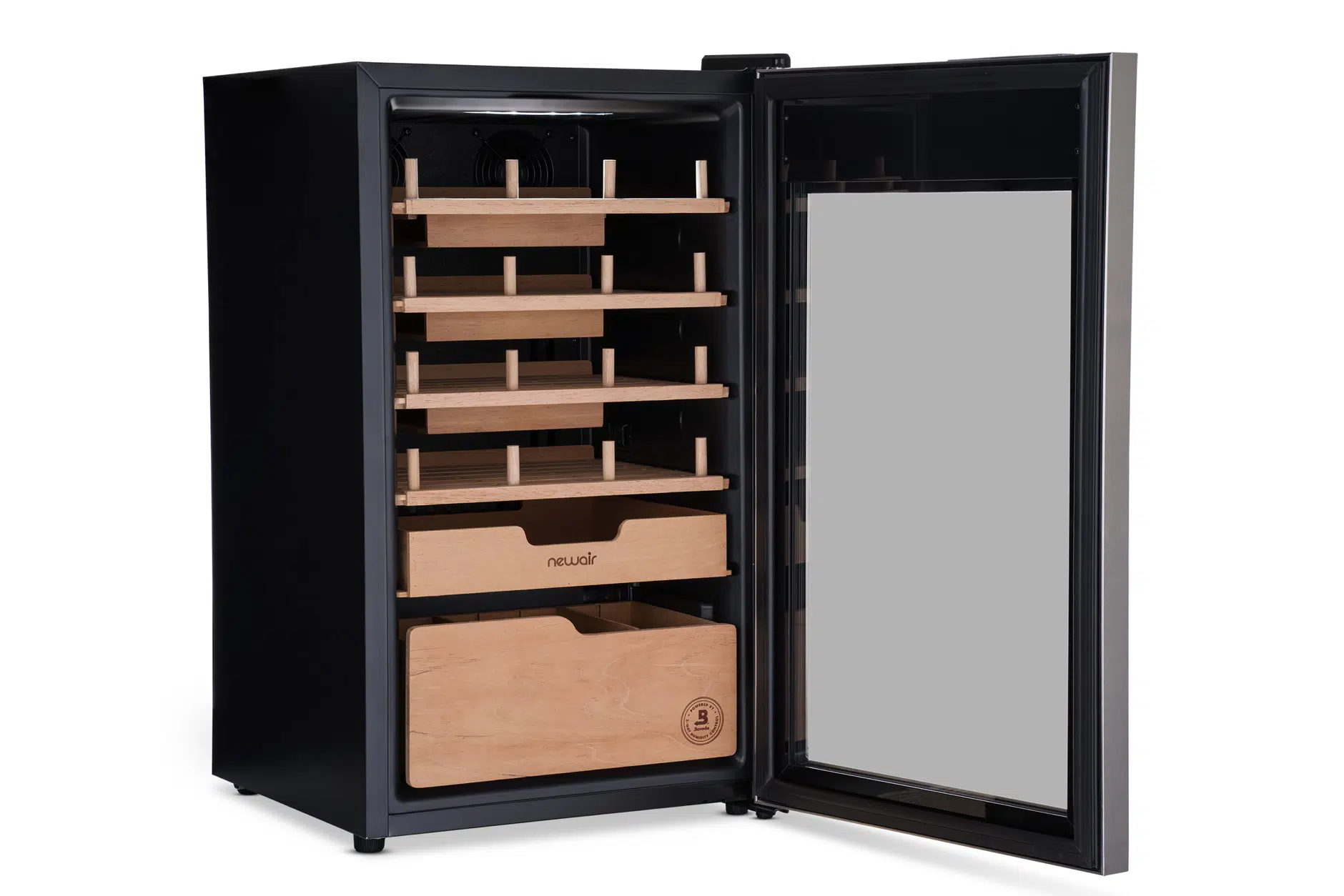 NewAir, known for its line of refrigerated devices, and Boveda, famous for their two-way humidification packets, have joined forces to introduce a new cigar humidor for enthusiasts. The NewAir x Boveda 500 Count Electric Cigar Humidor is the latest addition to NewAir's range of cooled cigar storage solutions, and it's now available for $699.99.
Cigar enthusiasts have long been adapting wine coolers into makeshift humidors to control both humidity and temperature. This is especially useful in warmer climates where elevated temperatures can result in issues like cigar beetles. About a decade ago, companies like NewAir began to directly offer products tailored to cigar aficionados.
The NewAir x Boveda 500 Count Electric Cigar Humidor represents a significant step in this direction. The unit's exterior dimensions measure 17.72 inches x 16.93 x 29.13, with an internal volume of 1.78 cubic feet. Inside, you'll find four pull-out Spanish cedar shelves and two pull-out trays.
What's new with this model is the peg system incorporated into the shelves. This system provides more customization options for storing loose cigars while preventing them from rolling out of the humidor. According to NewAir, this is the only model in their lineup to use this feature.
The humidor comes with three Boveda holders attached to the bottom of the trays, and each holder can accommodate three 60-gram Boveda packs, which is the standard size, for a total of nine packs. Additional packs can also be added in different areas of the humidor.
The bottom drawer is the larger of the two and includes removable dividers for better organization.
Temperature control is facilitated by a digital touchscreen that allows users to set the temperature within the range of 54-72°F. The refrigeration system requires the unit to be plugged into a standard wall outlet.
Furthermore, the humidor boasts several features not commonly found in desktop humidors, including LED lighting, a recessed handle, tempered glass, and a substantial weight of over 50 pounds.
The NewAir x Boveda 500 Count Electric Cigar Humidor is available at a price of $699.99, and customers purchasing directly from NewAir will receive three 60-gram Boveda packs with their order. Please note that units sold through other retailers will not include these packs. NewAir began shipping these units earlier this week.