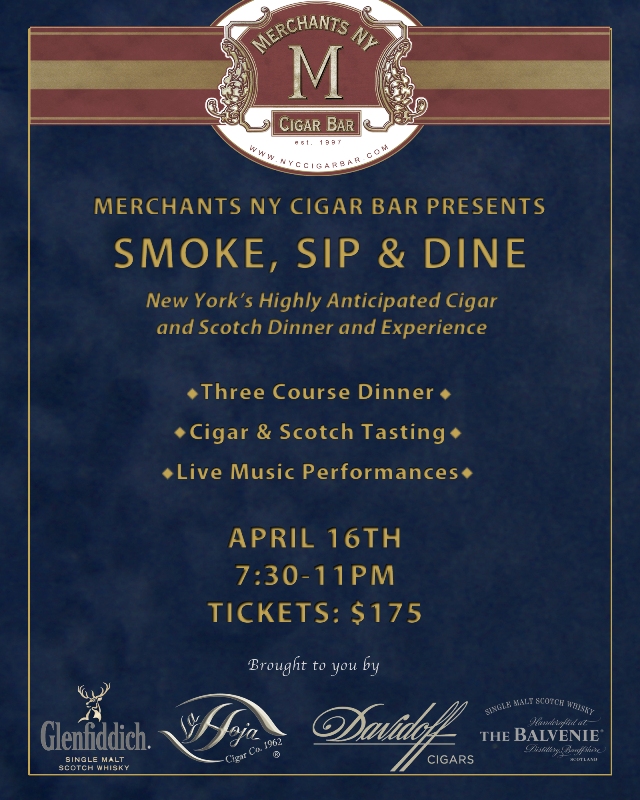 On Thursday, April 16th, we're breaking all the rules. For the first time, we'll be hosting a three-course cigar and spirits dinner on both floors of the gold-medal Neely's Barbecue Parlor. This event is only possible due to a rare legal exemption provided to Neely's/Merchants before NYC restaurant smoking bans went into effect.
The event starts at 7:30pm and will run until 11pm
UPSTAIRS: 7:30 – 9PM
Our three-course dinner upstairs features the new "Churchill" from Davidoff Cigars, live entertainment, a selection of wine and beer and a professionally guided pairings of single malt scotch from The Balvenie and Glenfiddich.
DOWNSTAIRS: 9 – 11PM
After dinner, guests will move downstairs to a closed-to-the-public Merchants NY Cigar Bar to pair new blends from La Hoja Cigar Co. with an array of paired drinks.
Tickets: $175 / all-inclusive
Dress code: Business casual.
---
* You must be 21 or older to purchase tickets to this event. Those under 21 will not be allowed entrance into the club.
**By signing up for this event, you give FineTobaccoNYC permission to send future cigar event invites via email.

Before we get into the results of the third-annual New York City Cigar Lounge of the Year Award, I want to make a moment to thank the over 200 NYC cigar smokers who voted in this year's contest. It was our largest voter turnout yet and we saw some really great comments roll in on the strengths and weaknesses of the different cigar lounges and cigar bars in the city. I'm also happy to announce that, as a service to NYC cigar smokers, we will be delivering the positive and constructive feedback to each cigar lounge in the city that requests a copy in the hopes that they will use the feedback to improve operations and provide even better customer experiences in the future. Now on to the main business. This year saw our closest race yet. After a week of voting, there was no majority winner, so we had our first runoff vote between the three lounges with the most votes:
The Finalists
1. The Cigar Inn (Manhattan)
2. Blew Smoke Cigar Room (Brooklyn)
3. Merchants NY Cigar Bar (Manhattan)
Honorable mention: Maxis Cigar Shop. I have to mention Maxis Cigar Shop in Franklin Park because of the large number of write-in votes they received! In their comments, voters for this shop mentioned selection and friendliness of staff and patrons as the main reasons for their votes.
---
In third place overall: Blew Smoke Cigar Room with 14% of the runoff vote. Although this cigar lounge is a relatively recent addition to the NY cigar lounge scene, it has quickly gained a following as a hip hangout in Prospect Heights, Brooklyn. Voters frequently mentioned the quality of patrons and friendly staff as their reason for voting for Blew Smoke. In second place overall, with 33% of the runoff vote is Merchants NY Cigar Bar. In 2012 and 2013, Merchants received just handful of votes, so it is equally remarkable that they have jumped to the #2 slot.  Voters recommended Merchants because of its decor, staff friendliness, and availability of full bar and food menus. Congratulations to Blew Smoke and Merchants! Now, without further ado, we announce the winner of the 2014 NYC Cigar Lounge of the Year Award. And the winner is…
The Cigar Inn

For the third year in a row, The Cigar Inn has won our coveted award with just over 53% of the total runoff vote. As in previous years, Cigar Inn won for a variety of reasons, including friendly staff, selection of premium cigars at competitive prices, ambiance, and clientele. What stood out among the voters, however, was one word: hospitality. Here we'll quote a few voters explaining why they chose Cigar Inn:
"The value of cigars offered, the environment and the staff. Bring all this together and the experience brings me back every time I step into the city."
"The owners treat everyone like they're special. Whether you're buying one stick or five boxes, you're always welcomed."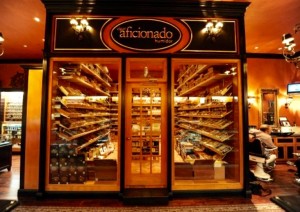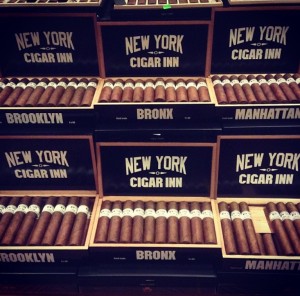 "The 73rd St location has figured out the right balance between allowing new folks to enjoy themselves without subtracting from the regulars' experience.  To me, creating that brotherhood is what the cigar lifestyle is about."
"I've been to pretty much all of the cigar lounges in the city, and the ONE and ONLY thing that distinguishes the CIGAR INN from the rest is the HOSPITALITY, warmth, and level of service of the management team."
Speaking from my own experience, I can say that all of these observations are true. That's why when I have a few hours free to smoke a cigar, Cigar Inn is my go-to spot. What's even more incredible to me, however, is that they have managed to create this experience and expand to new locations in a city so rife with costly anti-tobacco and anti-smoking regulations.
Billy, Gus, and Bass: you have created something truly special at The Cigar Inn, and so for a third year in a row we are proud to honor you and your establishment as the NYC Cigar Lounge of the Year.   Warm regards, Matthias Clock Founder, Fine Tobacco NYC Note to cigar lounge owners: to request your copy of feedback from your voters, email Matthias at matthias@finetobacconyc.com.

It's that time of the year again! Voting is now open for our third annual NYC Cigar Lounge of the Year Award.  For the last two years, Cigar Inn has been voted the best cigar lounge in New York City with commanding leads both years.  Now, New York City cigar smokers will decide who will win the honor in 2014. Results will be announced in early January.
In addition to a simple vote for best cigar lounge, the survey also asks voters to describe the strengths and areas of improvement for the lounge they vote for.
Note: if you can't find the lounge you want to vote for on the list of options, type it in to the "other" field and it will be added as the voting goes on.
You can read about the results of the last two years by clicking the links below.
Announcement, Cigar Lounge, cigar news, Common Questions, Education, Luxury, NYC Cigar Lounge, Opinion, Photo, Press Release, Saturday Cigar Survey, Smoking Location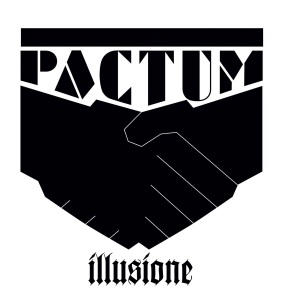 Last night I had the pleasure of smoking the Illusione/Smoke Inn collaboration which marks the 9th edition of SI's Microblend series. The Illusione "Pactum" which gets its name from the Latin verbiage "Agreement", or at that time in ancient Rome it came to mean a "Gentleman's Agreement". I can say knowing Abe and Dion personally these are two true gentlemen who seek to provide the highest quality in a cigar for the connoisseur. Being a big Illusione fan I was very excited to try this smoke and here is the first exclusive review you will find. Enjoy!
Blend Specifics:
Vitola: Boxed Pressed Robusto
Wrapper: San Andres Capa Fina Maduro
Binder: Nicaraguan
Filler: Nicaraguan
Dimensions: 5 1/2 x 56
Appearance & Construction
The Illusione Pactum has a gorgeous chocolate wrapper with a nice sheen and slight veins on the sides. The box press is perfect and there are no soft spots with a feel of well packed tobacco inside. The dry draw yielded raisinated flavors and a cocoa sweetness.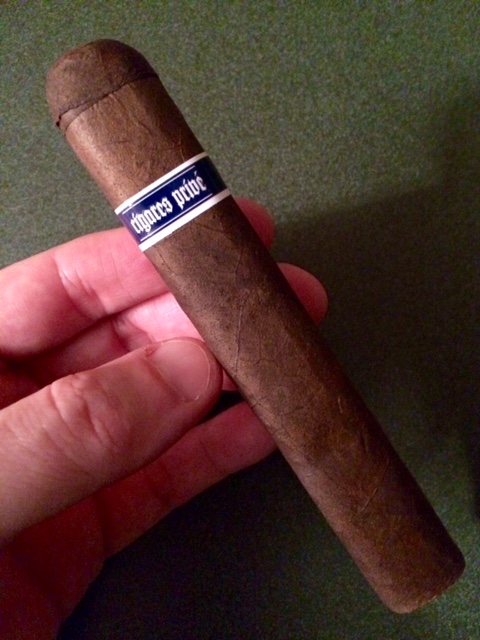 Taste & Smoke Characteristics:
Lighting up the Pactum greeted me with earthy characteristics and a distinct sweetness from the wrapper. The first third of the cigar brought on some full tobacco flavor due to the higher priming from the Nicaraguan filler leaves. The ash was sliver and gray and fell off on its own. Midway the cigar brought out a bit of wood, hay and a slight gingerbread note. All the way the Pactum gave the sweetness from the San Andres 'Capa Fina' maduro cover leaf which really balances out the smoke. The final third gave a lot of the similar flavors as the last half which is not a bad thing at all. The combination of wood, sweet and rich tobacco hit all parts of the palate and gives you an excellent example of what a balanced smoke is all about.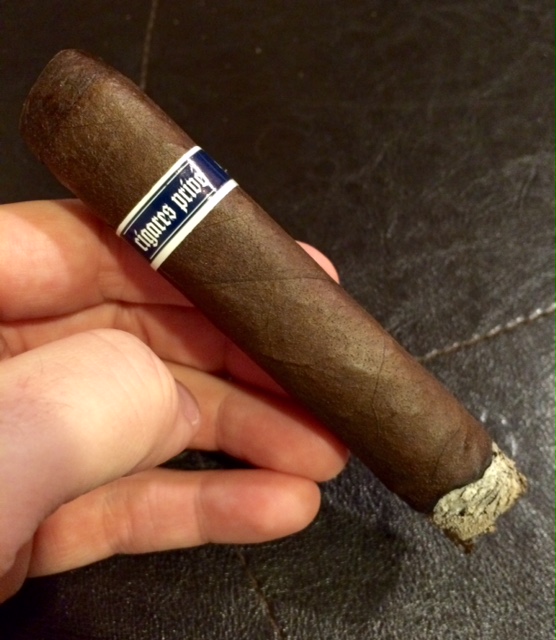 Conclusion:
I have been continuously impressed with Abe's Microblend series not just as a concept but knowing the personal attention he gives to each blend and working with the brand owners. Dion of Illusione is a master craftsman and a perfectionist in what he puts out. When these two make a "Pactum" you can rest assured you are getting a smoke worthy of the Roman Empire. Pick these up before they sellout as other Microblends have.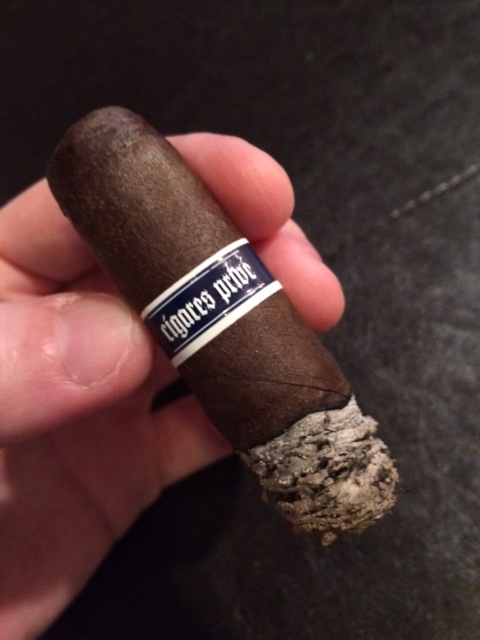 Avialble at Smoke Inn shops and their website if you are intrested:
http://www.smokeinn.com/eshop/Illusione-Pactum-SI-Exclusive-Product.html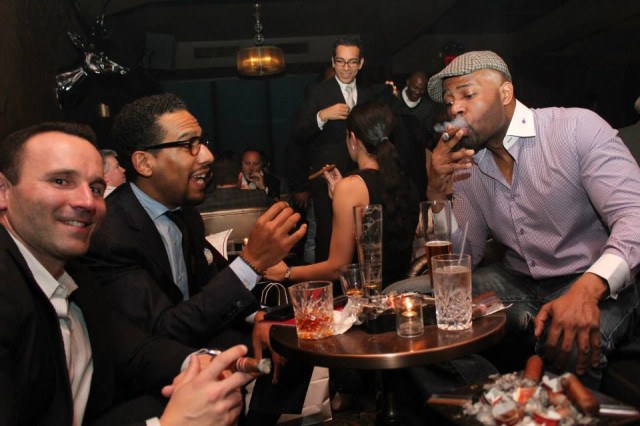 On Tuesday, September 16th, New York City cigar and spirits aficionados are invited to meet and greet legendary NY Knick John Starks and sample cigars from his new cigar line at the world-famous Merchants NY Cigar Bar. Brugal, maker of some of the world's finest rum, joins us as our featured spirit of the evening.
Guests will enjoy:
One John Starks Signature Series Cigar
One glass Brugal Anejo
One glass Brugal 1888
Live Blues
Meet & Greet with John Starks
Tickets for this event are extremely limited. Dress code is business casual.
Ticket price: $40 online, $50 at door
Cigar & Spirits Selection
John Starks Signature Series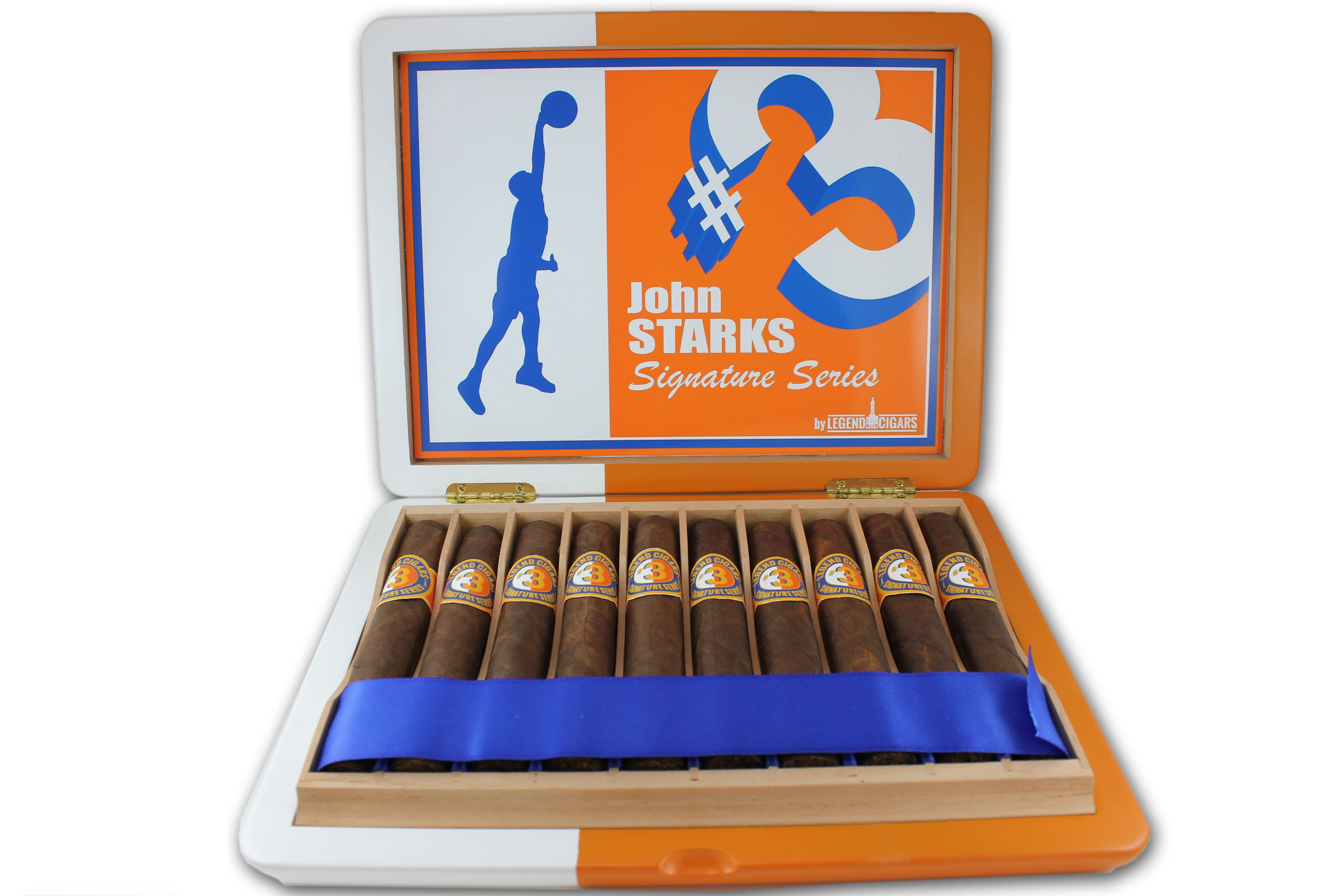 The Signature Series has received high marks from reviewers, with a 93 Rating from Cigars Magazine and described by the reviewer as "Seamlessly rolled, evenly balanced. Wonderful flavor with a strong, smokey, woody taste. Spicy with a hint of sweet chocolate on the back end."
Brugal 1888

The award-winning Brugal 1888 combines a distinctively dry style of spirit with a proprietary aging process to produce a complex and layered rum that is truly unique. The product starts with a clean and dry distillate, which is then aged to maturity for 6-8 years in American Oak Casks, followed by a 2-4 year ageing in Oloroso Sherry Casks – the same casks used to mature the world's finest single malt. The finished product is smooth, rich and full bodied while still retaining the distinctively dry style that separates Brugal from all other rums on the market.
The Brugal distillery leverages the expertise of The Edrington Groups's Master of Wood, George Espie, who runs The Macallan and Highland Park Scotch Whisky's Cask Management Systems. Under The Edrington Group's guidance, the casks in which 1888 is both double-distilled and double-matured are handcrafted or hand-picked to ensure the finest of aging conditions. With Brugal 1888, the rum's unique flavors shine through and are not overwhelmed by the sweetness generally associated with rum; it is undoubtedly a world class rum.
Tasting Notes
Color: The light enhances its dark amber hues and bright, clean color.
Nose: Fascinatingly complex, with spiced nuances, hints of chocolate, of roasted coffee, cinnamon and other dried fruits.
Palate: On the palate, pleasant, smooth and full-bodied. Its finish has nuances of toffee caramel, wood and liquorice.
Aftertaste: Brugal 1888 leaves a slightly sweet and long lasting aftertaste, with a sublime taste which denotes perfection.
Brugal Anejo

Expert crafting of rums aged 2 to 5 years in white American Oak Casks. Using traditions and skills passed down through five generations, our Maestros Roneros craft rums that provide the consistent quality and distinctive style that Brugal demands.
Tasting Notes
Color: Amber, bright and clean.
Nose: Light aroma of wood with hints of chocolate.
Palate: Dry in an overall sense. Buttery in the mouth with a slight hint of caramel and wood tannin.
Aftertaste: Long, dry and pleasant.
Announcement, Cigar Lounge, cigar news, Cigar Review, Common Questions, Education, Luxury, Luxury Marketing, Opinion, Photo, Uncategorized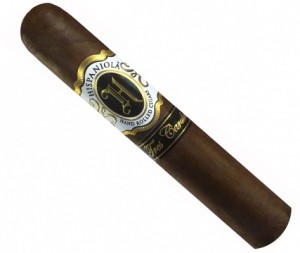 This past week I was luckily enough to meet with the creators of the Hispaniola brand of cigars. Hugo F. Melo, a modest gentleman described with passion his families long history in the Dominican Republic working tobaccos. After generations of distributing aged product for other cigar companies Hugo felt it was time to venture out with his own brand that is Hispaniola cigars. Recently FTNYC had reviewed Hispaniola's El Trabuco 1844 which received high praise from our staff. Today I smoked their Tres Carabelas cigar and my findings did not disappoint. Enjoy.
Blend specifics:
Wrapper: Havano Oscuro Vuelta Arriba
Binder: Dominican
Filler: Dominican
Size Robusto- 5″ x 55
Appearance & Construction:
The wrapper of this cigar had a nice oily sheen and shows the classic dark color of a Havana Oscuro wrapper. The cigar had some slight veins and a few soft spots to the touch however the foot showed some nicely packed tobaccos. This was extremely well rolled and visually appealing.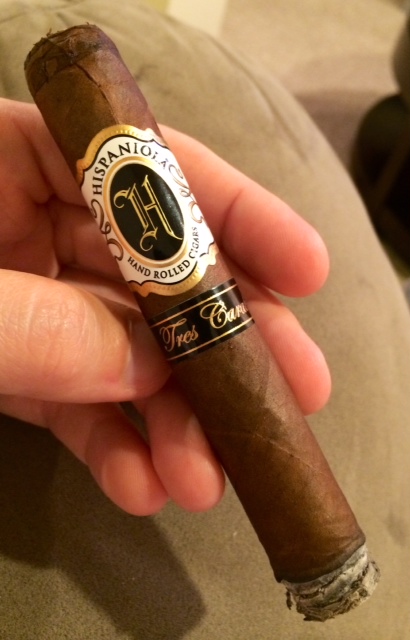 Taste & Smoking Characteristics:
The dry draw showed wonderful coffee and wood notes with a salty finish. Upon lighting the cigar offered some dark espresso, oak and leather flavors. The finish was salty which is something I really enjoy in a fine smoke. Midway a bit of spice kicked intermingling with espresso and a touch of graham cracker. The leather seemed to pick up a bit with the salty finish balancing it out. The final third delivered espresso character at its fullest with leather in the background. A well balanced cigar from begin to end.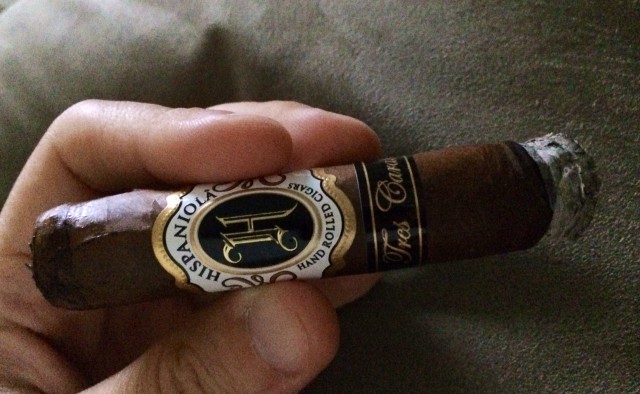 Conclusion:
The breadth of knowledge from the good people at Hispaniola shows in their Tres Carabelas blend. The draw was superb and the robusto size is a perfect showcase for the tobaccos in this cigar. Tres Carabelas gives a medium to full bodied smoking experience and can easily be appreciated after a fine meal. For those who want an elegant experience in cigar smoking Tres Carabelas is a cigar you need to get your hands on.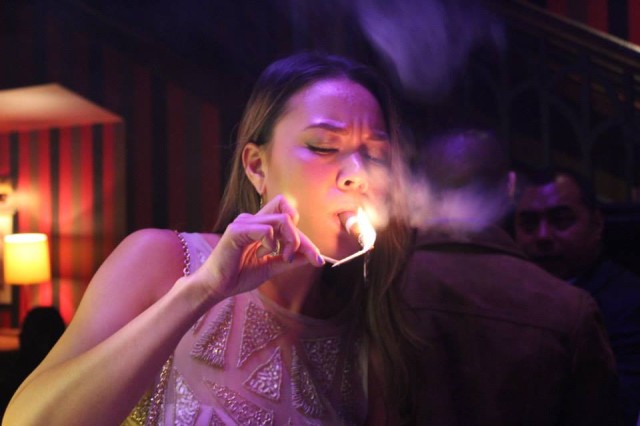 On Thursday, August 14th, New York City cigar and spirits aficionados are invited toStraight Up & Toasted, our biggest cigar and spirits event of the summer.
Guests will enjoy:
One Hispaniola Cristobal Colon #2
One glass The Macallan 12 Year Sherry Oak
One glass The Macallan 15 Year Fine Oak
Live Jazz from the Pete Maness Quartet
Cigar raffles and other prizes
The dress code for this event is business casual.
Ticket price: $30 online, $40 at door
Cigar & Spirits Selection
Hispaniola Cristobal Colon #2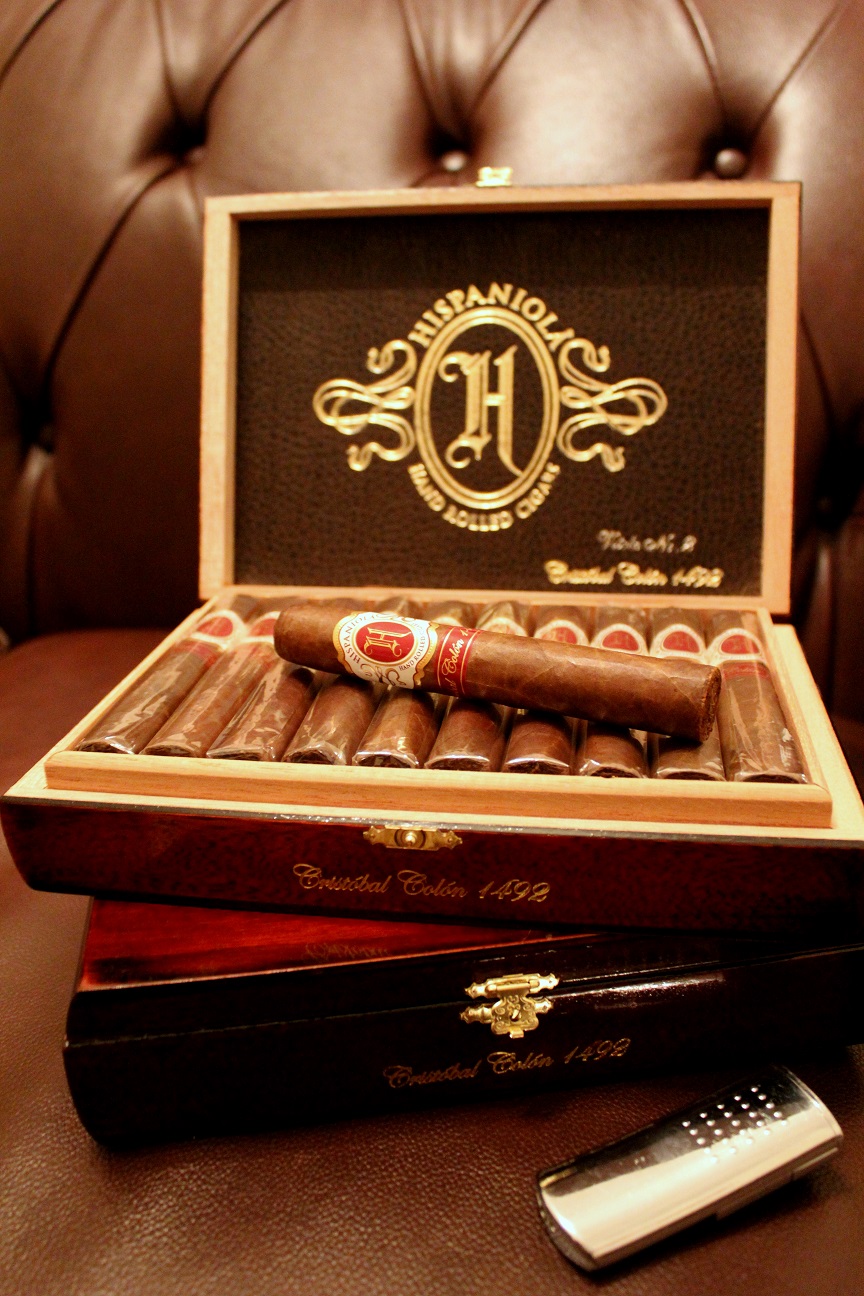 For over four generations the Melo and Matos families have been one of the largest producers of the finest organic coffee and aged tobacco in the Dominican Republic, focusing in exportation of coffee as well as supplying some of the largest fine cigar distributors and importers in the Dominican Republic with aged cured tobacco.
In 2002, Hugo F. Melo, a fourth generation tobacco and coffee master blender, launched the Hispaniola brand to a selective market segment. The launch served as a springboard for other cigars within the distinctive Hispaniola portfolio, including the Cristobal Colon #2.
The Cristobol Colon #2, one of Hispaniola's most distinctive cigars, features impeccable construction and a bold yet surprisingly smooth flavor profile. The newest release from Hispaniola Cigars, the Cristobal Colon #2 will be featured for the first time in Manhattan at Straight Up & Toasted.
The Macallan 12 Year Sherry Oak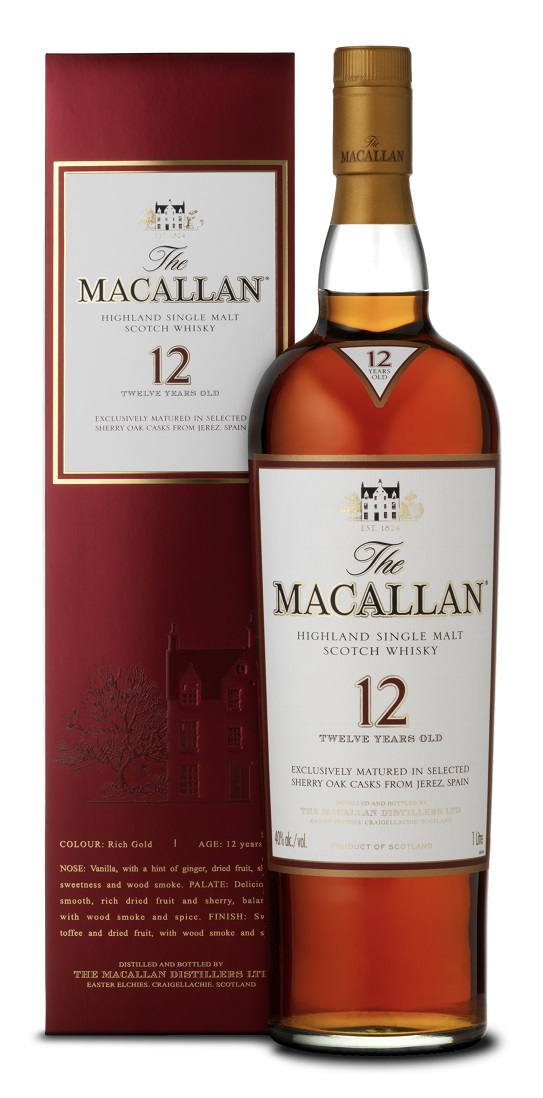 A sherry wood matured 12 year old from Macallan, a superbly balanced affair, one of the best of its age group.
The nose is quite crisp and sweet. There are notes of sultanas and fresh apple blossom. There is a defined floral note with a beautiful sherry, calvados emerges with a tropical fruit note and golden syrup. The palate is of medium-body and quite firm. There are notes of hot pastries and marmalade, sultanas and peels with a developing sweetness from the barley sugar. The finish is of good length with a solid oaked note.
The Macallan 15 Year Fine Oak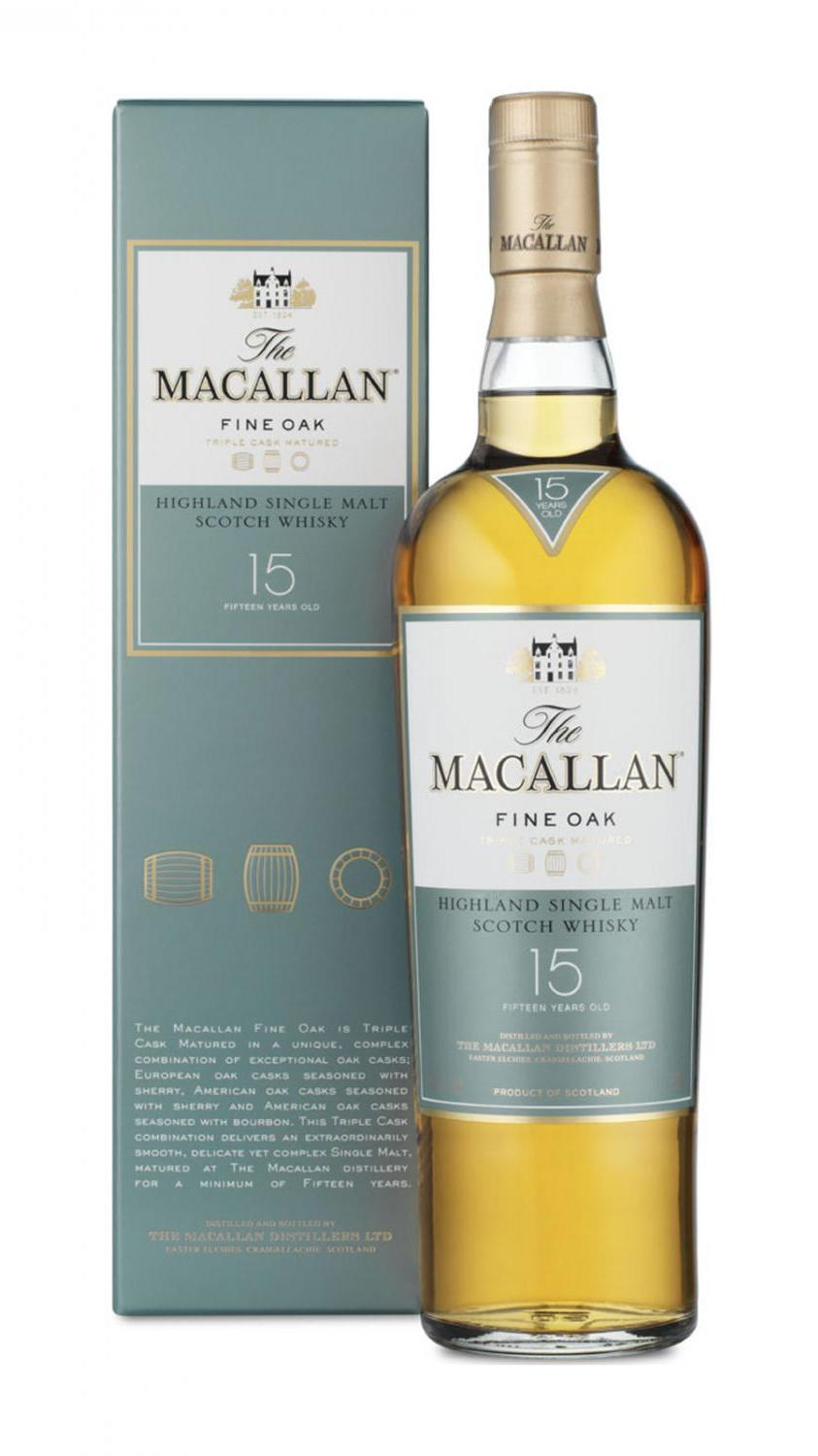 An exceptional 15 year old from the Macallan. This was matured in a mix of sherry and bourbon, one of the best from the fine oak range.
The nose is quite subtle and of medium-body. There are notes of rich, lush stone fruits and Bramley apple, a hint of peel and some Calvados notes. There are some dry wood notes with a definite mustiness. The palate is quite full and round with plenty of bourbon notes. The winter spices and vanilla crème abound with a chewy oak underlying. A little dark chocolate appears. The finish is of medium-length with dry oak.
---
*By signing up for this event, you give FineTobaccoNYC permission to send future cigar event invites via email.