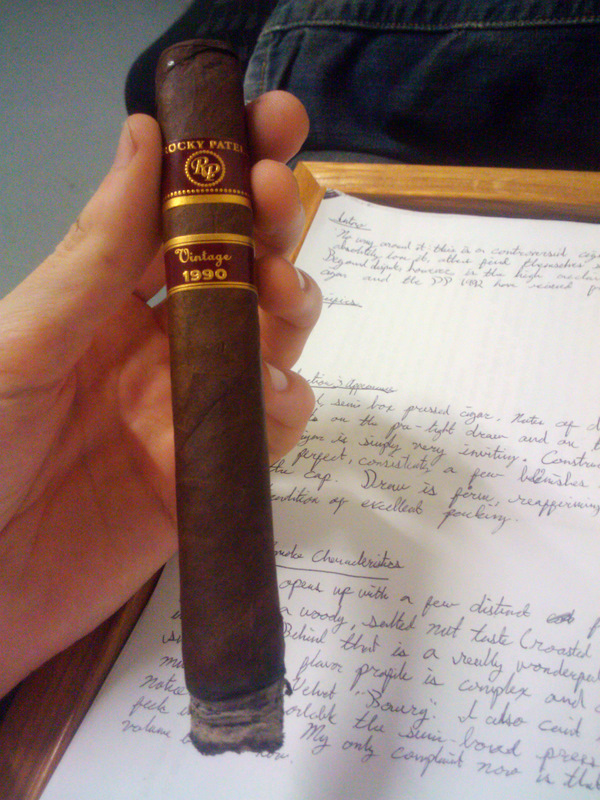 The Rocky Patel Vintage 1990
There is no way around it: this is a controversial cigar.  A brief glance around the online cigar community indicate that some people love this cigar (Barry at acigarsmoker gives it a 93), and some people are lost as to what makes it so special (one Puff user called it "a total disappointment"). Beyond dispute, however, is the consistent acclaim that this cigar has received from a variety of online and in-print reviewers – one reason I was so excited to smoke this cigar. I have to say, though, that after smoking four of these I can identify with both camps. Read on to find out why, and also to find out how you can enjoy this cigar more, perhaps even as much as the critics have.

Blend Specifics:
Wrapper: Honduran broadleaf Maduro
Binder: Nicaraguan
Filler: Dominican and Nicaraguan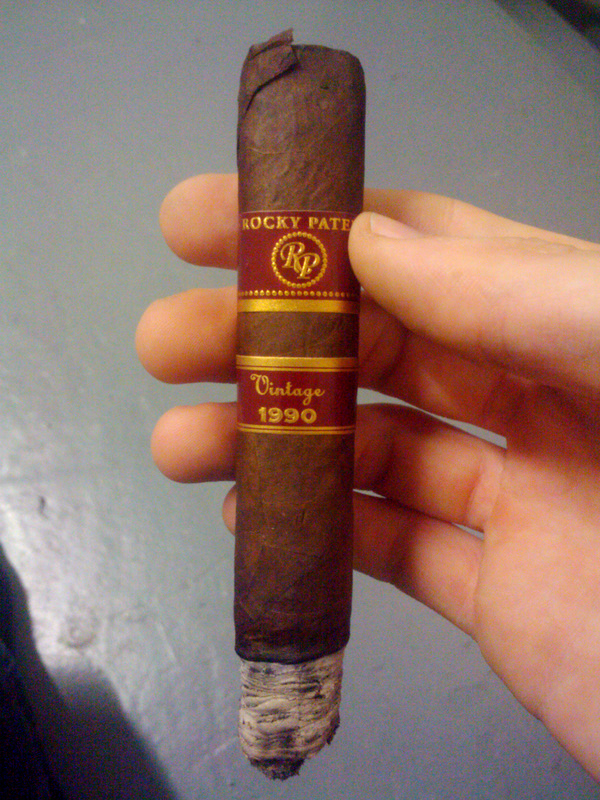 Construction & Appearance:
This cigar comes in a beautiful, semi-pressed shape that is incredibly comfortable in the mouth.  Paired with the incredible scent of caramel, nuts, and cherry, I have to consciously stop myself from chewing this cigar like a candy bar when I put it into my mouth. It's just that good. Construction is ok; there are a few blemishes near the cap, and the wrapper cracked. Unfortunately, when I applied a straight cut, the wrapper decided to split and fray, as you can see in the pictures above and below. This is uncharacteristic of Rocky Patel cigars, but I've had the same problem with this cigar more than once. The draw is firm, which is a reminder of the Rocky Patel tradition of excellent packing.
This is one of the most attractive, best smelling cigars out of the cellophane that I know of. Unfortunately, smoking this cigar did not reflect this.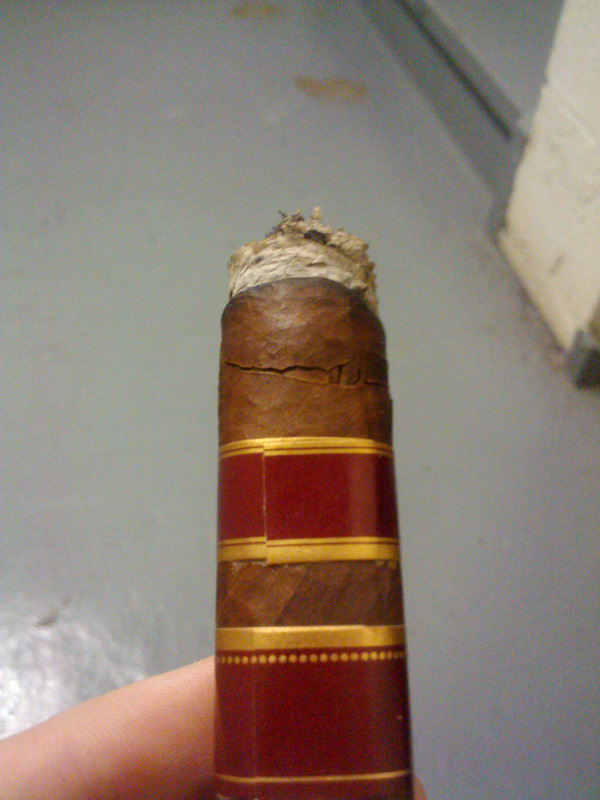 Taste & Smoke Characteristics:
The first third of this cigar is mild to medium bodied and opens up with a few distinct flavors. Dominant is a woody, salted nut taste (roasted nuts in smell). Behind those two flavors is a really wonderful, mild sweetness. The flavor profile is complex and complete, much like Velvet Cigar's Bowery.  My only complaint in the first third of this stick is that the smoke volume is a bit low. I also notice that this is not a cigar to rush. In fact, in order for it to consistently taste as good as other reviewers describe, it must be smoked slowly. Heating up the tobacco too much degrades the flavor pretty dramatically. The flavor moves from cool, woody, rich, and sweet a sort of fermented saltiness that is very dissatisfying.
At about two thirds, it remains clear that this cigar needs to be smoked slowly. Every time I puff more than one or two times a minute, the unpleasant taste returns. Smoked slowly, the cigar is excellent. The woody flavor has hints of coffee and caramel, and the smooth smoke has a creamy texture.
Unfortunately, the last third of this cigar confirmed which side of the RP Vintage 90 debate I fall on: the dissatisfied side.  In spite of trying to smoke this cigar slowly, the final third of the cigar became (with multiple sticks) harsh and acidic.  Twice I lost my patience and put the cigar down.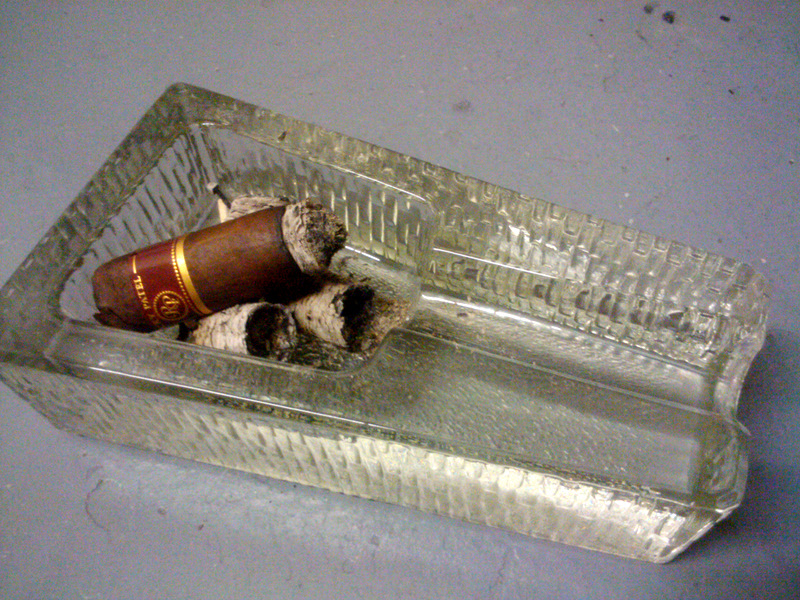 Conclusion:
If you want to enjoy this cigar, you must smoke it slowly. After some experimentation and observation, the tobacco in this cigar seems to be especially vulnerable to a hot ember.  The fact that this cigar is so high maintenance pushes it into the realm of the 'less enjoyable.' There were also some consistent construction issues, which is out of character for Rocky Patel, and surprising to see in such a famous blend.
All of the hype aside, I can't give this cigar an A rating (the equivalent to a 90% or above). The cigar is consistently frustrating, produces less than ideal smoke, and the taste oscillates between heaven and hell. Don't take my word for it though – I'm new to the cigar reviewing world, and others have loved it. Give this stick a try – just don't buy a box before you do.
Do you have comments or suggestions? Let me know – I'd love to know more about this stick.
Overall Grade: B