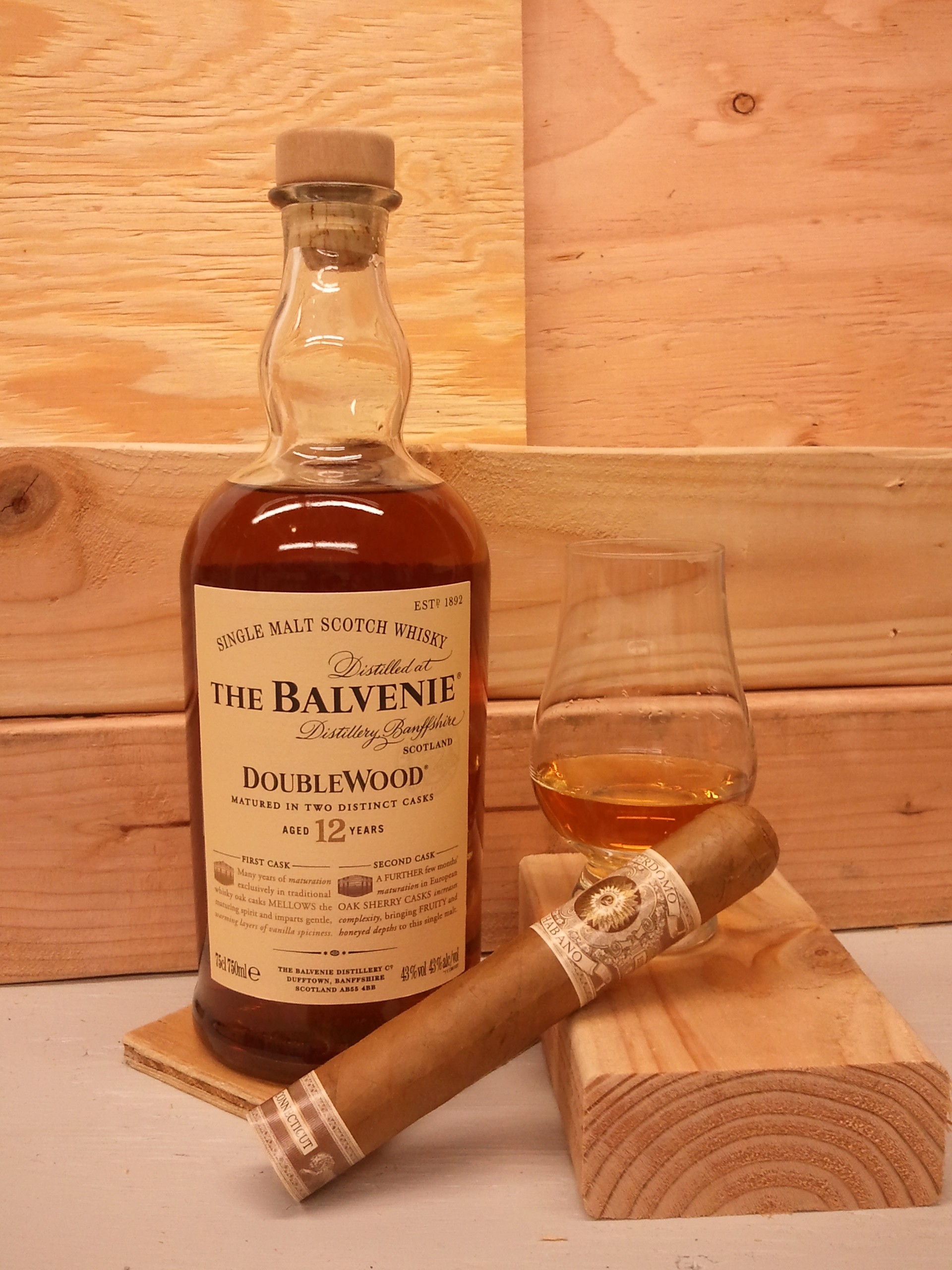 Many times we accompany cigars with our favorite libations and tonight I give the spotlight to a scotch that perhaps is the highlight of my evening and overshadows the cigar in mention. Tonight I chose a cigar which I think pairs well with the Balvenie Double Wood. After much testing I have come to the conclusion that cigars and scotch are much harder to pair than say rum or coffee. However, I tend to lean towards lighter and milder cigars with my scotch and have been pleasantly surprised.
I usually have a hard time wanting to smoke a Connecticut shade wrapped cigar due to the simple fact that I find myself more often smoking after a good dinner and I would much rather smoke a cigar with more flavor, body and strength. Until recently, my lighter sticks have been reserved for my unusual morning smokes and I now find myself grabbing one to pair with my spirit of choice which happens to be rum at the moment.
Nose and appearance: After pouring a dram into my glass and getting the cigar  ready, I took a bit a time to appreciate the spirit and really enjoy the moment. My little ritual is to lightly swirl the glass, letting the whisky coat the glass and watching how it sticks to the sides of the glass at the same time allowing for evaporation. While not out of the norm, I also take time to put my nose close to the glass and breathe. Taking my time to get closer, the smells become stronger being careful to avoid the alcohol burn.  Right away the scents that come to mind are light fruity, transparent, airy, floral, dried fruit that is not in any way overpowering.
Taste: The first sip is a billow of flavor that coats the palate with oak, woody flavor followed by a very light vanilla and a hint of honey. I kept it neat as there was no need to add water. It is light in flavor and only 43 percent alcohol and I found no reason to further dilute. In addition, the finish was short, plain and lacking in my opinion. As I progressed the taste slightly shifted, the honey flavor became more pronounced and the aroma was more of orange and honey. Best to let sit for a bit before drinking. Overall, the Balvenie 12 Double Wood is simple and easy. A great welcoming to the wonderful world of Scotch Whisky.
Now for the cigar,
The Perdomo Habano line consist of the Connecticut, Corojo and Maduro. All of which have distinctive taste. I made an effort to try all three in the past and tonight I chose what I thought would pair the best with tonight's dram of choice. I have smoked this stick plenty of times before and has been part of my stash for over a year. This stick in particular has been laying dormant for about 10 months next to its brothers and sisters waiting for the right opportunity to fulfill its destiny.
Blend Specifics:
Vitola: Gordo (6 x 60)
Wrapper: Connecticut
Binder: Nicaragua
Filler: Nicaragua
Appearance and Construction:
Construction was great, but whenever I have a Connecticut shade wrapped cigar I tend to pay very close attention to the wrapper. They tend to be thinner and therefore prone to ripping spreading and just creating a menial experience. While this cigar did manage to rip and cause a mess, I kept my composure and marched on. The wrapper was lumpy and opaque which is consistent with all the onthers I've had.
Taste & Smoking Characteristics:
First puff reveals a woody, toasty like toasted almost burnt bread, peanut shell flavor that is followed by a medium and slightly peppery finish. I tried this before I had tasted the scotch which is a great way to distinguish between the cigar and the spirit. Throughout the first third I kept thinking the Balvenie had more strength than the cigar and although it was also woody they complimented one another quite well. Alone I find this cigar to be not as enjoyable. As the stick progresses it becomes more acrid and depressing. However together the spirit does a great job to mask the flavors I don't like.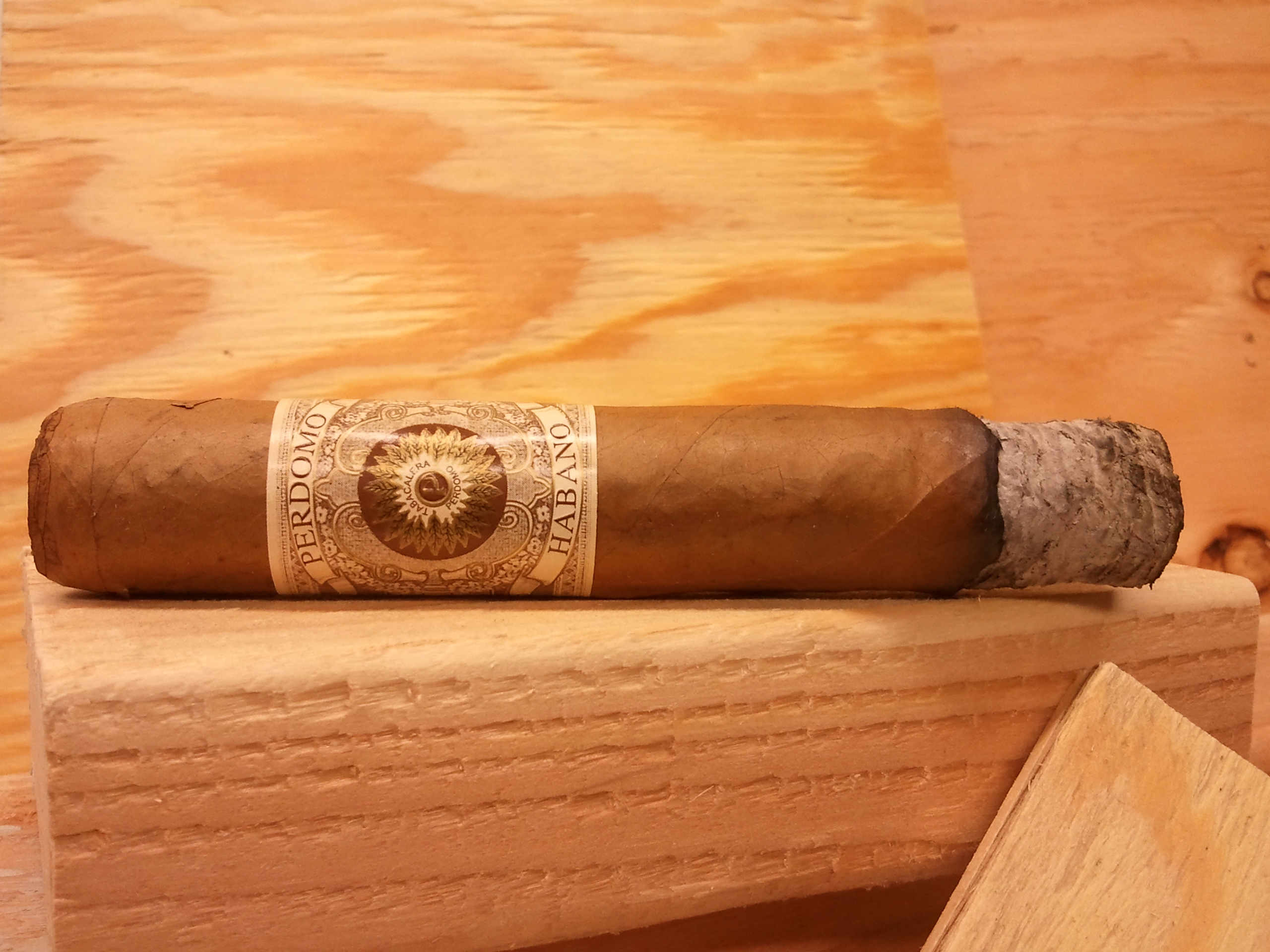 Conclusion
Early on, the wrapper did rip on me and continued to expand making that the point of no return. I almost reached the last third before I laid her down to sleep. I don't want to recommend this stick because I feel that there are much better Connecticut wrapped cigars that are better expressions of what is perhaps the most popular wrapper in the United States.
Overall Score: B-
Kelvin Batista (mrkelvinbatista@gmail.com)
"Stay Young, Stay Foolish" Steve Jobs