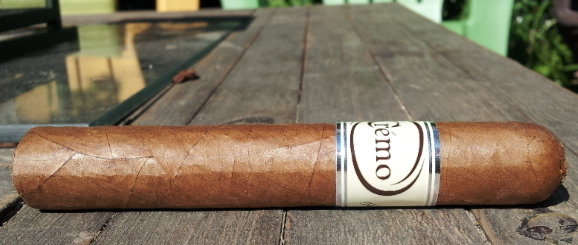 There's nothing quite like a beautiful early-summer evening that includes a good cigar, a great cup of coffee, and some light Samba Bossa-Nova playing the background. For this particular early-summer smoke, I decided to review the Cremo Classic – a cigar I had heard good things about but never tried. Here's a bit about Cremo from the information kit they sent me:
"The original Cremo Cigar, an icon of early America and the most successful cigar brand of the early 20th century, made a commitment to providing their customers with value. The company which rose out of beautiful Manhattan, New York City attained the largest sales of any cigar in its class. The brand was also famously linked to musician Bing Crosby in the early days of Broadcasting Radio.
With a shift in the way cigars were made, factories moved south and all was lost… Now in the 21st century a new dawn awaits. After new buildings were built, and old ones were torn down, a piece of history remained. Now with the revival of Cremo, an unsurpassed Premium Cigar, the tradition continues with taste nad quality as well as class."
As a resident of New York, my ears certainly perked up a bit at the history. And now for the review…

Blend Specifics:
Wrapper: Habano
Binder: Nicaragua
Filler: Nicaragua/Dominican Republic
Appearance and Construction
From what I can tell after smoking this stick a few times, Cremo Cigars are deceptive. They have the look of a smooth, mild-bodied smoke, and I have to admit, I made a few assumptions about the smoking experience based on this cigar's light wrapper. Still, the cigar is well crafted, with a triple cap, no visible veins, and a smooth and lightly oily wrapper. The band is not traditional, with an almost modern look to its design: white, reflective silver, and flowing lines around the bold "Cremo" brand name.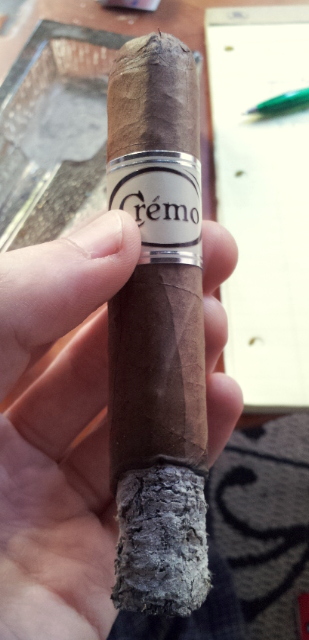 Taste & Smoking Characteristics
As I mentioned, this is a surprising cigar. Some other reviewers have called this a mild-bodied, creamy smoke. I disagree. I think this cigar is a solid medium. It kicks off with a really great spice, while remaining creamy at the same time. Notes include cedar, roasted nuts, and hints of grass. Around the 2/3 point, the intensity decreases, and the spice hangs on the tip of my tongue. Construction holds solid all the way through the smoke, and my ash lasts past the first half of the whole cigar. The main drawback of this cigar, and it seems to be a theme among other reviewers, is that the smoke begins to really heat up in the final third.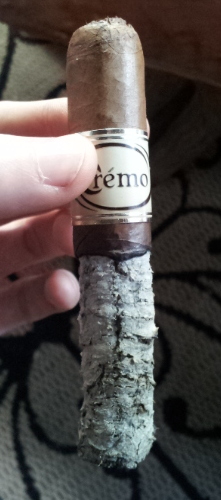 Conclusion
This was a really enjoyable smoke, with definitive and unique flavors. If you are in the mood for a medium bodied smoke with a creamy texture and lots of flavor, this is a smoke to try. But, beware of the smoke heating up in the final third—it might make you put this stick down a bit early.
Final Grade: B+
Disclaimer: we received these cigars free of charge.