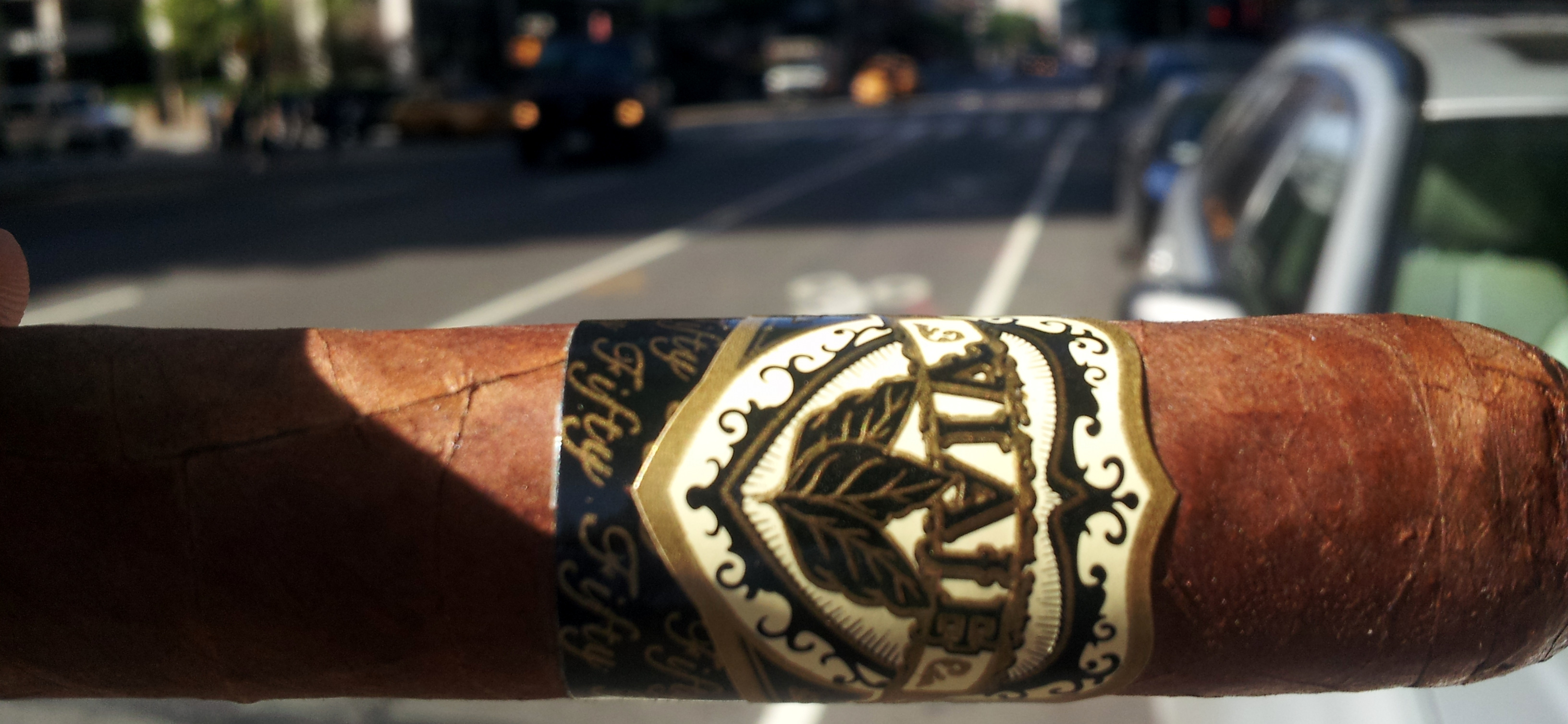 After dropping by the Cigar Inn, I decided to give a quick review of the Viaje Fifty Fifty. After my first Viaje white label, I was intrigued and excited about this brand. They make some truly flavorful, predominantly Nicaraguan cigars and I would highly recommend giving anything in their line a try. I brought with me a cup of Dunkin Donuts coffee (I know, not the best), clipped, lit the cigar, and took a seat in the beautiful Cigar Inn lounge.
Here's a bit about this particular cigar from the Viaje website:
Fifty Fifty is a special project that took a great deal of time to perfect. The idea behind Fifty Fifty is to offer the ability to enjoy two different flavor profiles while smoking the same cigar. Fifty Fifty's components are a closely-guarded secret, but two distinct blends were formulated to make up the cigar. Joining the two blends was a challenge that was difficult to perfect. Each cigar is carefully crafted taking triple the amount of time a normal cigar takes to roll. The cigar comes wrapped in a dark, oily Nicaraguan cover leaf with two binders holding the filler in place. Fifty Fifty starts out as a rich medium bodied cigar before transition into a bold, full-bodied smoke. This is a first for the industry we know you will enjoy.
Blend specifics:
Size: 6×50
Wrapper: Nicaraguan
Binder: Nicaraguan (2x)
Filler: Nicaraguan

Appearance & Construction
This cigar has really solid construction. The band, though elaborate, is not too busy. In the forefront is the Viaje triple leaf, and circling the band in gold lettering is "Fifty." Veins are minimal and there is a light spring to the touch. The wrapper smells of sweet natural tobacco, with hints of coffee. The draw is fairly resistant but not prohibitive.
Taste & Smoke Characteristics
This is one powerful Nicaraguan cigar. On lighting up, I'm greeted with full bodied, full strength smoke that is not overpowering, but is very sweet has a tinge of spice, and leaves a nice tingling on the front of my tongue. The texture of the smoke is silky smooth and earthy, the flavor is sweet, with notes of coffee and a bit of cocoa. About an inch in, I can tell this cigar is bold. As others have noted, this cigar is pretty complex, so you won't want to puff it too quickly or the flavors will probably be a wash.
At about halfway through, the flavors remain strong. I should also note that the burn on this cigar has been straight the whole way through, revealing dark salt and pepper ash. My only complaint is that it just hasn't delivered as far as the volume of smoke goes—I find myself really working to get a good amount.
And just like that a few puffs later, the smoke problem vanishes and I get a better sense of the taste. I'm also glad that I have something to drink, because this is one powerful cigar. The final third really opens up and introduces a slightly savory note which matches really well with the smooth sweetness. I do not want this stick to end.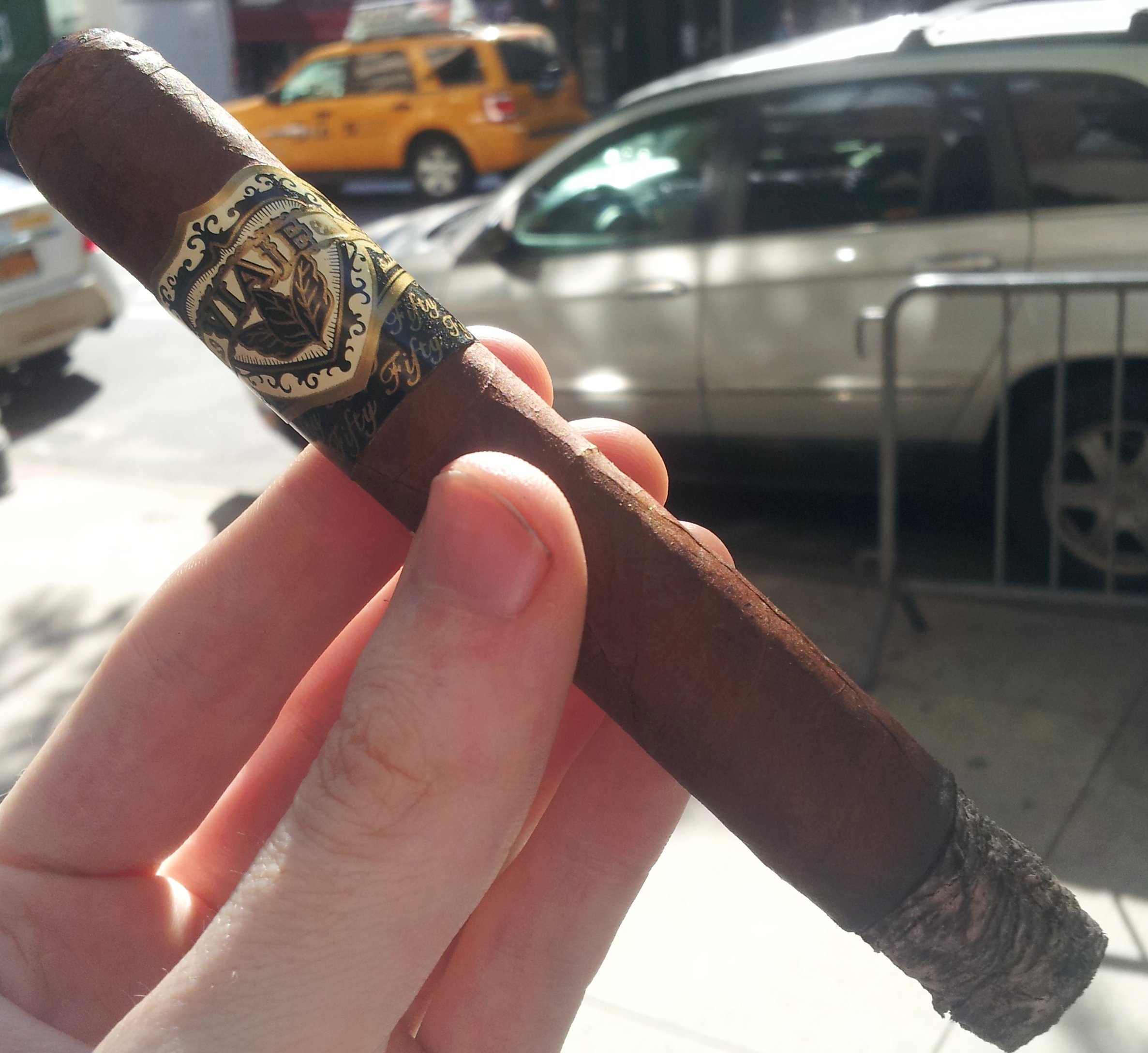 Conclusion
If you are in to powerhouse cigars that don't overwhelm the palate, this is a cigar for you. Although it had a bit of trouble opening up early on, when this cigar kicks in, you are in for a treat. Not many cigars can combine tremendous strength and full flavors with complete smoothness of texture.
Final Grade: A