This cigar review is a guest post by Charlie Freeman, a good friend of mine from my college days. Charlie is an avid cigar smoker and also works at Ash Fine Cigars in Hoboken, NJ.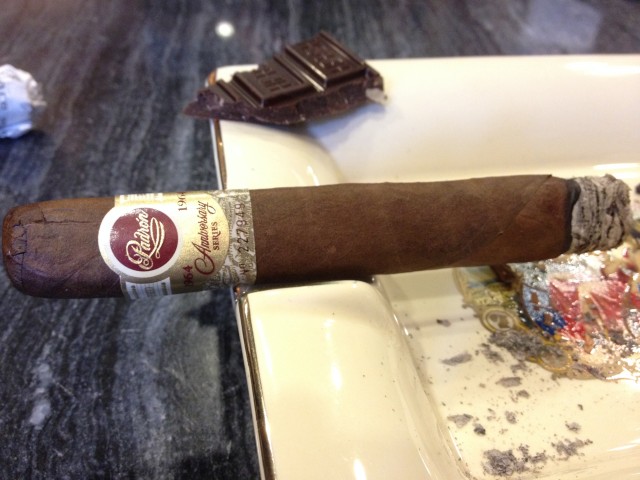 Up for review on this sunny Tuesday afternoon is a cigar that is turning twenty this year. It is a line that has consistently scored between 90 to 93 points in Cigar Aficionado magazine ratings; it has constantly earned a high place in the CA's top 25 Cigars of the Year list; and for all these reasons and more, it is a personal favorite of yours truly. Bearing a name that has become synonymous with precision, tradition and all-around excellence, the Padron 1964 Anniversary Series cigar line has rightly taken on a life and legend of its own.
Blend Specifics
Wrapper: Esteli, Nicaraguan Maduro
Binder: Esteli, Nicaragua
Filler: Esteli, Nicaragua
Vitola: Double Corona Box-pressed
Size: 7" x 50

Appearance & Construction
As is the standard for all Padron Cigar, the '64 Diplomatico is blessed with a brilliant appearance; carefully box-pressed in accordance with Cuban tradition, and beautifully adorned with a wrapper whose perfection lies in the subtle irregularities of its structure, giving it a truly natural appearance that no cigar smoker of any caliber can resist.
Smoke and Flavor Characteristics
Upon lighting up, I am greeted by a slightly thin, yet smooth smoke. The smoothness of the smoke induces a feeling of relaxation and comfort. At the same time, the subtle thinness of the smoke leaves me wanting more with every puff. This brilliantly complex smoke remains consistent throughout the length of the cigar.
The flavor can be summed up in two simple words: dark, and natural. From beginning to end the Diplomatico's flavor is everything its exterior appearance suggests, with unusually natural sensations of nutmeg and wood at the forefront and the occasional note of coffee subtly working its way into the mix.
After a lovely hour and a half, the Diplomatico is on its last puffs, with the spicy sensation that is typical of Nicaraguan tobacco dominating the final moments.
The Final Verdict
While I am used to a Padron being a slightly thicker smoke than what was presented, the Diplomatico still remains a winner in every sense of the word. It is a delicious, brilliantly constructed cigar that holds its form and doesn't canoe, ensuring that whoever smokes it will be able to enjoy what's happening around him without having to worry about manually maintaining the integrity of the cigar. Without a doubt, the Padron family has scored yet another home run with the '64 Anniversary Diplomatico.
Final Grade: A-

Tips for a Perfect Smoke Experience
Complement this dark and earthy cigar with a rich cup of coffee (no sugar, cream is optional) and a bar of Hershey's Special Dark Chocolate.
Order of Procedure:
Take two to three long, full puffs
Have a single square from the Hershey bar
Take a sip of coffee to wash it all down