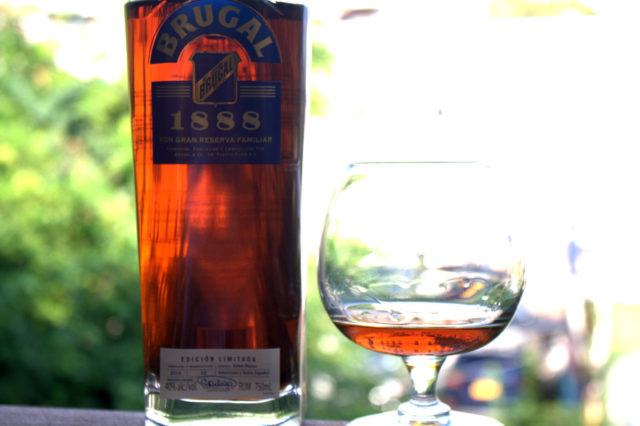 1888: the year that Don Andrés Brugal Montaner introduced his first dark rum to market – and the also the name of Brugal's most enthralling rum (yes, you see where this review is going).  Brugal 1888 has long been a favorite of mine, so it's about time I finally sit down to write an organized review. This rum carries all of the hallmarks of Brugal rum (signature dryness), but is given added complexity and texture after being aged 6 – 8 years in ex-Bourbon American oak casks, followed by first-fill Spanish Oloroso casks for a total aging of 8 – 12 years.
My first taste of Brugal 1888 was actually at one of our events at the Carnegie Club in 2014. I was blown away. And I remain so.
Specifics
Name: Brugal 1888 (Ron Gran Reserva Familiar)
Country of Origin: Dominican Republic
Age: 8 – 12 years
ABV: 40%
Aged in: Ex-Bourbon White American Oak, Spanish Oloroso Sherry
Appearance
I don't think I can name another spirit, perhaps with the exception of Aberlour A'bunadh, where the influence of the sherry cask finish is so pronounced.  This rum is stunning, in appearance and in flavor. The bottle, with an angled look more fitting a crystal decanter, only adds to this spirit's sense of luxury.
Nose
The nose has a heavy texture, full of fruit, dates, molasses, and a bit of the sherry cask finish.  Intense, pungent, sweet – in a phrase, ready to kick ass.
Flavor
The mouth feel is heavy and intense. This sipper comes in smooth, turns up the flavor, and then the sipper enjoys a nice, long, sweet finish. What I find so unique, striking, and lovely about this rum is it's ability to present a sip that is full bodied, complex, palate-saturating, yet still dry compared to many other rums which can bring great flavor but at the cost of the sipper feeling like he's drinking cough syrup.
Finish
Long, smooth, and satisfying, leaving notes of charred wood, honeyed bread, and spices.
Conclusion
Rum sippers: finish up your current drink and make your way to the liquor store.
Whiskey sippers: put your drink down now and pick up a bottle. You will be glad you did.
Final Grade: A