I haven't always been a fan of Montecristo (Altadis). I've found many of their classic blends are either a) uninteresting, b) bad, or worst, uninteresting and bad all at once. However, in recent years this brand has released some really incredible blends, some of which have found themselves on my Monthly Burn email recommendation list.  I picked up the Montecristo Grupo de Maestro Private Batch III at Davidoff Madison Ave a couple of weeks ago, hoping that this blend would present a flavorful and quality addition to the Montecristo line.
For this review, I happened to be on business in Toronto, so if that marble countertop looks like a typical Marriott suite bathroom, that's because it is. However, since smoking is illegal anywhere indoor, that leaves only the damned permafrost that is outdoor Canada. So I ended up  smoking this cigar in a sketchy back-alley.
Thank God it was a good cigar.
Blend Specifics
Company: Montecristo
Size: 6.125 x 52 Belicoso
Wrapper: Ecuadorian Habano
Binder: Dominican Santo Domingo
Filler: DR, Nicaragua, Peru
Appearance
This cigar sports a slightly reddish brown wrapper and is moderately soft to the touch. I like the double band branding, not sure if it was originally the Psyko Seven that pioneered it, but I certainly enjoy the option to still have a band on the cigar once the large main band is taken off.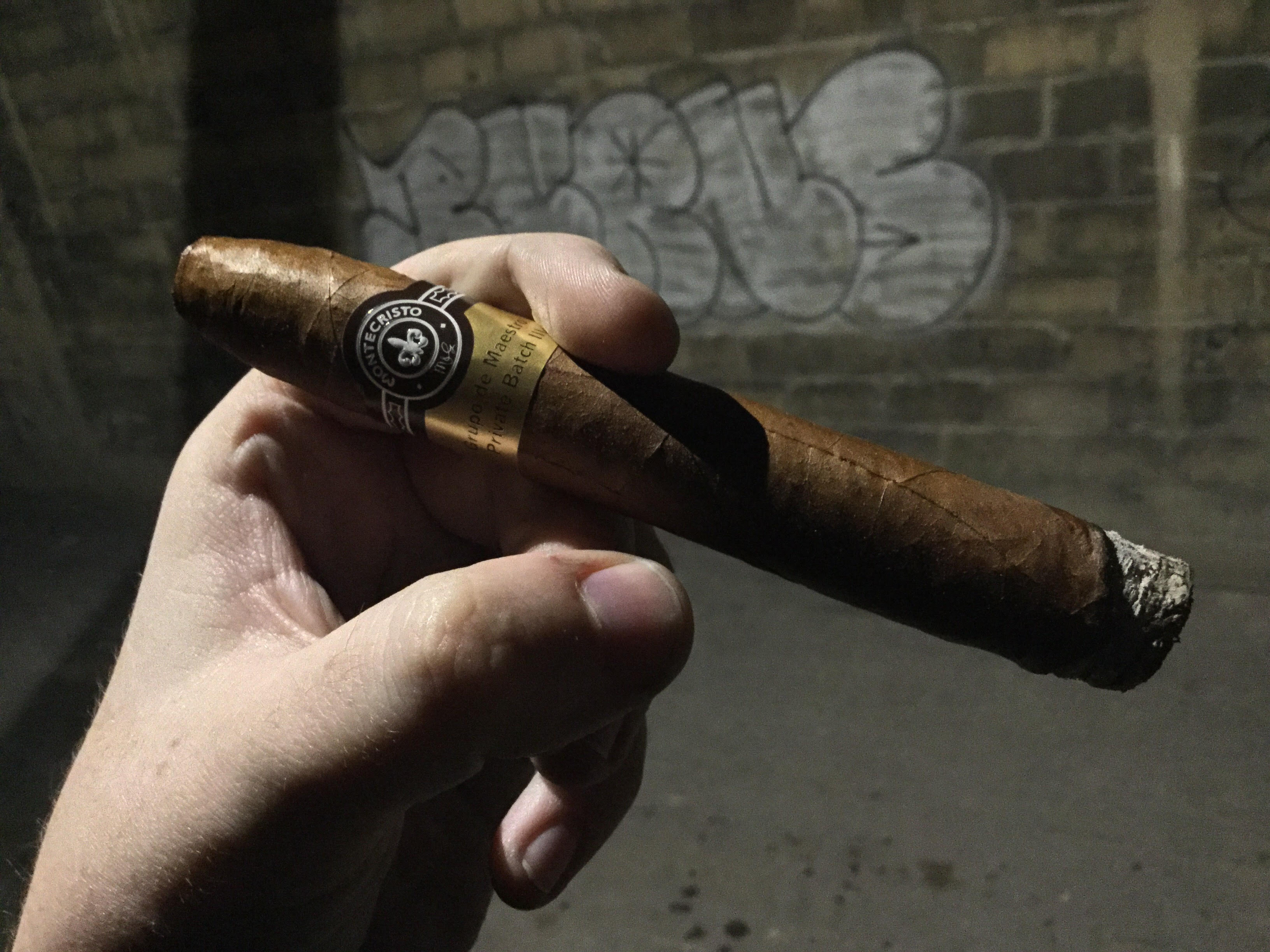 Flavor & Smoke Characteristics
Opens solid medium body. Very balanced flavors of wood, cream, floral notes, touches of white pepper and hints of spice on the finish. Very good.
After an inch, body increases to full, with notes of dry wood and grass. And lots of salt. About one third in, the balance is a bit off now, now in too assertive territory, leaving me hoping that it backs down.  The burn is wavy, at times bordering on canoe.  Strength goes up and down up through to the first half. Overall very enjoyable and very complex.
Now in the final third, flavors alternate now between semisweet and salty/woody, with a buttered popcorn flavor at times.  Sooooo tasty, and this experience solidifies this as a very favored cigar for me.
Body picks up considerably in the final third – and I forgot a glass of water to go along with! I won't make that mistake next time.
Conclusion
The Montecristo Grupo de Maestros Private Batch III is another win for Montecristo. At roughly $16, this isn't a no-brainer since that price point has a lot of competition. But if you enjoy full bodied, complex smoke that doesn't stray into cliche, this is a great cigar to pick up.
One warning: this is an extremely limited blend — only 300 boxes were made. So if you see this, pick it up. Or, save yourself the time and purchase online at our preferred online retailer, Famous Smoke Shop. If the blend is out of stock, take a quick trip over to my previous post about my top Montecristo cigars.
Final Grade: B+