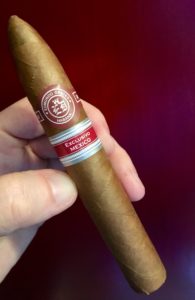 The last in the trilogy of cigars made for the Mexican market is the Edmundo Dantes Conde belicoso. The previous two releases where Edmundo Dantes Conde 109 & 54. These cigars are now sought after smokes that are consistently getting better with age. I've been lucky enough to enjoy boxes of the two and sadly I now have very few. The Edmundo Dantes brand was created as a Regional Cigar for Mexico. I have found the blends to smoke wonderful right off the bat and stellar over time. I recently reached for another Belicoso out of my box to see how it is holding up. Enjoy.
Blend Specifics
Wrapper: Cuba
Binder: Cuba
Filler: Cuba
Size: 5 1/2″ x 52″ Belicoso
Appearance and Construction
A lovely milk chocolate colored wrapper with only slight veins. The primary label reads "Edmundo Dantes" which looks very similar to the Montecristo band however it is NOT a Montecristo brand or blend in any fashion. This is merely a nod to the character in "The Count Of Montecristo".  The secondary band reads "Exclusivo Mexico" marking the fact it is a regional cigar for the country.
Flavor and Smoke Characteristics
The Conde Belicoso starts off drying but then turns into a bracing hit of cocoa. Copious amounts of smoke surround this cigar and the gray ash is firm. A bit of tea and pencil lead midway along with pronounced notes of coffee.  All the while this cigar has maintained a medium bodied profile.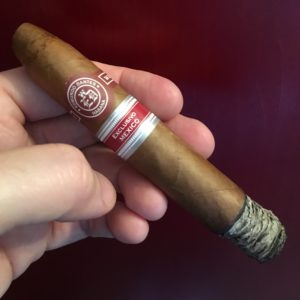 The last third of this cigar gives off a leather character with an earthy finish.  I removed the bands at this point as I was enjoying the development of flavor. There was a slight savory note in the last few puffs although the finish was a bit short.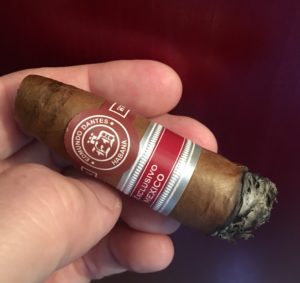 Conclusion
Whereas the Edmundo Dantes Conde 109 & 54 seemed like epic smokes right out of the box the Edmundo Dantes Belicoso although a very enjoyable cigar hasn't reached that level yet. The good news is I do not doubt this will develop into something substantial as the blend and tobaccos are of high quality. The unfortunate part of this vitola is that the other two cigars where so good that the expectations on the third were very high. Regardless I recommend picking up a box or two to try and for aging purposes. I believe they can still be had via the Casa del Habano's in Mexico. I know Moises is the man that runs them and his service to his customers is exceptional. I'm glad I have another box and a half  myself to lay down and enjoy in the future.