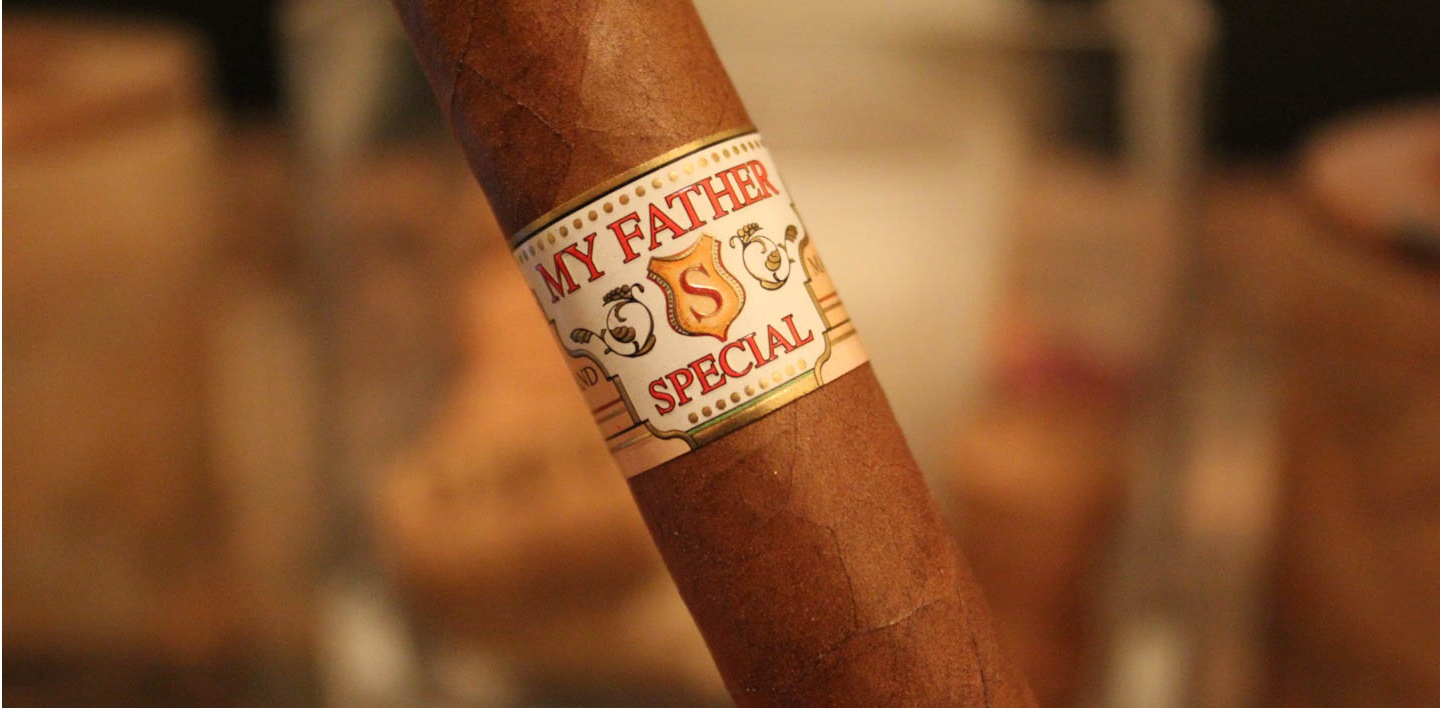 It is a great time to be alive if you're a cigar smoker.  Today, we have some of the best, most consistent and interesting blends of cigars available to us with a click of a button.  Although some cigar manufacturers boast about their blend specifics with detail, many do not.  Cigar Brands might choose to do this to preserve family secrets and protect blending techniques.  In any case, we often refer to hearsay for information and our taste buds for judgment. Such is the case with the following cigar, the mysterious My Father S Special.
Sometime around 2011 appeared a cigar from My Father rumored to be a direct descendant of the noble Centurion line which was first blended half a dozen years prior.  This cigar was only available to a limited few and in finite quantities.  Almost 6 years later from the deeply entrenched corners of the humidor it awakens it from its six year slumber.
Blend Specifics:
Vitola: Robusto (5 x 50)
Wrapper: Nicaragua
Binder: Nicaragua
Filler: Nicaragua
Appearance and Construction
While this cigar has been living in a humidor for 6 years it is still new to me.  Its heritage suggests it is not a cigar to be taken lightly.  The wrapper appears rugged.  It's satin sheen, lumpy and toothy texture confirm this.  The triple cap suggests a quality roll and with its robusto vitola it completes a short, stocky, well-made cigar that's a little rough around the edges.
Taste and Smoking Characteristics
The cigar lights up without hesitation. From experience, I let the cigar slowly come to life and I'll occasionally blow out the stale air from the cigar.   I refrain from making quick judgement as a I allow it to softly pick up heat.  First third, I taste light cedar, dry white pepper and a little ash.  Nothing overpowering but enough to hinder the spirits.  Interestingly enough, the retro hale was better with dominant toast notes.
I was well into the second third when the ash finally fell.  The cigars burned flawlessly, the burn was even and crisp throughout the experience.  The harsh cedar flavors shifted to toasted bread and the cigar started to balance out a bit.  The retro-hale mellowed out and I enjoyably appreciated a bit of twang and floral.
By the last third, the cigar flavors mellowed out even more.  Nonetheless, the heat and spice and vegetal notes lingered in the background.
Conclusion
Overall, a cigar that I admittedly over hyped to myself.  I think it was long overdue to be smoked.  Perhaps a couple of years ago the cigar was in its prime but nevertheless, the years added complexity, maturity and much respect, reminiscent of Hemingway's struggling fisherman.