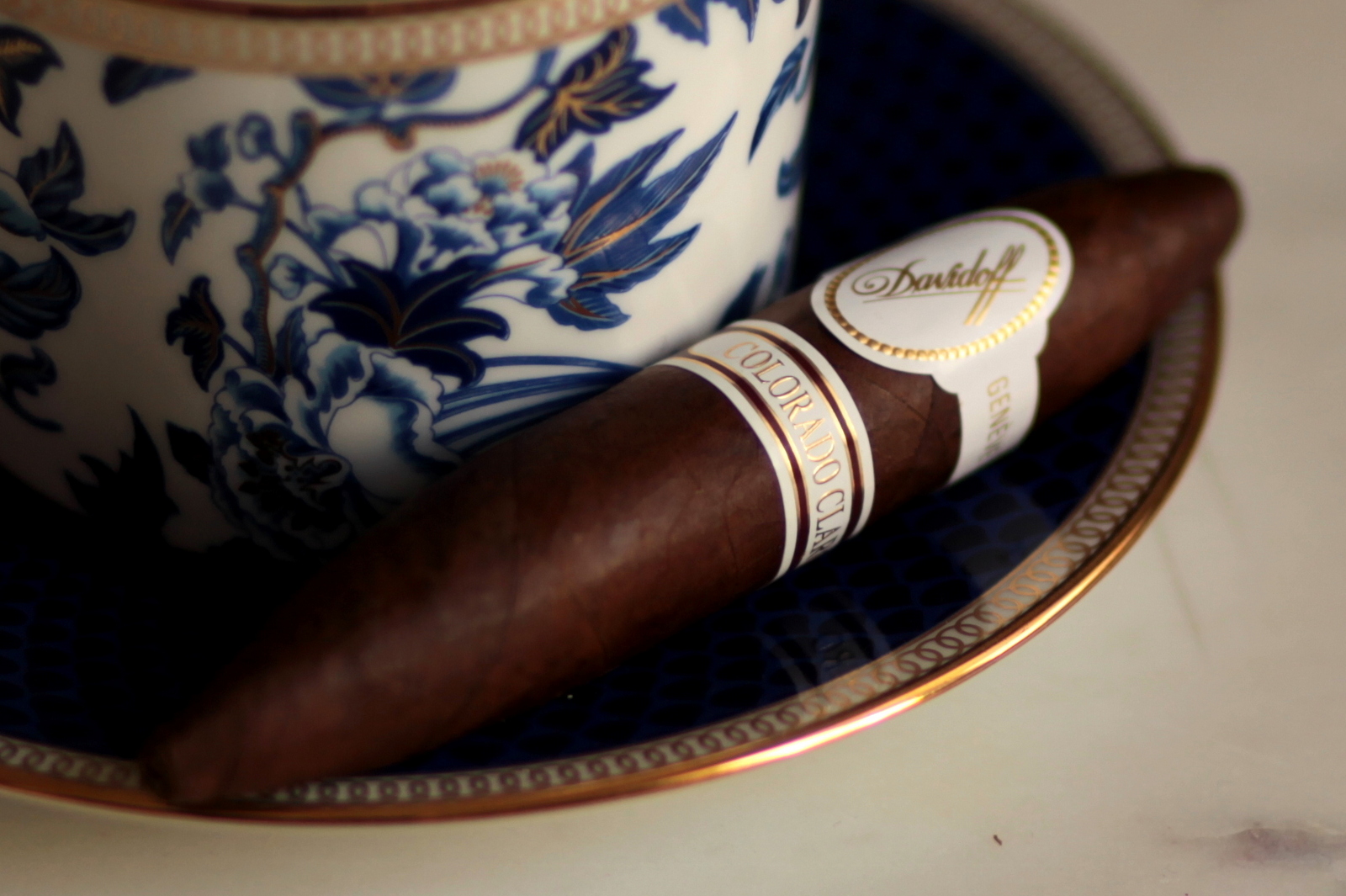 Back on the reviewing table today is the Davidoff Colorado Claro Short Perfecto. This blend was originally released in 2002 and then re-released in 2009. I purchased this cigar without realizing that this is in fact a limited blend, with only a few hundred boxes of each size made. This could explain why the Colorado Claro isn't mentioned anywhere on the Davidoff website.
If I had known the cigar was limited in quantity, I would have bought more, particularly given the experience I had with this cigar during the review.
Product Specifics
Cigar Reviewed: Davidoff Colorado Claro Short Perfecto
Wrapper: Ecuador Connecticut Sun Grown
Binder: Ecuador
Filler: Dominican Republic
Size: Short Perfecto (4.88 x 52)
Appearance and Construction
Simply put, this is a gorgeous cigar. The Ecuardorian Connecticut wrappper is seamless and has a slightly oily. The double band features the traditional Davidoff white and gold, along with a dark maroon/brown color that nearly matches the wrapper. The wrapper itself smells sweet, with a bit of leather and chocolate.
The pre light draw is unsurprisingly restrictive, which I suspect will change once an inch or so of the tapered bend has burnt.

Flavor and Smoke Characteristics
The Colorado Claro begins with a surprising amount of smoke production for such a small initial ember. The smoke is medium bodied, smooth, and oily, with Oak, charcoal, white pepper, and semisweet dark chocolate coming through on the palate. Within a few minutes, the tapered end has burned about a quarter inch and the ember has widened substantially. As a result, I can sense the flavors becoming smoother, rounder, and creamier. The draw has also loosened and is much more comfortable than when I first lit the cigar.
At an inch in, the tapered end has burned through, with the white ash holding strong and with a perfect burn. The smoke is now creamy, extremely smooth, with a nice white pepper on the retrohale.
At this point, I'm really enjoying this cigar. It's less of a powerhouse than my other favorites from Davidoff (Millennium blend, for example), but the smoke has an elegance and balance that is really enjoyable. 
The second third begins and the smoke is somewhere between mild and  medium bodied. Flavors include milk chocolate, light black pepper, touches of salt, cedar, a traditional Davidoff mustiness, and a slight floral note. Just two minutes into the second third, the strength begins to pick up, now a solid medium, with the flavors becoming much richer and more defined.
In the final third, all of the flavors are in near perfect harmony. Cream, chocolate, salt and pepper, Oak, and touches of floral and caramel. It's quite delicious, but in no way surprising. This is, after all, what has made Davidoff a legendary cigar company.
This short cigar has one more trick up its sleeve. In the final ten minutes of the cigar, body and strength kick up to medium/full. All flavors present. A parting gift.
Conclusion
I probably sound like a broken record when I review Davidoff cigars, but dangit they know how to create flavorful cigars with finesse. The Colorado Claro brings a lot of flavors to the table and weaves them together seamlessly. As a result, the cigar has an ebb and flow of aromas and flavors that can't help but be enjoyed.
If you find them, buy them.
Final Score: 92